Valiantys is a known leader in delivering ITSM solutions with Atlassian's Jira Service Desk to enterprise teams throughout the world. So as customer trust grew in Atlassian and Valiantys, our team scaled up to meet their demands. Between 2016 and 2018, our team increased from 80 employees to over 120, and we've spread from 5 offices to 11 different locations across Europe, North America, and a support team based in China. Yet the dispersed teams found themselves needing more IT support to help them deliver our Atlassian services to customers.
In short, we needed to start doing for ourselves what we're so good at doing for everybody else – implementing an ITSM strategy with Jira Service Desk.
Earlier this year, Walé Robert joined Valiantys as the new IT Director. His first priority was to significantly improve how IT services are delivered to Valiantys employees, regardless of if the person is located several time zones away or just a few desks over. The IT department quickly launched the Valiantys IT portal, also known as our VIP tool.
Here's an inside look into how Valiantys' IT team launched our service desk.
---
Stefanie Chernow: What made you decide to switch to Jira Service Desk rather than manage IT requests through a project on Jira? 
Walé Robert: The complexities of Valiantys' work has grown significantly. We needed an approachable way for the IT team to amplify our ability to be available to Valiantys' employees. For the IT department, this is not just a tool but rather a virtual member of our team that is able to centralize our activities.
We had a process in place before, but it lacked a user-friendly experience. It is easier for users to talk directly to the people on the IT team by knocking on their door and asking for requests. The reason is the "interface" – I'm referring to us as humans rather than a large process – is much easier.
The idea was to add a friendly portal to help our users adapt to this service desk. The word "portal" is key, because it facilitates the interaction between our users and the IT department.
How did your team deploy the new VIP service desk? 
We had to implement something quickly for both the IT team and our users,  so we opted to implement a light service desk with different profile options. We used the Marketplace app Refined Theme for Jira Service Desk to add the graphic layer, which helps guides users to provide the information we need.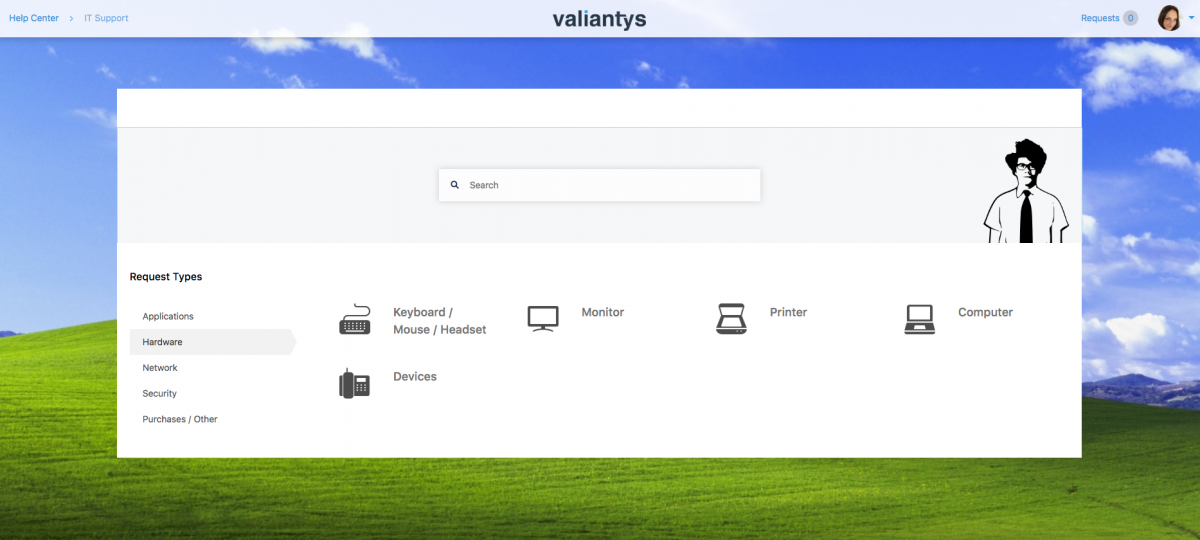 There were some workshops where we bounced ideas back and forth with the Atlassian consultants on-site. I just had to put my idea on the table, they took charge and provided a portal which is really similar to the one we have today, we mostly just changed a few images so it would be friendly and funny. In total, it took us about a month to implement the solution.
Even now it is easy to evolve the interface to meet our needs. For example, I recently I added a "Make a wish" Request Type, as this will allows users to share their ideas with us.
It is notoriously difficult for IT departments to communicate on what they do, and adding to this challenge is trying to get people to use the tools. So when it came time to launch, we did not only deploy the portal, we deployed a whole communication strategy to facilitate adoption. We encouraged people to participate in the conception of the portal, so we teased the tool and asked people to take part in naming it, with "VIP" being the most popular choice. At the end of the day, we don't want this to be just an IT tool – we need it to be the users' tool.
The tough part about launching the portal is it might seem like we are trying to dehumanize our service, which is not the case. We are trying to professionalize our services. This is the best way we can answer our clients at Valiantys with the resources we have.
On the back-office, how does the interface help you prioritize your work? 
It is a classic Kanban board with a ticketing system. I can see the tickets assigned to me and the others on my team, along with the tickets that have just arrived. When you go to the dashboard, you have the activity stream so you know exactly what has been done and by who.
We service both users and the system, which are two different activities. When users create a ticket they can select the severity, however our first priority goes to if the system has a problem.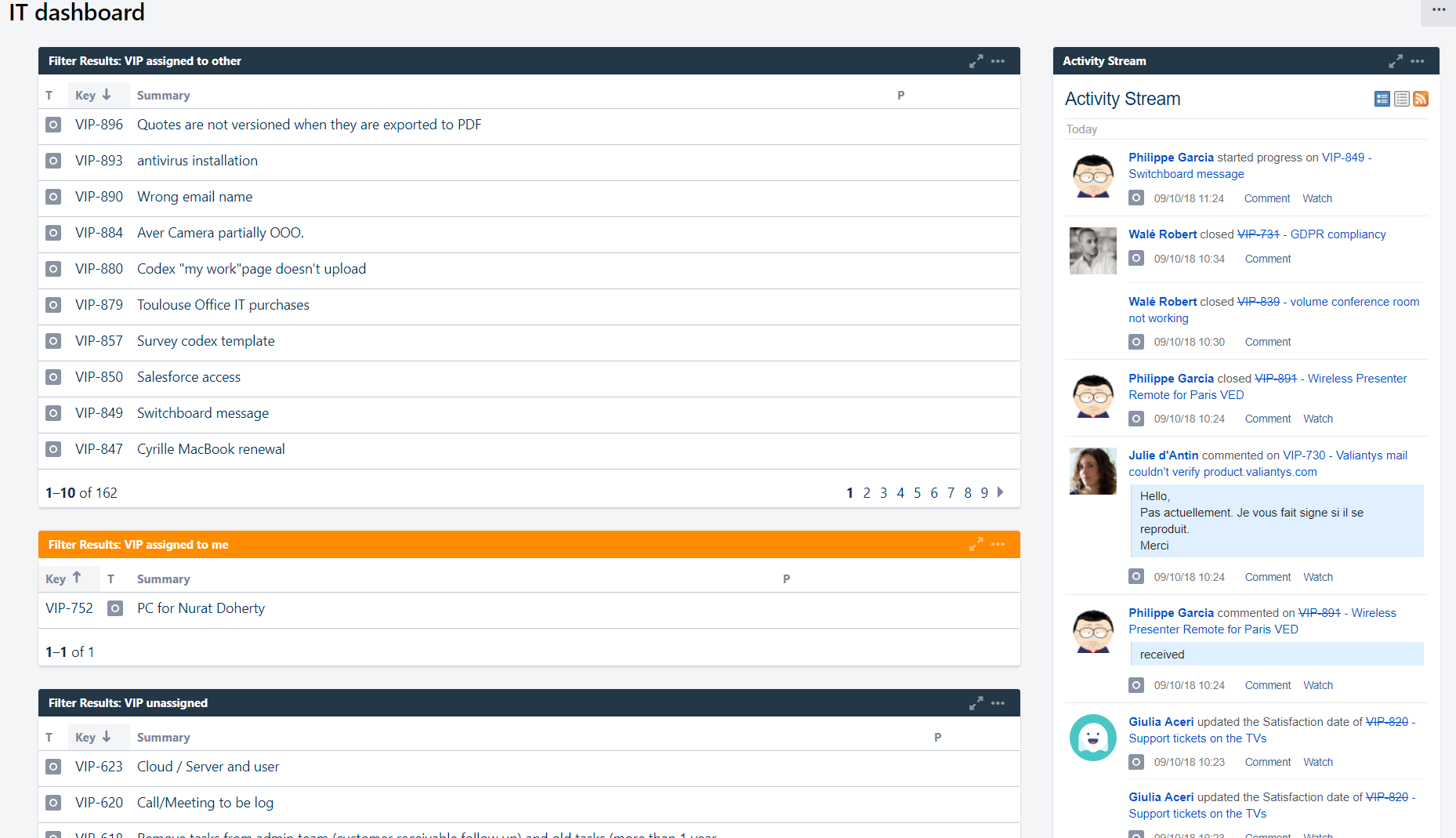 What benefits have you noticed since launching the VIP service desk? 
Since the launch, I have been able to do something that I haven't been able to do before – tell exactly who needs what. I don't need look at my email, chat, etc., to find out what people need. This is really the first step of building a proper IT service desk.
The VIP service desk is a huge time saver for us. Someone might post a ticket which will remind us of something we previously did, so we can use the same response.
It is also helpful for the root cause analysis. Sometimes incidents with different consequences are caused by the same problem, so when you have Jira Service Desk it can help you see the bigger picture in your system. For example, we might have someone who can't run their video conference, another who can't surf the web, so as a result we can figure out that we have a bandwidth problem. It is much harder to have this visibility when you are getting information from different channels. We're using Jira Service Desk's native reporting features, so we can get insights on what sort of tickets are being filed and be proactive in addressing those problems.
How do you see the VIP service desk evolving over time? 
The interface needs to be as simple as possible for all your users, as it is the entrance point for all your requests. I don't see this changing much. The back-office needs to be as rich as possible, so it could change in how we process tickets, how we manage our dashboard, etc.
Valiantys is currently growing, and  in the future we'll still use the same tool, just with more complexities. That's the great thing about Jira Service Desk – it is really flexible. It can meet the needs of a company like us with 130 service desk users, and it can scale for our enterprise clients, who may have an IT team of 20 people and 5,000 service desk users.
---
Click below to get our monthly newsletter and get more Atlassian tips from Valiantys.
Subscribe