You have heard of Confluence but are you are still hesitating to implement it into your business? If so, then this article is written for you. During my consulting assignments at Valiantys, I use Confluence daily as a knowledge base.
Confluence is a tool designed by Atlassian that easily combines the functionalities of a wiki with the high security and privacy requirements of today's companies. This article will help you discover how.
What is Confluence?
A KNOWLEDGE BASE
Thanks to Confluence, you can build the "encyclopedia" of your company. When a company grows, it is necessary to put in place appropriate communication tools to remain effective. The best way to optimize information sharing is to gather everything in one place, accessible to everyone. With Confluence, you can also sort your content by spaces and add keywords to find all your articles using the search bar. Information is centralized, organized and easily accessible.
A COLLABORATIVE ENTERPRISE NETWORK
Confluence also offers you the advantage of a social network: users can interact, ask and answer questions, "like" articles, comment on them… Knowledge can really be shared and utilized! No more fighting to find THE person who can give you a quick and accurate answer! Everyone's knowledge is accessible to everyone, at any time.
A CREATIVITY ENHANCER
One of Confluence's real assets is to stimulate team creativity. By taking control of the creation or modification of articles, a team will gain confidence, produce quality content and actively participate in the life of the company.
AN EFFICIENCY BOOSTER
To organize the work within the teams, meetings are useful. However, a poorly prepared meeting can generate inefficiency and become a real problem in the long term. Confluence allows you to follow step by step the evolution of a project, from its creation to its completion. With the Team Calendars app, your teams can integrate a calendar directly into a Confluence page to record key dates of a project, such as a meeting for example. Confluence allows you to centralize and share documents useful for the preparation of your projects or meetings: notes, PDF documents, links etc. The decision-making process is simplified: it can be managed directly through this interface and avoids a long and restrictive validation process. Usually without any follow-up, the decision can quickly be forgotten, with Confluence, however, you can assign tasks to your team members and create checklists to track their progress.
Similarly, to produce a specification document, you need to build it step by step, often with several people. Confluence offers version control and version tracking of content, as well as real-time co-editing capabilities.
COMPLEMENTARITY WITH JIRA
The tools in the Atlassian suite integrate perfectly with each other. If you are already using Jira, Confluence will save you time. You can create a knowledge base with the most frequent requests and their solutions, which will greatly simplify your processes and allow you to innovate.
My personal experience of Confluence
ERGONOMICS OF THE PAGE
Often required to set up Confluence with our various customers, I started to discover this tool when I arrived at Valiantys. The ergonomics of the tool being clear and intuitive, I quickly made my mark.
At Valiantys, we decided to customize Confluence with an app called Refined For Confluence. Thanks to this app, we have added a menu bar with categories, each grouping documents related to the same subject (see the image below). Each category gives access to spaces, where the contents are located.
It is quite possible to restrict access to spaces in the case of sensitive content. This is in response to some of the confidentiality issues that are regularly encountered in the business world.
If you start with Confluence, you may not find what you are looking for the first time. In this case, the search bar is very useful.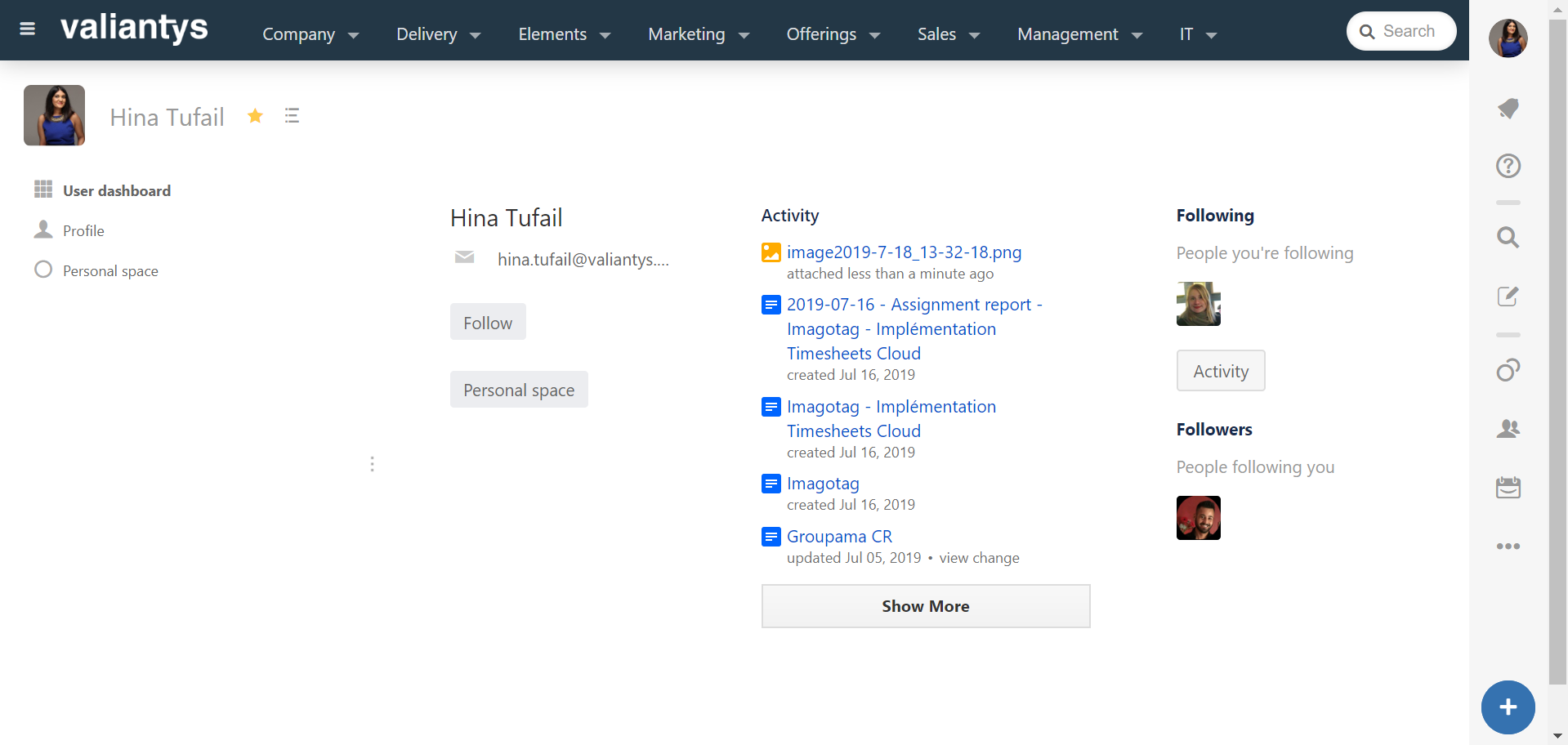 EASY NAVIGATION
Throughout my discovery of Confluence, I visited the categories and became familiar with the "spaces". A space allows you to organize the content in the form of pages and blog articles. The organization is logical and fluid.
The part on the left of the screen is also useful: just like a social network, I can see the latest information about the content of the space (who posted the latest articles, when and what about).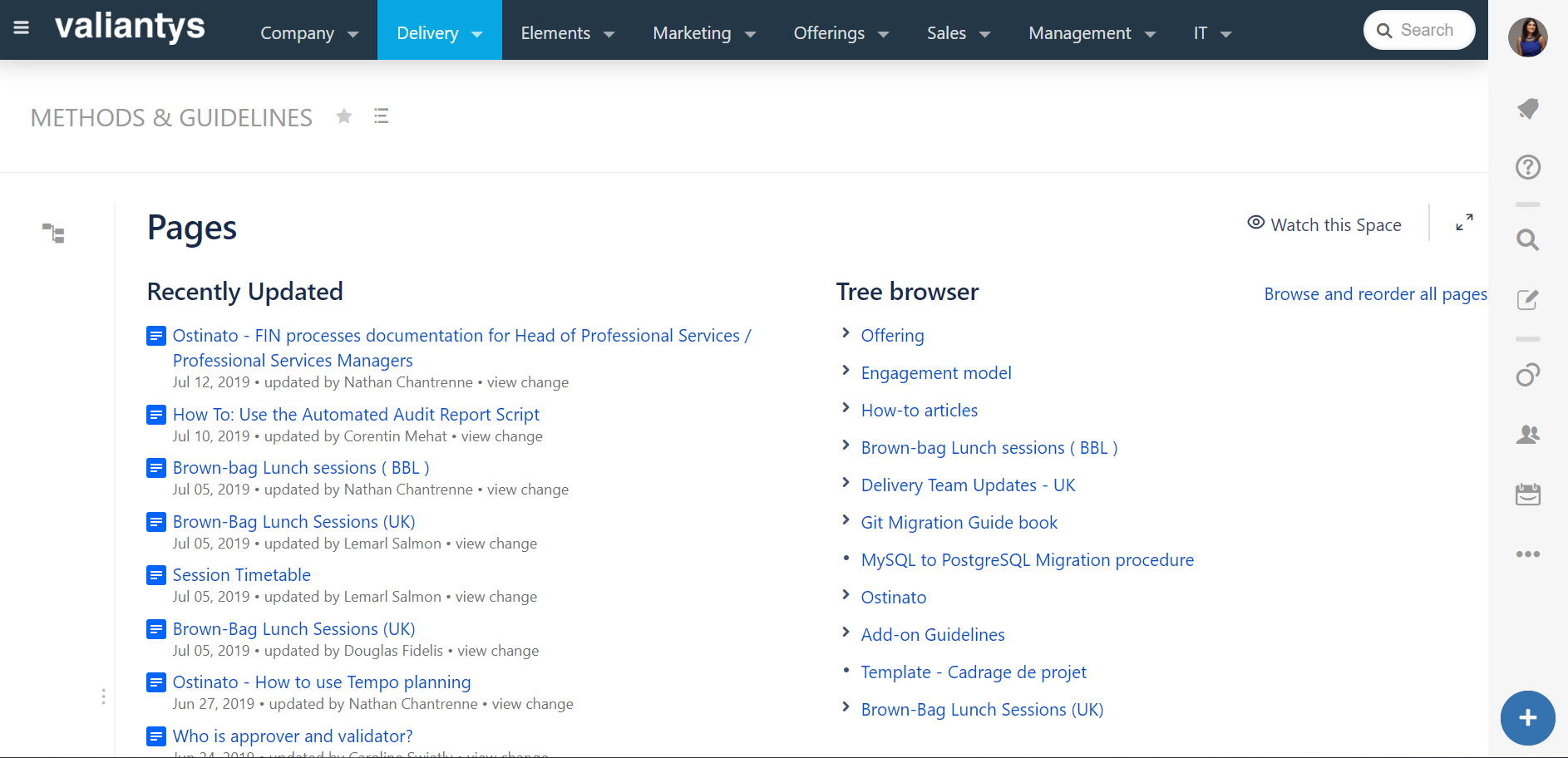 WRITE AN ARTICLE WITH EASE
During my missions as an Atlassian expert consultant, I must return the tasks that have been accomplished and share them with the rest of my team. This is an essential step to optimize the follow-up of the mission and to facilitate the resumption of the subject by my various colleagues if I am not available. I also take the time to capitalize on the knowledge acquired during my progression at Valiantys, in my Confluence personal space.
Confluence offers me an interface very similar to a classic text editor, but with bonus features! I can easily create a table, insert images and propose graphically finished content. This makes the use much more fun!
Below is an example of a page used to create a text presented in this way: title, layout, and text. Without any particular training, writing an article is simple, even for beginners. The layout options are simple, accessible and intuitive. So I was able to create an article with images, links, and a layout in a few clicks.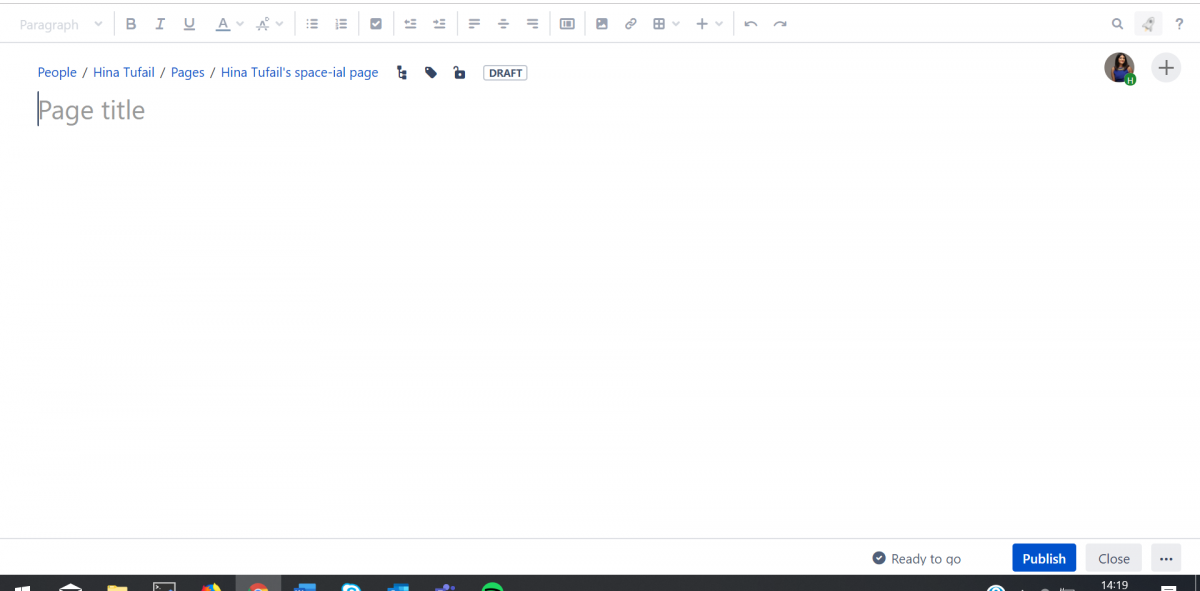 If you want to deepen your use of Confluence, you can use the "macros". Thanks to them, your content will be better structured, more aesthetically pleasing and more visible.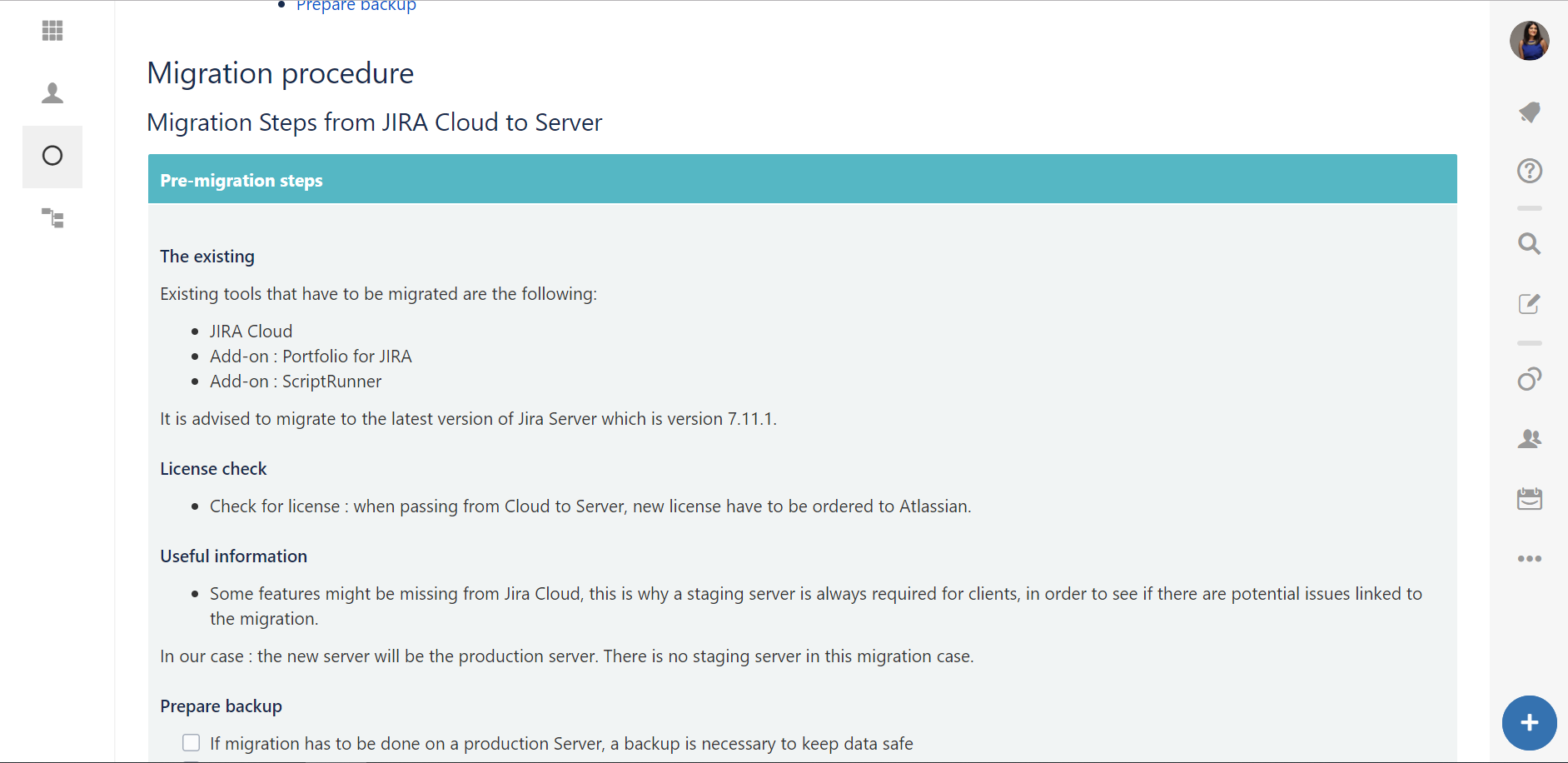 PAGE TEMPLATES
To avoid the white page syndrome, Confluence offers several customizable templates. They help to guide the user in the creation of their page and speed up the processes.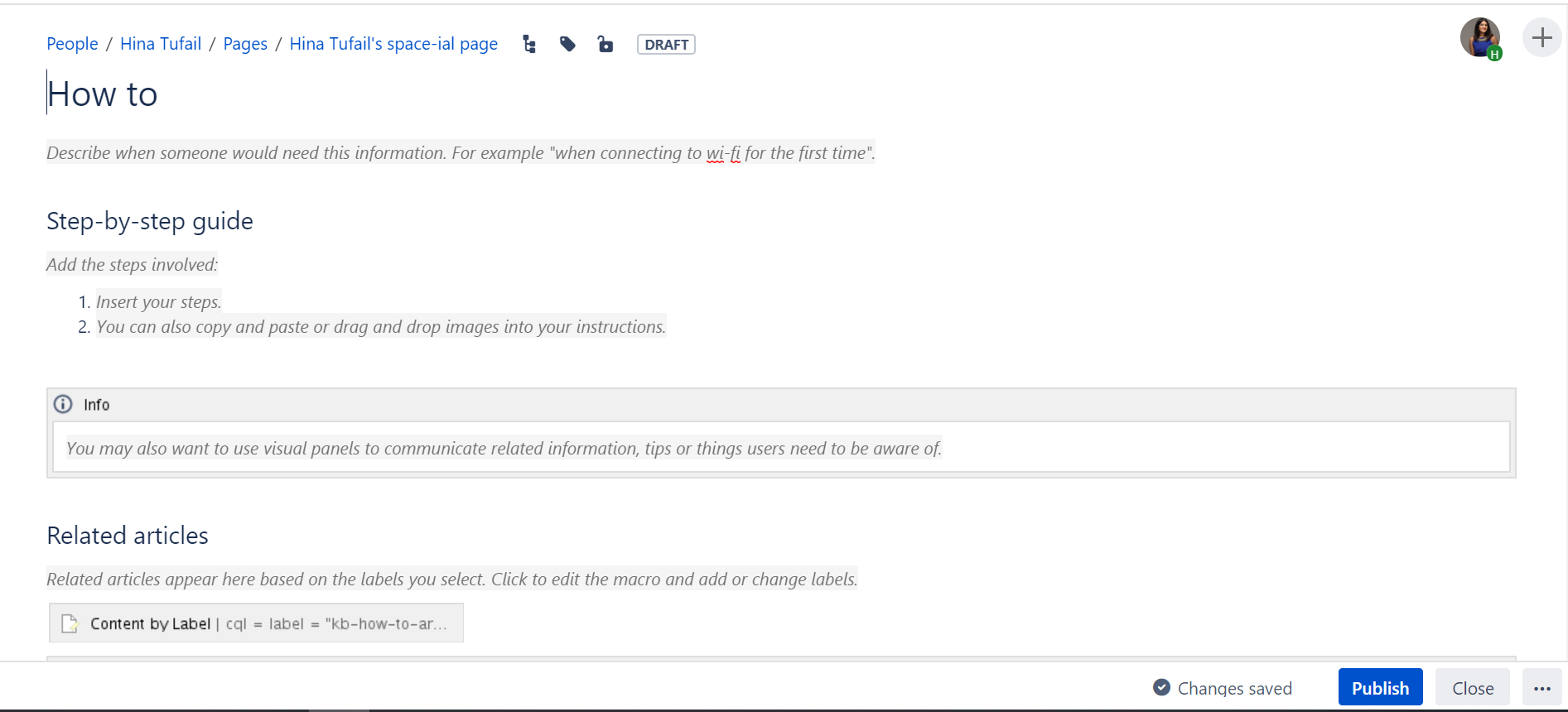 To learn more about the model system and the advantages of using macros in Confluence, here is an explanatory video:
RECEIVE INSTANT FEEDBACK
The icons on the right side of the screen allow you to quickly access the management features of your profile. For example, the "bell" icon generates notifications when comments are made on the articles I have written. Thanks to this, I can receive feedback on my work and gradually improve the quality of my articles.
Thus, as a reader, it is possible to comment, "like", share and update an article. If someone comments on an article I have written, I receive a notification and I can react immediately. In addition, if Confluence is integrated with Jira, I can also receive Jira notifications in Confluence.
This type of feedback is as beneficial to the writer of the article as it is to the reader. The correction process is more convenient and faster. I do not have to wait for my colleague to come back face to face and I can see their suggestions directly on my page. In my learning process, this system has proven to be a huge time-saver, a more direct and effective collaboration tool.
In conclusion, Confluence is Fun, Practical and Easy!
There is still so much to discover in Confluence, but mastering the basics of this tool is essential. That's why our teams have created a QuickStart Guide that brings together the main features of Confluence for a 5-minute introduction. Do not hesitate any longer, download it for free.