At Valiantys, one of our favorite apps on the Marketplace is Insight by Riada. If you aren't familiar with it, Insight is a powerful app that allows you to construct a sophisticated assets management system directly within Jira. The use cases are seemingly without limits – we've recommended Insight to our clients for building service catalogs, managing their budget and even having a CRM within Jira.
Yet using Insight to track and organize skills is a use case that really resonates with Valiantys. As we began to scale and hired more Atlassian consultants across our nine different locations, it became critical that we could easily discern who had the which skills in order to optimize our projects.
Here is our journey of using Insight for skill management.
Why Valiantys needed Insight
As a Platinum Atlassian Solution Partner, the beating heart of Valiantys is our team of certified consultants who are highly specialized in configuring and leveraging Atlassian tools. Obviously though, different consultants have different types of skills; for example, someone might be very knowledgeable when it comes to Tempo, however another consultant's knowledge might be lacking in this area.
Our success as a consulting company depends on choosing the right person for the right project. However, if you're a project manager with over 20 consultants on your team it's hard to remember who is proficient in which areas – especially given the variety of Atlassian products and apps which exist.
Our first solution was to create a table in Confluence, which looked a bit like this: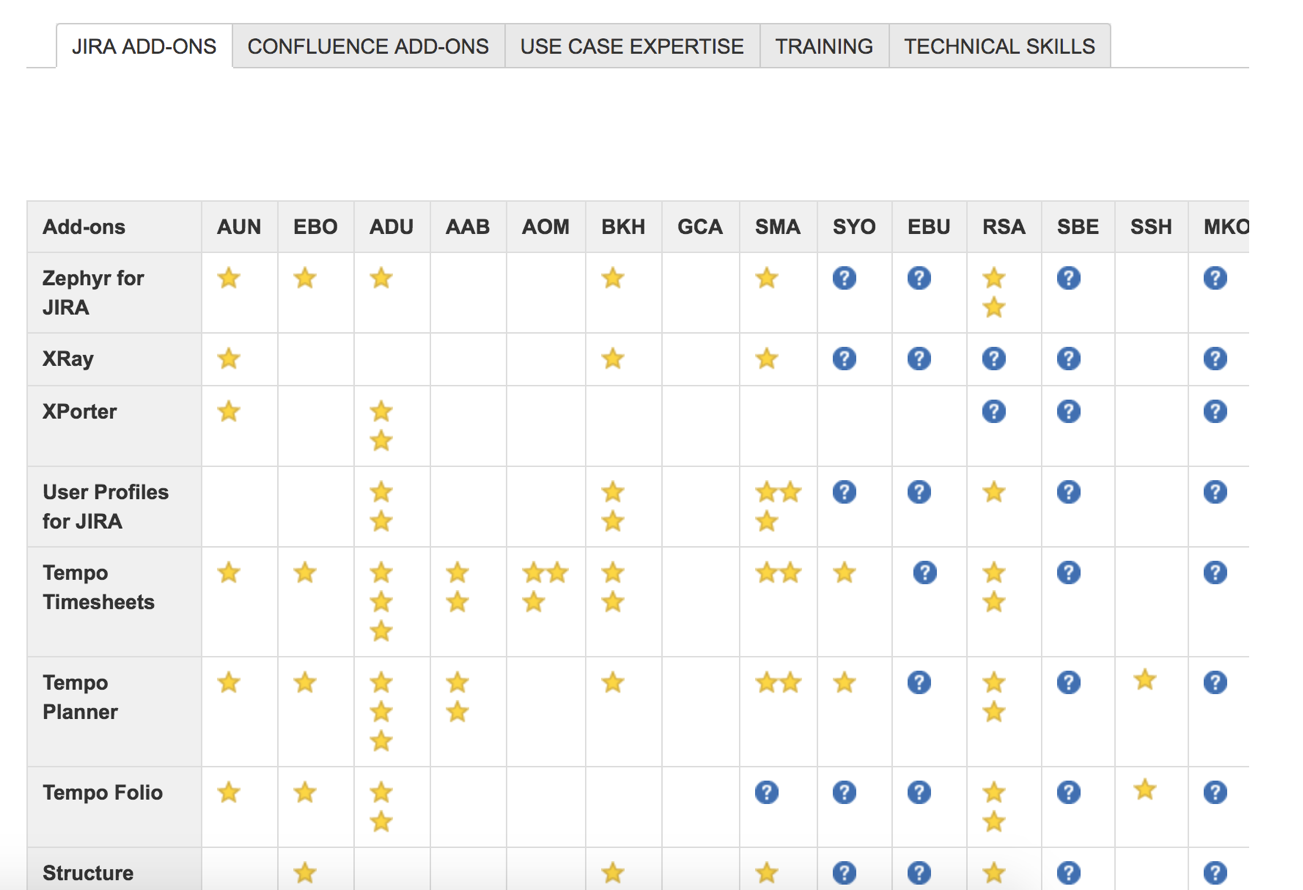 We listed all the skills on the left – so here you see the various apps which our clients needed our expertise. All the consultants were listed in the columns at the top and they would rate their own skill level using stars.
Obviously though, this wasn't a sophisticated answer to fit what we truly needed.
The chart quickly became too dense with data – with over 50 rows and 50 columns. We tried to divide the data into tabs, however we couldn't visualize the profile of a single person. Likewise, there was no sophisticated search as we couldn't query this data to report or embed it.
During one of our Shipit days, someone suggested we attack this problem head-on with Insight.
A better way to manage skills
From Jira, we imported all of our consultants into Insight's employee directory. They were then divided into their respective locations – making it much easier for our team leads to track their own people: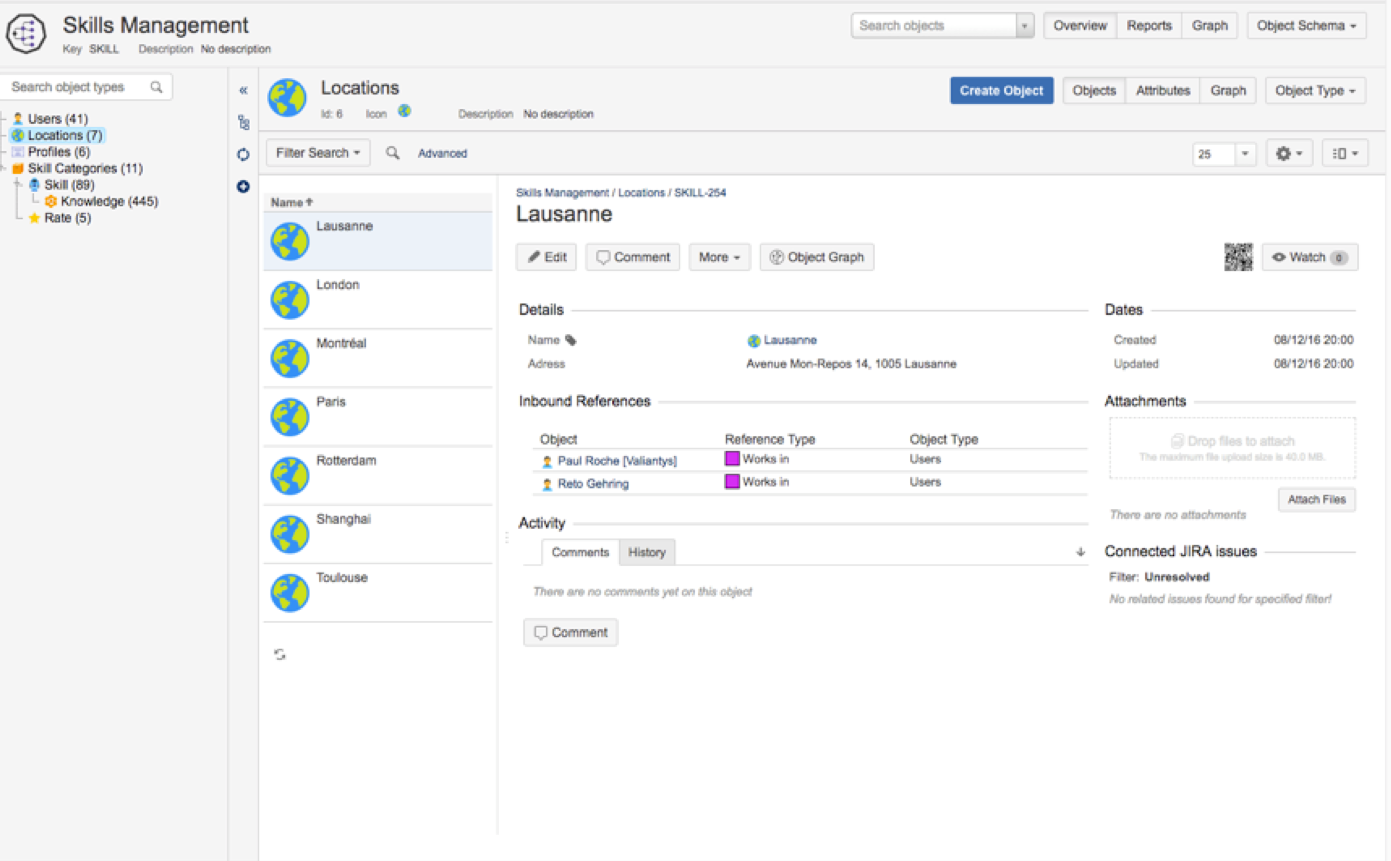 Now we were ready to configure the skill structure in Insight. At the first level, we broke the skills into categories to differentiate between big families – for example Jira related skills, system admin skills, etc. From here we continued down to the skill types on a unit level to determine who knows about Tempo, app development, SAFe, etc.  Finally, we divided the mastery of the knowledge into different levels. In this case, app development proficiency is dived into levels 1-5.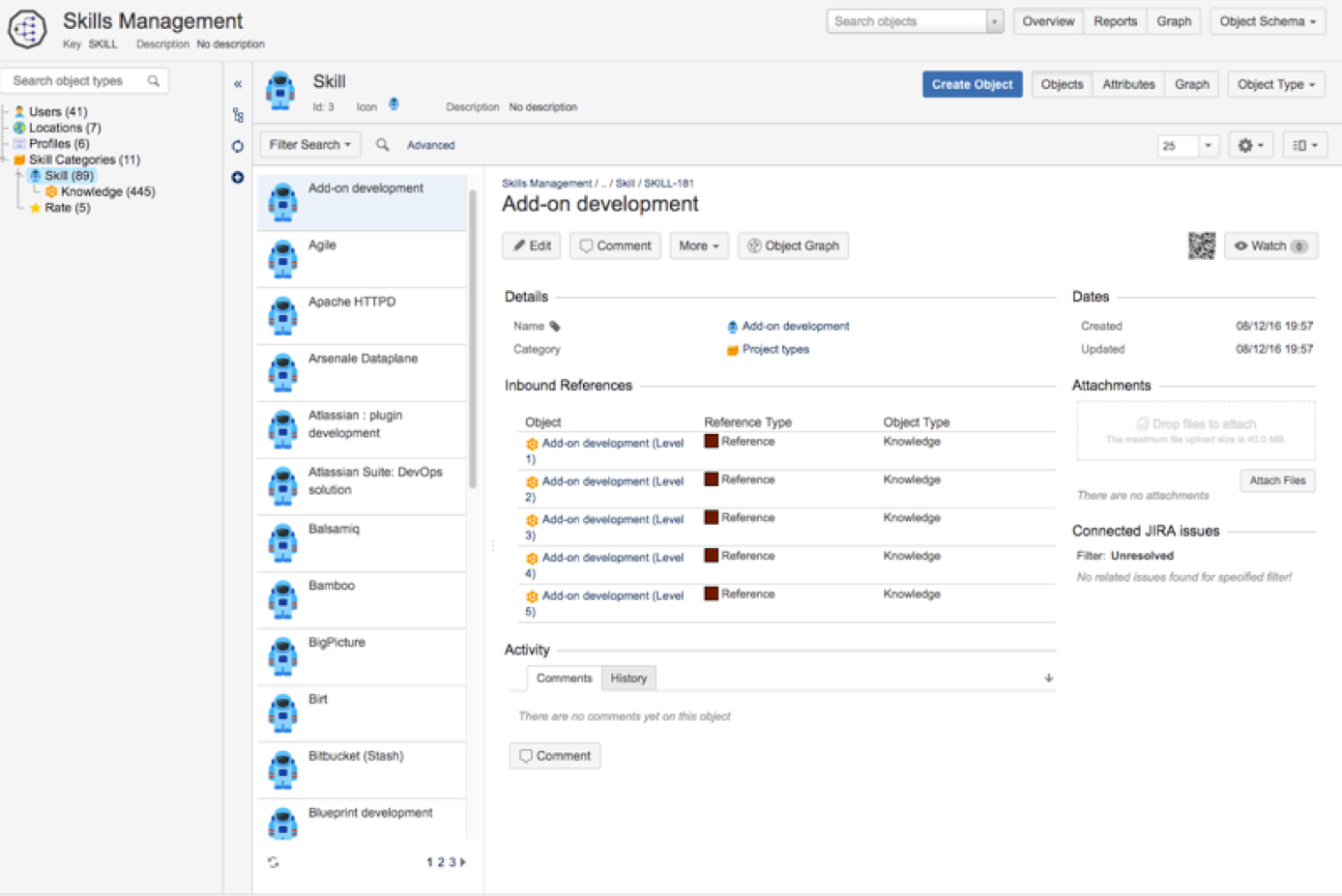 Next is linking the skills and the people together with attribute links. For each consultant, we selected all the relevant knowledge items. And this is where we get the power of Insight – we can easily explore our new, and highly dynamic, skills database.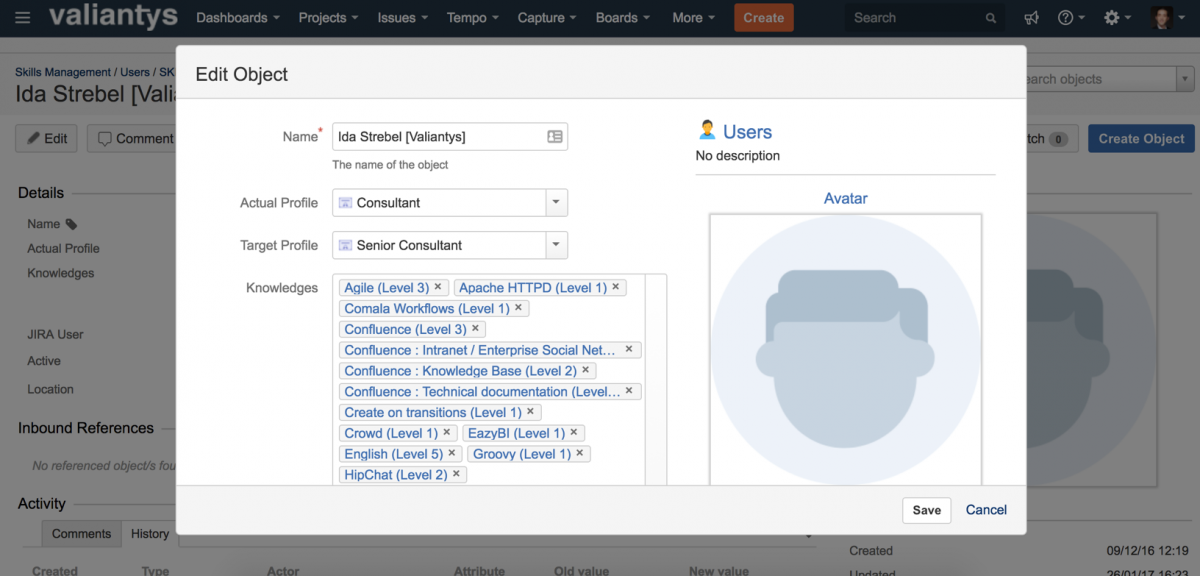 All this sounds great, but let's get to the bottom-line question: How can this help on a practical level?
Let's say I am looking for a consultant in Toulouse who knows about Crowd. I can use the IQL (Insight Query Language) to easily narrow down the search. Evidently, this is much more efficient than scrolling down a Confluence table hoping to find the right information.
I can also use the object graph to visualize all the people who have a skill or even have obtained a certain level of proficiency for a certain skill. Furthermore, we can create an attribute link "should know," which details what basic skills a junior consultant would need, what a senior consultant would need, etc. Therefore, if a junior consultant is trying to become a senior consultant the path towards obtaining this status is clearly defined. From a strategic level, the leadership at Valiantys can have an overview of where the gaps are in order to focus trainings for continuous professional development and likewise refine our recruitment criteria.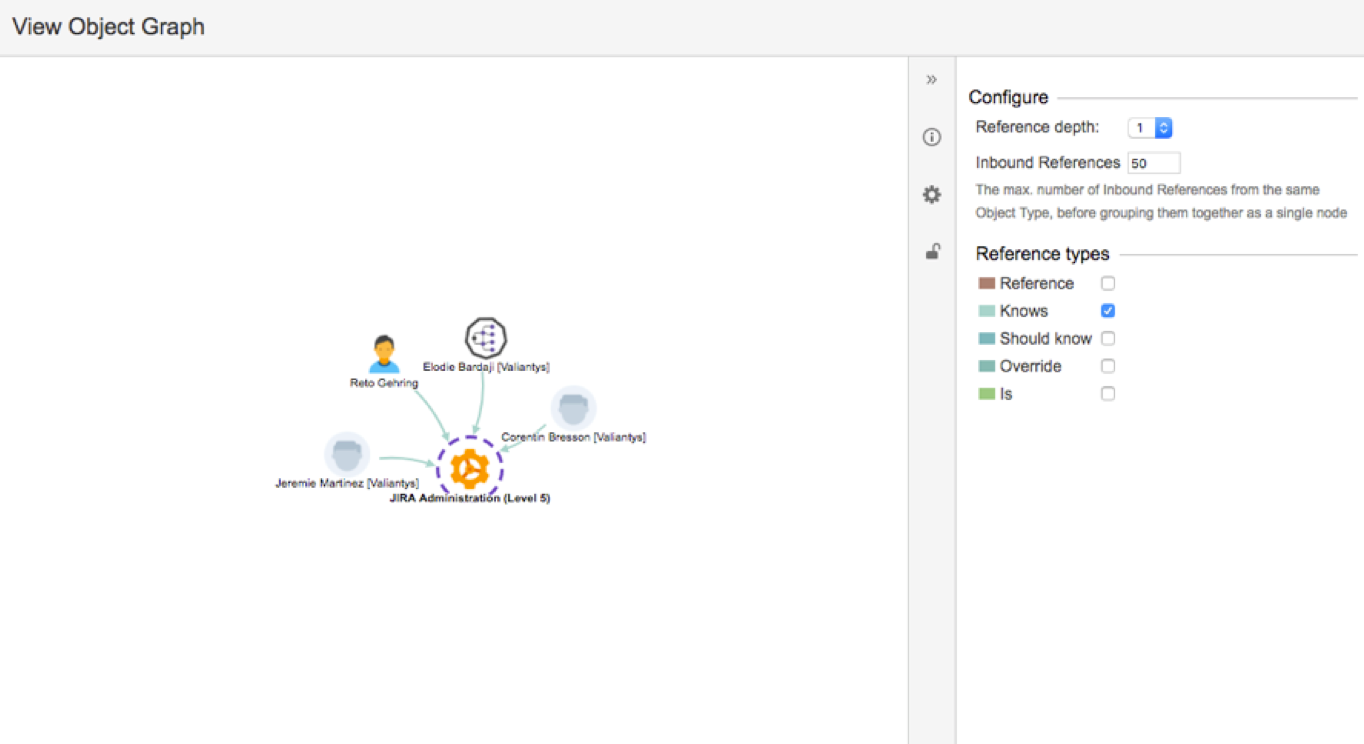 For our employees that still like the look-and-feel of Confluence, Insight embeds into this tool through the macro functionality – giving you an easy yet powerful user experience.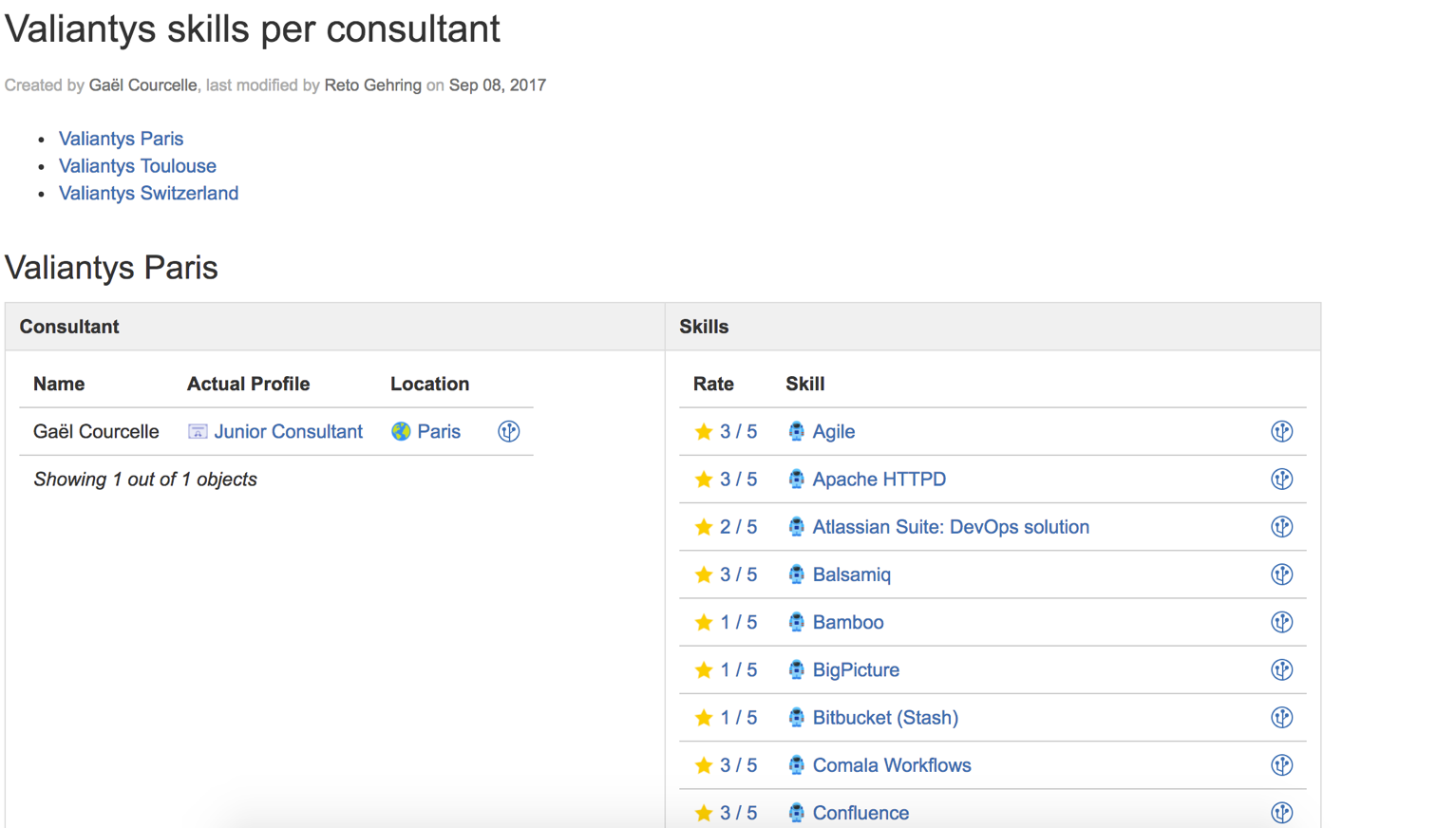 At the end of the day, the benefit was evident – we had one source of truth to refer to when it came to choosing consultants for our projects. There was no more need to "ask around" for the right person, as all the information was available at our finger tips. With over 100 people working at Valiantys internationally, assigning the right consultant is no longer a daunting task.
Furthermore, using our popular app nFeed, we can create a custom field on Jira tasks which suggests automatically the best suited consultant, according to the skills matrix we have defined. All the project manager would need to do is list the desired skills within the ticket, and nFeed will automatically query a suggested list of consultants based on their location and skill set.
The next step: Time tracking
While Insight is probably the most sophisticated solution for skills management out there – and worth the investment – there are a few points to consider in its maintenance.
One of the drawbacks is there isn't a way (yet) to see if the consultant you want is actually available for the project. Our consultants travel to meet with clients, conduct trainings, and of course are entitled to their vacation time – so even if you have the ideal person in mind, it isn't a sure thing that the consultant is actually available. At Valiantys we also use Tempo Planner to track who is working on what project along with when they are in the office, so this is the workaround for balancing skills with availability.
For large companies that need to implement a Scaled Agile Framework®, there's a need to not only manage skills but also have a tool that will help with planning a realistic roadmap, as this work is too heavy to do manually. Portfolio for Jira is the Atlassian solution for many teams, however it is a bit unfortunate that the API is closed and the skills management is done within Portfolio itself (which is a much lighter version of Insight). It is hard to beat the flexibility and sophistication that Insight provides for skill management, so hopefully in the near future the API will open thus allowing for a smart solution between Portfolio for Jira and Insight. 
A leading Atlassian Solution Partner for Insight
Valiantys was named Top-Selling Partner Worldwide on Insight for 2017 by Riada, so you can be sure that we know this tool inside and out. If you need a bit of help using this app, get in touch with one of our certified consultants by clicking below:
Contact Us