The following is a guest blog written by Marta Schluneger, the Product Marketing Manager at Tempo. Tempo is a cloud-first software company that helps teams at 10,000 companies—SMBs and large-scale enterprises—collaborate, plan and schedule resources, manage budgets, and track time directly from their daily workflow.
---
Tempo Timesheets helps software, IT services, and business teams track their time for accounting, payroll, and client billing. This helps you gain enhanced efficiency and enables you to better forecast the utilisation of future team resources.
To manage all customers and accounts, you need a centralised overview to easily view account statuses and types, the people involved, teams, customer price tables, and JIRA projects.
If you're interested in getting an overview of using Tempo Accounts to manage customer accounts and learn how nFeed can help, then keep on reading.
What is Tempo Accounts?
Tempo Accounts is a system plugin, which carries across Tempo Timesheets and Tempo Budgets, and is built specifically for those using Tempo to manage customer accounts. Tempo Accounts provides a convenient way to capture high-level information of all work performed across your business and categorise it into customers and distinctive accounts.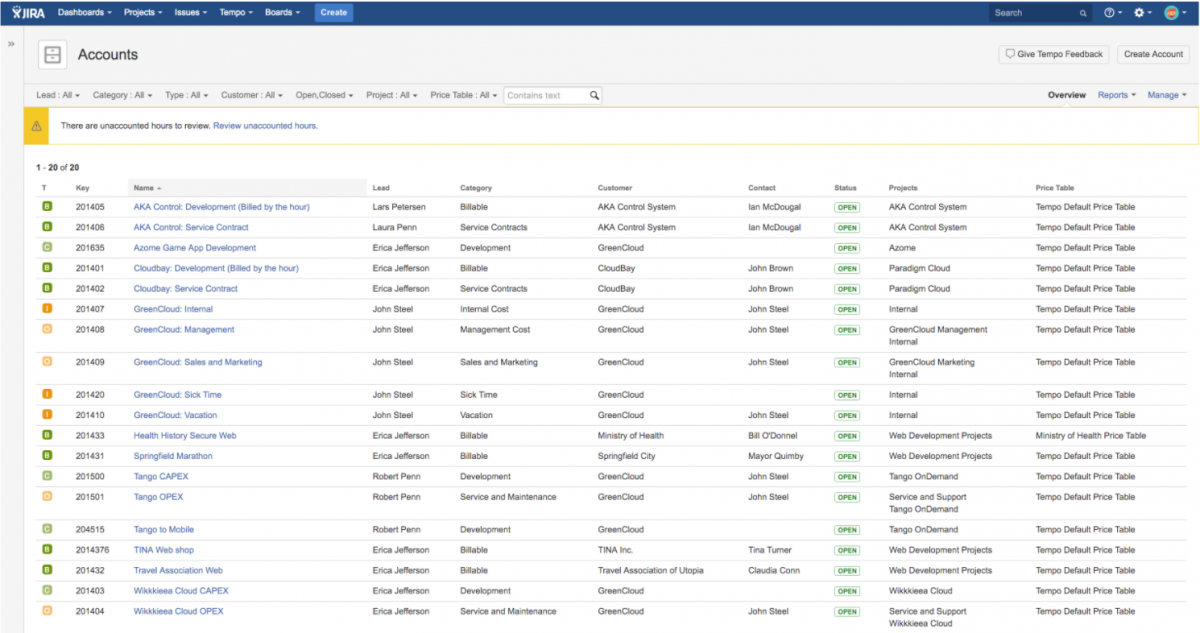 Tip: If you'd like to learn more about how to leverage Tempo Accounts to efficiently manage customer accounts,
check out this article
. 
As your company scales and you gain customers, added organisation and flexibility becomes increasingly valuable.
Valiantys identified a few areas where their add-on, nFeed, can add extra value to Tempo Accounts to improve organisation, save time, and maximise its reporting power. If you are new to nFeed, in a nutshell it allows you to query external data from any datasource. nFeed integrates with the Tempo Rest API in order to merge these two solutions to make the task of managing customer accounts even better for Tempo and nFeed customers.
Using Tempo Accounts
Custom price tables
In the Tempo Accounts section of Tempo Timesheets, you can create customisable price tables that best suit your customer needs.
Account managers can easily create new price tables, modify hourly rates in existing price tables, choose the relevant currency, and apply discount rates.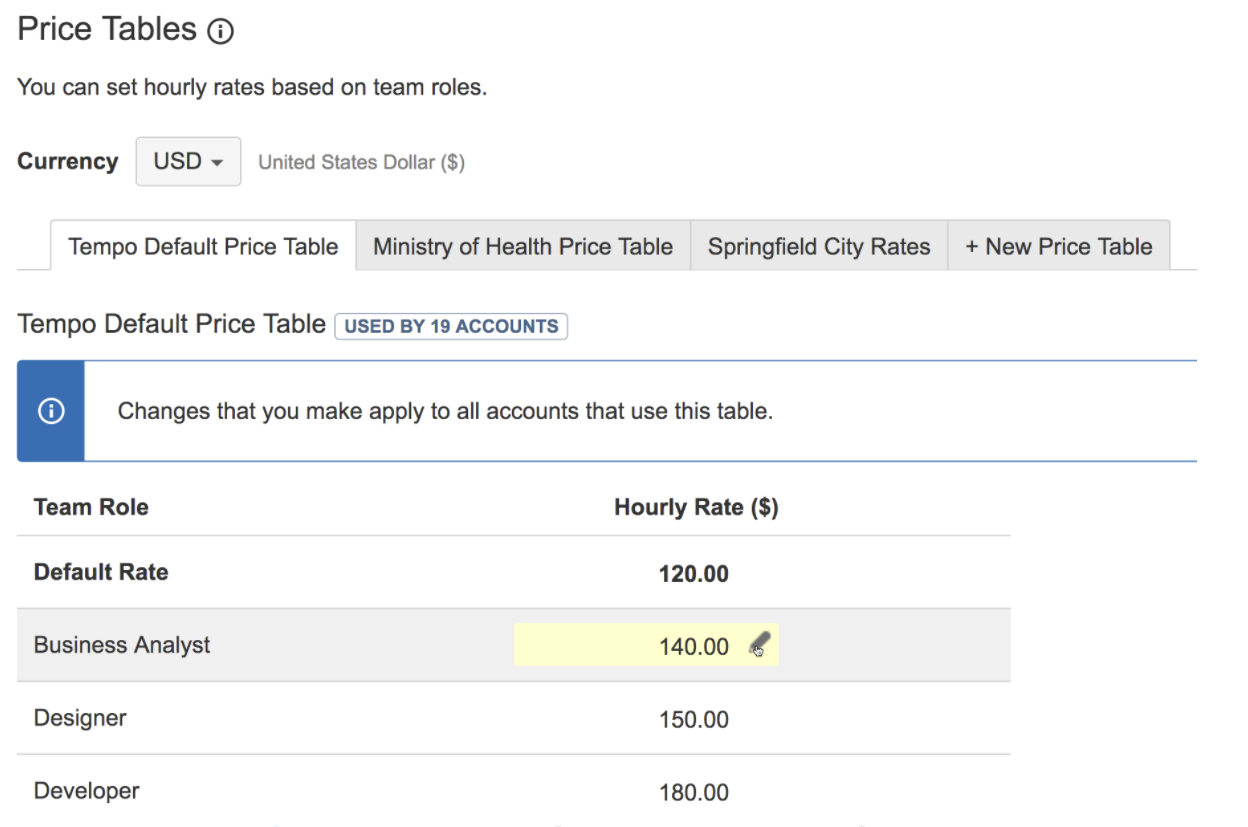 Timesheets reports
Tempo Timesheets offers a variety of reports for teams, issues, accounts, projects, or custom JQL filters. With easy and accurate time tracking at its core, you can get the information you need, when you need it, to make informed decisions and share information with your customers at the close of every billing period, or as requested. All reports can be saved as PDF, printed, or exported to Excel for further analysis.
If you're also using nFeed, all nFeed fields that you've customised for Tempo Accounts can also be used in dashboard charts, giving your reporting capabilities a vital boost.
By building reports based on any account attributes such as category, customer, or lead, you can quickly see the aspects that are most time and energy-consuming within your team.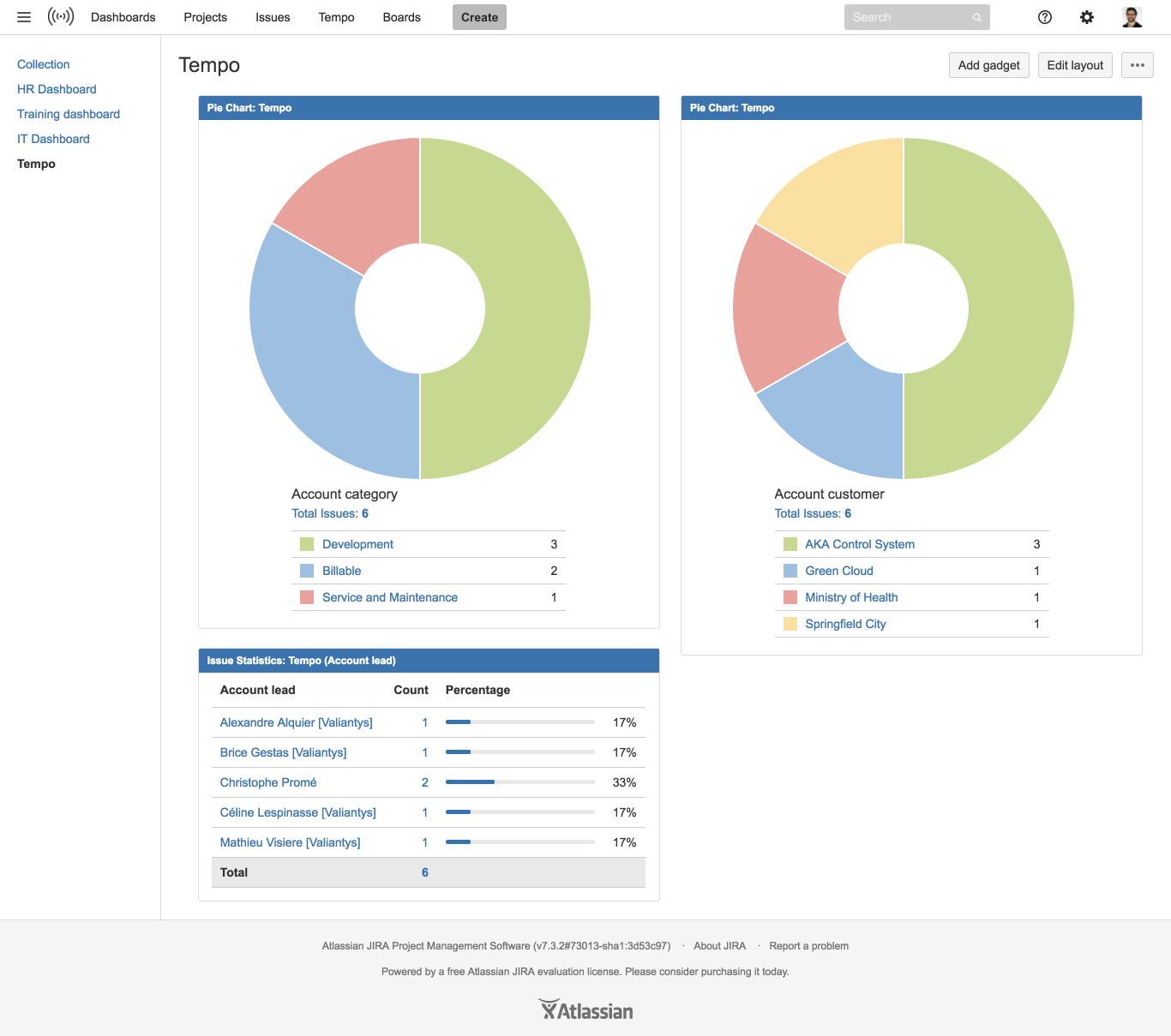 Ensure all logged hours are associated with customer accounts
Tempo Timesheets enables you to log work performed for clients, collecting all worklog data associated with customer accounts, and summarising the total number of hours logged on all JIRA issues.
Before finalising your client invoices you'll need to ensure that all hours logged are accounted for and associated with your customer account. Tempo Timesheets notifies you if there are any hours logged on JIRA issues that are not associated to an account. It also lets you quickly match the appropriate accounts for unresolved issues, as shown below. Once you've sorted through the hours that are unaccounted for, you're ready to proceed.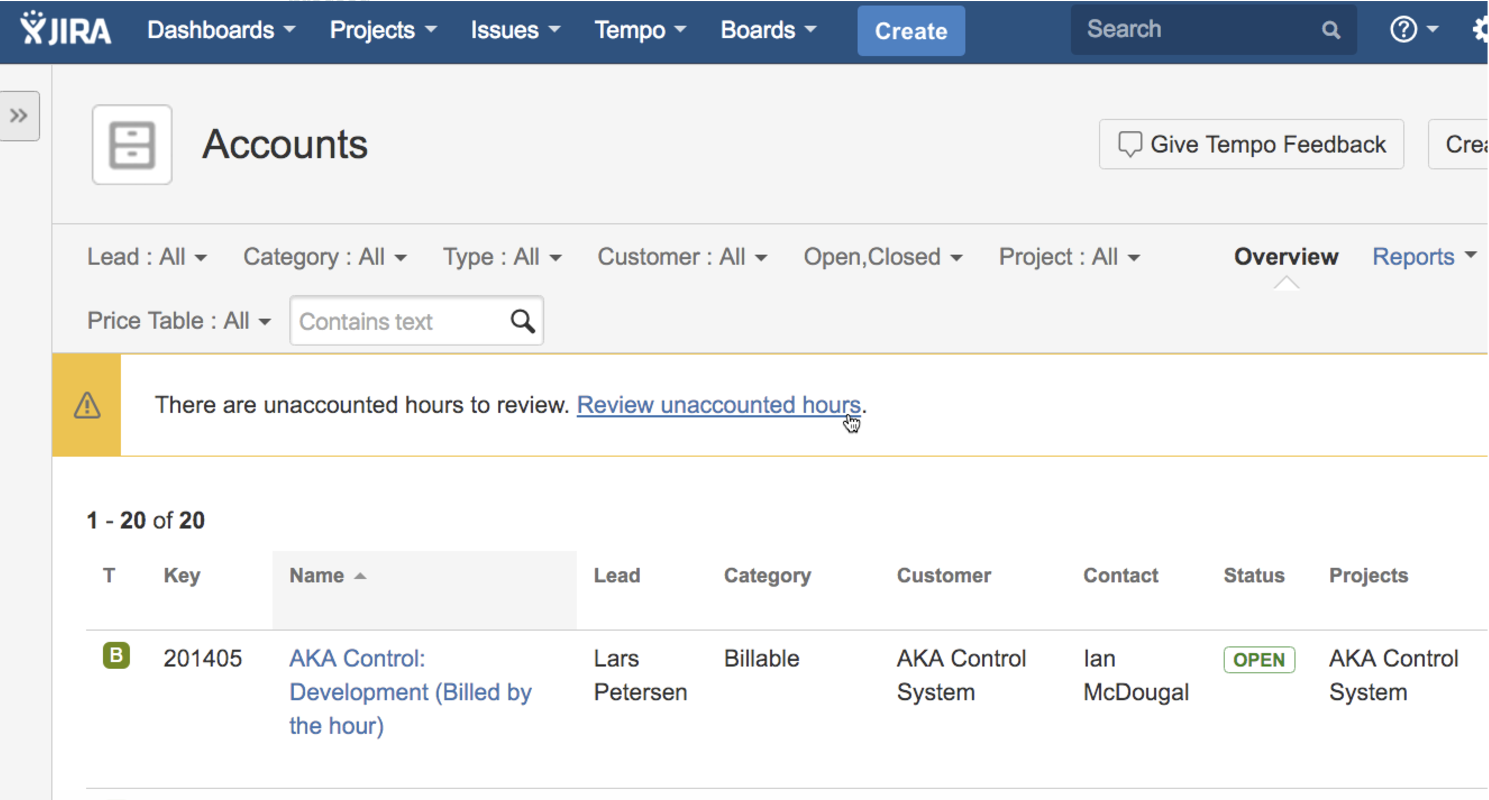 Measure account performance and manage expenses with the revenue report
As your team is working on delivering your customer projects, you can monitor account revenue and performance to ensure that you're on track and not heading under your target goals or over budget.
Tempo Timesheets also allows your team members to log expenses directly in your JIRA issues.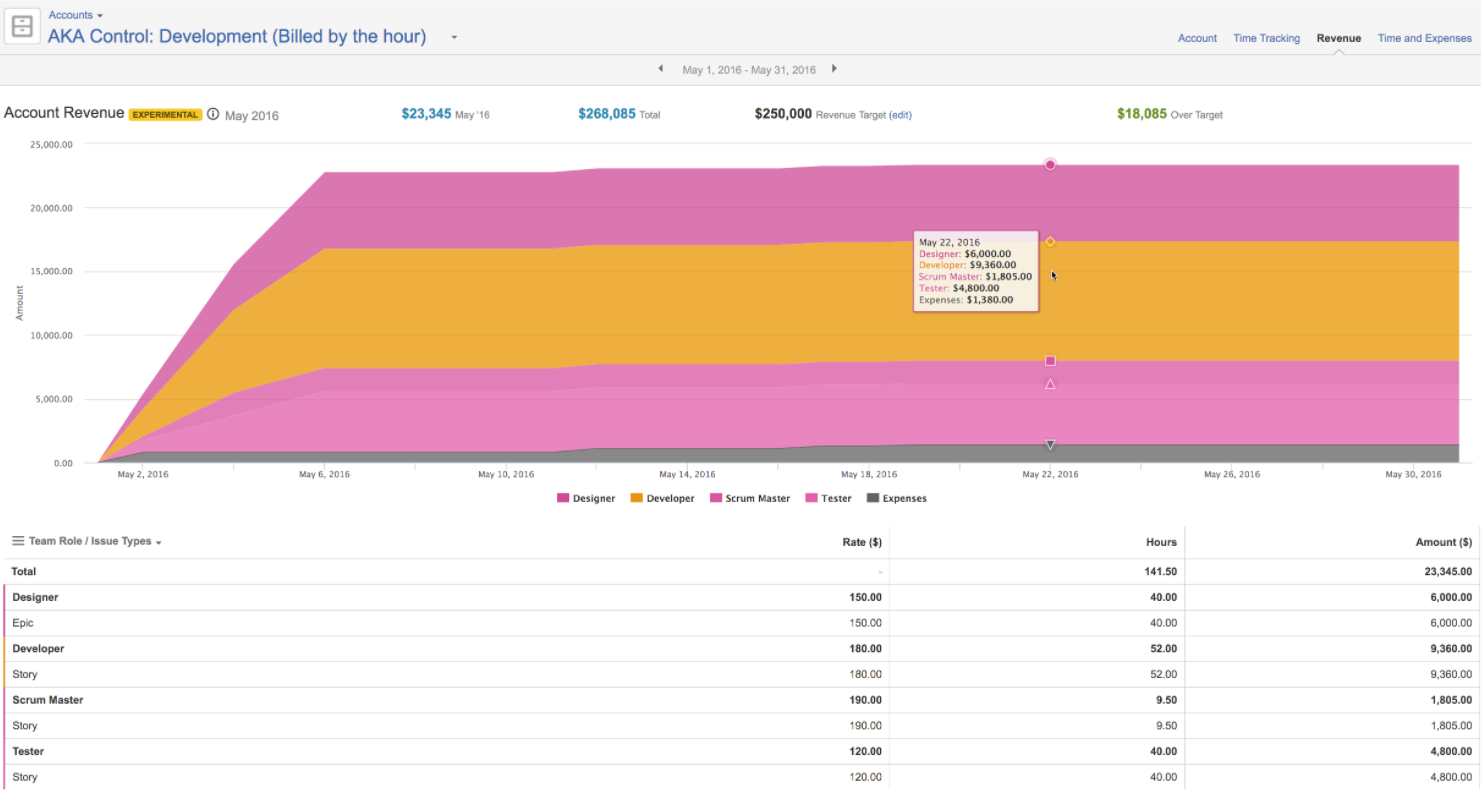 Manage customer accounts and billing
It's time to bill your customers at the close of your time period (typically, at the end of the month). Tempo Timesheets can help you generate a time and expenses report to include with your invoices. You'll first need to approve the account timesheet and close the period to make sure that team members can't go back and change or edit any worklogs.
Print or export the time and expense reports to share with your customers, which include all hours worked on issues, the date and description of the work performed, the name of the team member, hourly price, number of hours, and the total amount of billed work, as well as any associated expenses collected in JIRA.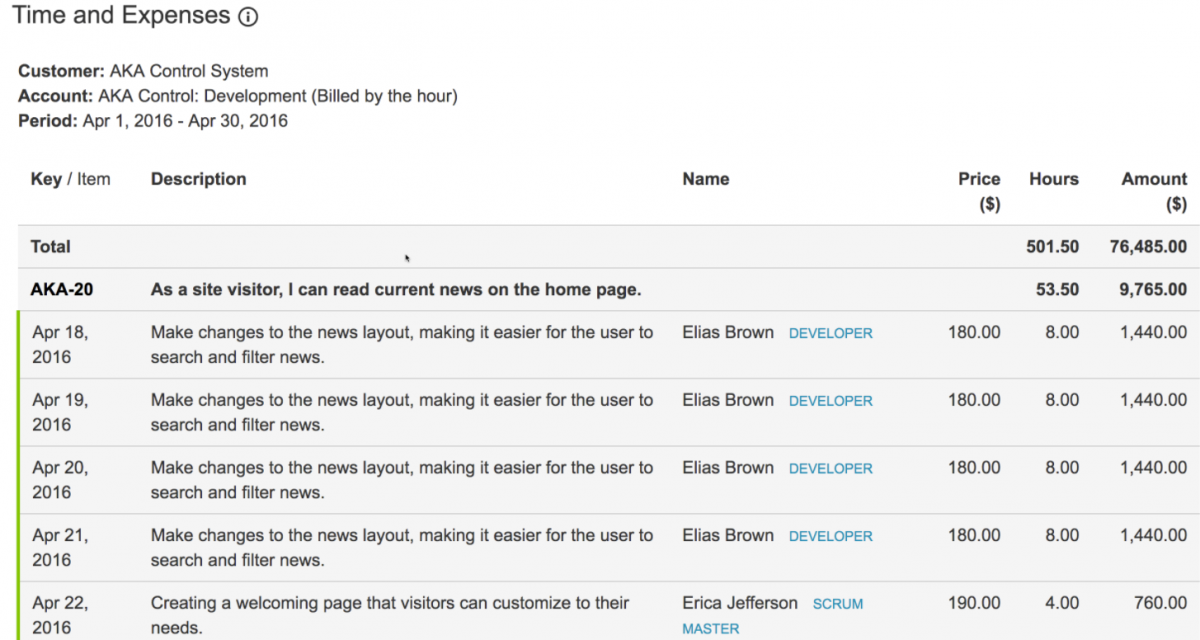 Add even more value with nFeed
As nFeed integrates with Tempo Accounts, users can add customised account fields directly in the JIRA issue screen. For example, you can choose to add the customer's name, account category, account category type, account lead, and account status.
Having this information directly in the issue view without having to navigate into Tempo Accounts saves you precious time and energy.
It is currently not possible to look up all issues associated with one customer, account category, or any other account attribute on JIRA through the basic search.In order to do that, you need to use a more sophisticated JQL search. This takes time away from actually viewing the issues, which is an issue when pressed for time.
The integration of nFeed and Tempo addresses this problem by displaying and integrating account attributes in custom fields and therefore improving the way you can search for JIRA issues. Since nFeed fields are searchable, you can create search queries based on those fields and use auto-completes in your searches.
Better together
At Tempo, we work closely with our partners and are always excited when they come up with great ways to add extra value to both their clients and our own.
Not yet a Tempo customer? Try Tempo Timesheets for free for 30 days.
Try Tempo Timesheets