"Where can I find the best Italian restaurant around?"
"How can I integrate my Calendar to my new phone? "
Whether you are new or senior in a team, we all have questions every day and we still do not know who to ask for answers. With Confluence, a lot of knowledge is already available to your team, department and company. But what happens when this content does not contain the answer to the burning question you have? When a topic is not addressed? Before you start digging for information, calm down, breathe, Confluence Questions is here to help you.
[youtube_sc url="https://www.youtube.com/watch?v=hKdwPClZ9dk"]
Ask your question and wait serenely for answers
Similar to 'Quora' or 'Yahoo answers' solutions, Confluence Questions helps organize questions and answers and increase collaboration internally. From any Confluence page, you can create your question, associate it to a topic and make it more lively by adding images, links, videos, tweets, code snippets,…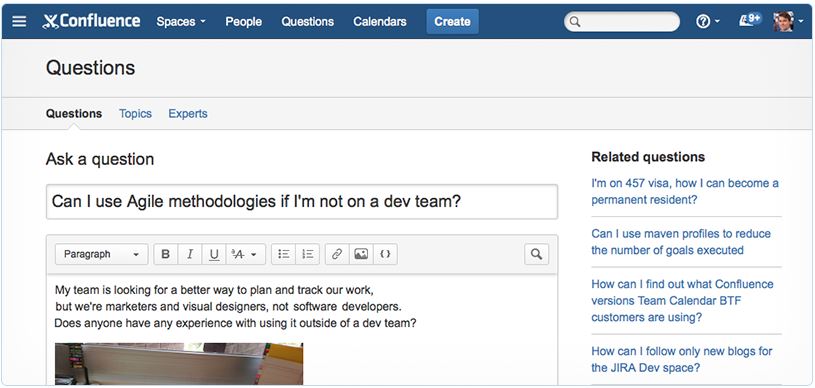 Now you just need to wait for answers to pop in…
Identify experts among your team
Your question is interesting and answers are provided on the fly by your colleagues from all across the company. But how can you identify the best answer? Trust the collective knowledge. Thanks to the votes, the best answers automatically ascend on the list and you only have to choose the answer that suits you the best.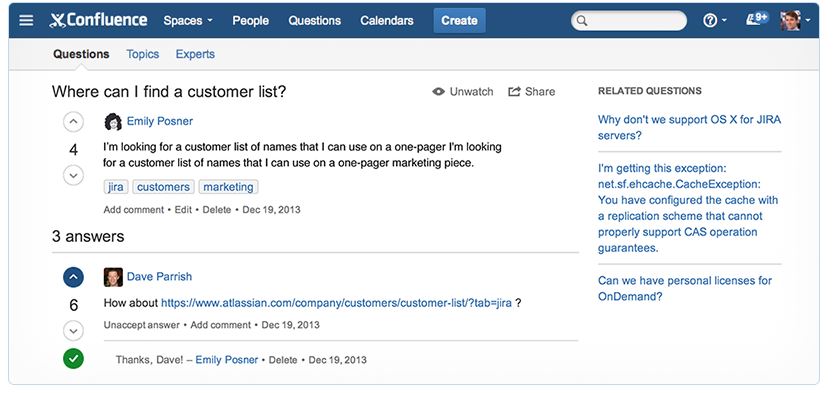 As your colleagues answer questions, and vote on answers, they earn and cumulate points and can be identified as experts on specific topics. Thanks to experts leader board, you can find the masters you are looking for.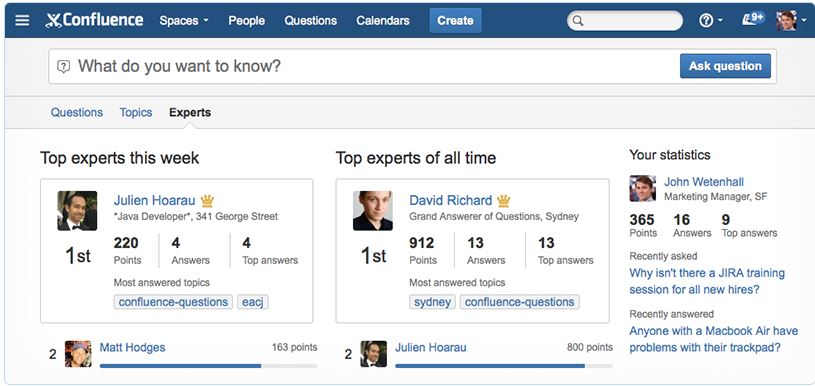 Share even more knowledge
Questions and answers remain accessible to all via the Confluence search engine, on the news feed or through the Confluence Questions module. You can also enhance your pages with the macro "issues list" that presents the top of questions/answers issues related to a topic.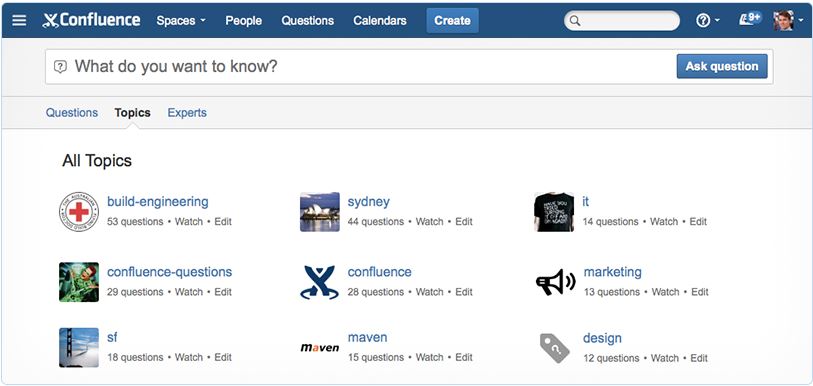 If one of your experts leaves the company or if the question arises again, there is no need to worry, just a few clicks to retrieve all the Q & A …
To sum up
Confluence Questions allows to fully capture and share your teams collective knowledge and expertises. Questions are centralized and accessible everywhere : it is very easy to find the knowledge you need to get work done.
After an initial trial period at Valiantys, the results are very positive: our IT consultants are eager to share their knowledge and help each others, business team get instant feedbacks to their questions and share best practices…We only regret the lack of fine grained permissions in Confluence Questions so far. For example, we'd find useful to be able to restrict access to a particular topic to an user or user group. Our advice to start efficiently: do not hesitate to create the first questions to encourage participation internally.
Interested?
Our team of experts is at your disposal to answer your questions.
Contact us