An integrated chat system is really a missing feature in Confluence. Getting live feedback, discussing content, or sharing information in real time with your teams… a dream for Confluence users? Not anymore.
Since 2012, Confluence Chat, developped by Oliver Straesser, allowed us to have a Facebook-like chat window in Confluence. This add-on offer is interesting, but unfortunately we've experienced performance issues, notably with Internet Explorer users.
A year ago, Atlassian acquired HipChat, a hosted private chat service dedicated to teamwork : you will no longer mix personal and professional life, as HipChat is designed for work. It runs both on native and web apps.
Add-ons enabling the integration with other Atlassian tools have been released since then. In this post, we will focus on Confluence integration.
HipChat, the enterprise chat solution
HipChat is a chat app that relates to a domain, in our case valiantys.hipchat.com.
Once the domain activated, everyone allowed to connect to this domain can create persistent chat "Rooms" – the history can even be accessed by new members joining the conversation later on. Users can chat with each other without needing to create a dedicated "Room".
There is no limit in the number of "Room" you can create, they can be publicly available, accessible to offline users or private – in which case the "Room" creates invites users to join the conversation.
You can access HipChat either directly from the declared domain on a web browser, or through a client available for Windows, Mac, Linux, iPhone/iPad and Android.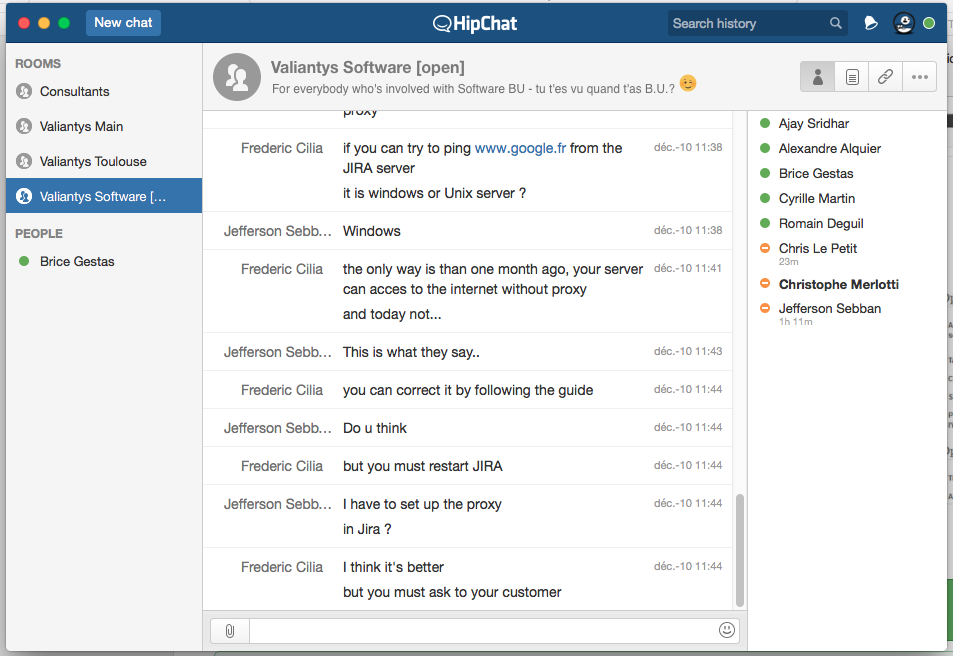 Free offer
Hipchat is accessible to everyone for free, and anyone can create a HipChat domain.
The features are limited, but if you only need to chat with two or more team mates and share a reasonable amount of files (less than 5 Gb) this should be sufficient.
Paid plan
Going for the paid option – $2 per user and per month – allows you to access the following features:
Video chat
Screen sharing
Unlimited files storage
Full access to the conversation history (limited to 25000 messages in the free offer)
These features can become essential when teams are spread across multiple locations.
These two offers are Cloud-based.
Note : Atlassian has just released an HipChat version that can be hosted internally : HipChat Server.
Confluence integration
There are several add-ons to integrate HipChat with Confluence. They all share the same philosophy.
HipChat for Confluence
Atlassian has developed an add-on, HipChat for Confluence, which offers a basic integration between an HipChat Room and a space. The Room displays notifications when pages are created or edited, and when news are published within this space.
It does not go any further. This is very frustrating for me : I was expecting a much deeper integration, as those products work in tandem.
Connector for HipChat and Confluence
To go further with the integration, we can count on Wittified who has developed Connector for HipChat and Confluence.
This young american company has developped several extensions for Confluence and JIRA. The updates are frequent, and quality is definitely there.
Their add-on for Confluence offers essential features when using Confluence and HipChat day in, day out. From HipChat, you can for instance:
Search Confluence content
Create a page
Assign tasks
Save the content of a Room in a Confluence page
All of this while respecting distributed access rights in Confluence 🙂
Wrap up
More and more companies turn to chat to reduce email threads and smoothen internal communcations. By integrating HipChat and Confluence, you have a complete content management solution that takes into account live communication.
Since we've used HipChat + Confluence, although it's difficult to quantify, we've dramatically improved our reactivity in our projects  .
Any other questions on the HipChat – Confluence integration? Need some advice?
Contact us