If you're a regular JIRA Software user, you're probably aware of all the functionalities offered by Atlassian for Agile teams. These includes a range of tools like sprint management for scrum teams, Agile boards and release management – all of which are precious assets for any Agile team manager.
However JIRA does not incorporate intuitive tools which perfectly fit the needs of traditional project managers, such as planning management. It can be frustrating that software like JIRA doesn't cover such a basic and yet necessary aspect which, as a consequence, does not allow project managers to properly follow-up their Agile JIRA projects. But there is one add-on for JIRA that presents a serious and reliable solution: Portfolio for JIRA.

Planning management with Portfolio for JIRA
The Portfolio add-on, if you don't know already, adds a number of  features to JIRA. The one we are interested in in this blog is the ability to display all the tasks in a sprint in a planning view. Among other features, Portfolio also includes tools for resource management, theme setting (quantitative objectives) and project state report generation.

The significant advantage of planning management with Portfolio lies in the fact that it is all automatically set. The project manager is only required to define project constraints linked to resources, calendar and potential order between tasks. Portfolio is then in charge of generating the best possible agenda for the project, which indicates neatly whether the forecasts are realistic. This gives project managers an easy way to point out conveniently – and on a single page – whether a problem will occur in the following sprints. This piece of information was formerly not easy to determine.
Let's illustrate this through a practical use case.
Use case: when will my release be ready?
Imagine you are in charge of the development of an internal IT tool in your company. You simultaneously maintain the standard version (used on desktops) and the mobile version. You have been using Scrum management for a long time now in JIRA and your're asked to provide a clear release plan for your software to users. However, neither the Agile boards nor your sprint contents really show this type of data in a clear way (except the dates you already forecast for your releases within your JIRA project). So how can you be sure that these dates will be respected ?

In this situation you would rather have a neat graph showing all the tasks from your sprints depending on the time at your disposal. This will enable you to determine exactly when the last task of each version will be closed, and during which sprint. This is precisely the view that Portfolio offers.
Integrate your sprints in Portfolio's agendas
Portfolio for JIRA gives a convenient planning view which shows ongoing tasks to be resolved in your sprints over time. Vertical separation lines are shown in order to indicate the expected end of each sprint. Milestones are also displayed to show the real release date of each version. Moreover, versions whose real end date is later than the expected end date will be displayed with a visual warning pattern.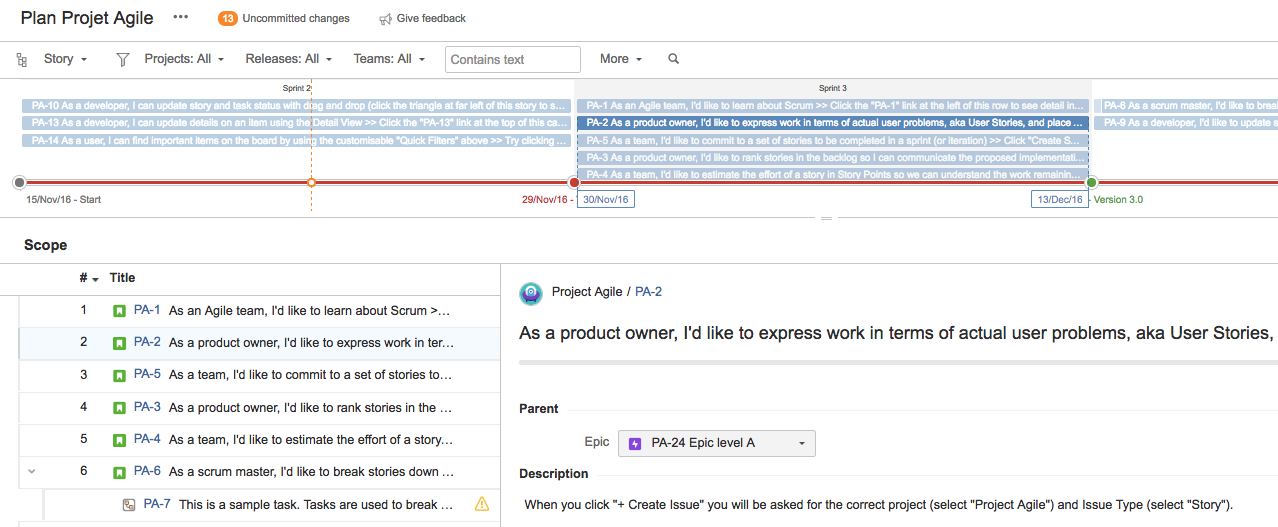 And this is how Portfolio for JIRA adds a long-needed feature for project managers of Agile teams! Have any questions? Leave me a comment below.