Last week over 100 Valiantys customers, partners and members of the Atlassian ecosystem joined forces in central London for the Valiantys London Enterprise Day 2016. The modus operandi? To share the latest news and tips from across the Atlassian suite, with demos from leading add-on vendors, industry insights and first-hand accounts of Atlassian implementations from our very own customers.
Everything starts with teamwork
Randall Ward, CEO, Appfire, kicked off proceedings with musings on not technology, nor tools, but teamwork.
"Teamwork is the fuel that allows common people to achieve uncommon results", he began, before revealing the one factor the separates good teams from great teams: motivation. Companies put too much time and focus on processes and tools, he explained, while getting teams in the right frame of mind, creating energy and focusing on people and interactions is the ultimate driver of continual innovation.
"Motivated people create great things  – and then stay." He concluded.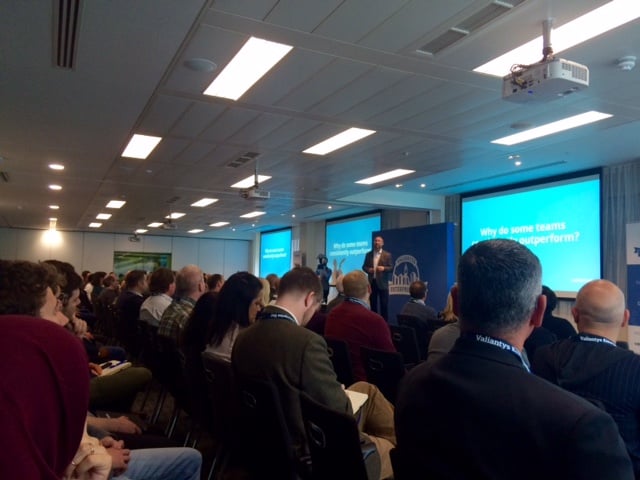 Going beyond the Minimal Viable Product
But it didn't take long until we got around to tools, with Bhav Makwana explaining how Telegraph Media Group took its service desk from the MVP to a fully-functional service desk solution complete with extensive knowledge base. Oh, and did we mention that his team had just three months to do it?
Bhav took the audience through how the team moved from a clunky legacy ITSM solution to an ease-to-use one built on five key needs:
Ability to log tickets via email, phone and self service
Transparent communication
Ease of use
Continuous integration change management system
Synergy between ITSM toolset
But that wasn't all – far from it! Once the MVP was up-and-running, it was time to move things to the next level.
"Once you've got something, you don't just stop there – you continue building your product", he explained. "All ideas are awesome, and we built innovation on the back of simple conversations."
Using an Agile approach encompassing weekly stand-ups and releases every Friday, the team then built beyond the MVP with a stack of features including a TMG component, SD source, IVR, parent ticket option, incident management tab and an asset management functionality within JIRA ticket templates.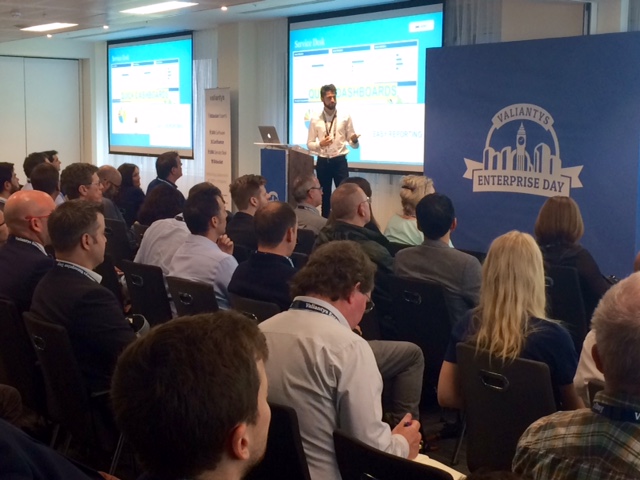 Owning your software releases
Neal Riley, Solutions Engineer at Atlassian was also on hand, showcasing some seriously powerful integration possibilities within the Atlassian stack.
"Out-of-the-box JIRA doesn't do everything for everyone" he began, before demonstrating how add-ons can change the way JIRA functions completely. He then took the audience through how JIRA, Confluence and Bitbucket can all be used across the four distinct phases of development: definition, planning, development and operation.
The key to software development success, according to Neal? "Alignment and collaboration – backed up by tools that allow all teams to come together and get the flexibility and autonomy that they need to be productive."
Next, the audience learnt how financial planning and investment management company BlackRock installed and customised JIRA to effectively manage a whopping 500 software releases per week.
Tips from the top
We love practicing what we preach, so Team Valiantys was also on hand to offer tangible advice for attendees to take home and apply to their own projects. First up was our consultant Aude, who took the audience through how to effectively structure content in Confluence, while Valiantys senior consultant Gareth shared his favourite tips and tricks to make JIRA even better. Reorganising workflow transitions, showing information from linked issues, standardising projects and easily managing licensed users were just some of the tricks up his sleeve.
And that was that for the morning of #VED16 – stay tuned in the coming weeks for more expert insight, including presentation slides and videos!