Being pragmatic, curious, outspoken, relaxed and a bit quirky seems to be a good formula for Valiantys. We are pleased to announce that we've been officially certified as a Great Place To Work in France in 2017! What's more, we ranked #10 out of the top companies who received this award!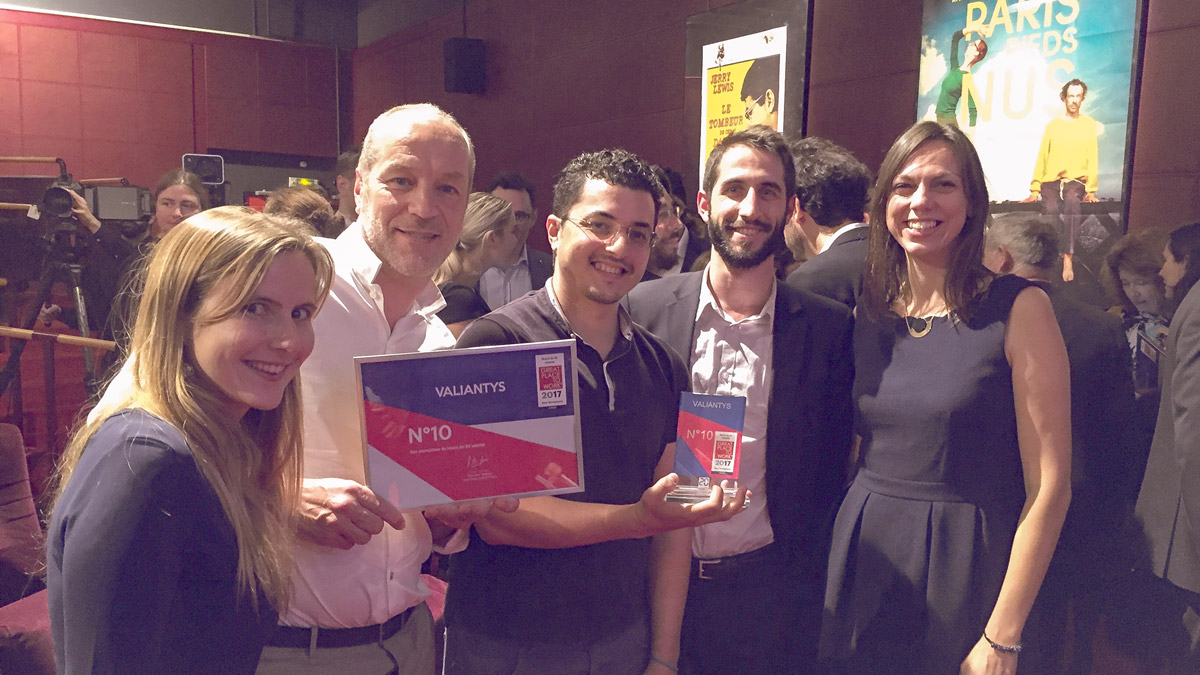 Great Place to Work is the global authority on building, sustaining, and recognising high-trust, high-performing workplace cultures. They understand that trust in a company's core values is what empowers employees to be the best versions of themselves, maximising their contribution. We're incredibly honoured to be in the company of other leading enterprises within France.
'We are very honoured to receive this recognition for our first time participating,' says Francois Dussurget, CEO at Valiantys. 'Valiantys is an international and multicultural company, our development plan is ambitious and we know that we could not achieve our goals without a well-rounded, dynamic team with a strong corporate culture. This is why we particularly pay attention to our work environment and personal development at Valiantys.'
This certification allows us to pull back the curtain and give an inside look into our culture, values and processes. Our results prove that our strengths lie in having a solid team spirit which are based on five values:
Talk Straight – We value open, two-way communication between co-workers, clients and partners. We believe that being true to oneself, saying what you mean and openly sharing knowledge is the key to trust and mutually enriching relationships.
Never stand still – At Valiantys, we never rest on our laurels. We are forever evolving, and always eager to improve ourselves and question assumptions. We want to encourage our staff to be creative, hungry to explore new possibilities and free to go beyond.
Be mindful of what matters – As people, we are down-to-earth and pragmatic, striving for efficiency in everything we do. Whilst we're committed to working in an agile way, we approach each and every task with consistency and rigour.
Make every interaction remarkable – Our view of a customer is uncomplicated, and our end goal is simple. Whether a co-worker, partner or an end user, we want to ensure that everyone who interacts with us has an awesome experience.
Share and take part – We create, deliver, grow and celebrate as one team. We are always open to helping each other and sharing – whether it's our knowledge, ideas, experience or a beer after work.
At Valiantys, these values are more than just words on paper, rather they guide our business activities. This is why we pride ourselves on implementing innovative projects, tools and habits that contribute to the ongoing re-enforcement of our corporate culture.
Our collaborative knowledge base CODEX provides an internal wiki to our employees thanks to the Atlassian tool Confluence. It is in the space that employees can collaborate on documentation, whether it is working on a project for client or sharing the best restaurants to eat in Toulouse. This tool has improved internal communication and integrated the team.
Our annual ShipIt is a day dedicated to innovation, where the teams leave the day to day work at their desks and form multidisciplinary teams in order to think of news ideas to improve our offers and the way the company works. This encourages out-of-the-box thinking and gives everyone a chance to contribute to the company's mission.
Finally, our Caring for Change corporate philanthropy programme, based off of Pledge 1%, supports employees who set up initiatives around education for the betterment of their communities. We're incredibly proud of our employees who have given back, whether it is through assisting in renovation efforts at a school or donating to their favourite charity.
We encourage our coworkers to stretch themselves professionally and we celebrate our achievements at Valiantys. We are so proud to feel that our everyday work culture is contributing to building a smart and efficient company where we can be empowered to improve and accomplish!
While this first step in getting certified is just in France, our culture resonates from our headquarters in Toulouse to our offices across seven different countries. Stay tuned as we plan to be certified internationally in the months to come!
If you are looking for a great place to work, check out our available positions and see how you can grow your career at Valiantys!
Current openings