The story began 15 years ago with a small group of people who wanted to revolutionize the working process and later evolved into a whole universe. Today Valiantys has over 200 members in 7 countries across the globe who have become the heart and soul of it all.
Without them, nothing would have advanced! You would think that a company that works in the digital field would not be affected by the human element, but it is actually the opposite!
As a new member of the Valiantys team, I am proud to be a part of such an outstanding place. 
Before I give you my reasons as to why I joined, let me share with you the news that Valiantys has been awarded Great Place to Work® for the 6th time in a row.
So what is GPTW? First, it stands for a Great Place to Work. But what does this mean exactly?
It is an American certification that is awarded to companies it deems to be a great place to work, based on an employee survey.
The survey includes a range of topics including subjects like working environment and culture. If a company scores more than 65% of positive responses, according to the Trust Index©, it becomes eligible for the Great Place to Work® label.
Upon achieving the GPTW certificate, the company can then apply to be classed on the Palmarès Best Workplaces. In order to be ranked on the Palmarès Best Workplaces, companies need to fulfill two conditions:
To have already the 

Great Place to Work® 

label, upon achieving more than 70% on the Trust Index©, which makes up 2/3 of the total grade.

To pass the Culture Audit© by more than 15%, this audit evaluates the methods of management of the managerial team over 5 main criteria, and makes up for 1/3 of the total grade.
Each rank consists of a group of companies (segments) who share the same scale. The great news is that Valiantys gained 2 extra points on the Trust Index©, raising its score from 88% to a whopping 90%. Additionally, the company went from the top ranking within the Startup segment of 5-50 employees, to the top ranking again within the SME segment of 50-250 employees.
As for my story, to explain to you what led me to Valiantys, I would have to start at the beginning.
I had finished my studies a long time ago and decided to moved to France. After living there for 3 years, I went back to go to school again to do a Masters degree and it was through my job applications on Linkedin that I found Valiantys.
Mind you, I had no knowledge of the digital transformation world, so I was certainly intrigued by the unknown. However, that was not the main reason that attracted me to join them.
It was after having met some of the team and finding the values of the company (especially: sharing and taking part and never standing still) to align with my personal values, that I chose to complete my internship program with Valiantys.
To tell you I was excited to embark on this adventure would be an understatement! So, instead of explaining further, I will share with you the experiences of 5 team members, how each of them represents one of our values and how, like myself, they came to to choose Valiantys as their "home, away from home".
Talk Straight
One of our valued members is Cyrille Martin, the Head of Professional Services in the Delivery department. He has been with Valiantys for 15 years.
Cyrille embodies one of our most important values, which is Talk Straight and represents a cornerstone in the life and soul of our company.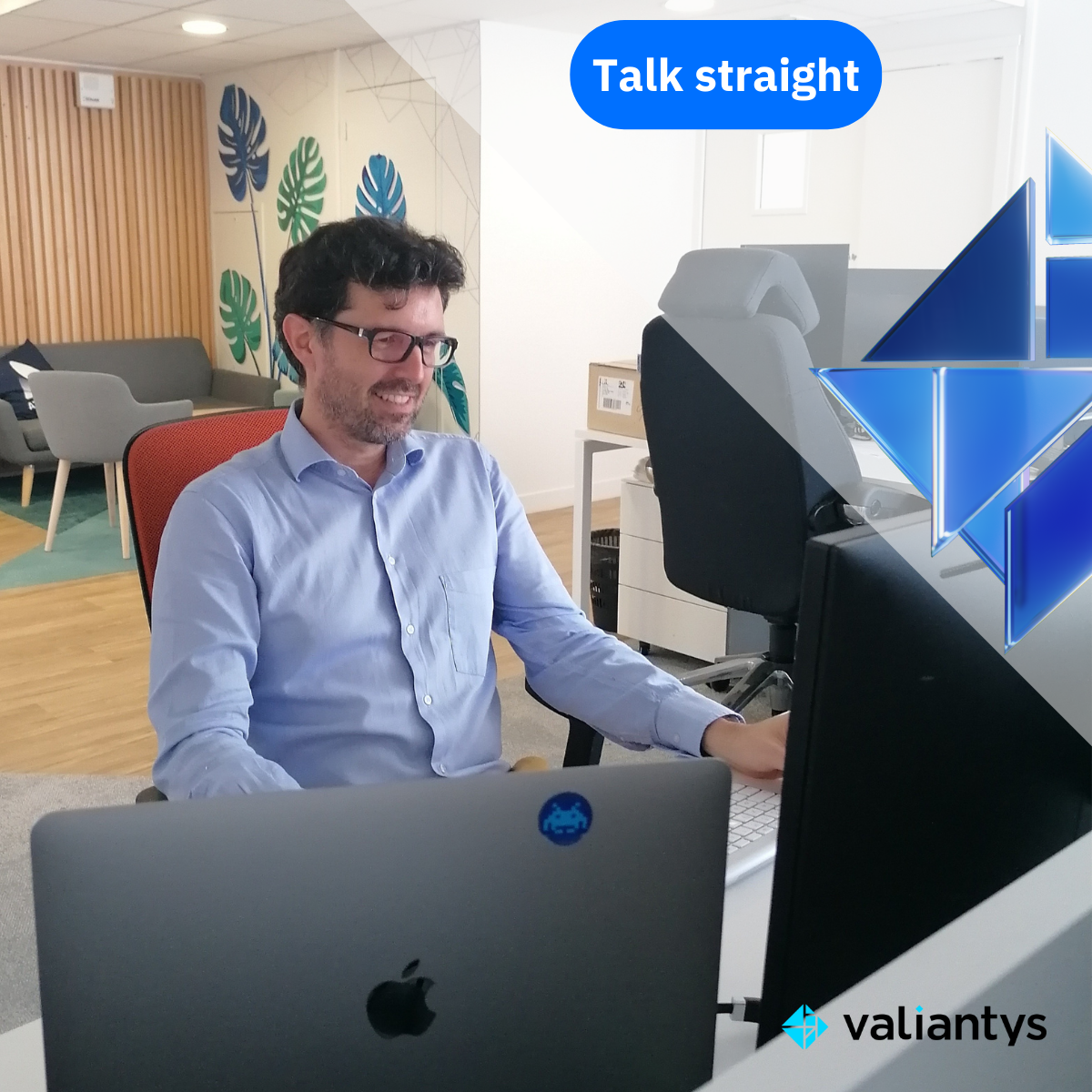 He previously worked in the digital transformation field as a consultant at freelance digital agencies, whose tasks included workflow organisation, task distribution, contract renewal and pitching tailored software solutions for his clients. It was through these freelance agencies that he met François Dussurget (the founder and previous CEO of Valiantys SAS) and in 2009, François explained to him how the company was growing and asked him to join.
Today, Cyrille has a key role at Valiantys, he is the Head of Professional Services, in charge of consulting and delivery. He helps clients define their needs and ensures they receive solutions that are well adapted to those needs. He also ensures that the client sales proposals are delivered accurately, and that the integration and implementation of all our tools are flawless.
Cyrille also plays a role in our training sessions, as he provides feedback from the client side, helping to elevate the training experience. His job requires him to be analytical, to provide constructive criticism to his team, to maintain good relationships with our clients and to continuously look for improvements. For that, he has to be honest, pragmatic and very aware of his team's needs and performance.
Fortunately, he is already that person, which is why he is the perfect example of our Talk Straight value!
Why has Cyrille chosen to remain at Valiantys? His reasons go beyond the basic considerations for employment and are rooted in our company values. 
Specifically, he mentioned:
Openness

 

= talking freely, honestly and letting each other know when things are not going the right way.

Listening

 

= people here listen to each other, whether in a professional or a personal setting. They also value your opinion, regardless of your title.

Helpfulness

 

= no one hesitates to help, even if they just met you.
We all look for jobs where we can excel, learn and grow, but also, we look for places where we are comfortable, fulfilled and valued. At Valiantys, we are not your ordinary place to work, we are a family, we are a GREAT place to work!
Stay tuned for more adventures to come in this series …
Join the adventure now !