Valiantys is based on core values that drive our actions. We believe in open, candid communication that is supportive and positive. We believe in making interactions with each other and our customers remarkable, and always strive to keep in mind what really is important when it comes to working as a team and delivering great services.
Remaining true to our values depends on our ability to work together, so we go to great lengths to cultivate our culture of collaboration.
Recently, Valiantys UK moved offices to a larger, more central location in London. While the location is convenient, what is more appealing about the office is how the architecture is designed to improve collaboration. I sat down with Emmanuel Boukandoura, general manager of the UK office, to discuss some of the painstaking decisions he took in the new London office layout.
Stefanie Chernow: Tell me about the people in the UK team.
Emmanuel Boukandoura: We have more than thirty staff members in our UK office and they are a wonderful bunch of people. We are a diverse team, with between 12 different nationalities.
Fifty-five percent of the team consists of Atlassian certified consultants. On a daily basis they are probably the smallest in numbers at our office, as they spend their time traveling to clients and delivering projects. Our sales team currently is about four or five people, although this number should grow in the next few weeks. We also have our admin and recruitment team who are normally based on-site.
When you start designing a new office, you naturally think about who is going to be in there and how they will work in this environment. That is one of the main drivers in deciding what type of office to build.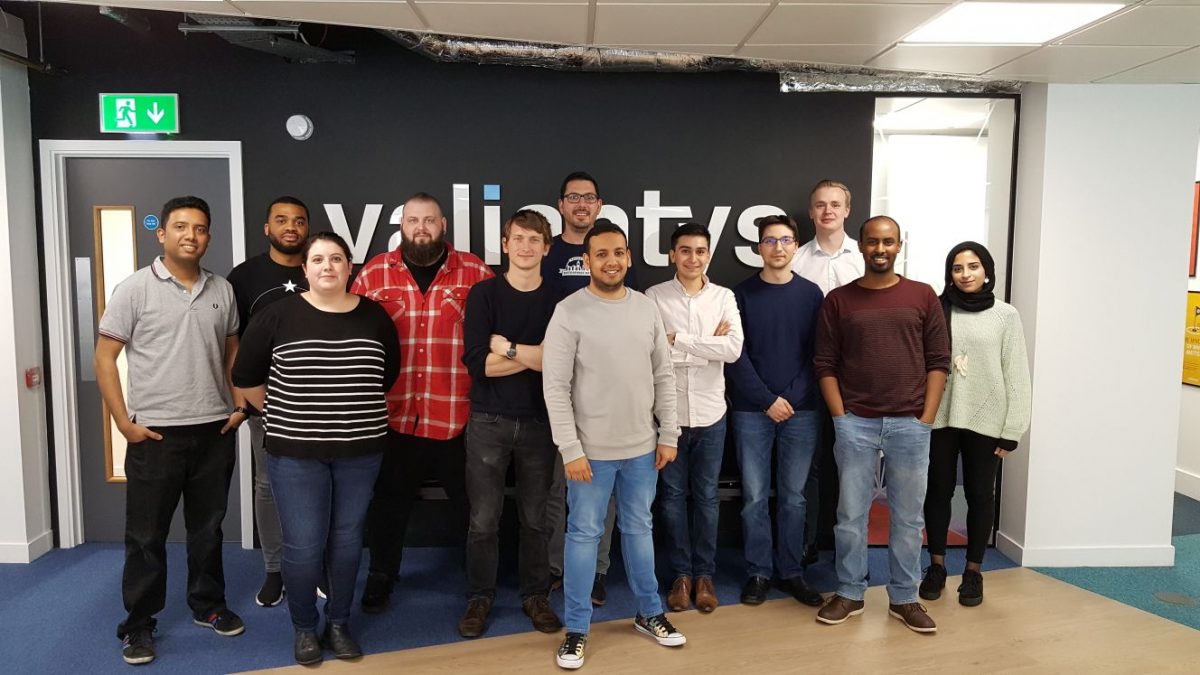 Tell me about the collaborative culture in Valiantys.
There are a few different layers to this. First, we want to make sure people within the same team can collaborate, especially our consultants. Even if they work alone on a project, it is important they can get support and ideas from other people who may have a potential solution.
Likewise, we consider how people communicate across teams – this may be work related or non-work related. This latter form of collaboration is valued at Valiantys, as this social element gives people an opportunity to take a break and recharge their batteries. Afterward, they'll get back to their desks and carry on for another two or three hours in a better state than if they didn't take that break. It allows people from various departments to come together and get to know each other, and this foundation helps us support each other when we deliver our projects.
Finally, our collaborative culture extends to how we interact with our clients. When they come to our offices, we really want them to feel they are part of the team.
With this collaborative culture in mind, how did it affect your architectural decisions? 
We've designed the layout to be a bit condensed. Not to the point that it is crowded, as people need to have their own space, but compared to our previous office the different departments are closer together. The desks still are large, but now they are closer together. They have a white board where they could go draw potential solutions.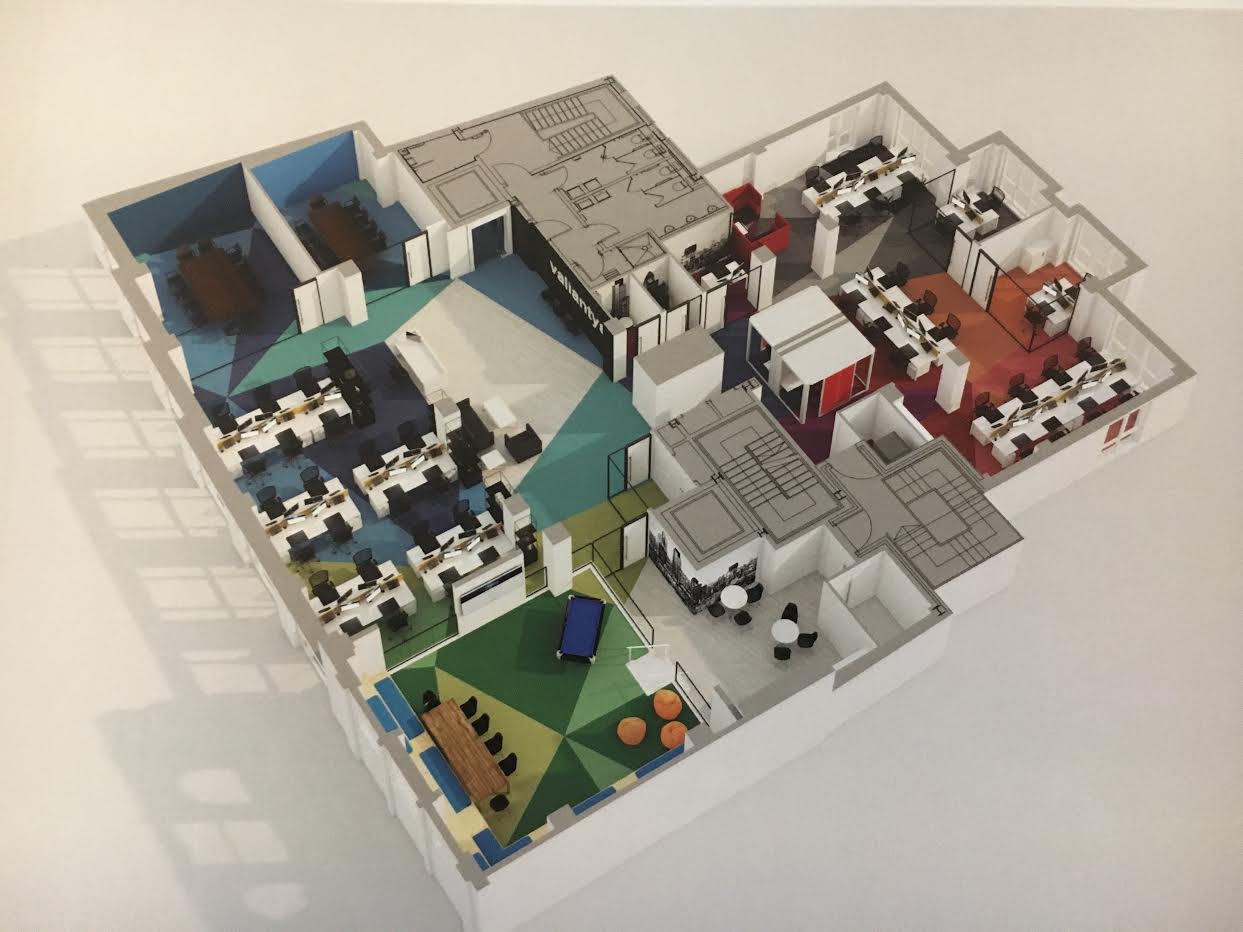 We have various meeting rooms which are located away from the desks, but you need to pass by other people to get to the rooms which gives you an opportunity to talk to your colleagues. Furthermore, the meeting rooms are better sound-proofed, so people can have discussions without disturbing anyone.
The kitchen and gaming area of the office embodies the social element of our collaboration. There is a playstation and a foosball table to help our employees recharge. Here, you might bump into someone and the discussion can go in a variety of directions, but it's likely you'll start talking about your work and the others will do the same, and that can help everyone see their problems from a different angle. We likewise use this area when we have large meetings, so it is an easy and spacious place for everyone to get the same information.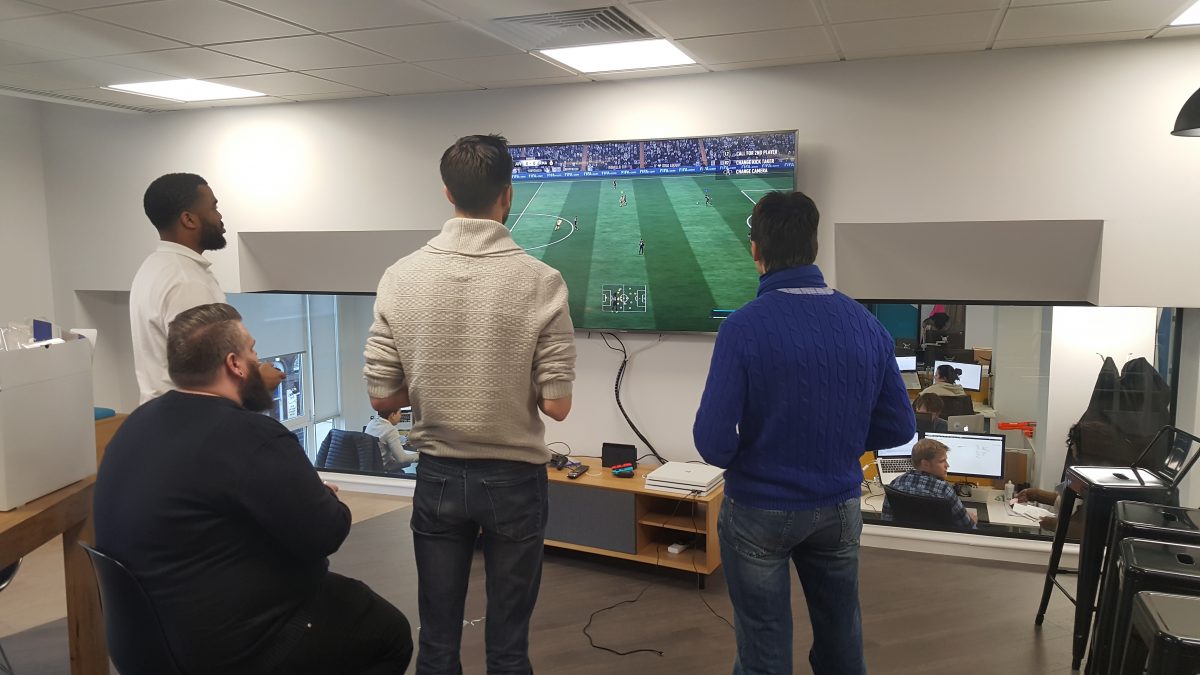 Where is your personal office located? 
I actually don't have an office and neither does our VP of Corporate Development. One of the important elements for collaboration is making sure the leadership is as approachable as possible, meaning that we are working out of the open office. It works well, people are now more likely to come from the other side of the office to talk to me.
We have 42 desks and only two closed offices, one for our Finance Manager and one for our Talent Acquisition Manager, as they regularly deal with confidential information.
Beyond the internal collaboration and employee satisfaction, how does the new layout help serve our clients? 
We already had some trainings and customer workshops, and we've found we can easily bring clients into our office without disturbing our employees who need space to work.
It is a pleasure to welcome our customers and let them see how we work, as it is encouraging for them when deciding to do business with us. We look to achieve a real partnership with our clients, so this space helps facilitate that process.
Join the Valiantys UK community
We are looking for the next team players to drive Valiantys' expansion, so check out the open positions and find a fit here.
We'd also love to talk to you about your Atlassian projects and how we can help you reach your objectives! Click below to get in touch and someone from our team will assist you shortly.
Contact Us