Let's face it – the end of the year crunch can be a bit chaotic. Not only are you probably attempting to wrap up loose ends at work before the holidays, but in your personal life there's a lot to think about. Did you finish your holiday shopping yet? Are you sure you didn't forget anyone? What about coming up with that New Year's resolution list? Maybe you've always wanted to have better visibility of your personal finances…
Fortunately Atlassian has you covered, as they acquired Trello earlier in 2017. For everything you need to organize, here's a couple of hacks to keep the holiday season running smoothly.
Trello tip 1: Add yourself to a card
Add yourself to a Trello card by hovering over a card with your mouse pointer and pressing the space bar on your keyboard.
Trello tip 2: See your cards
Don't get lost in the clutter! You can filter your Trello board to only see the cards assigned to you by pressing the "q" key.
Trello tip 3: Quick edit!
The "e" key allows you to go in "quick edit mode when hovering over a card with your mouse pointer.
Trello tip 4: Add your due date
The "d" key allows you to quickly add a due date when hovering over a card with your mouse pointer.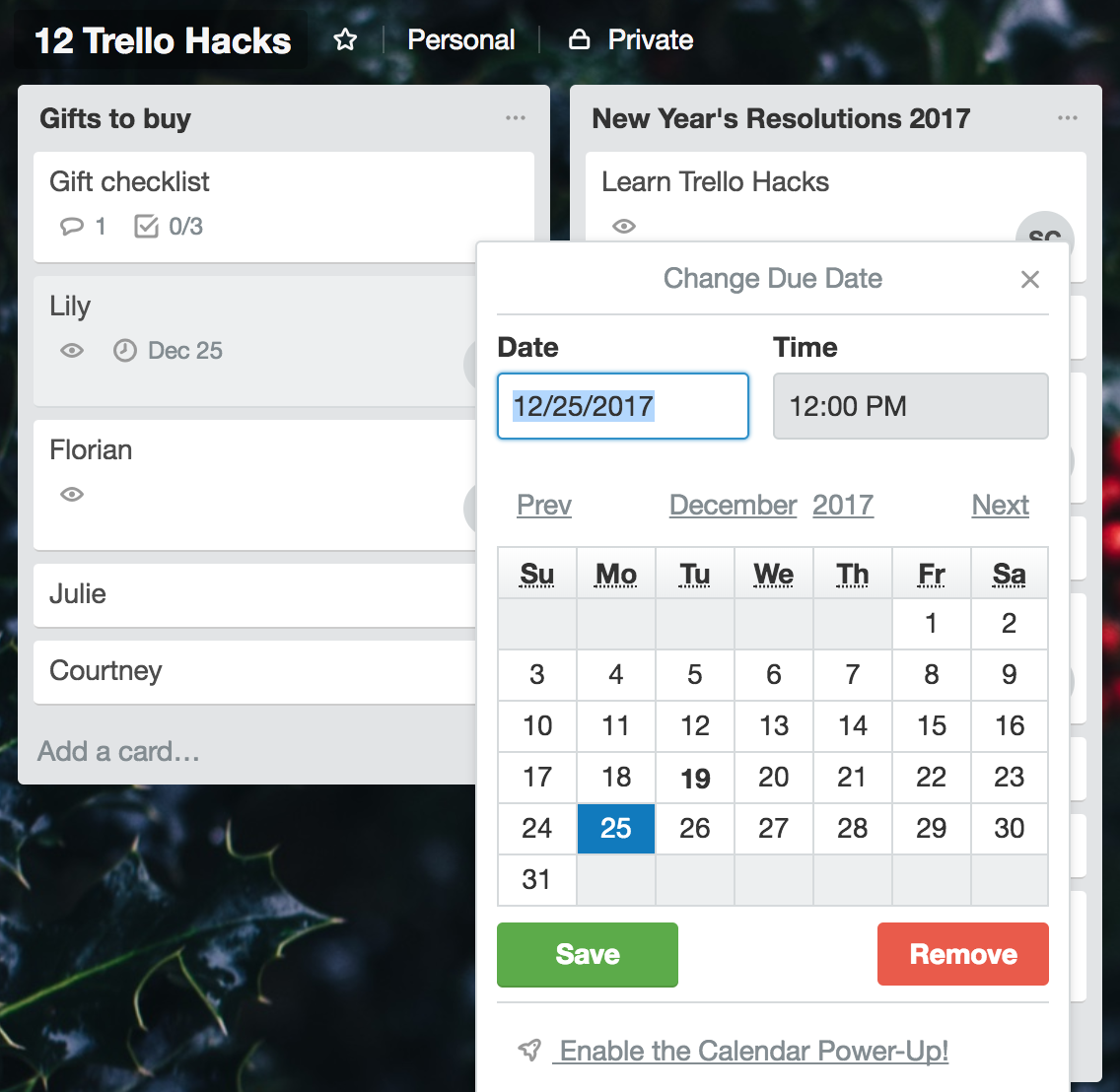 Trello tip 5: Expanded edit
When creating a new card, you can press "shift-enter" to expanded to edit mode from the quick edit box.
Trello tip 6: Create multiple cards (or don't…).
When copy-pasting several lines of text into a card, Trello will give you the option to either create one card per line of text or one card with all the text.
Trello tip 7: Labels
Pressing the "l" key opens a pop-up of the available labels. Clicking a label will add or remove it from the card.
Trello tip 8: Filters
Use the "f" key to open the card filter menu and then decide how you would like to filter your board. Use the "x" key to clear all active card filters.
Trello tip 9: Checklists
When copy-pasting several lines of text into a Trello card's checklist, Trello will create one item per line from your text.
Trello tip 10: Create cards from your email
Every Trello board has a unique e-mail address accessible in the "Email-to-board Settings." This allows you to send emails which will become cards on your board – and you can likewise configure the list and the position where each new card will appear. People who do not have access to your board can add cards if they have this email.
Trello tip 11: Add comments to a card from your email
Similar to the above hack, each card is also designated a specific email address. Sending an email to this address will add a comment directly to the card.
Trello tip 12: Copy your lists
Realize you didn't even make a dent in last year's resolutions? You can copy cards, list or even boards, allowing you to create templates for processes you are using repeatedly.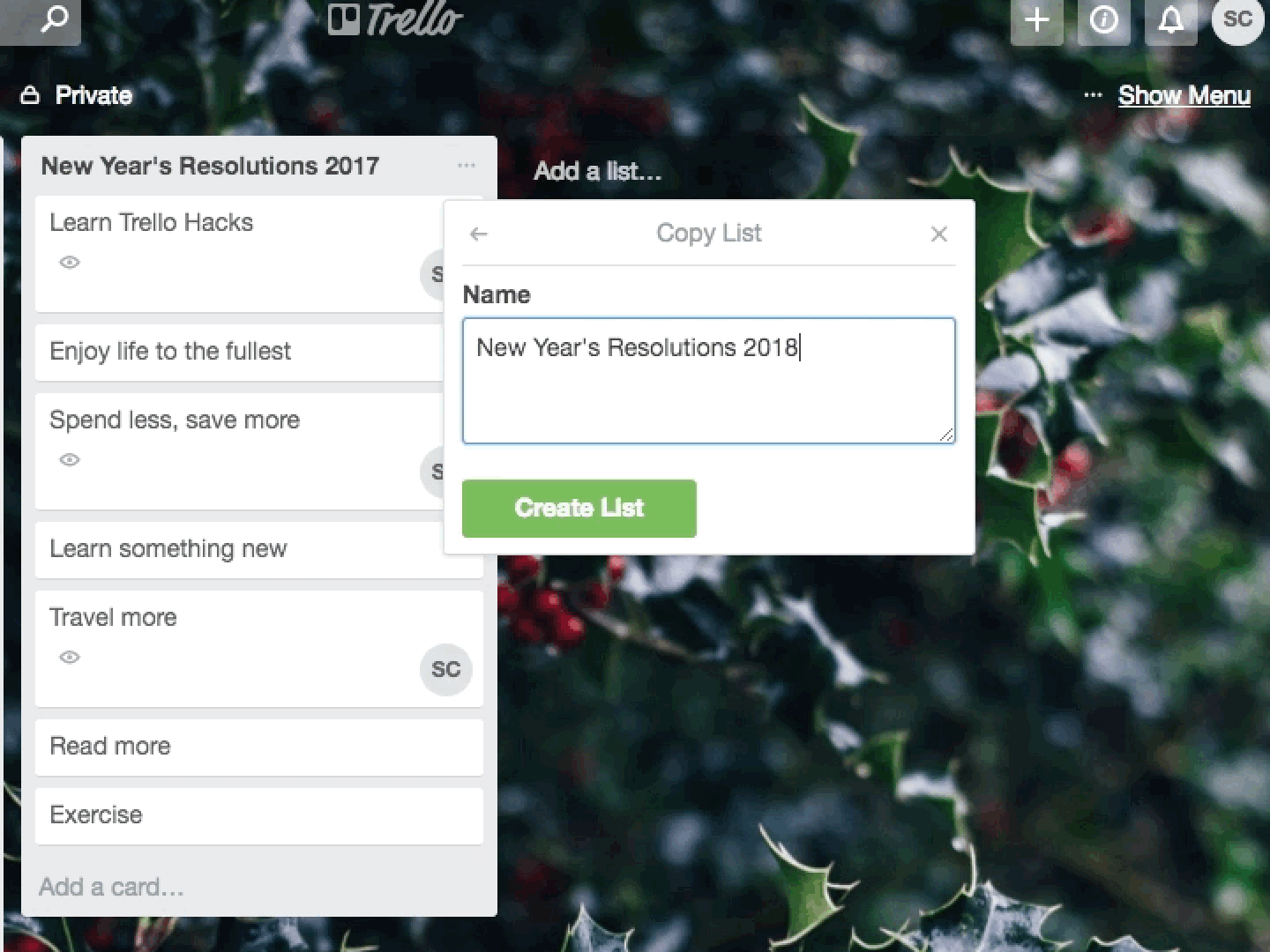 Now you're ready to be super organized with everything you need to tackle throughout the holiday season! Of course, if you are finding that you're enterprise needs are greater than Trello's capacity – for example if you want to implement Agile at scale – rest assured that tools like Jira, Confluence and Bitbucket can also keep large teams running.
From our team to yours, we wish you a very happy holiday season! Keep in touch with more useful tips by signing up to our newsletter below:
Valiantys newsletter