This is a guest blog by Appfire, a global provider of Atlassian software and enterprise services, and Atlassian's largest commercial add-on vendor. Since 2005, Appfire has been driving Atlassian products and services into the enterprise market. In this blog, we explore how JIRA adminstrators can save time and boost productivity when creating projects in JIRA with Wittified's Delegated Admin Tools.
You can find out more about our strategic alliance with Appfire here.
A common challenge for growing teams
Once organisations understand the power of JIRA, JIRA administrators can become flooded with project creation requests.
Although it's tempting to open up access for more JIRA administrators to handle the workload, doing so increases your risk of JIRA "sprawl". This is a common challenge for growing teams. The typical result is an unending list of custom fields, irregular workflows and disparate schemes that can impact JIRA's performance and stability, as well as complicate administration.
A powerful JIRA add-on called Delegated Project Creator by Wittified Atlassian Add-ons (an Appfire company) addresses these issues. It also resolves one of JIRA's most highly-voted feature requests.
The following video provides a quick, high-level introduction:
A time-saver for administrators
With Delegated Project Creator, administrators are able to create their own custom project templates. These templates allow you to establish a set of standardised configurations that can be automatically applied when creating projects in JIRA. You can predefine all of JIRA's native project configuration items like permission schemes, notification schemes and field configuration schemes. The add-on also allows you to define custom component schemes, version schemes and project role schemes – capabilities that are not natively possible with JIRA alone.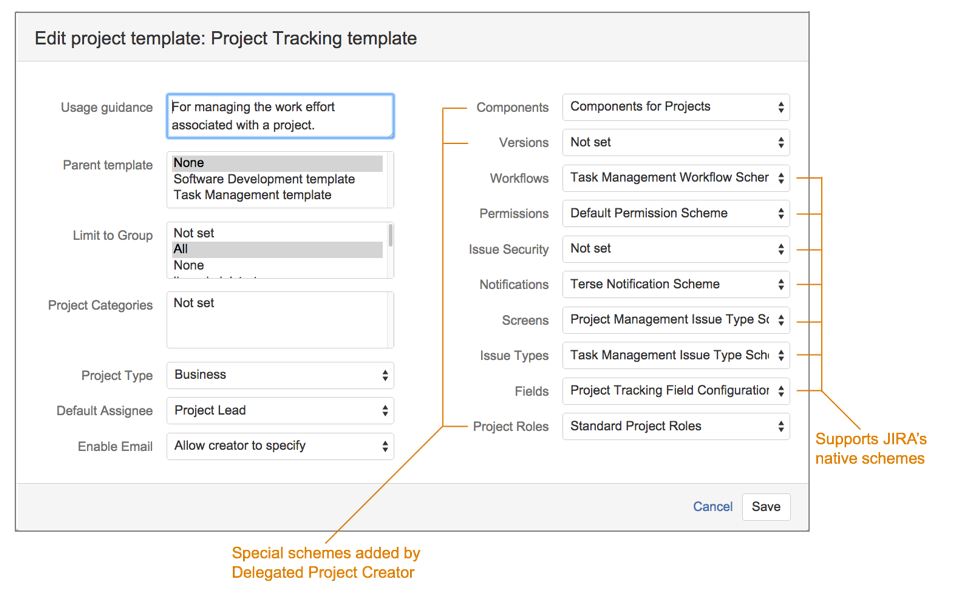 Once your templates have been established, the JIRA administrator then defines a set of "trusted users". This is a special group of users that you can empower to quickly request, or even create, their own new projects from one of your templates.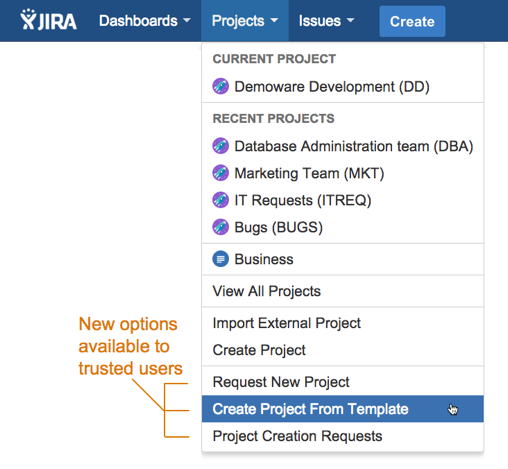 If desired, administrators can also collect valuable information with each project request. This can include things like business purpose, budget codes, project owners and more.
By leveraging project templates and providing an audit trail of each request, the add-on helps prevent unnecessary configuration differences or scheme duplication. It also frees up your JIRA administrators so they can focus on more important efforts. You can see a detailed review of the add-on's administrative features in the following video:
A relief for non-admins
Creating projects in JIRA with a template has major benefits for non-admins, too. Users who need a new project created may not know "exactly" how they want it to work. They can become frustrated by detailed configuration questions and implementation delays when they need their project created quickly. With Delegated Project Creator, you can streamline the entire creation process.
It allows non-admins to request or even create a new project in just two easy steps.
Choose a project template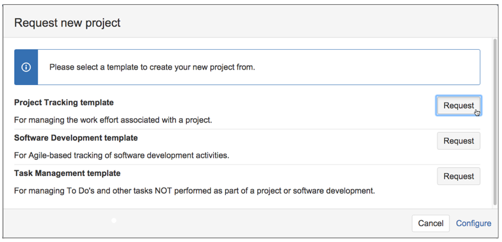 2. Supply basic information and submit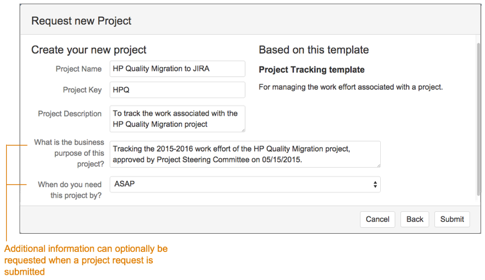 For new project requests, a notification can be sent to your trusted users whom you've empowered to create projects. They can review each request, add a comment to the requestor and approve or disapprove the request. This helps ensure that your organisation's processes and best practices are always being followed.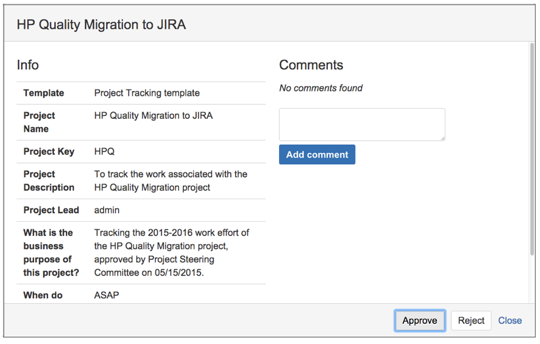 Watch this video for a more detailed review of how non-admins can request or create projects with this add-on:
Delegated Project Creator for JIRA exemplifies Wittified's goal of making life easier for Atlassian administrators worldwide. It supports server installations of JIRA Core, JIRA Software and JIRA Data Center. Delegated Project Creator can be trailed for free on the Atlasssian Marketplace
Download the add-on here
Beyond creating projects in JIRA
Delegating the creation of projects can be a huge time saver and a real productivity boost. Once each new project is created, however, your JIRA administrator still has the responsibility of adjusting project configurations over time. Enter Wittified's other flagship delegation add-on: Delegated Project Admin Pro.
This further enables JIRA administrators to empower select project leads to easily maintain their own project configurations after a project is created. They can easily select different schemes, or even safely modify (copies of) existing schemes, depending on how much control you choose to provide. It's a great complement to Delegated Project Creator for large JIRA deployments. Leveraged individually or in tandem, both tools can help you scale your JIRA administration much more effectively.
You can see Wittified's full portfolio of 20+ award-winning add-ons on the Atlassian Marketplace, including its popular Announcer series.
Find out more here