Valiantys Software is now Elements, a Valiantys company

We might have changed our name, but we're the same team behind Elements. The new Elements brand and visual redesign reflect our identity as a software publisher and are a  reminder of the connectivity between our different apps. As part of the rebranding, our products have new names: nFeed is now Elements Connect, Exocet is now Elements Copy & Sync, Elements is now Elements Checklist, and Spreadsheets is now Elements Spreadsheet.

To read more, check out our announcement from March 20, 2019.
Checklists are a handy way to break down large tasks into smaller actionable items. Who doesn't enjoy the feeling of marking a checkbox as done?
If your company uses Jira to plan and track work, you might frequently come across issues which include tasks to complete, possibly buried in comments or in an endless description. Yet breaking down the issue into Jira subtasks to track simple actionable items seems too complex.
With the help of Elements Checklist for Jira, a checklist app, you can extend the features of Jira to build smart checklists that will enable your teams to get things done faster and capture all the actionable items that are required to complete an issue.
Here are a few tips on how to implement smart checklists in Jira issues which empower teams to save time and enforce their processes.
Productivity hack #1: Build custom checklists in Jira issues which fit your use cases
Sometimes, you may only need a checkbox and text to track the smaller elements (pun intended!) of your work in issues. However in most cases, you'll want to provide extra details such as a due date, a file, numbers, a Jira user who's responsible for this item, etc. These are things you can't do with a simple checklist app. Adding this layer of structure is necessary if you wish to track expenses within an issue, or build up a list of material to order for your team that will then be passed along to your IT department.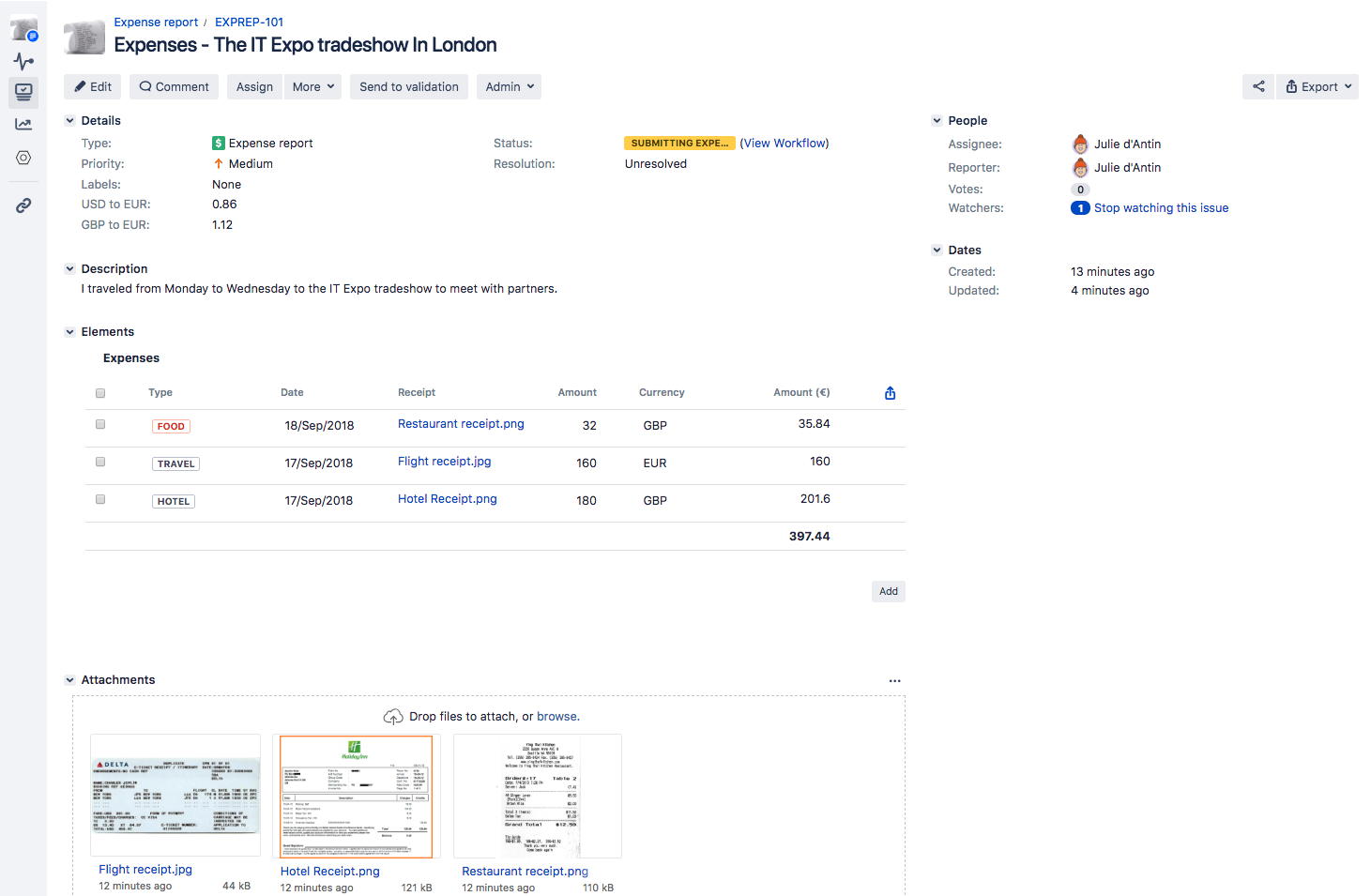 Elements Checklist goes beyond a simple checklists and provides you with a smart table you can completely customize: you can add as many attributes as you need, choose how you want to display headers and even have calculated attributes. The above screenshot shows you how to manage expenses within Jira, using multiple currencies. We attach receipts to the issue so the accounting team can easily access them for reference. Elements Checklist computes the listed fees' total instantly – thus saving time.
Productivity hack #2: Create templates for reusable Jira checklists
If you're looking to implement a Definition of Done or an Acceptance Criteria checklist, or to track HR tasks that need to be performed every time a new employee joins your company, you'll soon identify the need for reusable templates of your checklists.
In Elements Checklist, they're called datasets, as they basically correspond to a set of items you can instantiate when a JQL condition is matched. For instance, if you wish to manage a Definition of Done in Jira, you'll want to have one checklist associated with user stories, and one associated with bugs. Here's how to do this using Elements Checklist datasets:
Productivity hack #3: Define editing permissions for your Jira checklists
Another recurring need when it comes to checklists is the ability to restrict editing rights to certain team-members at a certain time. If we go back to our expenses use case, we certainly don't want the employee to be able to add new items to the list once the initially submitted list has been approved by the manager.

Elements Checklist for Jira allows you to define edit permissions based on the status of the issue, the user role or user custom fields. This way, you can enforce your process by restricting the ability to edit the checklists.
It's also worth mentioning that this app provides JQL functions you can use to set transition validators using a third party app like ScriptRunner or AM Utils.  You could for instance set a transition validator for your user stories that checks that all the Definition of Done items are checked before the issue can be moved into the "Done" status.
Productivity hack #4: Empower project admins to manage their own Jira checklists
Jira admins have a lot to do and updating the checklists structure for each and every project when there's a change in the processes shouldn't be distracting them from their core tasks. By delegating the administration of the checklists to project admins, the global admin can save time knowing that the configuration of the Jira checklists are in the hands of the right people: business users that have enough Jira knowledge to set-up  checklists and fully understand their use cases.
This is where choosing Elements Checklist can really be a bonus: the app is easy to configure and works at the project level.  Here's an overview of the admin interface, where project admins can configure their checklists: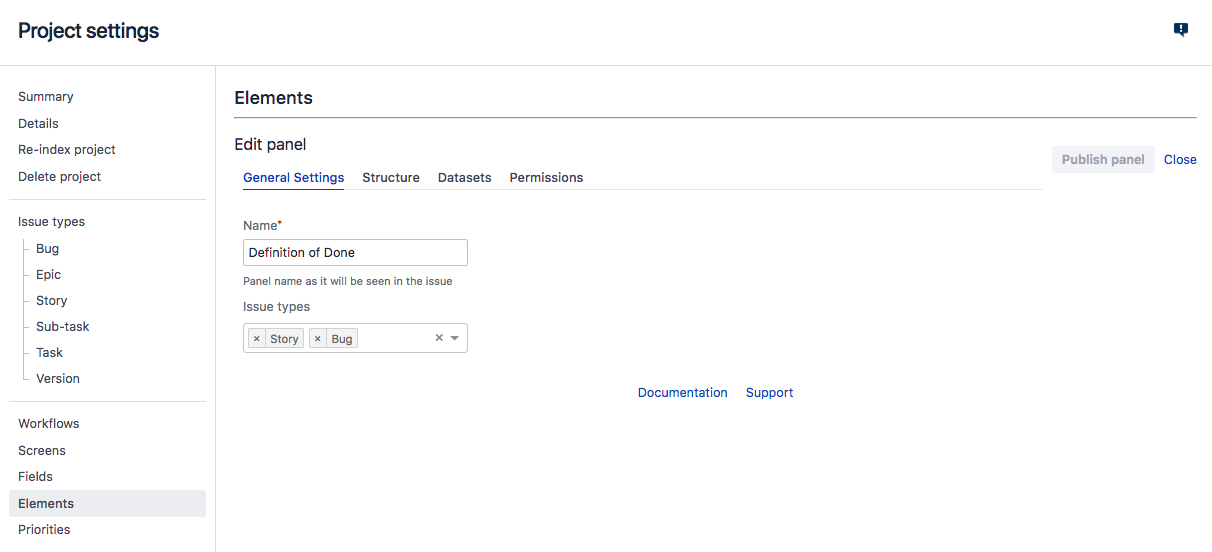 The set-up is fully documented here.
Boost productivity with advanced checklists in Jira
Checklist will help you track what is important to your team without resorting to Jira's subtasks. Not all checklists apps for Jira are equal, depending on your needs you might want to go for a basic checklist app or take advantage of a more advanced app such as Elements Checklist for Jira. To learn more about Elements Checklist, visit the Atlassian Marketplace.
Learn more about Elements Checklist for Jira