When you have products and services used by thousands of customers, you need a system in place to streamline the support process.  For many users, they prefer to engage with you via live chat support. It's direct and quick, giving them instant gratification for finding a solution to their problem. For those using Jira Service Desk as their ITSM solution, there hasn't been a Jira live chat support solution contained within the Atlassian ecosystem – until now.
The Chat for Service Desk app is developed by our friends at Spartez, who are also the editors of a nifty app for syncing your physical Agile board with Jira. Previously, you could only implement live chat support by integrating Jira Service Desk with external third party solutions. With Chat for Service Desk, you can have the peace of mind concerning stability, easier governance and better features that comes with integrating Atlassian's Marketplace apps with Jira Service Desk.
What's more, this app is really easy to integrate and use! We'll go over a quick demo to get you started.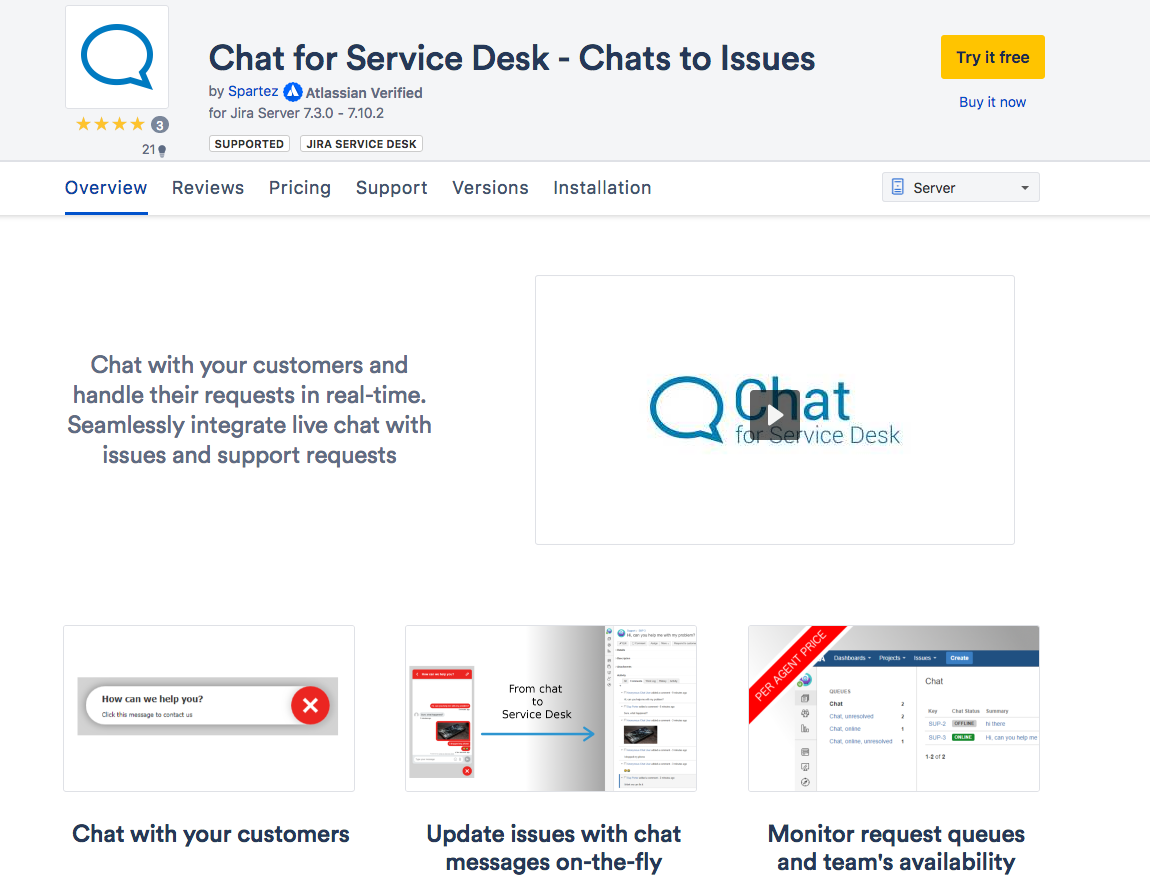 Get started with Jira live chat support in 5 minutes!
In less than 5 minutes can configure this app and have a fully functional live chat feature. Here's how:
1. Download the app from the Atlassian Marketplace and enable the app in your instance.

2. Go to the Project settings. You will find a new entry called Configure chat. From the Request Type drop down, select the issue type (for example Incident) and click on the Create Request Type button.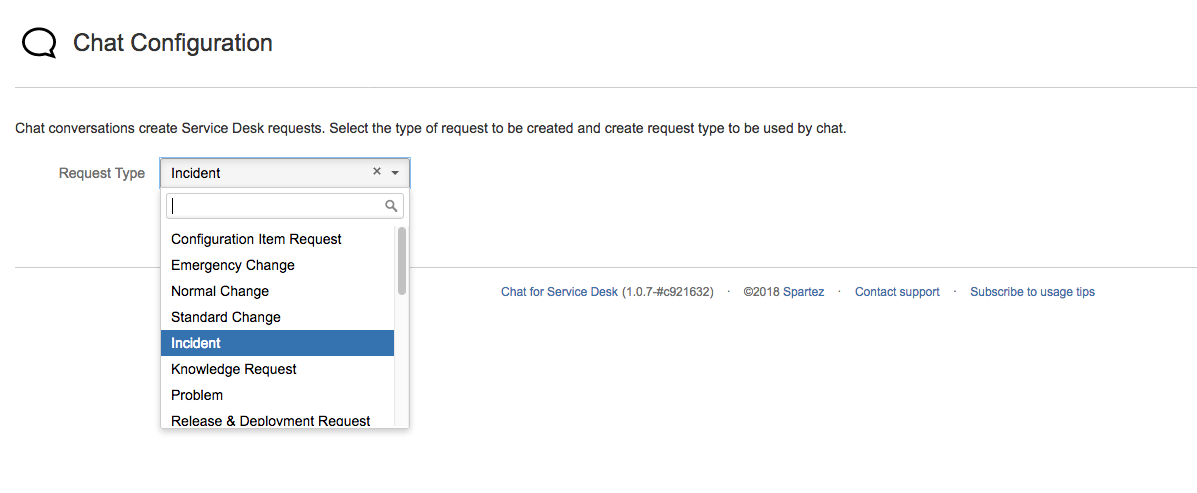 3. Configure the Chat Widget tab. You have options to display the chat widget on the customer portal or embed the code on external web pages (like your company website). There are also settings to allow customers to reach out to you without logging in and registering with your service desk.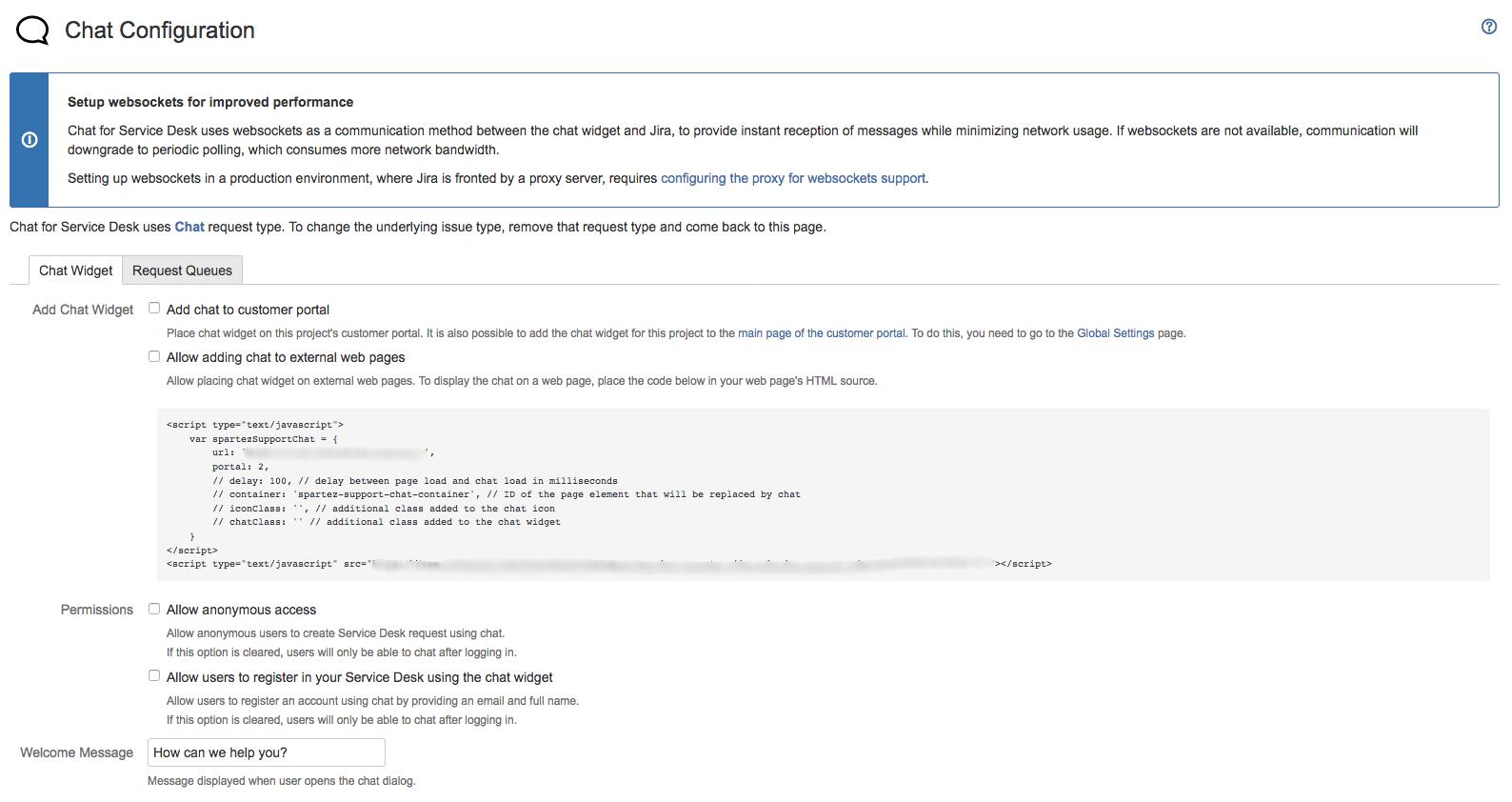 Optionally, you can go to the Request Queues tab and define the queues that you want to setup. Most importantly, you can create more queues based on different labels by simply creating the buttons. Once this is configured, the app allows you to route chat requests to different queues.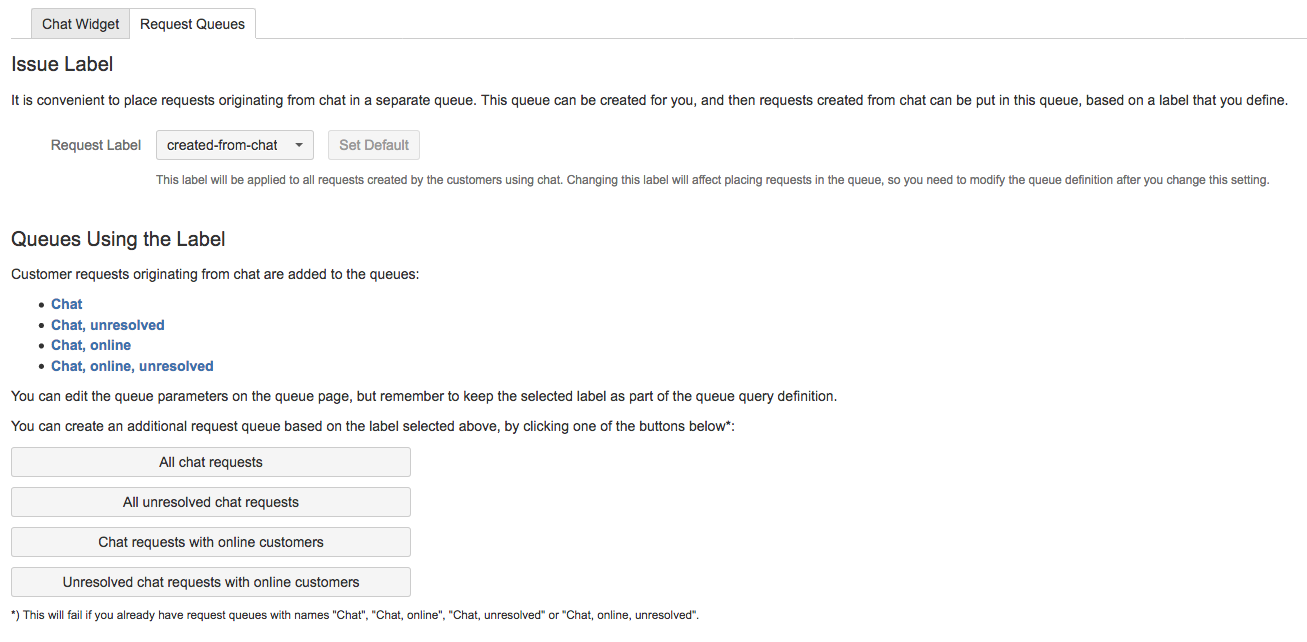 Literally this is all you need to do for the set-up: Enable the app, go to the project press a button, select few checkboxes and voilà, you have a sleek live chat feature. It probably would take you longer to finish your coffee than to configure this app.
Let's get your Jira live chat support online
First, go to your Service Desk project. On top right corner next to the search box you will see the option to go online.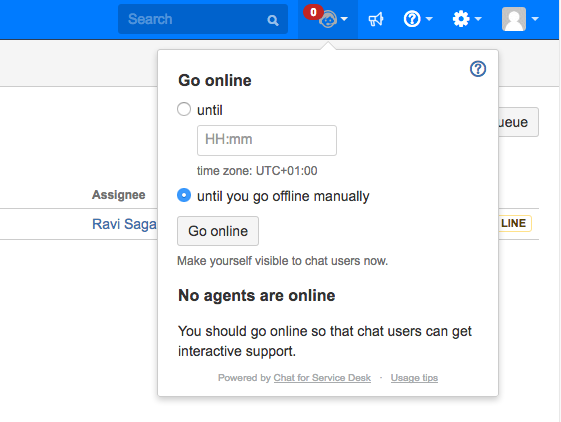 On the portal, your customer are ready to start contacting you via live chat.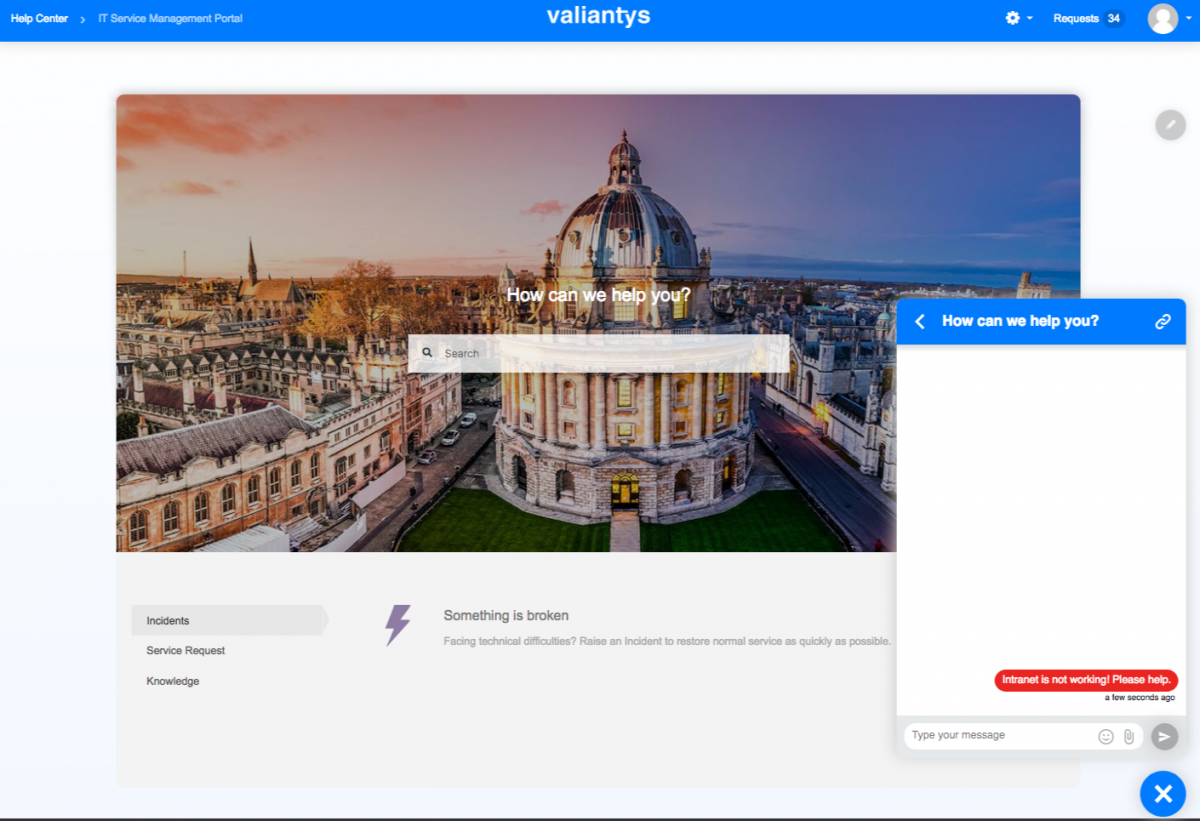 The moment a new chat is initiated from the portal, a new ticket is immediately received in the Jira Service Desk Project. The best part is the customers can raise the ticket without registering. They will always have the option to register later and receive the summary of the conversations they had with the agent along with the ticket ID (which is the Issue key).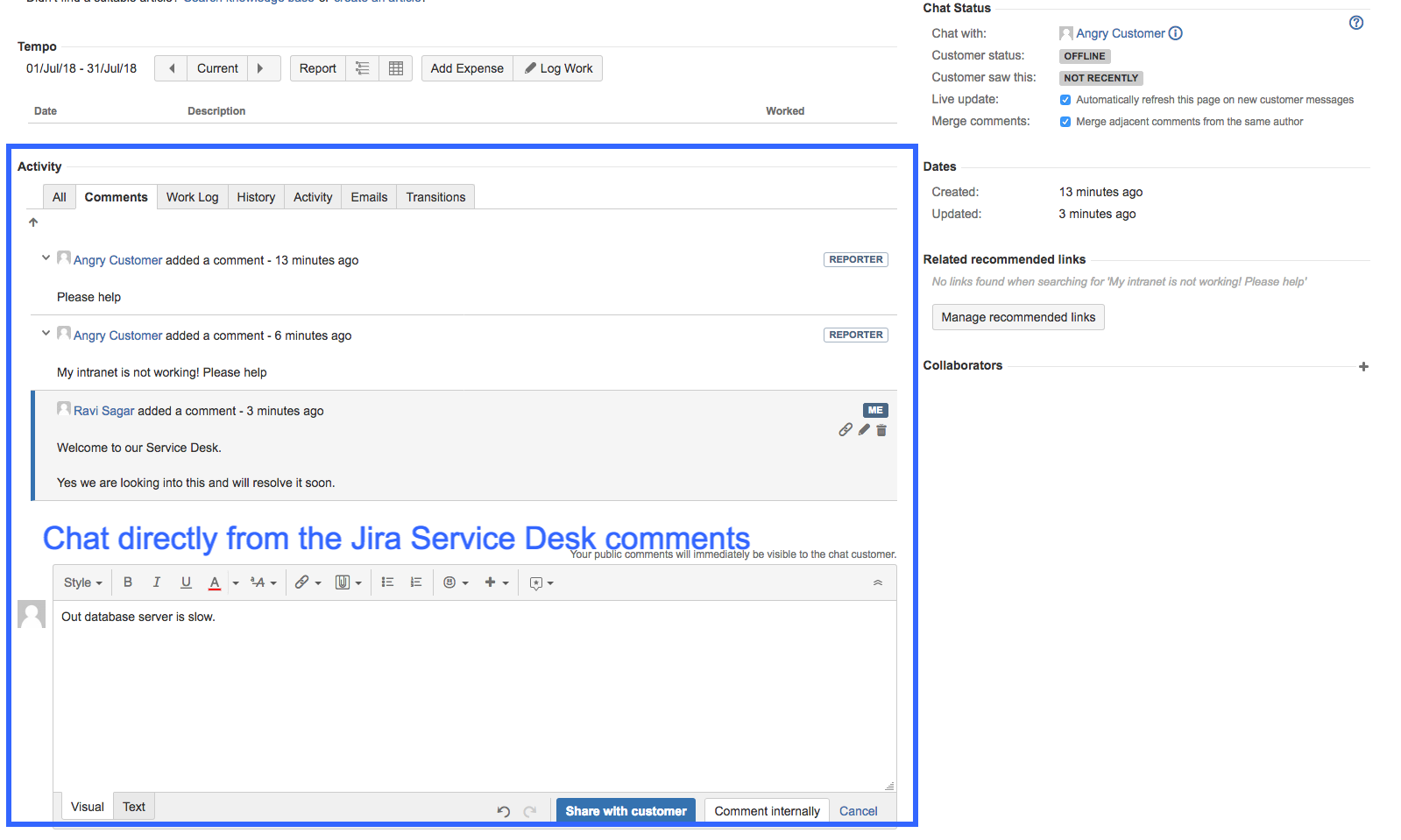 The agents' responses are sent directly to the customers' chat box. This solution works because Jira's comment features are used to engage with customers in almost real-time. There is a new section called Chat Status on the right hand side of the Jira issue, where agents can see who they are talking to and their status.
Customers will see all the comments as an ongoing chat.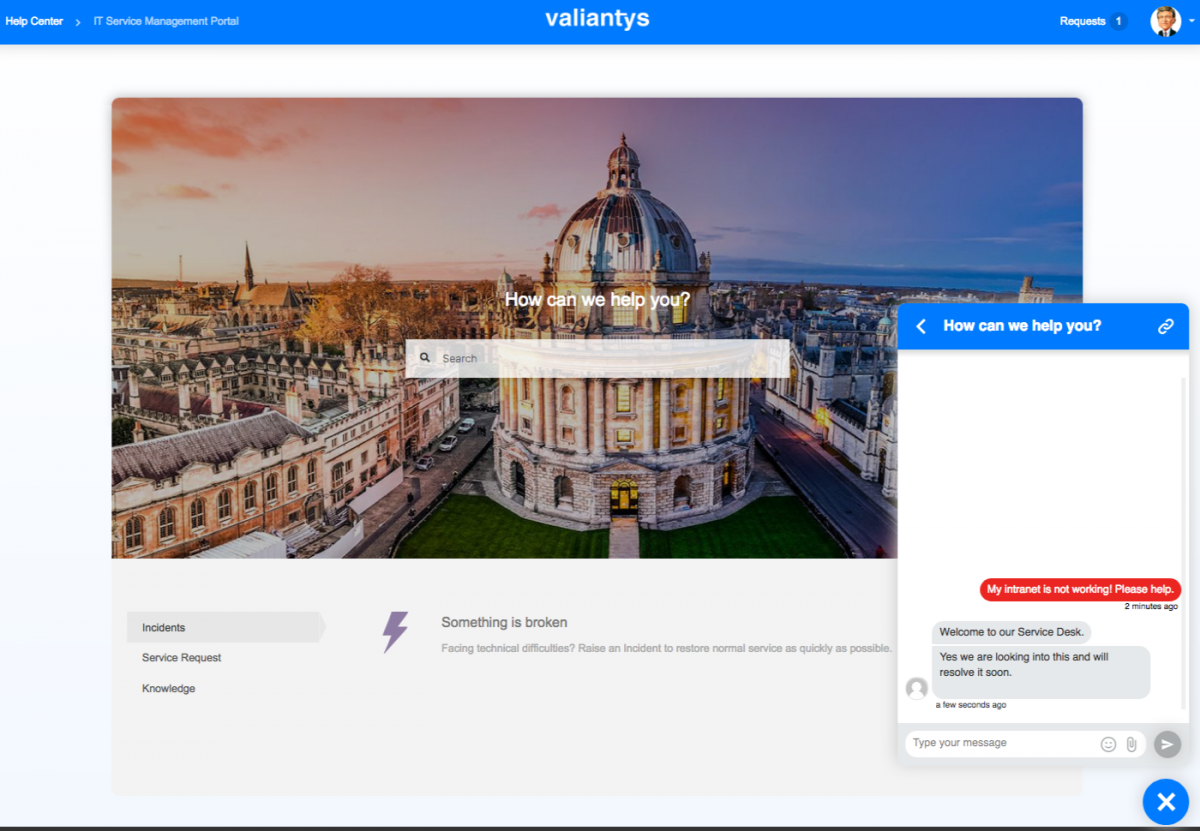 Here is the cool thing about this Jira live chat support solution:
The agent doesn't need to refresh the Jira issue when new messages are being sent by customers – it's automatic.
You still have the full power of Jira Service Desk features, like notifications and automation rules.
After the resolution of the ticket, customers will also get a Chat digest with their conversations
We are quite confident that this chat solution is going to be a key in bringing the power of Jira Service Desk to new markets where chat functionality is a key to their ITSM strategy. If you need help with anything Jira Service Desk related or the procurement of Marketplace apps, don't hesitate to get in touch with the Valiantys team!
Contact us