Let's focus today on our 2 open source Add-ons for Confluence : Copy Partial Space & Branch Remover !
We've had these open source add-ons for several years and always try to keep them updated but we've noticed a lot of our clients don't know about the powerful features that they offer. That's why we want to talk about them today:
Copy Partial Space
This Add-on will provide your space administrators a way to copy an entire space or just a partial area of a space, into a new one.
This action is accessible via a link under the "Tools" menu (providing you have sufficient rights), as shown below :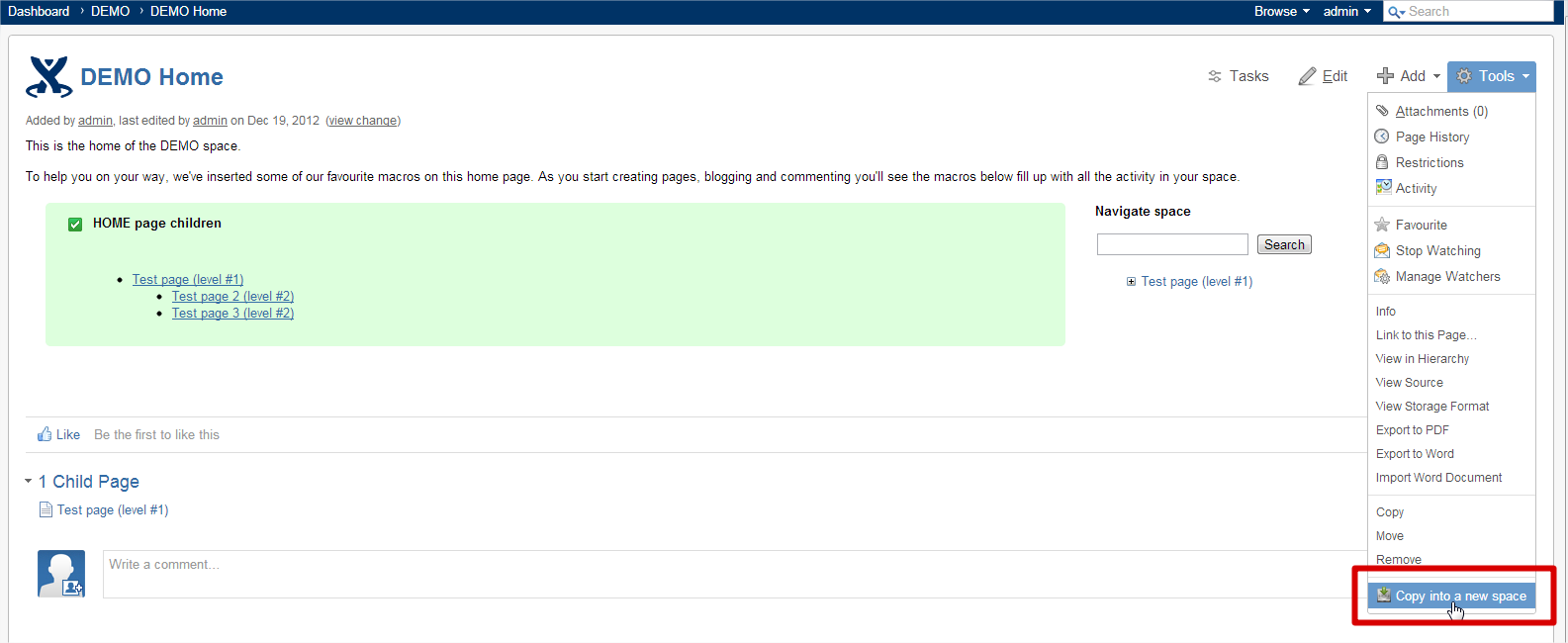 You will need to fill both the new space name and the new space key to launch the copy. These are the elements which will be copied :
pages
attachments
comments
space & page permissions
page templates
page metadata handled by the Customware plugin : Scaffolding Plugin (recently added!)
etc.
This is useful in the following situations :
some of your spaces are growing too big and you want to split them
a space becomes too complex and has to be reorganised
you want to change permissions without having to go through all the page level restrictions
… then give a go to Copy Partial Space !
Ad-Hoc Workflows integration
In the last release of Copy Partial Space (Confluence 4.2 +), we added a new feature that provides an integration with the Add-on Ad Hoc Workflows (from Comalatech).
Copy Partial Space is integrated with the page workflow engine (content validation/publication), allowing you to filter the pages about to be copied. For each of them, Copy Partial Space can check if it has an associated Ad Hoc workflow and if it is the case, copy only the last published version (if it has been published at least once).

This feature is very powerful, for instance within in a solution dedicated to versioned Data Asset Management.
To get more informations, check out the Copy Partial Space Marketplace page or the JIRA project dedicated to this new feature.
Branch Remover
And now, the little brother of our open source add-ons : Branch Remover !
It provides less features, but it isn't less powerful ! Just like the name says, from any page you will be able to delete a complete sub-tree of children pages (including the current page or not), on the condition that you have the 'Remove' right on this page and all its children.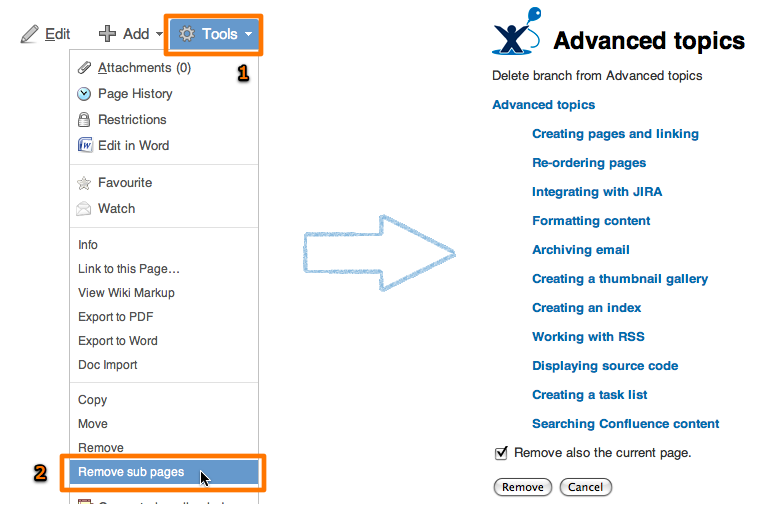 It can also be used as a bulk delete Confluence pages: if you want to delete many pages in one go, just place them all as children of the same page and delete the tree.
Source code
Source code is available for these 2 Confluence add-ons, and you are free to change it according to your needs. We would be very grateful if shared your modifications with us, in order to possibly integrate them into the official version published by Valiantys.
Here are the 2 SVN project links in order to retrieve the source :
In short
Feel free to comment this post or contact us if you some more details about these add-ons.
We're also very interested in your new ideas and new features about them, so I give you here the 2 links for the the dedicated JIRA projects :
I hope you liked this post and also the Valiantys Confluence add-ons.
Thank you for reading and I suggest you follow us on Twitter @ValiantysEN  🙂
Clément