Teamwork essentially is a group of individuals rallying around a common cause. It is only as strong as the individuals within; if people don't have visibility over their own tasks and how they fits into the bigger picture, priorities can get mixed up. Trello is a great collaboration tool for teams of all shapes and sizes, whether it is a team of two managing the tasks of family life to enterprises communicating across their international teams. It's easy to use, but does it fit in with the rest of the Atlassian suite if your team is already using Jira?
Short answer: Yes.
As the Marketing Content Manager at Valiantys, Trello keeps me on track professionally so I can manage my own work and link it back to the bigger picture in Jira.
Integrating Jira with Trello: Does connecting them make sense?
As Valiantys is an Atlassian Solution Partner with a 12-year track record, our team activities mostly use Jira for project management for important processes. We have a marketing project, where we can see who is assigned which issue and have an overview of what is in the pipeline for the team. We also have access to Trello Business Class, so we can manage more informal processes and information.
I wear three hats in my role as content manager: I'm the social media manager, the blog's editor, and writer/translator for Valiantys' corporate communications. Like most professionals, I have a mix of personal and team related tasks to complete. In Jira, I don't necessarily want to create an issue for every personal task or reminder I need, as that would quickly clutter visibility over the team's activity. I use Jira to collaborate with my team, but Trello to keep me focused and prioritize my tasks. This way, I know when I'm reaching my limits of what I can reasonably accomplish on time.
All this is possible using the Jira Power-Up to connect the two tools.
My Kanban Boards: From Jira to Trello
Slimmed down for visual purposes, this is part of my Trello board: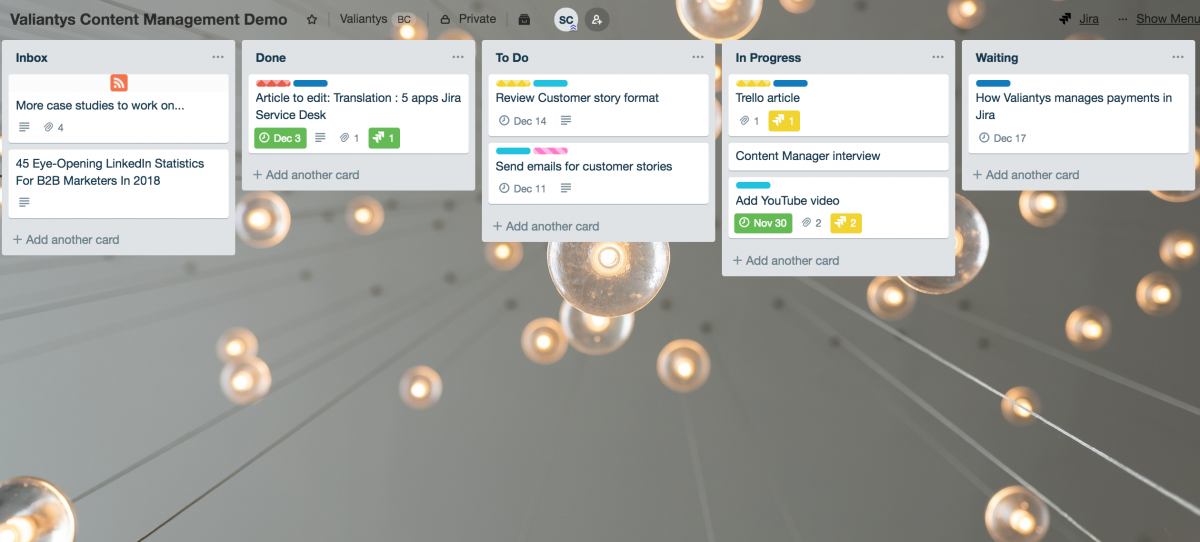 It is a standard Kanban board workflow: I have To Do, In Progress, Waiting (for someone else to give feedback) and Done. The first column I have my Inbox, so I can review any cards that I'm not sure where they go. I have labels which define the cards: if the project is urgent, if it is an immersive project (which requires blocking off several hours for the task), or a process project (which implies I need to quickly do my part before the next step in the process can take place, like sending emails). I try to knock off process tasks early on in the day, which leaves time for others to respond while I'm working on longer tasks.
My approach to my tasks is different than the workflow used by the marketing team in Jira: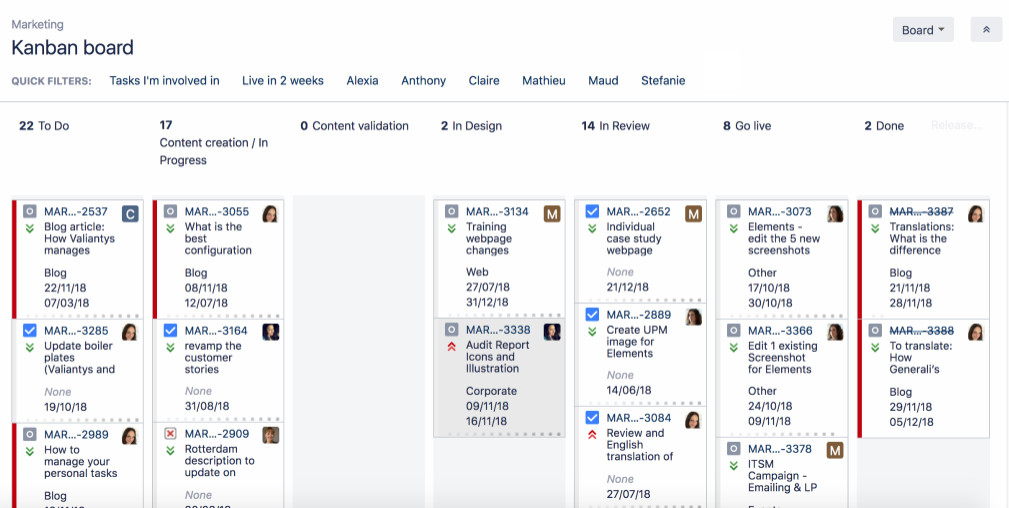 While I can use a filter to see only the tasks that are assigned to me, I like the personalized labels in Trello as I can quickly visualize what tasks I should start with first. I can also sort the different columns in Trello by the deadlines set in my card. In Jira there are team deadlines set, but I may need to complete certain steps within the project before the team's deadline.
Linking Jira and Trello is easily accomplished with the Jira Power-Up. Once installed, you can easily add recent issues from Jira to your Trello board (or create issues from the Trello card). Within the card, I can see high-level information from the Jira ticket: who assigned the task, the assignee, the status and the task's priority. If I have related Jira tickets for one task I'm working on, I can add them to the same Trello card to keep track of the overall project and streamline my efforts.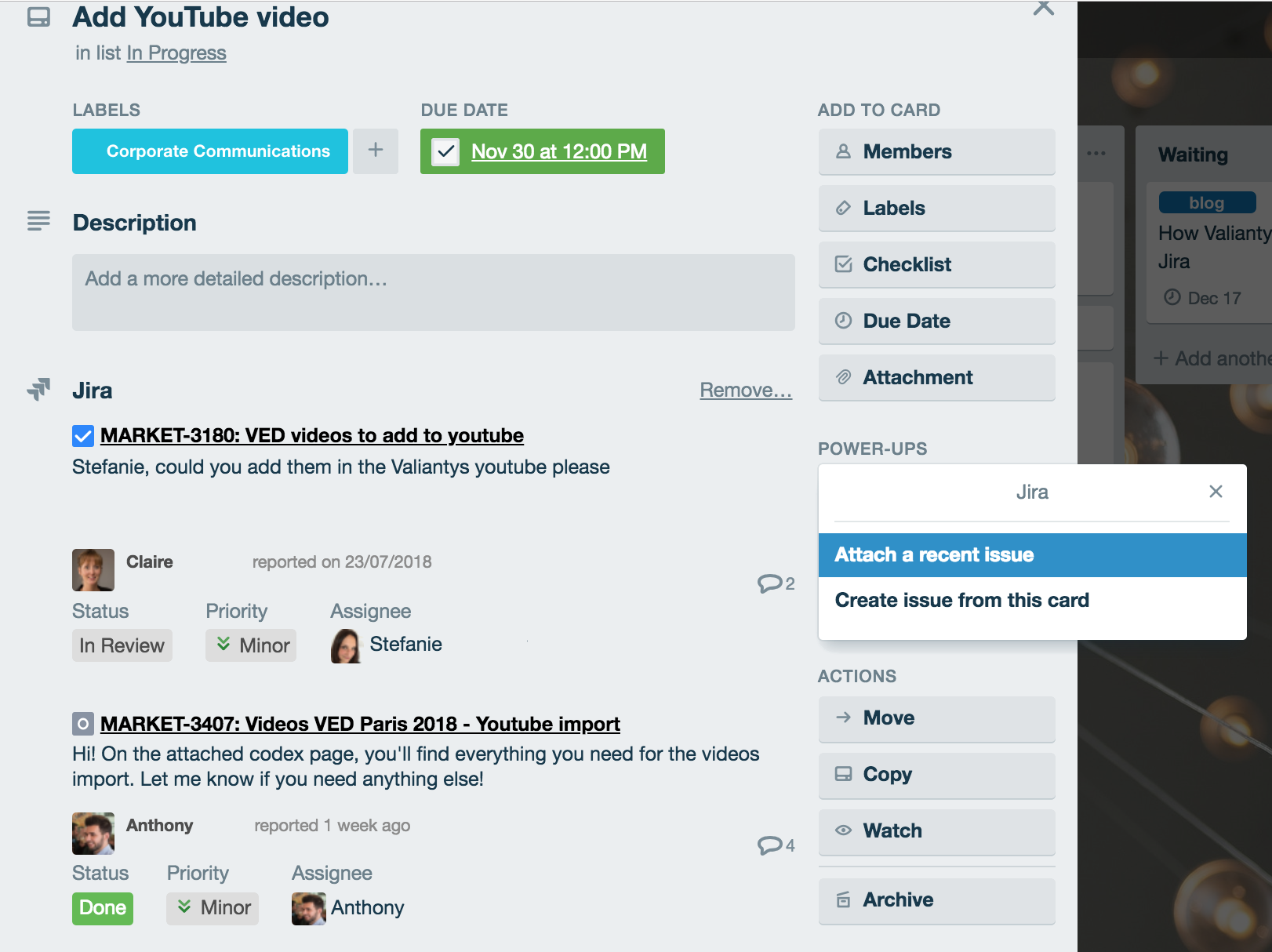 Likewise the link to the Trello Card becomes available in the Jira Issue. So if I have any personal notes on the project or want to refer to it in my board, I can easily do so: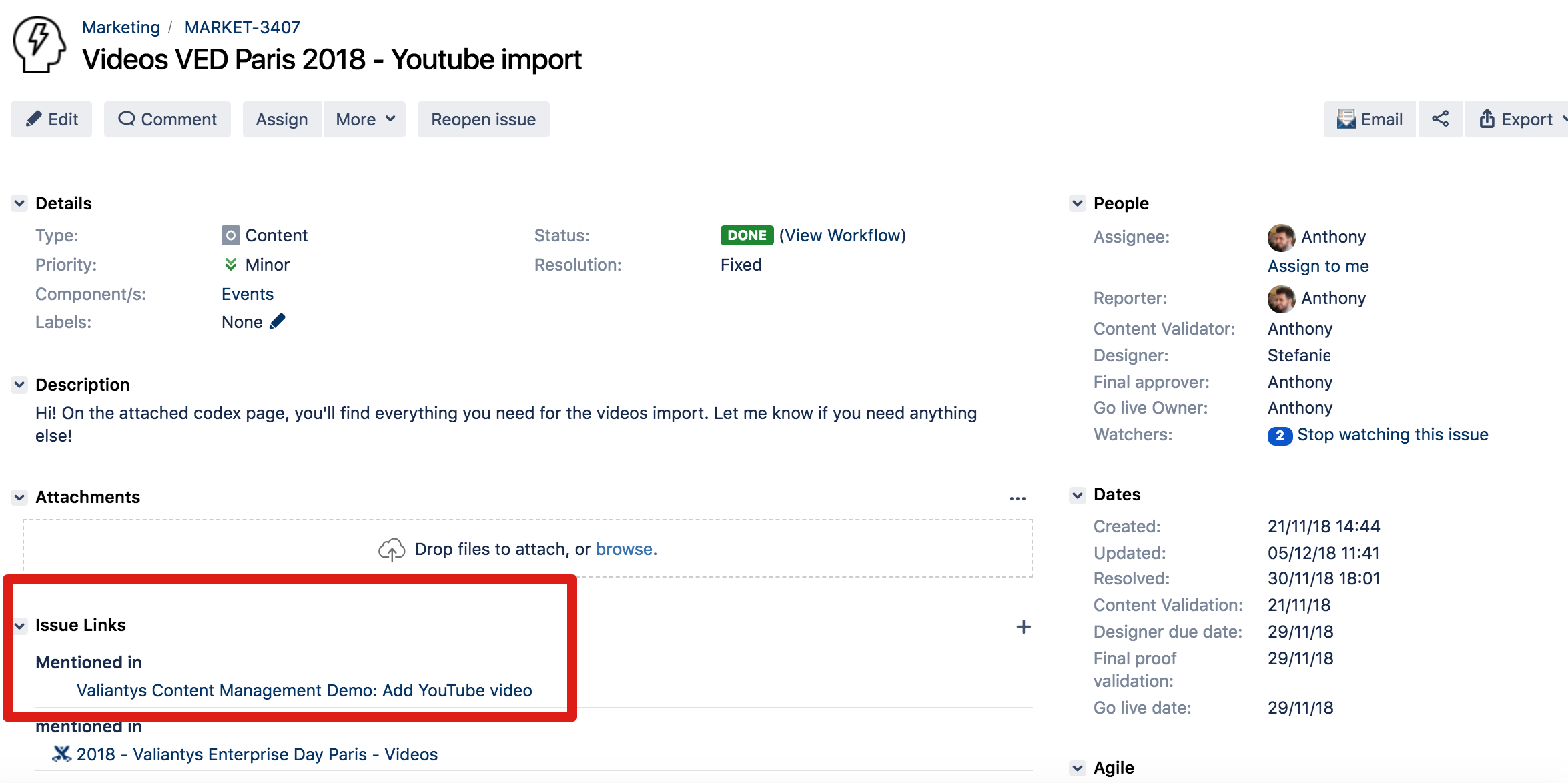 It's a simple integration, but it is essential for keeping my work in sync with the rest of the team. With Trello's flexibility, there's more I can keep track of: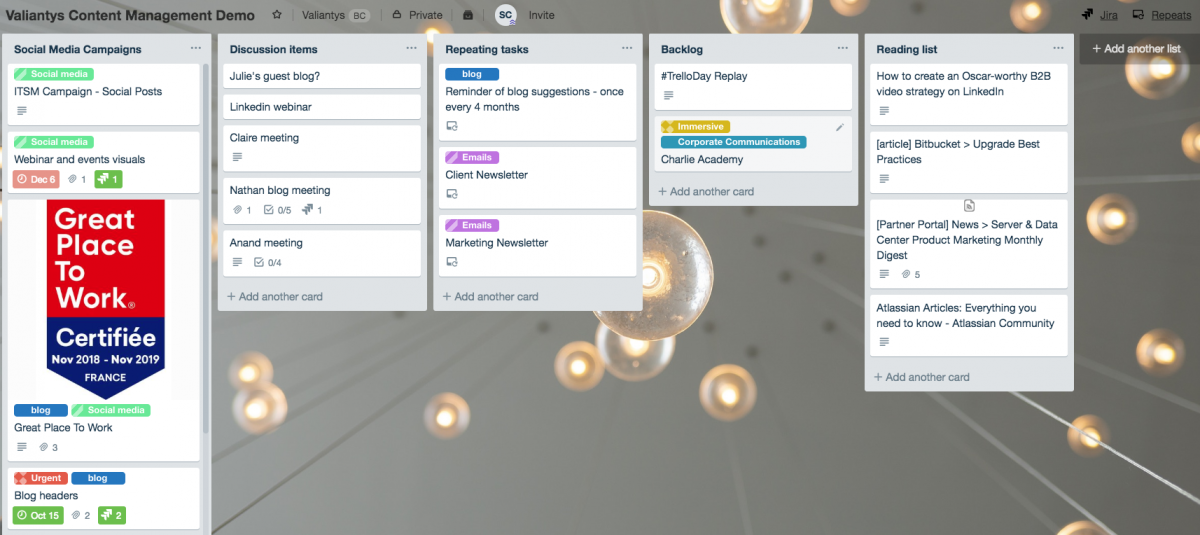 Trello can also act as a mini depository of information. I can keep track of the different social media campaigns currently running, and within the Trello card I can link to the Jira issue where I've asked our designer for the visuals. With the Chrome extension for Trello, it is easy to add any webpage as a card in Trello – which makes organizing ideas for social media content easy.
I have a list for discussion items for my regular meetings, so I can keep track of what we discussed and also link to Jira tickets which need to be highlighted during our next conversations. For tasks that need to be done on a regular basis, I use the Card Repeater Power-Up to copy cards into my "To Do" column before I need to complete those tasks.
Even more Trello tips can be found here. What is great is that you can have the power of Trello at your fingertips while still getting the team's overview in Jira.
If you want to know more, check out Trello Business Class and Trello Enterprise. Like the rest of the Atlassian suite, they provide the security and oversight that large organizations need. As a bonus, you also get unlimited access to Power-Ups.
Valiantys is an Atlassian Platinum Solution partner, so we're here to help! Get in touch if you have questions about licensing or deployment of Trello within your team.