Honestly, I was a little skeptical about StatusPage, the newest member of the Atlassian family. But as it turns out, I was just missing an important perspective.
Imagine a vital IT component goes down and your service is no longer available to your clients. Of course your IT department receives alerts and is immediately aware of the problem and its cause, but what is about your clients?
Imagine this: your fancy mobile app is no longer doing what it is supposed to do. The same thing is happening with your internal client, the HR department – the cool social network integration just got awfully slow. So, what they are going to do? They will call your support desk, along with all the other clients experiencing the same problems. Even the most efficient support desk using JIRA Service Desk will see queues fill up. This means agents spend loads of valuable time replying to the client, telling them that they aware of the problem and are working on it – instead of helping other clients with their problems.
StatusPage to the rescue
This is where StatusPage comes into the equation.
StatusPage is not about monitoring, but is about communication, and making this information available to the client in a reliable, transparent, and easy way. The result? Less support calls on the same incident and better customer satisfaction.
This is the perspective I failed to see! All the monitoring information may be available to me, but not to the client. StatusPage bridges this gap.
Creating a StatusPage
StatusPage is only available in the cloud, and this for good reason – you can't rely on your own infrastructure to communicate incidents involving your infrastructure.
A StatusPage is ready in no time. You can choose between a public or private page, visible only to authenticated users.
As a first step, you must define your components. Not only can you create your own custom components, you can also choose a variety of free third party components like AWS, Google and Atlassian. For example, let's say you use Atlassian JIRA Cloud. In this case, you can add the third party component Atlassian JIRA Cloud to your StatusPage. The component status will be updated directly through Atlassian – there's no action required from your side (although you still have the possibility to overwrite the provided status).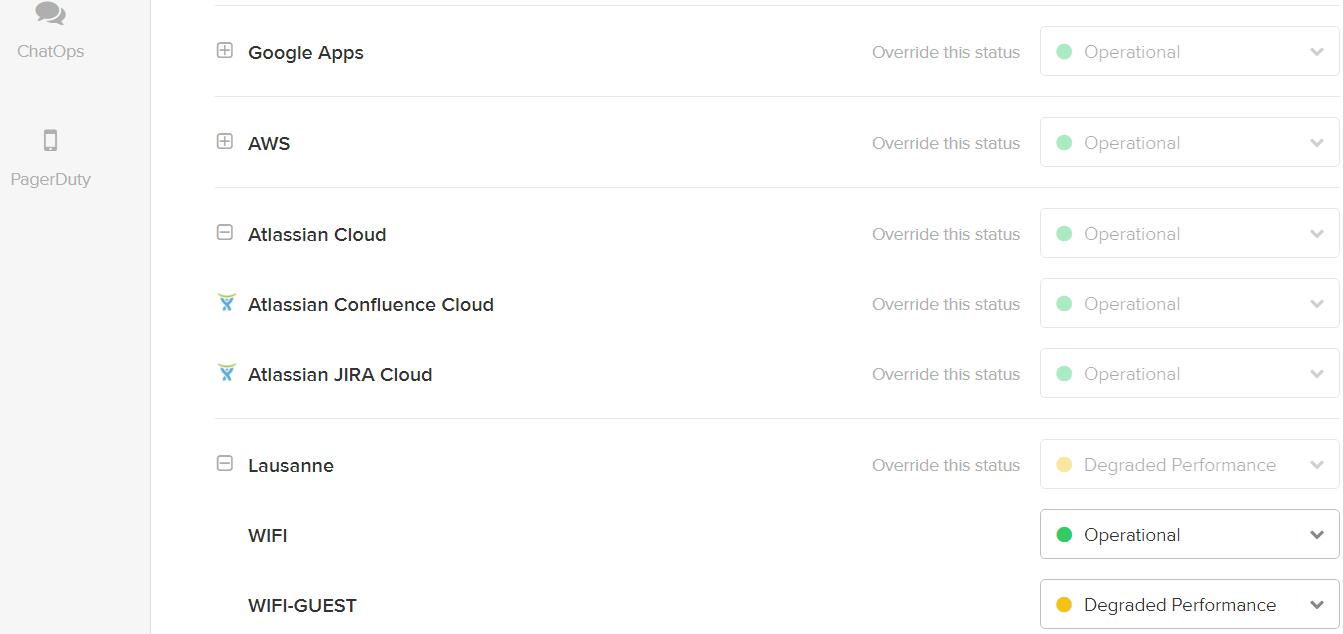 For all components you can set the status manually, over the API or by email – the latter allows you a very simple integration with your existing monitoring tools.
What's more, you can add public metrics to your StatusPage. This allows you to plot, for example, the bandwidth usage of your internet access and make it available to your clients. With components you can provide your own data over the API or relay third party data sources like Pingdom, Datadog or New Relic, if you are a subscriber of their services.

Status Ready
Now you can post your incidents on the StatusPage. Typically, this is done manually, although to facilitate the process you can use templates. In a more advanced setup you can also post incidents over the API. Incidents go through the status of Investigating → Identified → Monitoring → Resolved. You can provide your clients with the necessary information and updates and choose the affected components.
Benefits
By communicating and giving transparency to your clients on your status, you can reduce the number of incident tickets reported to your support desk. Clients can subscribe to the status page and choose between different channels to be notified and kept up-to-date. The subscription can be completed based on components, or just for a single incident. Aside from communicating incidents, you can also inform and remind clients of scheduled maintenance.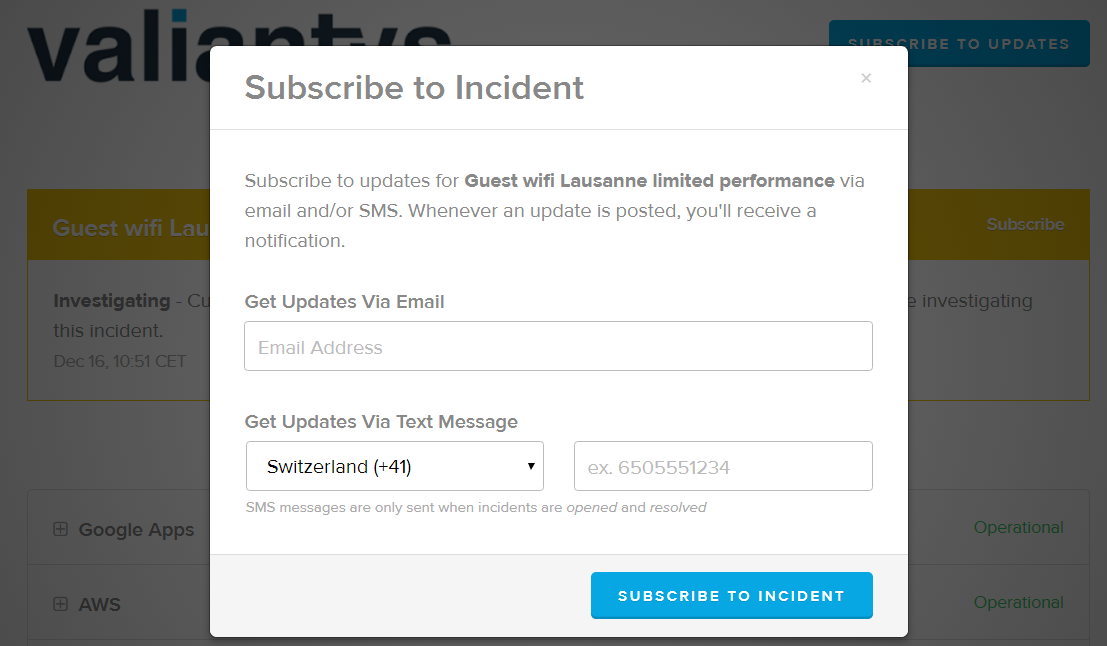 Integration with the Atlassian stack
Out-of-the-box integration with Atlassian tools is, at this time, still limited. You can easily integrate with HipChat to post status updates and incidents in a specific room, but there's no upstream communication, for example, to update or post an incident. The second-out-of-the-box integration available is with JIRA Service Desk – you can display your incidents automatically on the customer portal. StatusPage integrates easily and a lot of code snippets are available. Further integration with Atlassian Tools is be possible, but not out-of-the-box.
Outlook
Discovering StatusPage was a surprise to me – it convinced me with its simplicity… as well as the now-obvious idea behind it! While StatusPage helps enterprise with a large client base, I also see great potential in the DevOps environment, where I expect the next integration step with the Atlassian stack, along with a further integration of JIRA Service Desk.
StatusPage can be used with internal and external clients, and its current strength is IT and cloud-based services. Nevertheless, I can imagine several non-IT based use cases where StatusPage can become handy.
Already using StatusPage? Share your experiences with us below.