Do you need a tool to follow your project plan? One that gives you a top-down view of how teams and projects are moving along? Are you looking for a Jira project management tool that is similar to Microsoft Project? BigGantt and Portfolio for Jira are two road-mapping tools that help keep long-term projects humming along.
BigGantt and Jira Portfolio conjoin the operational and scheduling parts in project management. Traditionally, most companies used separate software for operational tasks and the scheduler. Now, they can opt for an integrated solution, which is what Jira offers with BigGantt and Portfolio for Jira. The two apps provide capabilities for agile environments but BigGantt's interface is the closet to Microsoft Project's interface.
In this blog post, we compare and contrast these two pieces of software that assist in planning, allocating resources and tracking progress. These tools facilitate good communication within teams while also managing when the scheduling impacts the operational tasks and vice versa. Portfolio for Jira and BigGantt also are available as stand-alone software, each with their own scheduling interfaces.
BigGantt and Portfolio for Jira
BigGantt was developed by SoftwarePlant in 2015. It's an adaptable app that gives users complete control over data values, scope and permissions. One of the software's capabilities is it allows the user to control data that is not directly seen on the chart: One can manage the columns and figure out what values are displayed. The software is compatible with the Cloud, Server and Data Center Jira versions.
Portfolio for Jira was developed by Atlassian in 2014, and it is compatible with Cloud and Server Jira versions. The software gives a visual timeline of the Jira Software work issues and subsequent releases. It gives the users a view to see all the dependencies across projects and teams to help foresee potential bottlenecks. The software also ensures that epics and stories map back to the top layers of the hierarchy. Portfolio for Jira is a good tool if you are committed to an Agile process.
Jira integration: The look and feel
BigGantt adheres to the MS Project format, while Portfolio for Jira opts for the more Agile view. The BigGantt app (see graphic below) displays bright visuals and it provides more fixed panels, so it is easily handled but requires more actions to get a particular view. It limits the global view to make some updates in different locations.

As you can see in the graphic below, Portfolio for Jira's panels are more dynamic and they allow you to collapse some parts; a click-on menu provides different views. The thinking is similar to the Backlog board of Jira Software: You have to have everything on the same screen along with the flexibility to focus on what you want.

Portfolio for Jira provides a capacity report that focuses on the story-point consumption against the sprint capacity. BigGantt does not have this type of Agile view since it shows a timeline view only.

And maybe this final fact may help you in making a choice between the two: BigGantt doesn't provided the "rank" for grouping tasks.
Access to Jira fields and structure
BigGantt parameters provide Jira fields for the start-date task and the end-date task. Portfolio for Jira uses its own fields, so you will have to reset all the start-dates and all the end-dates when you start Portfolio for Jira during an existing project. A BigGantt issue, detail-view provides a screen with all Jira fields and allows for updates by authorized users. Portfolio for Jira provides only some fields that are in read-only.
BigGantt has its own structure for issue types. In Portfolio for Jira, the hierarchy is defined and shared with the whole portfolio. This limitation can cause problems when you want to follow several projects on the same plan and the issue-type organization is different.
Main functions: Synchronization
Both apps allow you to create the tasks first in the apps before they are pushed into a Jira project. All Jira updates automatically are pushed into the plan/program each time the page is loaded. A button is available in the both apps to recover them. The software has synchronization options, so the user decides what will be synchronized between Jira and BigGantt.
Both apps provide a big-picture view to project managers but the terms and descriptions of the apps can be confusing.. In Portfolio for Jira, a plan is equivalent to a program in BigGantt. BigGantt provides a Program Manager to have a global view on all programs, while Portfolio for Jira allows you to create a program to group the plans. So, BigGantt has only one Program Manager where Portfolio for Jira allows you to group a set of plans in different programs. Portfolio for Jira doesn't provide a way to close a plan through a program. A plan does not have a status that it has in BigGantt.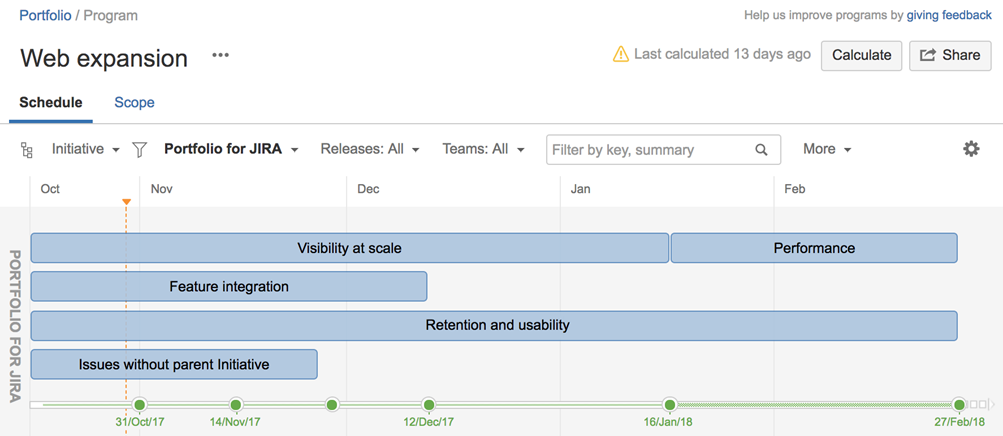 Viewing parameters
Both apps allow you to change the timeline scale but BigGantt is a little bit more complete compared to Portfolio for Jira. It lists the day, week, month, quarter, whole year and half year along with a bird's-eye view. BigGantt also provides different display types for the progress bar (also supported in Portfolio for Jira) that include the "time tracking" format or the "story points" format.
The following is for time tracking:
Fields

Aggregation

The parent task can display:

The least advanced progress bar of its children
The most advanced progress bar of its children
The aggregation with its own time tracking
The aggregation of its children time tracking only
This following is for the story point: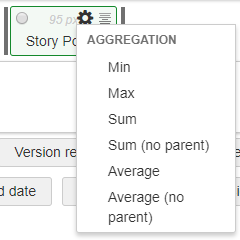 Choosing the right app
The Portfolio for Jira apps provide resource/team/skills and stages management, which isn't provided in BigGantt apps. But another app published by the BigGantt's editor does provide this full, integrated service with BigGantt: BigPicture.
Portfolio for Jira can take a team's plan and calculate a realistic schedule for the Jira Portfolio road map. Tools like BigGantt and Portfolio for Jira have helped do away with the use of Excel Spreadsheets to track long-term plans and strategic goals. Getting a good understanding of these two project management apps will help you make the right choice for your organizations' needs. If you need more help to understand these tools, reach out to us and we can provide an Atlassian certified consultant to assist you.
Contact Us