Understanding and delivering stakeholder and customer requirements is the main goal for any company developing applications. In order for project managers to do this, they need a place to gather, refine and track those requirements effectively.
In this two-part series, we will go through the requirement lifecycle, from gathering needs to the completion of work related to a specific requirement, explaining how managing project requirements in JIRA and Confluence can ensure an end product that exceeds the customer's expectations.
Today, we look at managing project requirements in Confluence.
Gathering requirements using a template
In Confluence you can create a space for each product or team in you company. This helps keep everything related to a specific product in one place (i.e project plans, product requirements, blogs and internal communication). The benefits of this are:
Collaboration: a single space or page allows for better communication and collaboration between the people involved in the product or requirement. So no more Word, Excel spreadsheets or endless email chains!
Progress: track the progress of the requirement, mention specific individuals by name to get their attention and assign tasks to get things done.
History of the page: revert back to a previous version of the document and easily see the difference between the first and last change.
Confluence allows you to create templates – pre-defined pages that help standardise content in any given space. So the goal is to create a template that will capture the initial requirements, both from stakeholders or anyone in the company. Then, acting as the business analyst, you can refine those initial requirements and break them down into user stories to be worked on by the development team. This is the first step to managing project requirements in Confluence.
Here's how you can do this:
Click on the Space tools button, then click on Content tools (note: you need to be a space administrator to do this).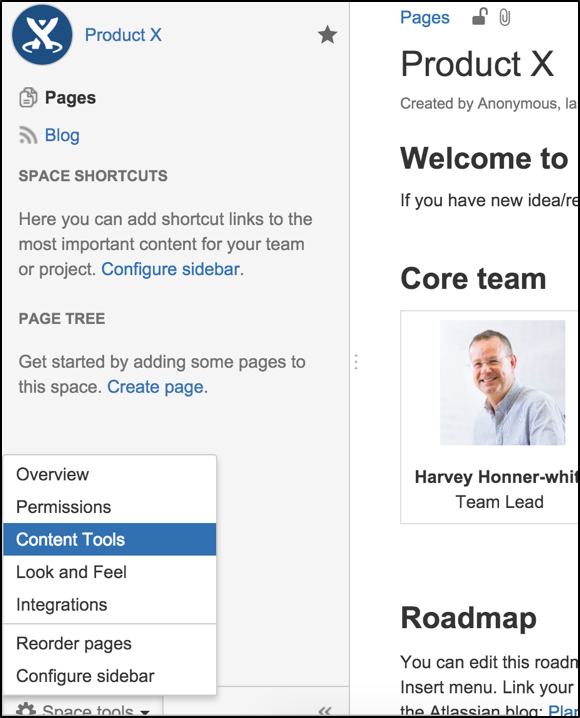 In Space tools, you can create a space template (available only to a specific space) or a global template (available to all the spaces) in your Confluence.

After creating the template, you can use the Create page from template macro. You can place a 'Create template' button anywhere inside Confluence to make it easy for users to create a new requirement. In my case, I've placed my button in the my space welcome page,  as shown below:

In this example, I am using the standard Product requirement template in Confluence, but you can create templates based on your company format. Usually business analysts use a Word or Excel document for requirement gathering, which is a good place to start when you create a template. Also, you can modify the pre-existing templates provided in Confluence.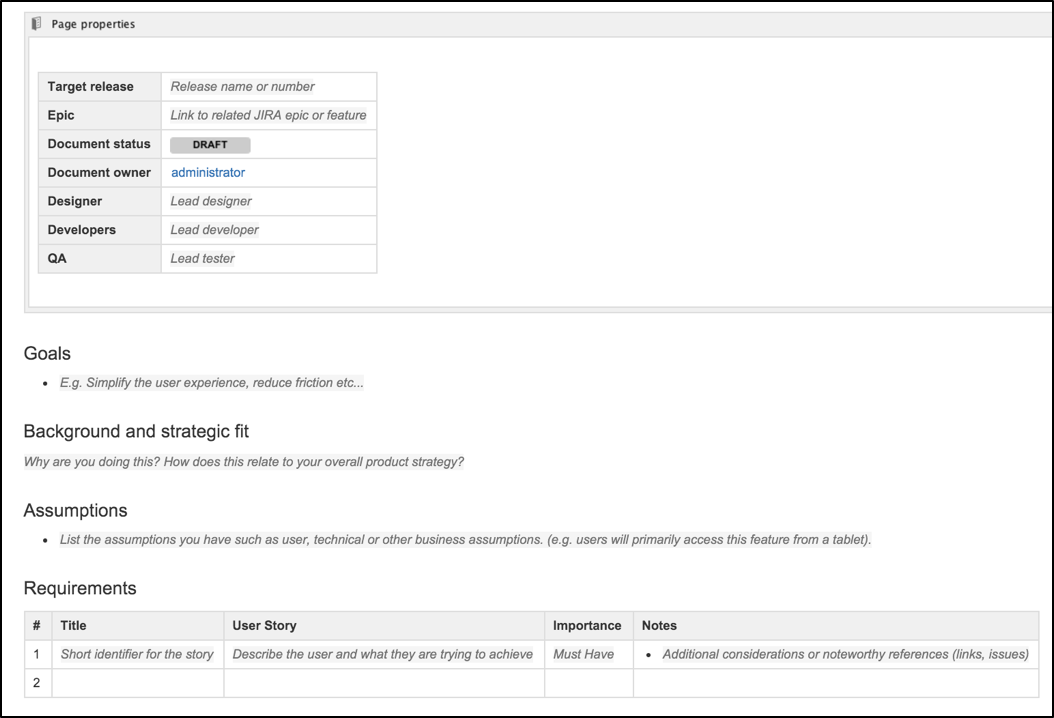 Example: product requirement template
As shown above, the template provides a instructional text that explains what content to include in each section of the template. This will disappear once a user starts typing, and will become invisible when the page is saved.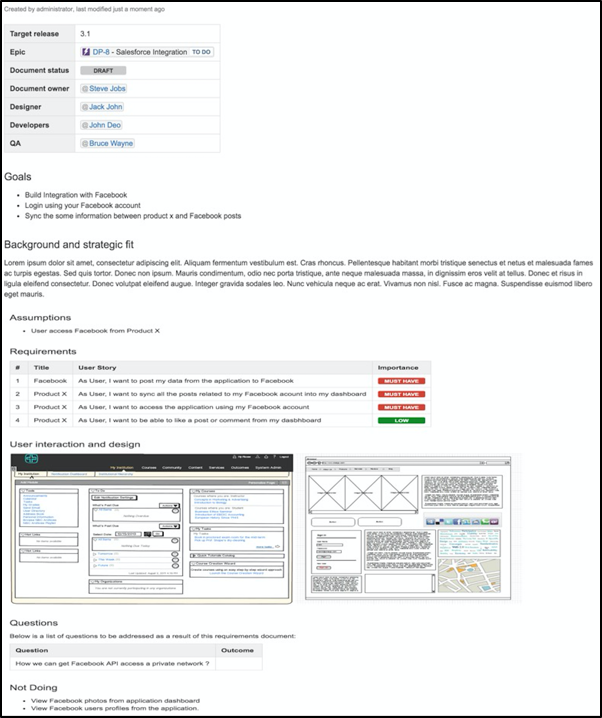 Example of requirement page
JIRA ticket creation for requirements
I have added some data in the requirement document as shown above. Because Confluence is connected to JIRA, I can do the following:
Highlight text in the requirements table and choose the Create JIRA issue  link to create stories in JIRA, and automatically link them to an epic.

Creating JIRA issue from requirements table.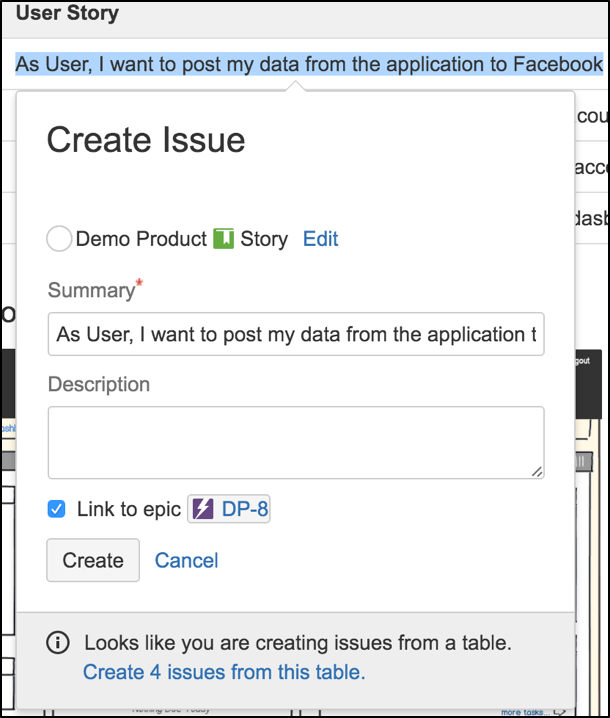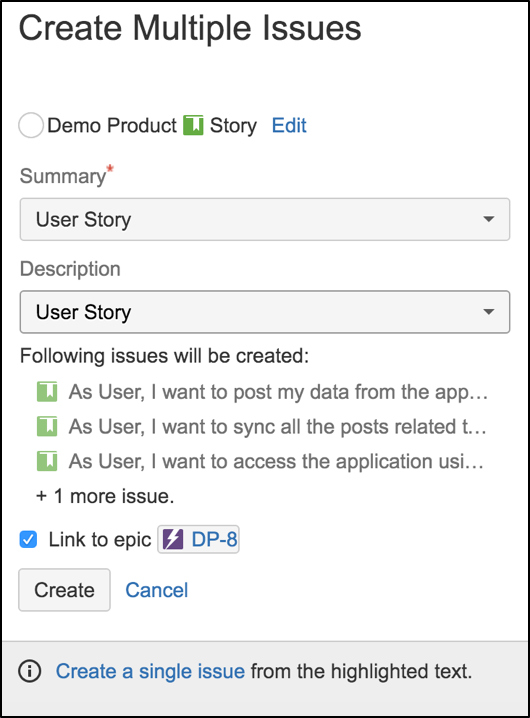 This feature allows you to create single or multiple user stories at once and automatically link to an epic in the page. 
(Note multiple user story creation only works if you put the stories in one table)
Once I've selected the target project in JIRA and pressed Create, each story column will be updated automatically with a JIRA ticket number and status as shown below:

Now when the status of these JIRA tickets is updated, this will show in the requirement document automatically, This allows the people who raised the requirement to know its current status.
Managing project requirements in Confluence: what's next?
You've learned how to create a requirement template in Confluence and create stories in JIRA automatically to  aid you in managing project requirements in Confluence. Go ahead try this yourself – simply drop me  a comment below if you need help.
In the next blog I'll be showing you how to configure JIRA to complete the requirement lifecycle. In the meantime, drop me a comment if you have any questions!