If you use JIRA for project management, we have good news for you! Today we are welcoming the canadians of Kitologic to introduce us their flagship add-on. Without any further delay, I'm going to give  the floor to Sonia give us an overview of their product :
Your team uses JIRA to track the progress of your project issues. You need to take into consideration the status of the project as described by the team as well as the status of its finances in order to give your directors the most accurate information on the health of your project. To do this, you have built a very sophisticated spreadsheet where you have to, every day, incorporate the latest changes from JIRA … and the nightmare begins!
FOLIO to the rescue
FOLIO is a project management add-on for the JIRA platform. FOLIO adds screens to JIRA for the portfolio management, i.e. management of the budget, costs, revenues, profitability, teams, workload resources, etc. All of this is fully integrated with JIRA and updated in real time as the project data changes!
FOLIO is perfectly suited for projects big and small, internal or external, agile or traditional.
In addition, FOLIO provides several customizable reports and performance metrics giving an objective view of the health of projects. FOLIO is based on the Earned Value Management (EVM). This technique has been proven and put forward by large organizations of training and certification in project management: PMI, APM and Prince 2.
FOLIO won the award for "Best Overall Add-on" in June 2013  and is experiencing great success since then.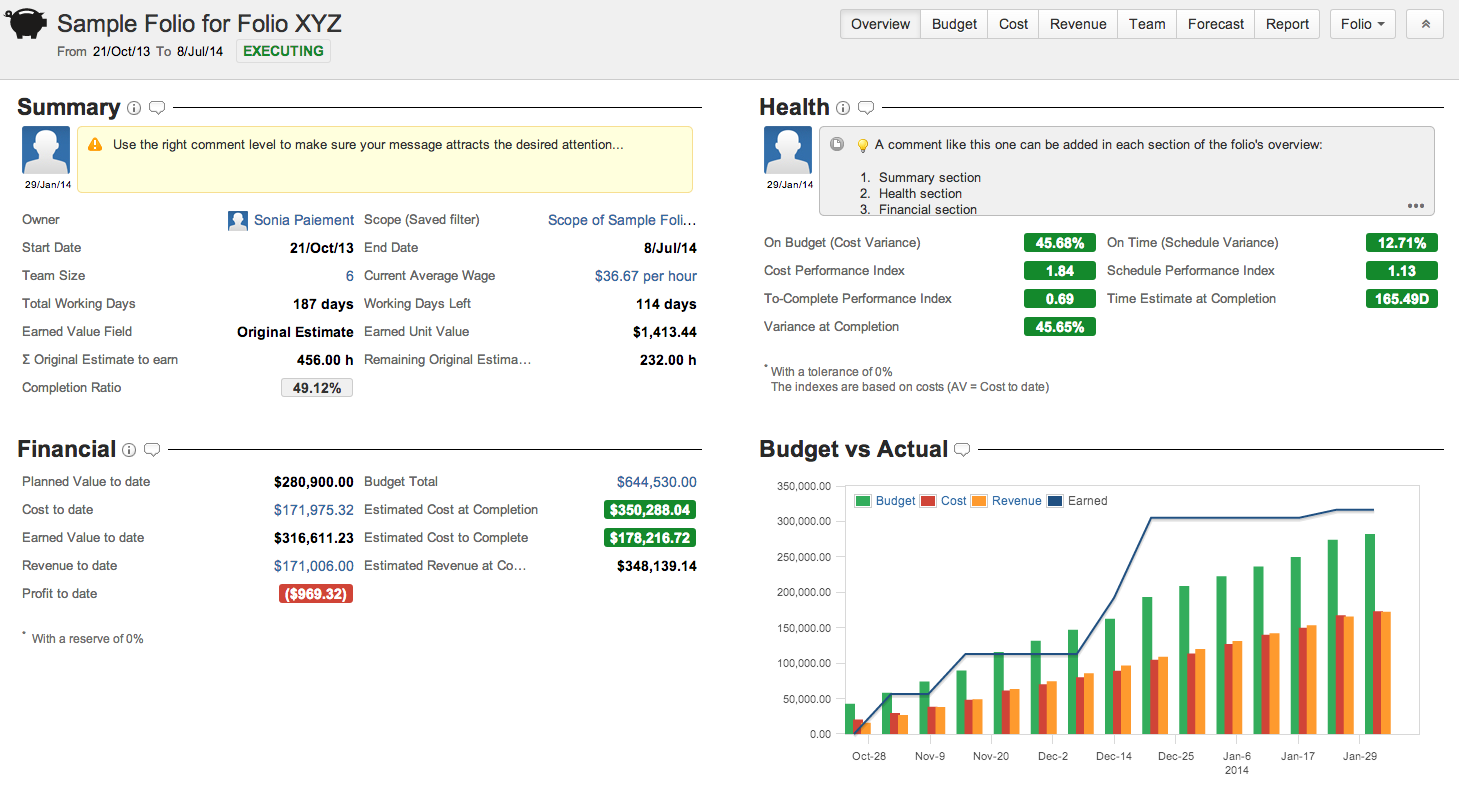 Project structure
In addition to facilitating the monitoring of a project, FOLIO allows the grouping of multiple projects in portfolios. Portfolios give access to aggregate data (costs, revenues, performance indices, forecasts, etc.), providing an important overview to support strategic decision making.
To give your projects a more refined structure, FOLIO also allows you to associate your budget items to your JIRA issues through your existing labels. By affixing labels to a position or a source of income for example, you will be able to isolate the metrics of these items.
Planned and actual revenues
FOLIO version 5.0 will introduce the concept of planned revenues.
Now the FOLIO users will have the ability to track planned and actual costs and revenues, providing full flexibility for any type of projects.
Real time performance indices
All FOLIO results, including performance indices, are calculated in real time. In a glance, they provide answers to the following questions:
Does the project ahead or behind the budgeted costs?
Does the project ahead or behind the scheduled time?
Does the team members utilization effective?
When is the project planned to be terminated?
How much will cost the project when completed?
How much will cost the remaining work?
Do the costs earned value of the project in line with what has been spent so far?
Indices enable quick decision making and identify where the project manager needs to intervene.
In summary
FOLIO is an essential tool for managing projects and portfolios inside of JIRA, based on well-established principles and metrics. With FOLIO you will be able to:
More efficiently keep track of financial aspects (budgeted and actual costs and revenues) of projects
Obtain objective information on performance and progress of projects using the Earned-Value Management indices
Get better project forecasts about time and money
Visualize resources and financial information from all angles through highly customizable reports
Try FOLIO for free
More about the publishers of FOLIO
FOLIO was designed and developed by Kitologic, an expert team located in Montreal (Canada) which includes the creator of JIRA AGILE (formerly GreenHopper) Jean-Christophe Huet.
Kitologic has recently made a new add-on available on the marketplace, Pathfinder, that will help you visualize inter-dependencies between your JIRA issues andidentify critical paths of your projects.