At four months old, our latest Jira app Elements – available on both Jira Server and Jira Cloud – has passed the newborn stage. After five releases, we're happy to report our baby is improving your processes like never before – so you can relax and sleep through the night.
For those of you haven't heard of Elements yet, in a nutshell it is the alternative to subtasks that removes the hassle of the configuration and provides extra features, such as: editing permissions, templates and calculation attributes
The result is a clean table which is displayed in Issues where user can add, edit and delete rows: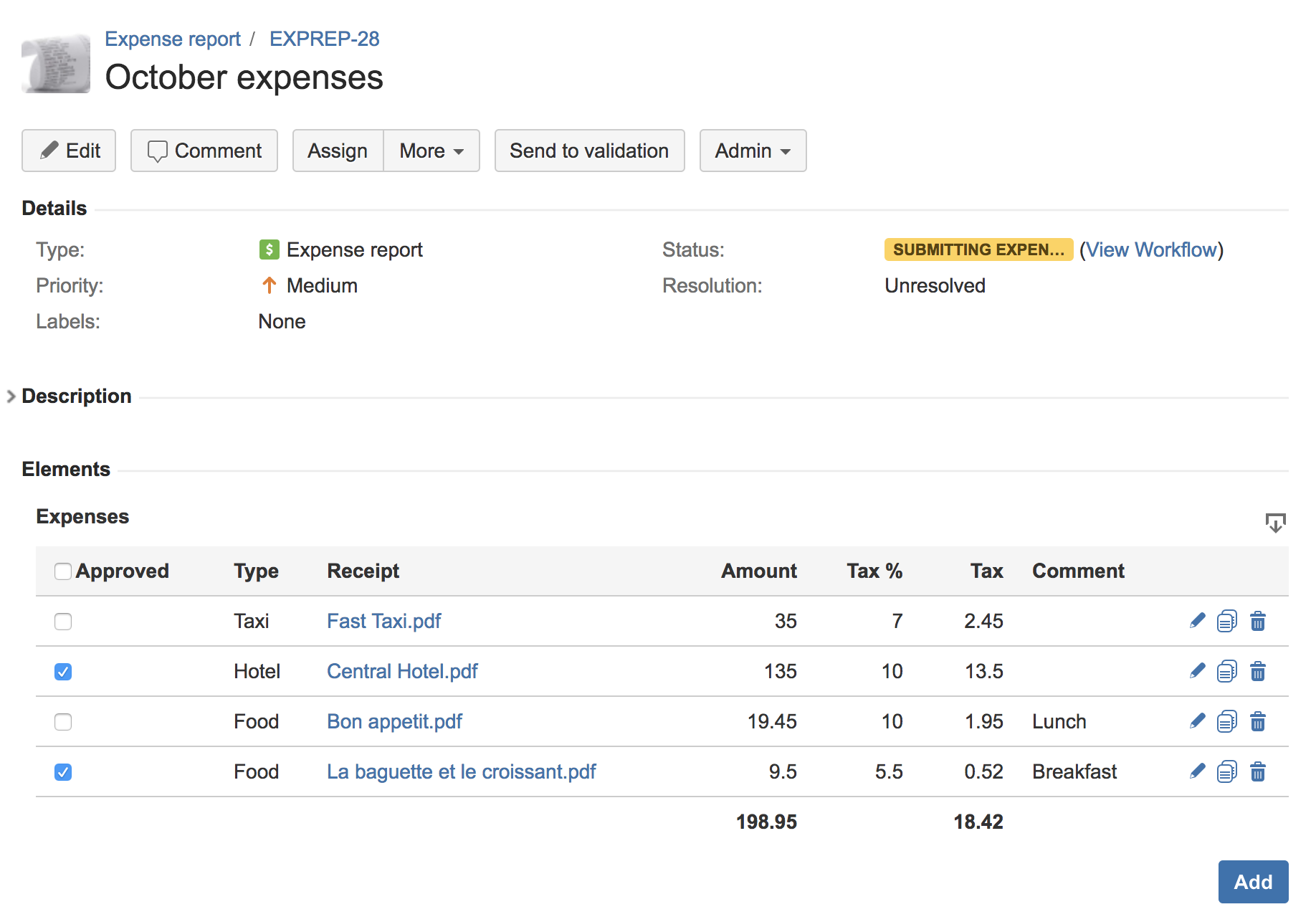 We're not working in a bubble – during the last few months we have been listening to you, ranging from direct customers meetings to reading the requests you posted on our support platform. We've carefully compiled all this information to understand your needs and create new features which match your requirements.
Check out what Elements can offer you.
Attribute types
Three new attribute types have been added to Elements since 1.0:
A flexible Select list
The select list options can be edited by the project administrator. There's no need to ask a Jira administrator to add new options – everything is done from the project configuration and the options become immediately available: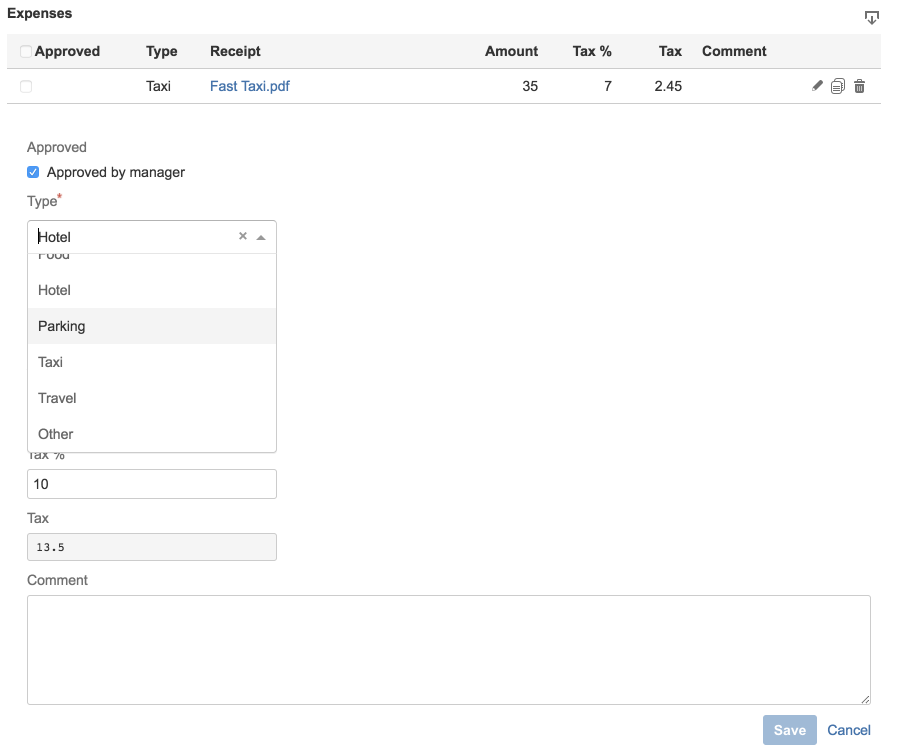 Defined Project components
By selecting the project component, you'll have full transparency over how the different development tasks impact the user story: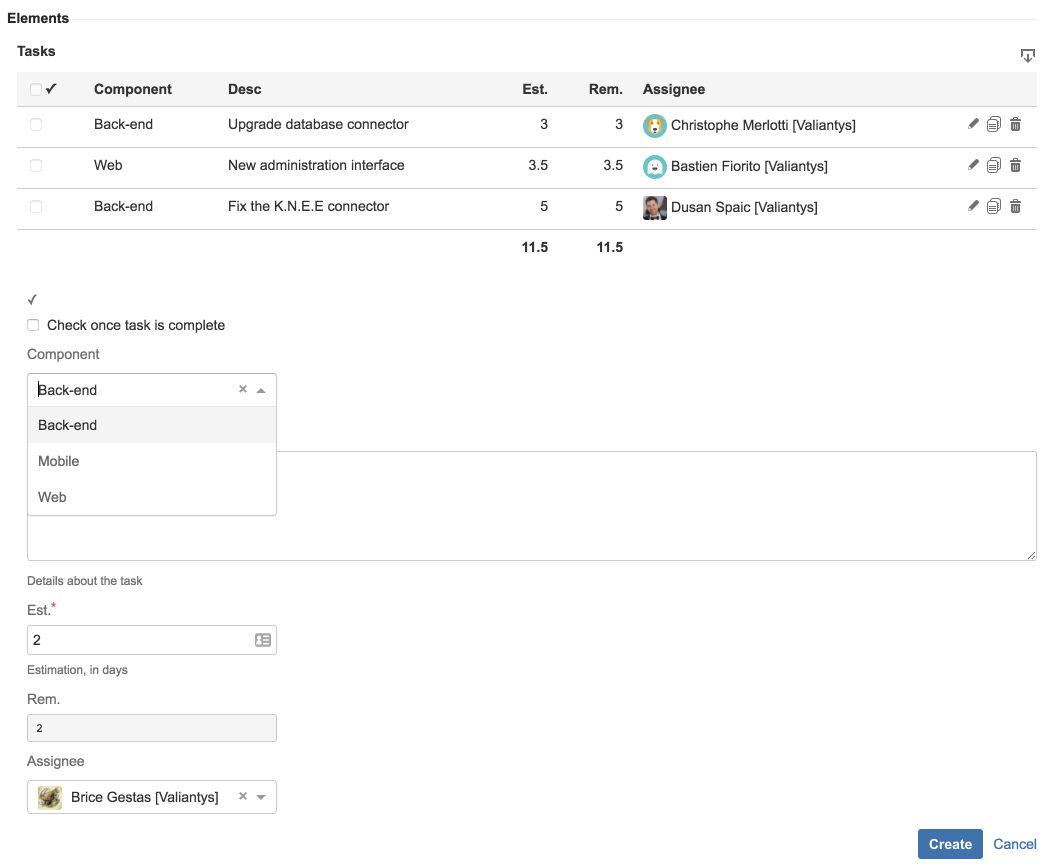 Organize your Project versions
Versions defined at the project level can now be used as attributes of an Elements panel. You can choose if you want to display all versions, only unreleased versions or only released versions.
This feature addresses a common use case – if you want to track the software version in which a bug will be fixed, Elements has your back: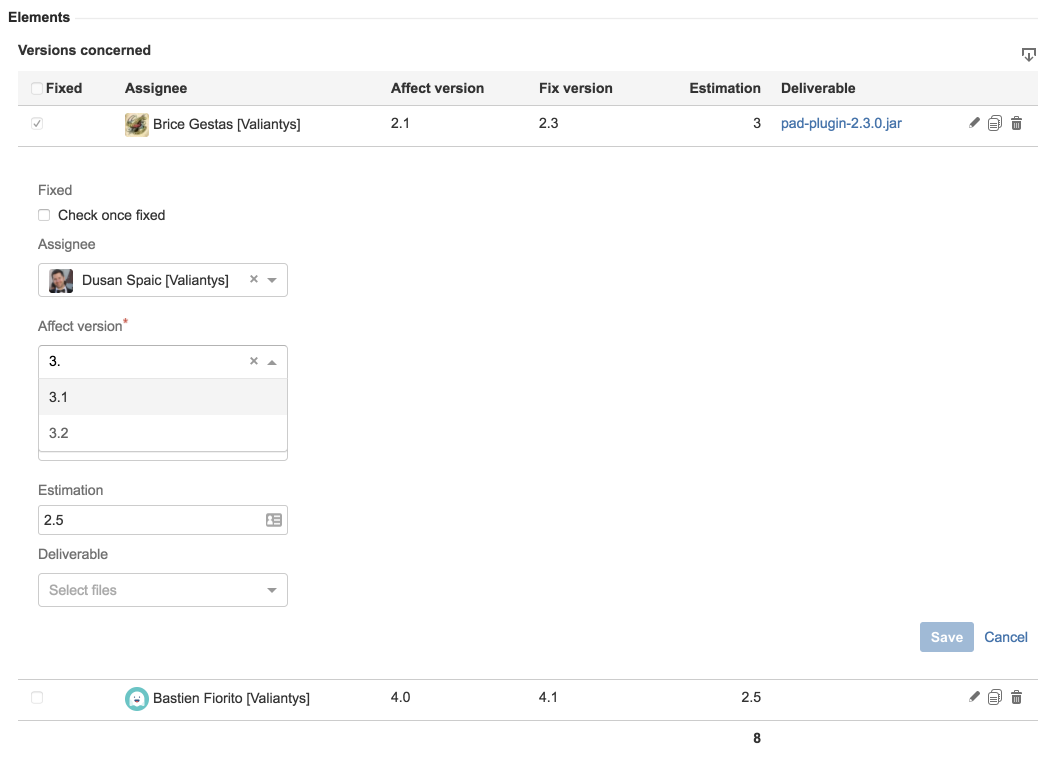 JQL Search
As the API provided by Jira Cloud does not allow apps to provide their own JQL functions, this feature is for Jira Server only. 
"Search is the cornerstone of every successful Jira dashboard"
Elements provides its own JQL function that you can use to apply conditions on your Elements panels.
Almost all attributes types can be used in filters, and recently we added two new features:
isEmpty / isNotEmpty: to determine if a panel is empty or not.
Searches on footers: you can now apply rules on formulas computed on all the values of an attributes – i.e.: get all expense reports where the total amount of expenses is above $1000.
JQL can be used to create filters for your dashboard, but you can also do more. With some scripting, Jira administrator rights and third-party apps you can use JQL search to apply validators in your post functions or compute the value of a custom field based on the status of your table.
Editing permissions
Sometimes, we'd like to keep data entered in an Elements panel fixed. For example, expenses should be edited only by the employee who submitted it. Likewise, development tasks should not change once the development has been completed.
In other circumstances, we'd like to determine who can edit a panel. A material order should only be edited by the assignee.
This is now possible with the Edit permissions function, you can apply restrictions based on:
Issue status: to say when a panel can be edited
User role (Jira server only) or User custom field (like Is the current user listed in a custom field?): to say who has the right to edit a panel.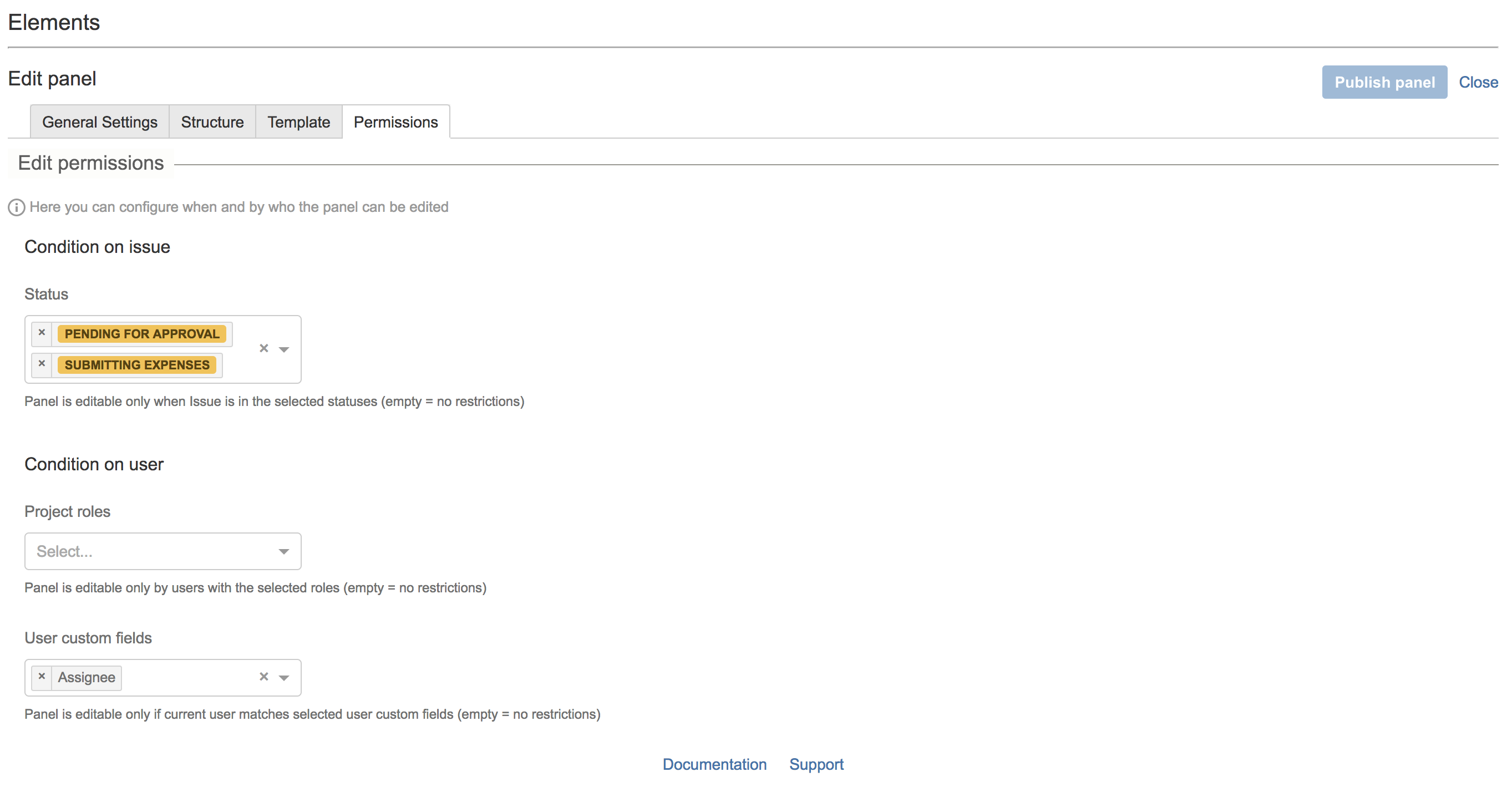 Templates
Back when we were kids, do you remember being asked by your teacher to copy the same sentence fifty times: "I will listen to the teacher in class and stop playing with my Game Boy"? Those Bart Simpson days are in the past now, and this should be the same when it comes to filling in Jira issues.
This feature of Elements wipes out this frustration – now Elements administrators can define templates that can be used by any user as a starting point.
Let's take the example of how to define when a User Story is officially done. By adding the template, the tasks which the team needs to complete are clear.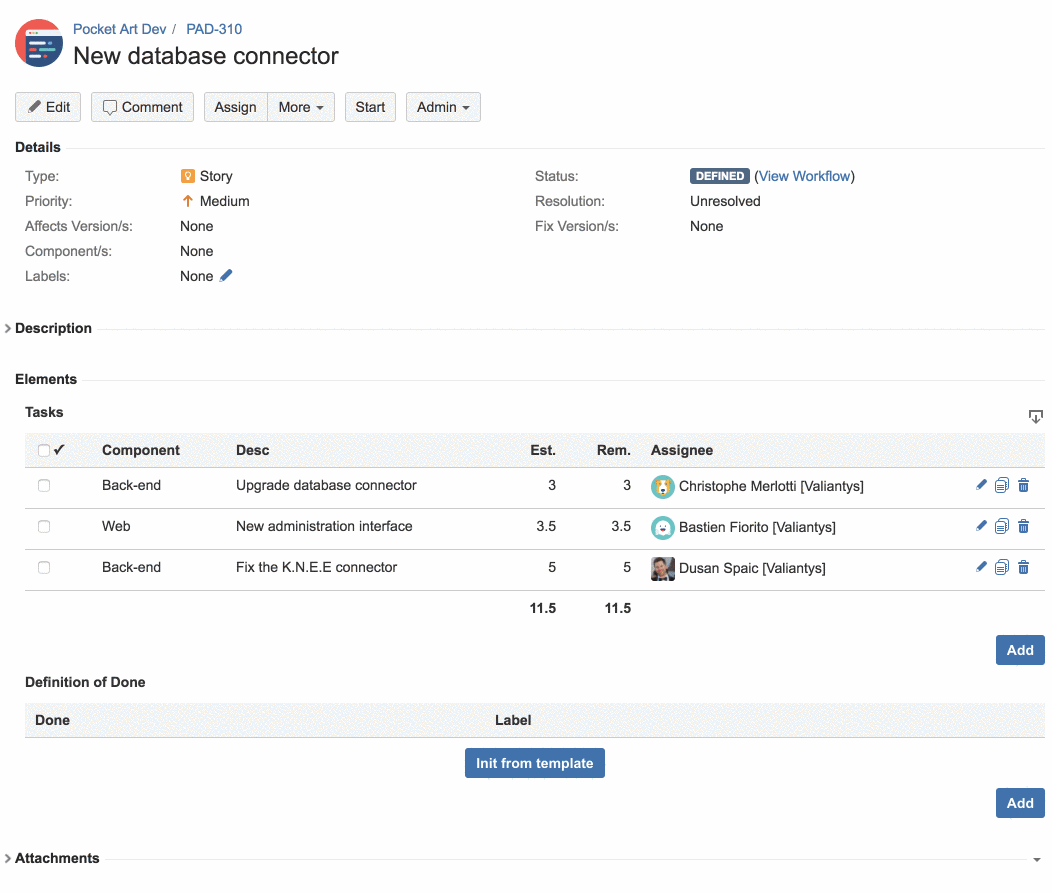 Did we miss something?
We want to know your thoughts, but unfortunately at this time we are unable to read your mind. Please tell us what you need– we are constantly improving Elements and your feature might be the one highlighted in the next blog article.
Want to give it a try?
Start your free trial now!
Take Elements for a test drive