Synergies between teams flow best when people are able to have visibility over the issue in question. This allows customers to use self-service support and feel reassured that the issue is progressing forward, while giving more bandwidth to agents for other tasks as they don't need to follow up with the customer.
This is why it's frustrating when you can't see the issues linked to a request in the Jira Service Desk customer portal. You would like to easily update your customers, but you can't do it natively with Jira Service Desk. This is one of the most voted feature requests on the Jira Service Desk portal, which has been open for more than a year now.
Luckily, the latest version of our app Exocet has a solution to deal with viewing linked issues in Jira Service Desk.
Exocet is an app developed by Valiantys Software that allows you to copy, link and sync issues between different Jira projects and different instances. It also allows you to display linked issues thanks to data panels. It can help you to simplify a lot of ITSM processes and reduce manual work, but this use case will focus on the Exocet data panel and how it can help you display linked issues in the Jira Service Desk portal.
Display linked issues on the customer portal in a data panel
Let's take a closer look at this solution by following Dena, a Jira Service Desk customer. She needs WiFi access, so she creates a request on the customer portal of the IT Service Desk project. Following her request, an issue is created on the operations team's project to implement WiFi access.
Dena wants to get updates on the progress of her request, but as a customer she doesn't have access to internal Jira issues. Without Exocet, there is a lot of back and forth between the customer, support and IT teams: Dena needs to ask for an update on her request, the support agent needs to chase down the IT team while the customer waits for news, the IT team gives an update to the support agent, who then copies and pastes the reply for the customer.
However, this scenario looks different when the Jira Service Desk instance is extended with the Exocet app. Dena can follow the operations team's progress directly with her request; there is no need to ask for an update.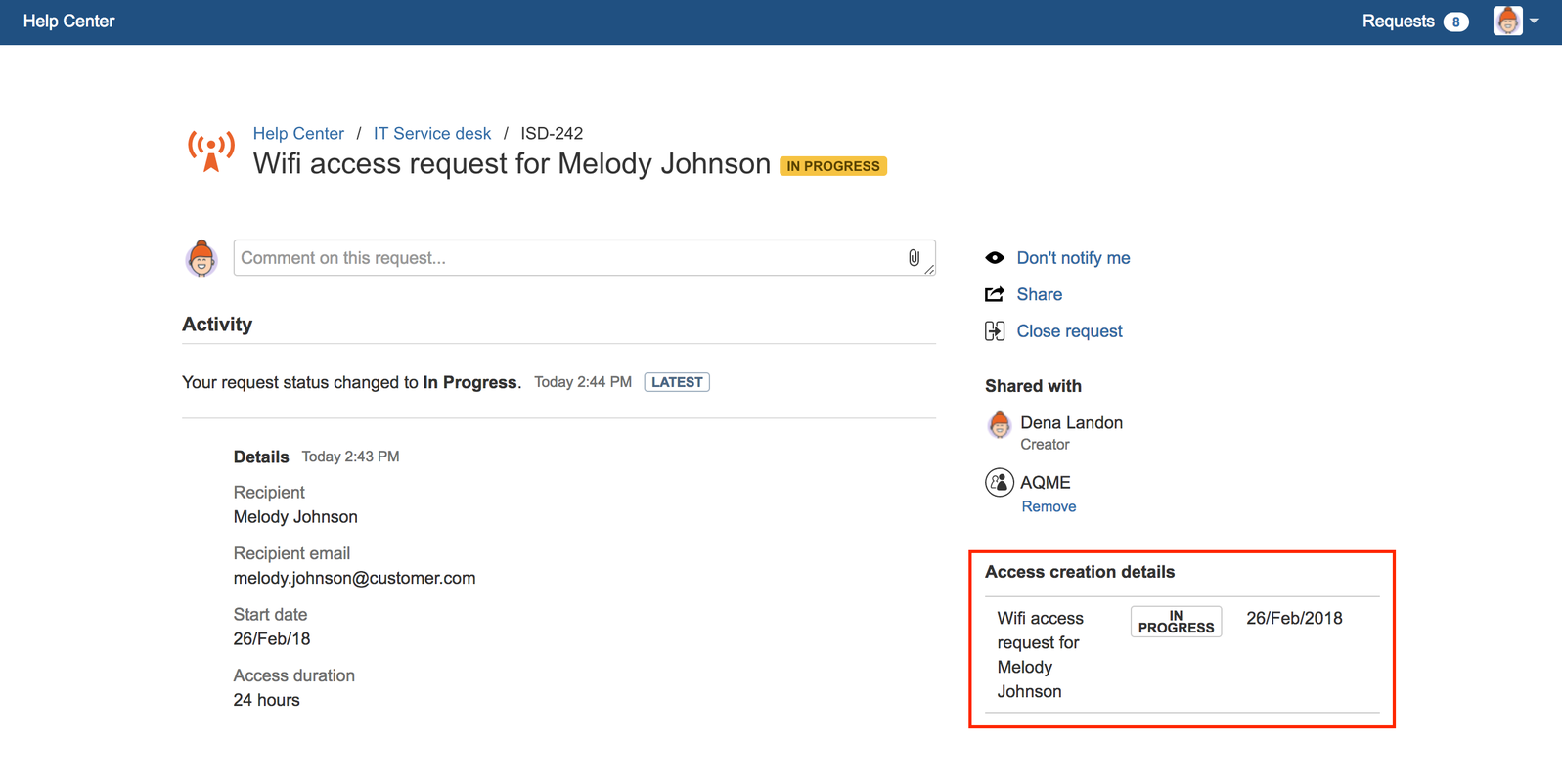 Based on your requirements, you can define how the linked issues are displayed and have control over how you inform your customers. In our example, we display three fields in the Exocet data panel: Summary, Status and Due Date.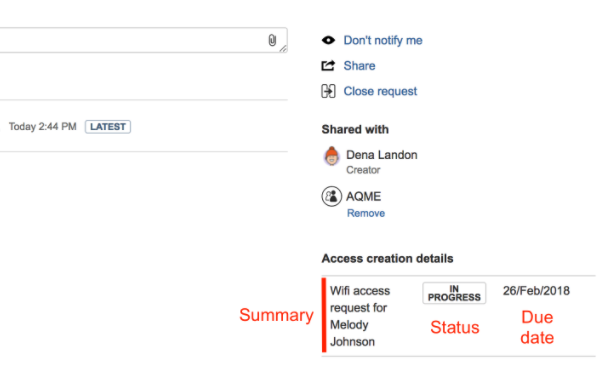 How to display linked issues in a Jira Service Desk customer portal
To get started, you'll need to configure an Exocet data panel by following the instructions on our documentation. Once you've mastered the configuration, you can refer to our tutorial on displaying linked issues on Jira Service Desk which you can find here. Otherwise, you can check out our short demo video below:
Try Exocet now