Setting up an IT service and support portal using Jira Service Desk Cloud is fairly easy. It enables IT teams to manage the end-to-end delivery of IT services to customers without the complexity of traditional ITSM solutions. Yet some times, having a simple form to fill manually doesn't make it easy for customers and agents to understand each other and can lead to frustration on both sides.
Let's have a look at an example. Meet Rachel Ryes, an employee of Tellurian who works on the development team. Rachel is getting a 500 error when she tries to connect to a production platform.
She connects to her IT team support portal and raises a "bug on a system" ticket.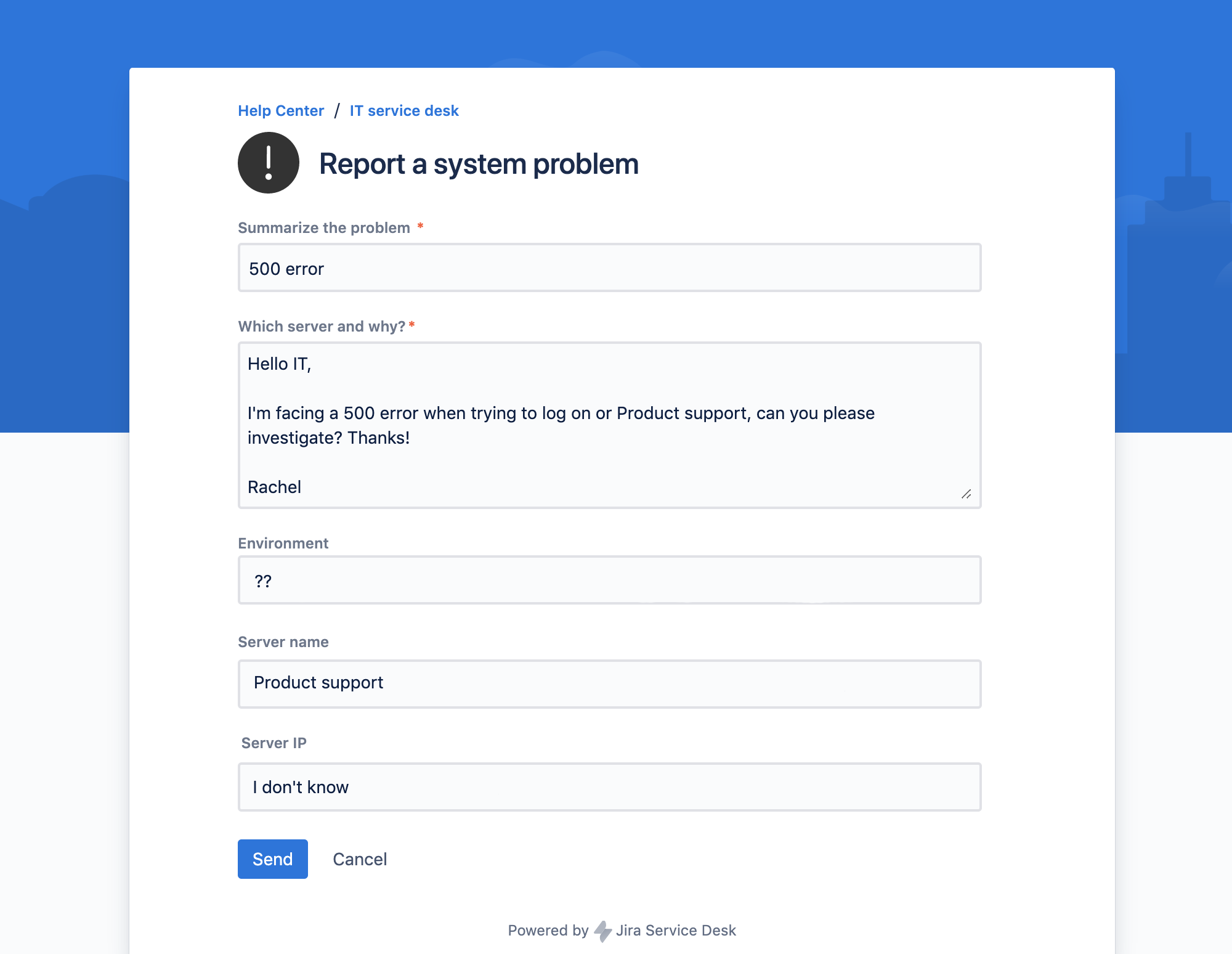 As she's in a hurry, and doesn't know what to input in some fields, she leaves them empty, hoping that the IT team will get it sorted out anyway.  Here's what the request looks like.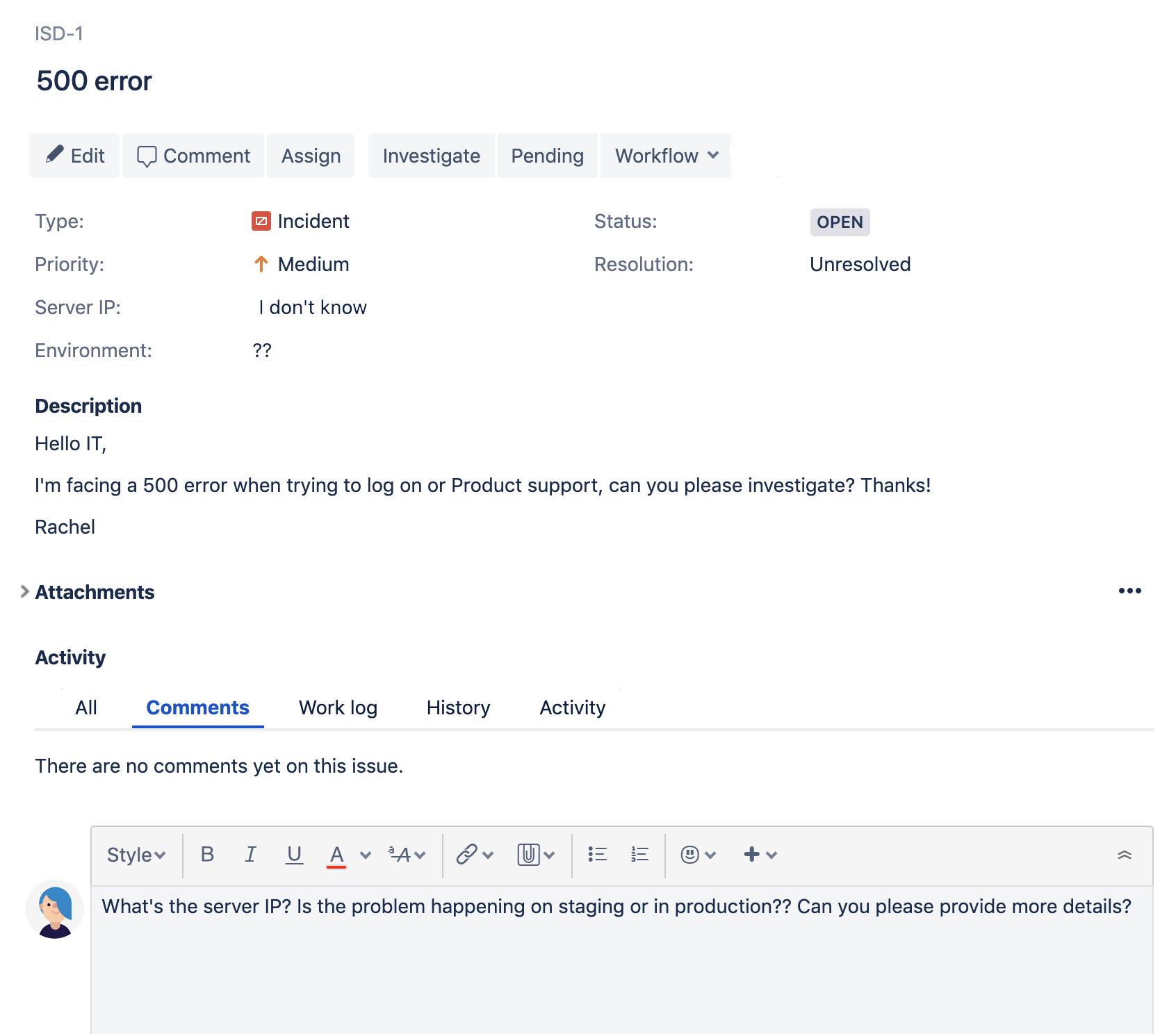 Not really easy to answer for Sunny Sagara, one of Tellurian's support engineers, is it? In fact, this just the beginning of endless back and forth between our two characters as Rachel doesn't know where to find the IP address of the server and Sunny is fed up with having to look for IP addresses of servers in the internal database.
At Elements, we believe there must be a better way. Building on the success of Elements Connect for Jira Server & Data Center, we're working on a new app for Jira Cloud. This app will enable Jira admins to create connected items – select lists or read only – that fetch their values from SQL databases. Support managers will then be able to choose the request types they want to add these connected items to.
Here's a sneak peek at how Elements Connect for Jira Cloud will help you smooth interactions between customers and agents and give them a boost in productivity.
Hint
Elements Connect for Jira Cloud is currently in internal beta. To learn more about our public beta and get updates about the app release, register here.
Simplifying issue creation for Jira Service Desk customers, while helping agents resolve issues faster
Let's get back to our 500 error example. As we store all our server information in an internally developed SQL database, the Jira admin can set up Elements Connect to fetch data from this data source and create three connected items as follow:
Environment – which enables to filter servers depending on whether they're Production servers or Staging instances.
Server name   – this item depends on 'Environment' item and lists all the name of all servers in the SQL database of the previously selected environment.
Server details – this item is a read-only item displaying some key information about the server, useful to the Jira Service Desk agent.
Now that it's done, all that Suzie Summer, the support manager, has to do is to add these items to the request types of her choice in the project settings.
The next time Rachel is faced with a 500 error, she'll be asked to choose the environment she's working on and the server she uses from a list populated with information from the internal SQL database. Then, she'll be displayed the server details.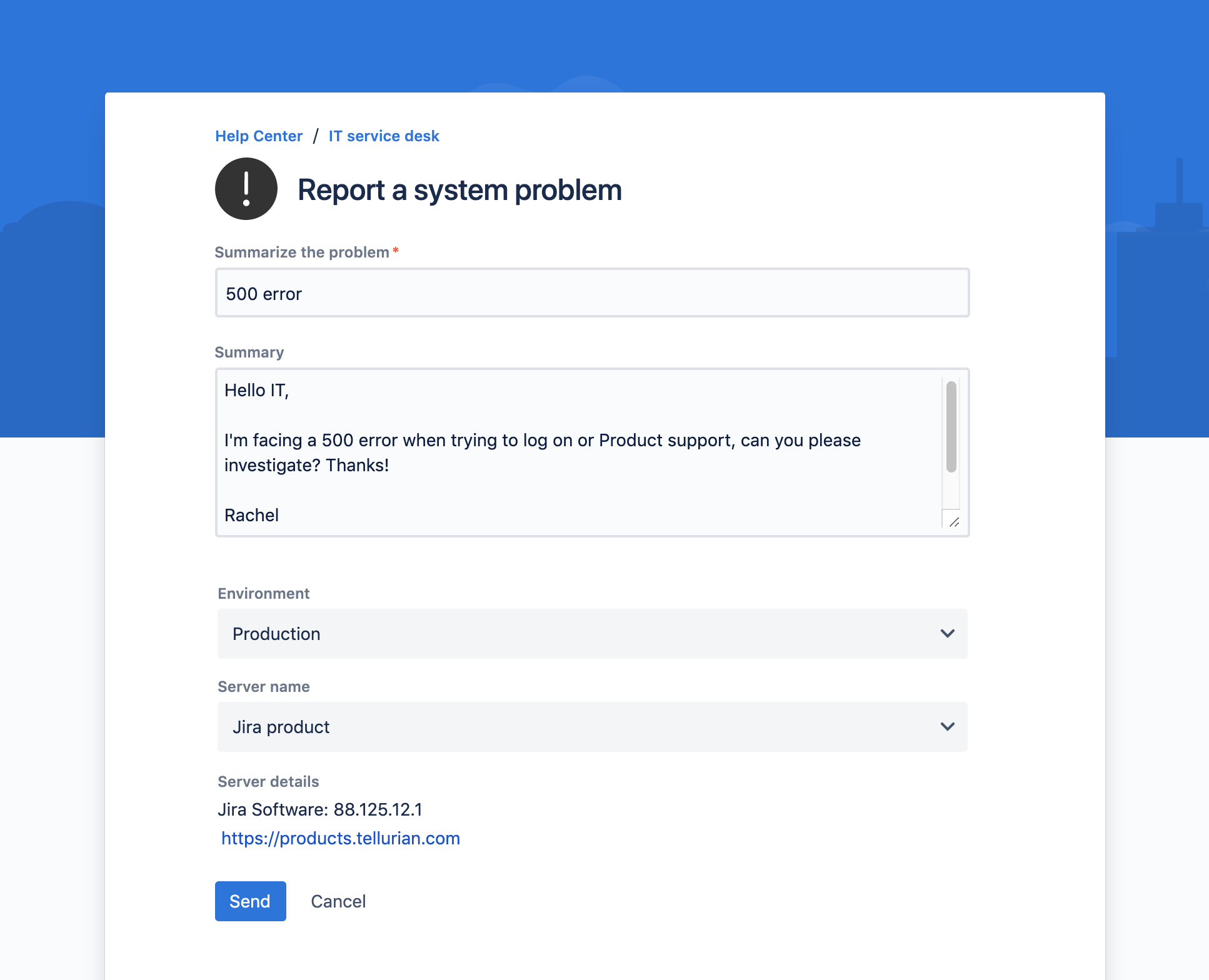 At no time would she need to manually input the technical details about the server, but the agents will have access to the correct information on the ticket and be able to help her quickly.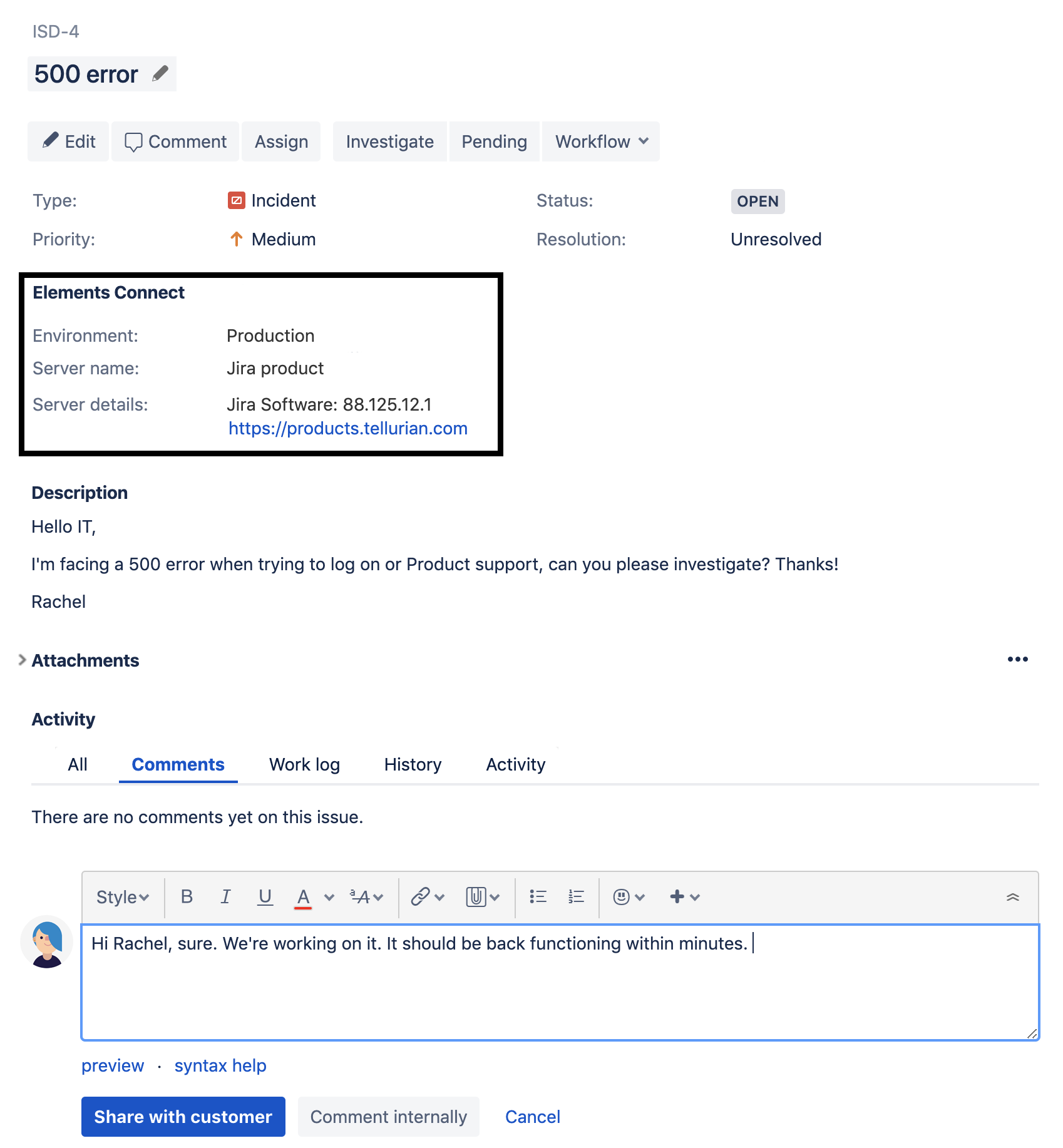 Using information from your SQL database to prioritize tickets and create queues
To go one step further and prioritize tickets for her team, Suzie Summer, Tellurian support manager, can create queues based on Elements Connect items' values. Connected items are fully searchable, thus all she has to do is to write a JQL query based based on a connected item.

This enables IT teams to further refine how they sort and prioritize issues in order to ensure appropriate support to end-users.
Want to give your service teams a boost in productivity?
Elements Connect is on its way to the Cloud. With this new app, our goal is to put an end to fishing for information and spare Jira Service Desk users and agents the need to manually input data in issues when it's stored in an SQL database. The app is currently in private beta but soon will be made publicly available to beta users. Join our beta program now and collaborate with our product team to help us prioritize the features teams using Jira Service Desk Cloud need.
Join our beta program now