Confluence has had a great year : Agile planning, Confluence Questions, Data Center… , but the best is yet to come.  Last week at the Atlassian Summit, Atlassian has unveiled the key features of 5.7 and beyond.
Let me tell you that as an extensive Confluence user I feel super enthusiast : these new features are about to transform my collaboration experience with my teammates, making it – finally – easy and smooth to co-create great and valuable content.
Inline comments
Before, Confluence allowed you to comment on content … but these comments used to be at the bottom of the page, disconnected to the piece of content they referred to. Not really easy to debate on or integrate in your content, is it?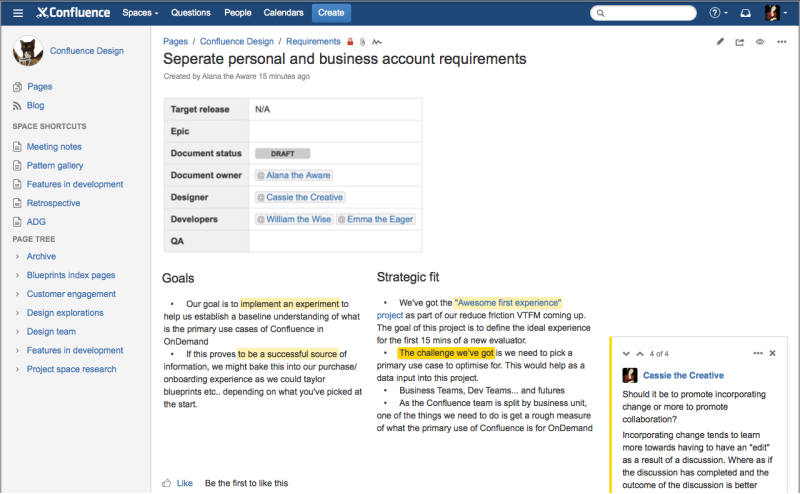 With inline comments, Atlassian proposes a new experience of peer reviews in Confluence.
Inline comments to review per sentence
Real time notification for page creators with pop-ups
Comment threads where you can discuss feedbacks, then resolve them : approve or discard edits.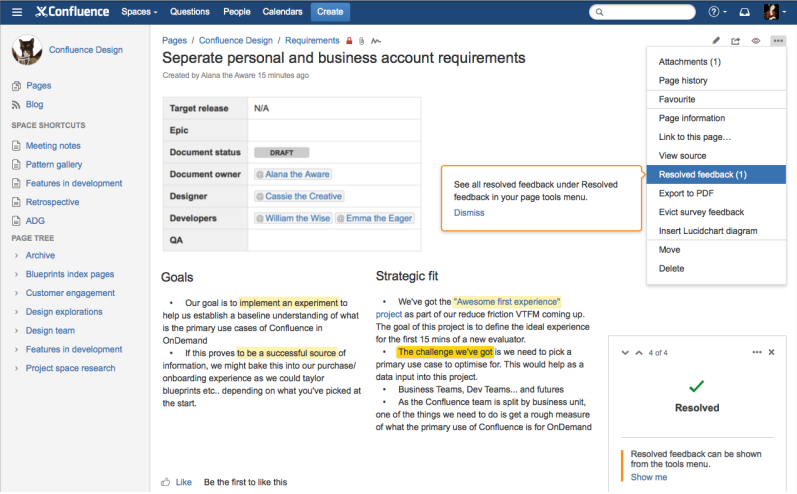 Files reviews : a collaborative experience
Collaborating on files in Confluence was not always easy, especially when attachements needed improvements or edits. Powerpoints, keynotes, images, artworks, mockups and sketches … In 5.7, these files you need to collaborate on are now "first class citizens" in Confluence.
Atlassian has completely redesigned the file view mode, offering an enriched preview experience :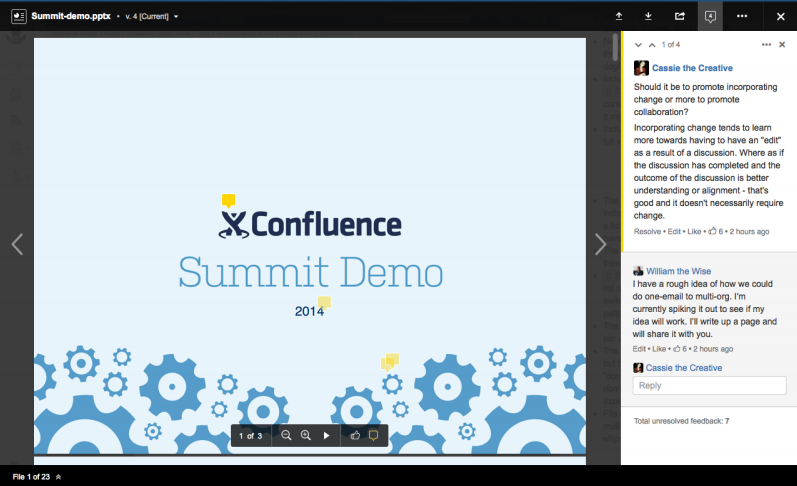 Now you can :
comment directly on the file, using a yellow dot marker
share files and invite others to give their opinion
Also, files are now versioned in Confluence. No need to erase the attachment before uploading when a modification has been done. You can always go back to the previous version if the changes made are not relevant.
Roadmap planning : a new macro to sketch your plans
Whether you need to build your product roadmap, or design your marketing plan, this macro is a must. You can now collaborate on roadmap creation with your team, then when you've agreed on a broad planning refine it into JIRA.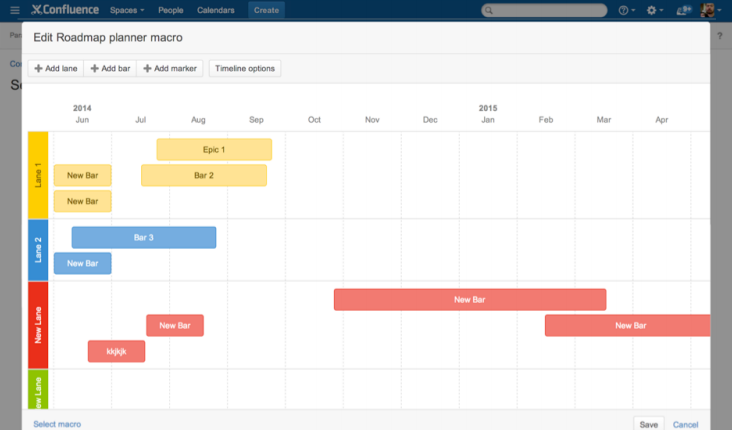 LIVE editing coming soon!
Atlassian always pride itself as being an "open company" and this year they have been one step further with their commitment to this core value of theirs. During the keynote, Mike Cannon-Brookes, co-founder and co-CEO, has announced a feature that most of us dreamt of : REAL TIME edition.
The release time is not set yet as this is a big technical challenge for the Confluence dev team, but they are planning on shipping it some time in 2015.
Sometimes a screen capture is worth a thousand words, so I'll let you see what collaborating in Confluence may feel like in the near future :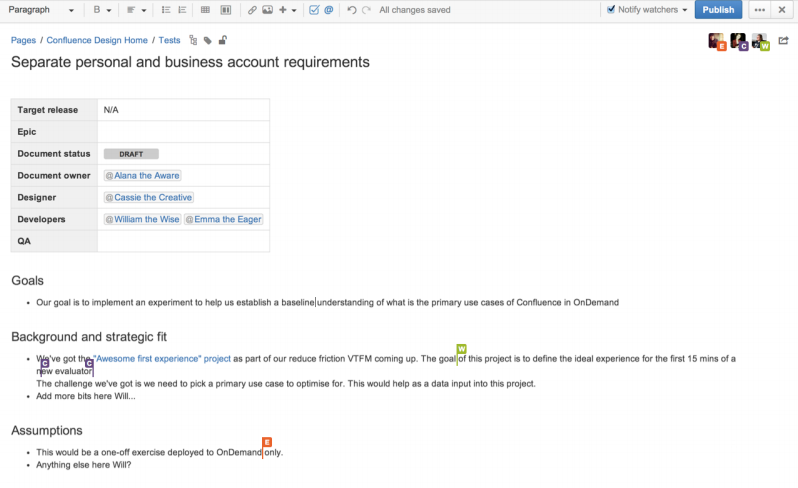 Your opinion on these announcements?
To me, Confluence is at an edge of its evolution. With the 5.7 new features and the live editing announcement, no doubt that Confluence will be easily adopted by any team who needs to create, collaborate and act on content.
And … which team does not?
I'd love to have your impressions on these announcements, and how they could impact the adoption and use of Confluence in your organisation. Let me know in comments! 🙂