This is a guest blog from Comalatech presenting Comala Canvas for JIRA. This add-on extends possibilities of customizable boards in JIRA.
When we create our projects, we define components, create clear guidelines for priorities and issue types, and even go the extra mile by creating custom fields to enforce our own business rules. Unfortunately, as the project grows and more people get involved, the proper criteria is seldom used to categorize and prioritize issues.
And from here we are expected to assess, prioritize, and assign the work.
There are many factors involved in making these decisions, such as severity, priority, type and work load. JIRA provides great reporting, custom queries and agile boards, however, when we are triaging we need to be able to make decisions and take actions based on many different perspectives.
Canvas for JIRA provides customizable boards from which you can transition and change your issues attributes from any view.
Meet Canvas for JIRA
Canvas for JIRA allows you to view your projects through boards, change your issues properties, and assign and transition them through your workflows
[youtube_sc url="https://www.youtube.com/watch?v=J7RF-UxrgS8″]
Canvas Boards
Transition issues or change values by simply dragging them across the board.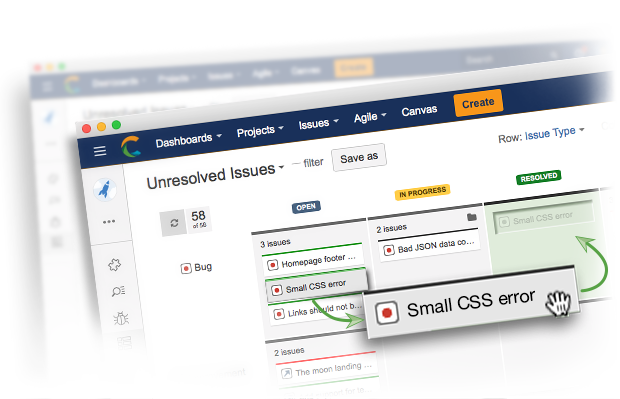 Preview issues and transitions within different views.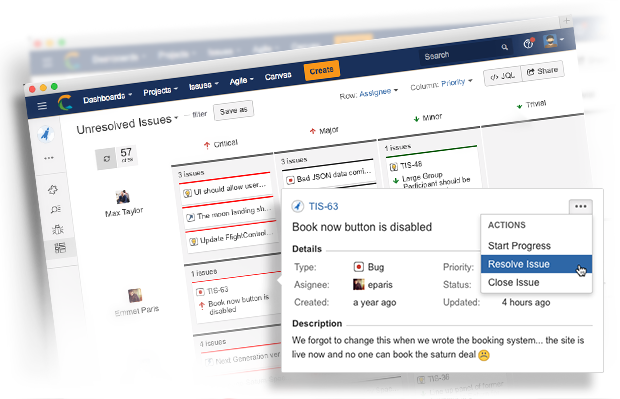 Use any system or custom fields for the dimensions of your boards.