This is a guest blog from SoftwarePlant, a Polish-American company making software for Project Portfolio Management. Its main products are developed for the JIRA platform, but custom development, training and implementations are also available. BigGantt is currently the highest-rated Gantt chart plugin on the Marketplace, and the company is Atlassian Verified and will appear at this year's Atlassian Summit.

JIRA is a very powerful tool and its success lies partly in how well it handles large projects. However, the sheer scale of some applications is mind-boggling and can result in the need for even higher level of administration, something that will span multiple projects and tie them together. This is usually defined as the Portfolio level and used to be done by two plugins on Atlassian Marketplace. However, since around a year a newcomer called BigPicture is quickly getting traction.

A brand new experience
When it comes to Project Portfolio Management (PPM) in JIRA, the two established plugins are JIRA Portfolio by Atlassian and Folio by Tempo. The difference between them is quite simple: JIRA Portfolio is mainly focused on teamwork, while Folio on numbers (expenses, revenues, etc.). SoftwarePlant's BigPicture plugin adds a third option, which can be called Gantt-centric.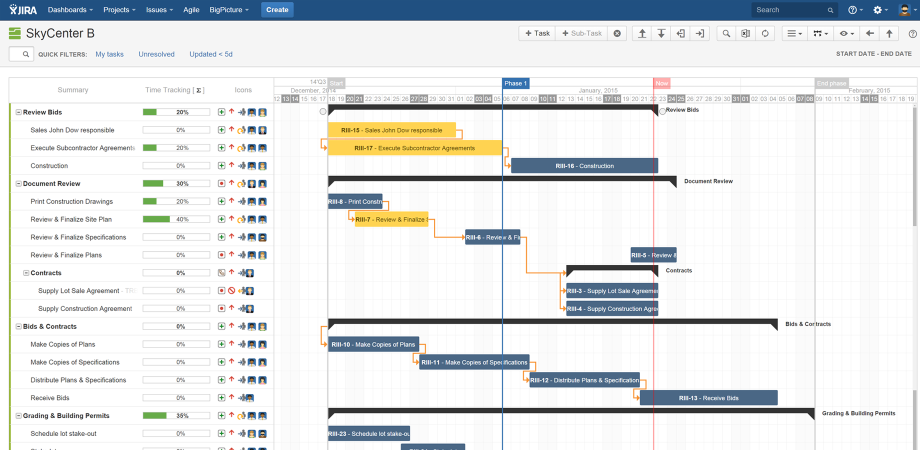 Gantt charts are a well-known project management tool and pretty much an industry standard. The quality of BigPicture's Gantt module is so high, that by popular demand it was also released as a separate plugin (called BigGantt), and instantly gained the highest Atlassian Marketplace grade of all Gantt chart plugins for JIRA. So, long story short, BigPicture is the best Gantt available with additional modules. But what are they for?
3 additional modules
These modules are called Risk Matrix, Roadmap and Resources. In complex organizations and projects, there is a lot of risk related to the financing of the investment, integration with other project elements, system implementation in production environments, the organization of the market situation, or even domestic policy. Thanks to the Risk Matrix, one can efficiently manage all these risks: plan, assign responsibilities and then oversee their implementation.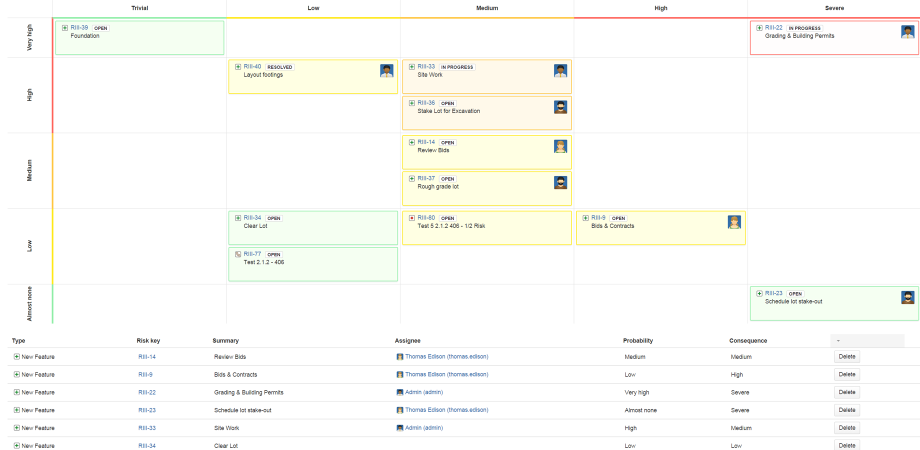 Roadmap module provides a cadence-based approach through agile releases. That allows structure development activities on regular and predictive rhythm of important events that always deliver value. If changes to release plans are allowed after your Agile teams have made commitments to those plans, it gives an efficient way to adjust already established plan and respective cadences.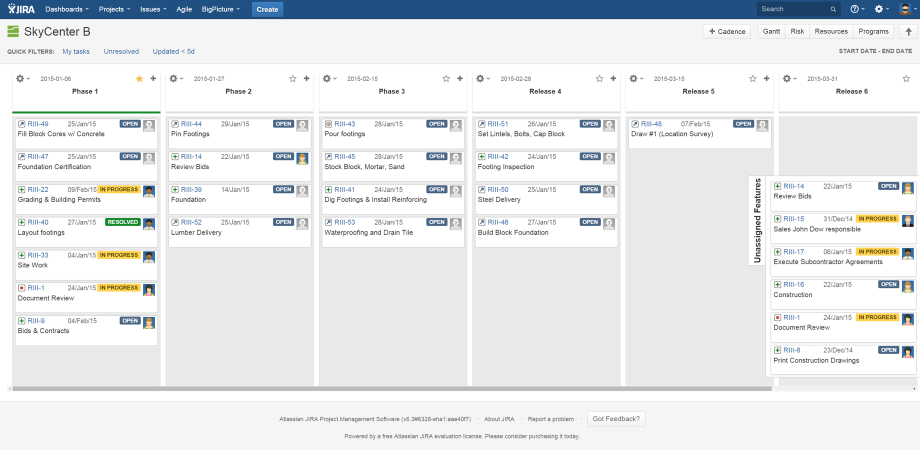 Lastly, thanks to the Resources functionality, one can easily review and manage workload within a team. Resources gives a clear overview of task backlog handled by each assignee. The best part is that assignee's workload is displayed on the timeline, so you know who and when will handle a particular task.

Power at your fingertips
When put together, these 4 modules provide excellent control over any number of projects (especially Agile ones) and a fresh approach to the whole issue of Portfolio level project management. Gantt chart as the main module does serve its role extremely well, and the 3 other ones nicely complement it and can work separately if needed. The full study comparing various Project Portfolio Management plugins for JIRA can be found here, and you can also:
Try BigPicture for free