Even the most enthusiastic users quickly get tired of repetitive actions in JIRA. Whether you are creating an issues or commenting on them, you often need to switch from keyboard to mouse and from mouse to keyboard. Let's see what we can do to work faster…
Tip 1: JIRA User Keyboard Shortcuts
To save a little of your precious time, Atlassian has created several keyboard shortcuts. Here is a selection of the most useful ones :
The 'c' key opens a ticket creation form from anywhere on JIRA. Just like with any form, you can then use "Tab" to go down the list of fields (and shift+tab to go up). Once the form is filled out completely, use Ctrl+S (on Mac OS), Alt+Shift+S (on Windows+Firefox) or Alt+S (on Internet Explorer) to validate the form.
Once your ticket is created, hit '/' to switch to the JIRA Quick Search. You can then enter the issue key of the issue you just created and hit 'Enter' to directly reach this issue.
If you wish to edit the issue, use the 'e' key to display the edit issue form. You can also use the inline-editing with keyboard shortcuts. To do this, press ',' and start typing the name of the field you would like to edit. As soon as you have selected it, you can hit 'Enter', edit your field and validate your modification. It will be taken into account without having to reload the page.
If you want to comment the issue, use the key 'm'.
To assign an issue, use key 'a'.

Tip 2: JIRA Admin Keyboard Shortcuts
Since JIRA 4.4 was released, there is one thing that gets on Admins' nerves: the constant need to switch from the Admin panel to the main JIRA panel as they have been separated.
There is one great shortcut for this: hit the 'g' key twice. This will display a small auto-complete form (like the one using ',' keyboard shortcut) where you can start typing the admin menu you would like to access. Once the menu is selected,just hit 'Enter' and will be redirected directly to it.
Once you've tried it, you won't be able to live without it!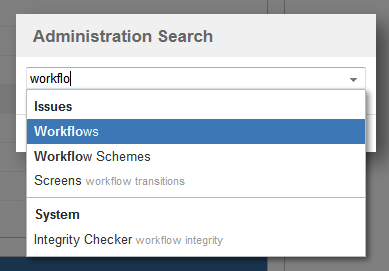 Tip 3: Other JIRA shortcuts
 You can display all available shortcuts using the '?' key on JIRA.
Tip 4: The annoying Admin password prompt
 As an admin, you might get tired really quickly of having to enter your password again everytime you access admin tools. Did you know you can disable this behaviour? To do this, you need to edit the jira-config.properties file which is located in your jira-home folder (your must create the file if it doesn't exist yet). Inside this file, you need to add the following line:
jira.websudo.is.disabled = true
A reboot of JIRA is required for this setting to be taken into account.