Our colleagues Dean MacNeil (Agile at Scale Practice Lead) and Aslam Cader (Senior Agile Consultant), joined forces during the first phase of the pandemic and wrote the first-ever book about Jira Align, Scaling Agile with Jira Align, while at the same time working with customers and helping them on their Agile projects. The book was just released, right on time to be a Christmas gift 🎁 , and we wanted to know everything about it, how they were able to pull this off, and what readers will get out of it. Philippe, Chief Marketing Officer at Valiantys, cornered them in a … virtual meeting room until he got all the answers he wanted. Here's the transcript of the interview.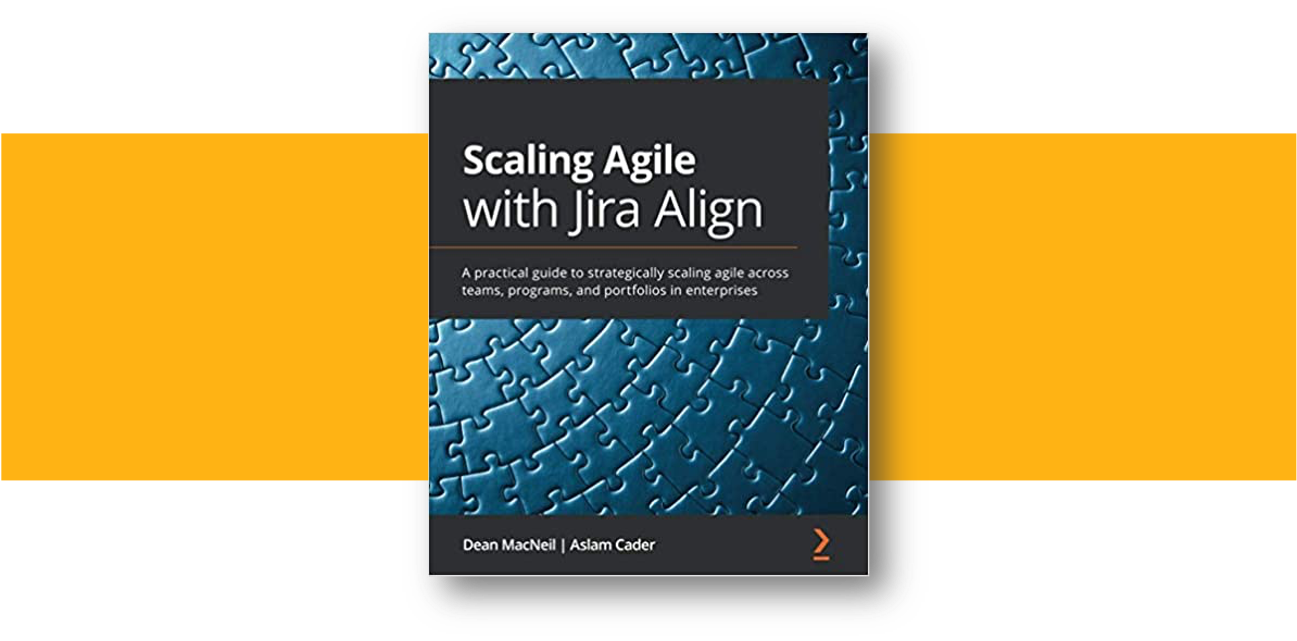 How did you get into Agility?
Dean: It was an intuitive thing dating back to the mid-1990s when I co-founded the first web product development team for the world's leading music company. It was a small, colocated, cross-functional team. We didn't know what a scrum team was or that a method called "scrum" was emerging. We called ourselves a "SWAT team." We used relative estimating in t-shirt sizes that equated to points and limited our work-in-progress based on points. We even created our own flexible, web-based workflow engine that, in many ways, prefigured what Atlassian would later create and call "Jira." This was a time when mainframe and client/server development with long delivery cycles was still common, and we came to be known for efficient and effective delivery within weeks and months rather than months and years.
Aslam: As a software consultant, over the last decade, I have experienced the evolution of business process management solutions. I am always excited about innovation, technology, and solving complex business problems in the domains of Lean, Agile, DevOps, ITSM, governance, risk, compliance, and digital transformation. My passion for Agility started in 2010 when I started consulting on application lifecycle management (ALM) tools. Since then, I have helped hundreds of teams strive for excellence in agile ways of working and improving their core processes and practices through technology. My Agile expertise has matured with real-life practical learning around people, practices, and tools that form the environment for agility. The key success driver for agility is organizational culture established through the shift of attitude and openness in every individual delivering value.
First contact with Jira Align – when and how did you feel about it? Love at first sight?
Dean: Fast forward to the mid-2010s. Having pushed Jira to the limits at a Fortune 10 company by customizing it to support SAFe 3.0, we knew this wasn't sustainable for the move to SAFe 4.0. Our tools team explored what was available in the marketplace, and the only logical choice was AgileCraft, which became Jira Align in 2019. There are more contenders now, but Jira Align is a leader in the Gartner magic quadrant, and we believe it is still the leader with continuous improvements released every two weeks.
Aslam: In early 2018, I was looking for solutions that could support Jira Software to scale up to the portfolio, and that's when I first came across AgileCraft. And it was indeed a great strategic move from Atlassian when they announced the acquisition of AgileCraft and now Jira Align, a leader in Gartner's 2020 Magic Quadrant for enterprise agile planning (EAP) tools. Together with the best-of-breed Jira Software and Jira Align, it's a new era for all Jira and Agile enthusiasts. Thanks to Valiantys, Dean and I were honored to attend the first-ever Jira Align boot camp organized at the Atlassian HQ in San Fransisco, July 2019. What drew me very close to Jira Align was its maturity and completeness to drive business agility. The solution came with best practices that focused on producing real customer success through demonstrating value.
So you decide to write a book about Jira Align! You were not busy enough doing work with clients, I guess! What was your goal?
Dean: Packt Publishing approached us to write this book in March 2020, at the start of the global pandemic. I thought to myself, what better way to spend those nights and weekends during lockdown than writing about something I'm passionate about? It was a great opportunity to help others navigate the challenges at the team, program, portfolio, and enterprise levels that we ourselves faced both on the customer side and as implementers of the platform. For me, having previously written about music, this was a fortuitous opportunity to write about my other passion, technology. I view both as gifts of the human spirit that can help us connect and navigate turbulent times.
Aslam: As close peers of Valiantys' Agile at scale global practice, it was a great opportunity to share our Jira Align experience via the book. This is my first experience writing a book, and it was great to author the first-ever published Jira Align book. The team at Packt has been great at publishing efforts and keeping us on track. As you may already know, the process of authoring a book is quite lengthy, and we ended up spending many nights, weekends, and our holidays in the last eight months writing the book.
The book was a great opportunity to document what we've learned and share it with others who seek the same knowledge and journey. Our goal was to provide the book as a foundation for those who want to know about Jira Align and a companion to those who use Jira Align to solve challenges at every level of scale. This book serves as a practical cookbook so that anyone can learn and experience the strength of Jira Align in their own time.
I did feel bad at times for not spending quality time with my family, and I take every opportunity to thank them for their tremendous support.
Who is the book for? Project managers? Strategists? C-level? All of the above?
Aslam: The book is aimed at everyone who seeks the knowledge of Jira Align to solve Agile scaling challenges at every level of scale in an enterprise.
Dean: Indeed, all levels are represented and will find something of value in the book. It is particularly well suited for the sweet spot of Agile at scale – the program or team of teams level. Two chapters are focused on program planning and execution, so the book will serve as a good desk reference for product managers, release train engineers, product owners, and scrum masters. We've had clients ask for such a reference manual and are pleased to say that one now exists. Many clients are also interested in expanding Jira Align to the portfolio level, including lean portfolio management. This is covered in depth in our chapter on solving enterprise and portfolio challenges.
What will readers get in the book that they will not get in a Jira Align training session?
Dean: We cover many use cases that aren't part of a standard implementation and training engagement: things like bimodal (mixed waterfall and Agile) delivery, lean portfolio management, and government reporting. It's also helpful to have the book handy as a reference because it covers all the steps for essential activities like creating and ranking backlogs, including advanced functions like importing and exporting, pushing and pulling rank, and using the backlog kanban to load sprints per team capacity.
Is there any actionable advice in the book for readers who are more interested in practices than tools?
Dean: One of the key themes of the book is the importance of a connected enterprise across the dimensions of people, work, time, and outcomes. A tool is only as good as the underlying data, structures, and practices it supports and visualizes. We methodically review the key success factors to ensure, for example, that team data and practices are scalable and that programs are organized to maximize the flow of value delivery. At each level of the organization, people perform work during periods of time to deliver business outcomes. These are all connected within the platform to enable transparency, strategic alignment, measurement of execution against outcomes, and continuous learning.
Did writing the book actually change your perspective on Jira Align?
Aslam: Authoring the book made us seek knowledge beyond what we were exposed to, which pushed us to the next level of mastering the platform that we were able to share in this book.
Dean: We learned so much in writing the book. For example, there are over 165 reports in the platform, not to mention the ability to leverage BI solutions and the REST API. Packt originally requested a 200-page book, and we delivered over 300 pages. We believe it includes all the fundamentals as well as a good representation of practical advanced functions. We will look to channel our learnings into additional materials in the future and update the current book as the platform continues to improve and evolve.
What is the initial feedback from readers?
Aslam: We received much exciting and positive feedback from those all around the world who had the first glimpse of the book.
Dean: Given it's the very first book about Jira Align, there's been pent-up demand. We're glad we were able to fill that gap and grateful for the positive feedback we've received now that the book is available.
Where does one find the book?
Dean: I would imagine that most people find Amazon to be the most convenient way to buy Scaling Agile with Jira Align in print or ebook format. Google Play, Barnes and Noble, and direct from Packt are other options.