At Valiantys, we believe that companies of all sizes can benefit from using Agile practices and tools. So when our partners at Eliassen Group were bringing Agile practices to a large financial services client, Valiantys stepped in to help by providing the right products needed for the transformation. Read on to discover how the leading provider of workplace savings plans in the U.S. was able to improve customer satisfaction scores by 10%, with Atlassian tools you've heard of – including Jira Align and others.
The Client
As one of the largest mutual fund companies, the client is the leading provider of workplace savings plans in the US and a provider of Individual Retirement Accounts (IRAs). They offer retirement planning, portfolio guidance, brokerage services, and many other financial products and services to more than 30 million individuals and institutions, as well as to more than 5,000 financial intermediary firms.
Before their engagement, the client had already worked with Eliassen Group's Agile consulting team to transform from a traditional financial services company into a technology company that offers financial products. This switch was not just a different way of delivering software, but a complete business and IT Agile transformation.
As a result of these previous efforts, excellent results had already been recognized – including an in team speed, productivity, and quality in the pilot group. Having already committed to the Agile mindset, the company was focused on continuous improvement. The next step toward Agile maturation, naturally, was the scaling of these results, using Scrum, in order to drive business key performance indicators (KPIs).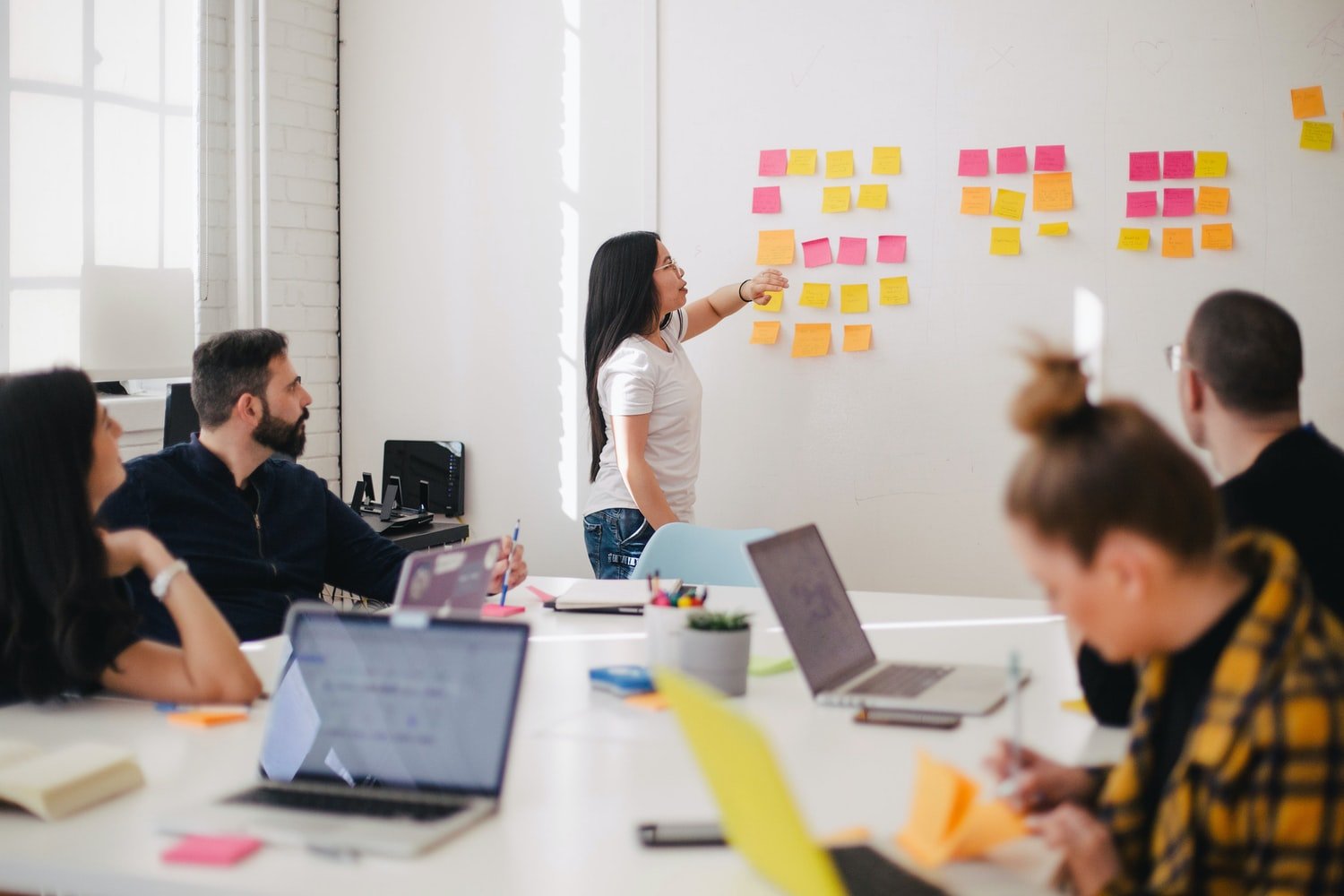 Goals for Agile Maturation
Specifically, the client looked to scale the number of Scrum teams across 11 geographical locations and 5 time zones.
The plan was to:
Create cross-functional teams to remove functional silos
Organize business and IT into defined value streams to improve alignment
Create a guiding coalition to steward the transformation
Implement a minimal viable governance model with defined Agile KPIs that support Business KPIs
Train all employer team members worldwide in foundational Agile concepts
Implement tools that support team, program, and portfolio transparency and improve collaboration, and
Grow the Agile Coaching Team to the appropriate size to effectively support the transformation
First Steps
At the beginning of the engagement, consultants began by establishing a guiding coalition to steward the Agile Transformation comprised of leadership in coaching, training, change management, performance management, governance, and tooling.
In accordance with the Spotify model, Coaches were assigned to Domains, and Tribes within those domains, based on the number of Squads. Subject matter experts also implemented a coaching model, which defined team and organizational Agile maturity states.
Agile OKRs and KPIs
Traditionally, it can be hard for large companies to measure their return on investment or ROI. Understanding where a company's investments are going is important, and this was identified as a goal for the client. It was an area where Agile methodologies stood to benefit the company greatly if implemented correctly.
Empowering teams at the financial services company was top of mind, and having already implemented Atlassian Jira, individuals were able to track their own progress toward KPIs on a day-to-day basis. Within individual, the benefits were clear. But how could this information be used on a higher level, to make business decisions and create transparency across the board?
"The holy grail of tech management is understanding where your investments are going, how much you are spending on what, and controlling your decision making." Says David Gijsbers, Director of Business Development at Eliassen Group's Agile Practice. "That way, you know you are investing in what gives you a high return and stopping investment in projects that give you a low return." The way to do this, David says, is with tools that provide higher-level insights.
Armed with this information, the client decided to implement the Atlassian tool Jira Align, which allows teams to keep working in Jira Software, while extending coordination and planning to the program, portfolio, and enterprise. Rather than having teams simply report on their results, executives could also simply log in to the tool to see how their teams were doing.
This not only aligned executives with the work being done, but the implementation of this tool also opened the doors to tracking Objectives and Key Results, or OKRs. Still an emerging area of Agile, OKRs include two basic parts: A qualitative objective that defines what you want to do, and key results, which are quantitative and define how you'll know if you have achieved the objective. Using Jira Align, the organization had a better sense of progress being made, with a clear view into the work that was being done across all teams.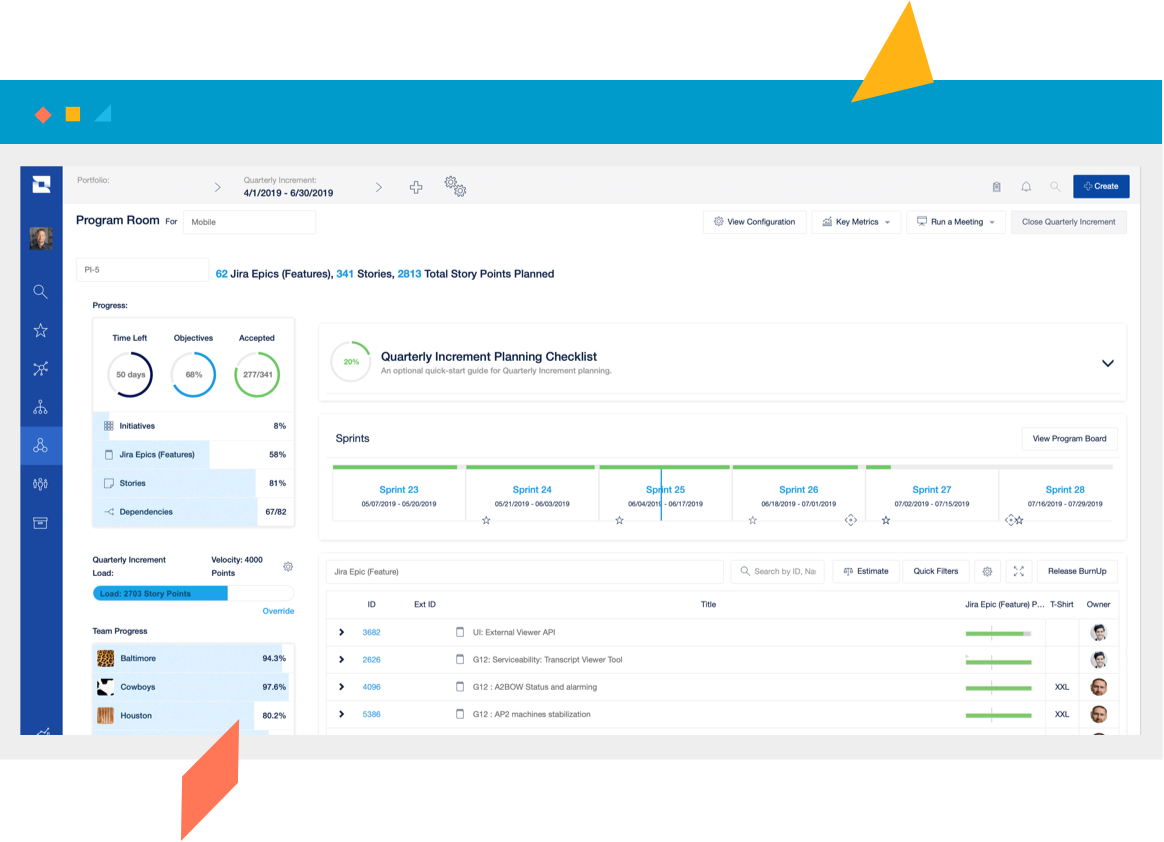 Improved Customer Satisfaction
Beyond the introduction of Jira Align, the company was working hard to scale training across 1,000+ employees within the organization. Subject matter experts established chapters and guilds to grow Agile acumen in key areas, using a wave approach to implement Agile when the coaching team was still small.
Over a one-year span, the client was able to scale the number of Scrum teams from 22 to over 170 across 11 geographical locations and 5 time zones. The coaching team grew from 6 to 36 coaches.
With all of the progress being made, the client had already seen some tangible progress toward their goal of Agile maturity. In one survey, a year out from the beginning of their engagement, the company saw an average 10-20% improvement in the adoption of Agile values and principles. There was also a 12% improvement in Squad member eNPS scores
During this time period, the company made huge steps toward cohesiveness and pivoting to meet demonstrated customers' needs. The trickle-down effect, incredibly, was seen in the area of improved customer satisfaction – with a 10% increase in customer NPS scores.
By building Agile infrastructure and implementing Jira Align, large companies can respond faster to market changes, and be more in tune with customer wants and needs. A better way of operating requires substantial effort to implement, of course – but as seen in the case of the largest mutual fund company, the effects reach deep into the core of operations, benefitting customers and employees alike.
Inspired by this story? Contact us to learn how Eliassen and Valiantys could help you achieve your Agile Transformation today.