This guest blog was written by Kymberly Fergusson, content specialist at //SEIBERT/MEDIA.
---
To remain competitive in today's software development world, teams need to be adaptable to digital transformation. While the benefits of agile methods are extensive (notably increased visibility and transparency while reducing risks, thus allowing you to deliver quality and value to your customers quickly and reliably), in practice people are creatures of habit.
Change is hard, and an agile transformation can throw up many hurdles, both on the technological front and for employees to adapt. How can organizations realistically manage these dramatic cultural shifts?
Fortunately people are visual creatures, which makes diagramming a valuable addition to your agile transformation strategy and training. Here are some of the ways diagrams and the draw.io app can help your teams truly adopt agility.
Why bother with agile transformation?
It's clear from the number of companies who are forging ahead that agile transformations are worth it:
Agile development is more customer-centric in its focus – you collect feedback and release products regularly, so you know you are developing the right thing and can react quickly when requirements change.
Agile teams give all members responsibility for their work and processes and break down the silos that get in the way of communication. When stakeholder engagement is high, and you feel in control of your own work, both productivity and innovation improve.
Agile organizations react more quickly to changes in the market or business priorities.
In theory these perks sound great, but how can businesses achieve them in a practical way?
Support your new agile processes with software
Agile methods mean you need to plan, document and track your product development consistently, with full transparency that encourages everyone involved to contribute. You can easily implement a full agile DevOps infrastructure with Atlassian software:
Jira for issues, sprints, and epics, and to manage all of your agile release trains and track feedback and problems reported by your customers.
Confluence as the centralized and integrated knowledge base containing both project and business documentation.
Additional specific software and apps to meet your product development needs, such as Bitbucket, Bamboo, Crucible and more.
The draw.io app is available for both Jira and Confluence, so that you can take advantage of the clarity of diagrams in your central knowledge base and project documentation, as well as planning, development, and tracking in Jira. Your diagrams in Confluence are fully versioned, which is important when traceability is required during development, or you need to audit your processes.
That's only the technical side of things, and much easier and more straightforward than managing the cultural change that goes along with agile transformation.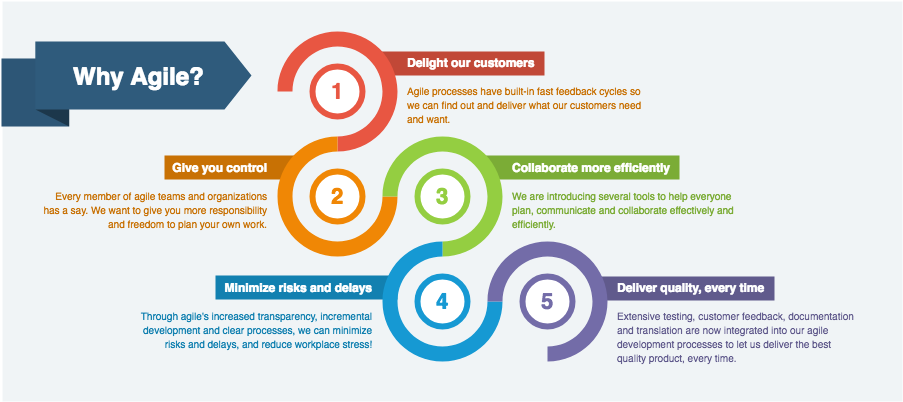 Make your agile transformation strategy more effective with  diagrams
Thanks to the picture superiority effect, diagrams help us learn and remember new information more easily than a slab of written text. It makes sense that diagrams would be helpful in many ways as your teams and departments, or indeed your entire organization, makes the change to agile methods.
An infographic that explains the 'why' and the 'how' behind your agile transformation primes your employees to accept and even welcome the change.
The new processes that need to be implemented in any transformation are easier to learn and remember when depicted in a diagram format.
A business process diagram using swim lanes is perfect for showing how the smaller and leaner projects reach across departmental lines. This will also help to break down the 'silos' that typically get in the way of communication and change.
Furthermore, diagrams can help you onboard new colleagues more efficiently – something that is inevitable in an agile transformation.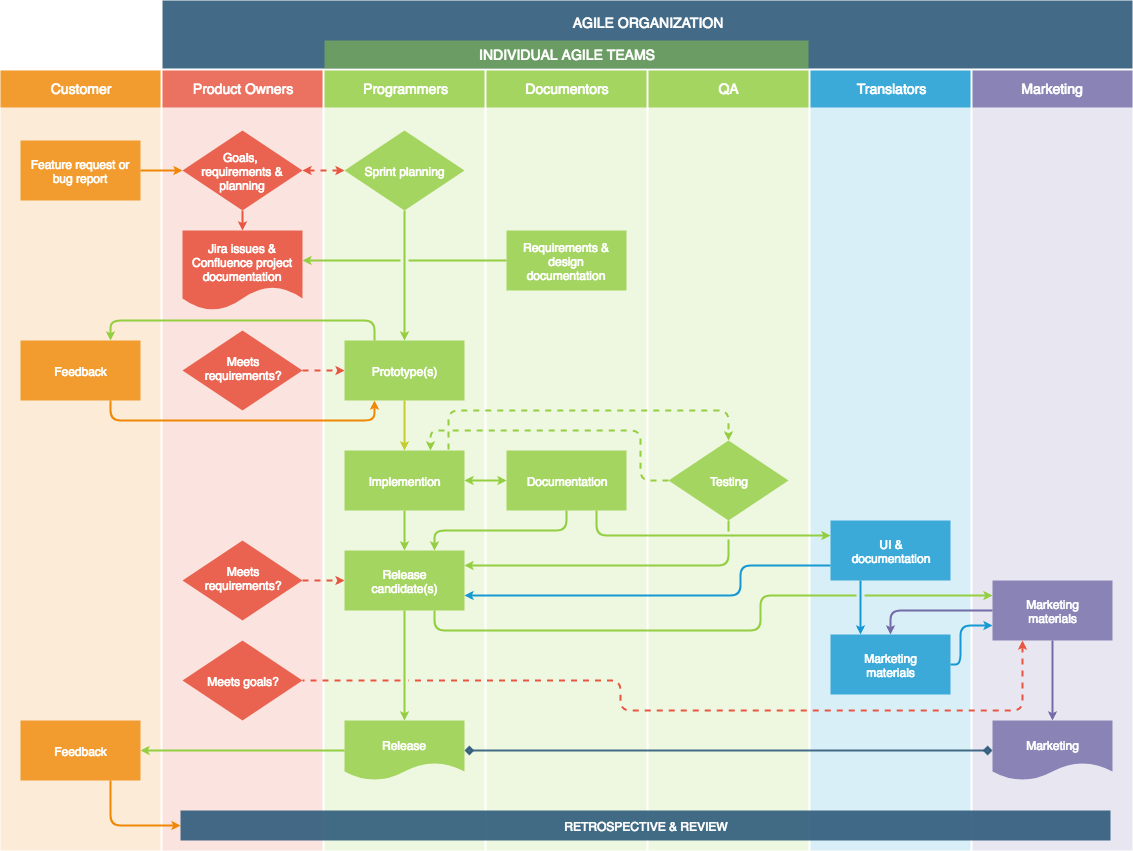 Avoid these agile transformation mistakes
Your strategy for transforming to an agile team is not going to be straight-forward, as there is no one-size-fits all. However, there are a few common mistakes that will lead you off-track. Using diagrams and draw.io, here's how you can ensure everyone is on the same page:
No common goal: Use infographics or other explanatory diagrams to establish a uniform agile approach. Let everyone quickly understand why and how you are making this change.
Lack of focus on the cultural change: Diagram the forces that both promote and hinder your transformation, use diagrams to explain all aspects of the transformation and new processes.Make these available centrally to support engagement and increase transparency.
Poorly designed or no training in agile methods: Onboard new employees and train existing employees in your new agile methodology with material featuring numerous diagrams to maximize knowledge retention and minimize misunderstanding.
Large project-based approach: Break down large projects into smaller, leaner components with fewer dependencies to make the transition of planning and development to agile methods much easier.
No incremental progress: Compare processes and structure in diagram format. This way you can demonstrate how each incremental change in your agile transformation is bringing you one step closer to the common goal and improving upon the previous increment. This visualization will increase engagement and enthusiasm for your transformation.
Let everyone diagram for a successful transformation
Agility goes hand in hand with transparency, communication, and ownership over tasks, responsibilities, and processes. Everyone should have the ability to contribute to their company's agile transformation. Since diagrams can be useful in all departments and projects regardless of the methods used, it makes sense to let everyone use diagramming tools. With draw.io for Confluence and Jira, all employees can take advantage of the power and efficiency of diagramming and contribute to making your agile transformation a success.
An experienced Atlassian Solution Partner that is based in your time zone and speaks your language, such as Valiantys, can help you choose the right Atlassian software and apps – such as draw.io – for your business, integrate them efficiently, and provide you with invaluable advice during your agile transformation. Contact them below to discuss the specifics of your project!
Contact Valiantys