Product teams in an agile world
This month, our blog articles focus on some of the fundamentals of ITSM, Cloud and Agility. With the recent Atlassian Team '22 announcement of Jira Product Discovery (which you can read about here) we thought it would be a great opportunity to explore what product managers, product owners, and marketers do in agile enterprises.
Clear skies ahead
Many companies have good product development processes, but inadequate product management processes in place. For instance, roles and titles can be confusing. In some companies, a product manager and a business analyst may have the same responsibilities. This brings us to our first point: Agility begins with clarity.
A question of roles and responsibilities
What are the 3 key roles in agile product-centred teams? Take a moment. No, there aren't any prizes up for grabs, and your answer may be way off the mark. That's normal. At Valiantys, our experience of delivering large-scale Agile transformations often reveals wildly different responses from the clients that we work with.
So let's break it down simply:
Product Manager
Defines the product vision
Builds a strategic roadmap
Evaluates the market through research
Performs financial analysis
Product Owner
Describes the work down to features or stories
Drives feature prioritization
Represents the business in sprints
Product Marketer
Maps solutions to customer needs
Launches product to market
Tracks product success
And when it comes to common ground? Learning is at the heart of what agile product managers, owners and marketers do. That is to say: the roles intersect when it comes to awareness about Market movement, Customer needs, Technology and Competitors' products.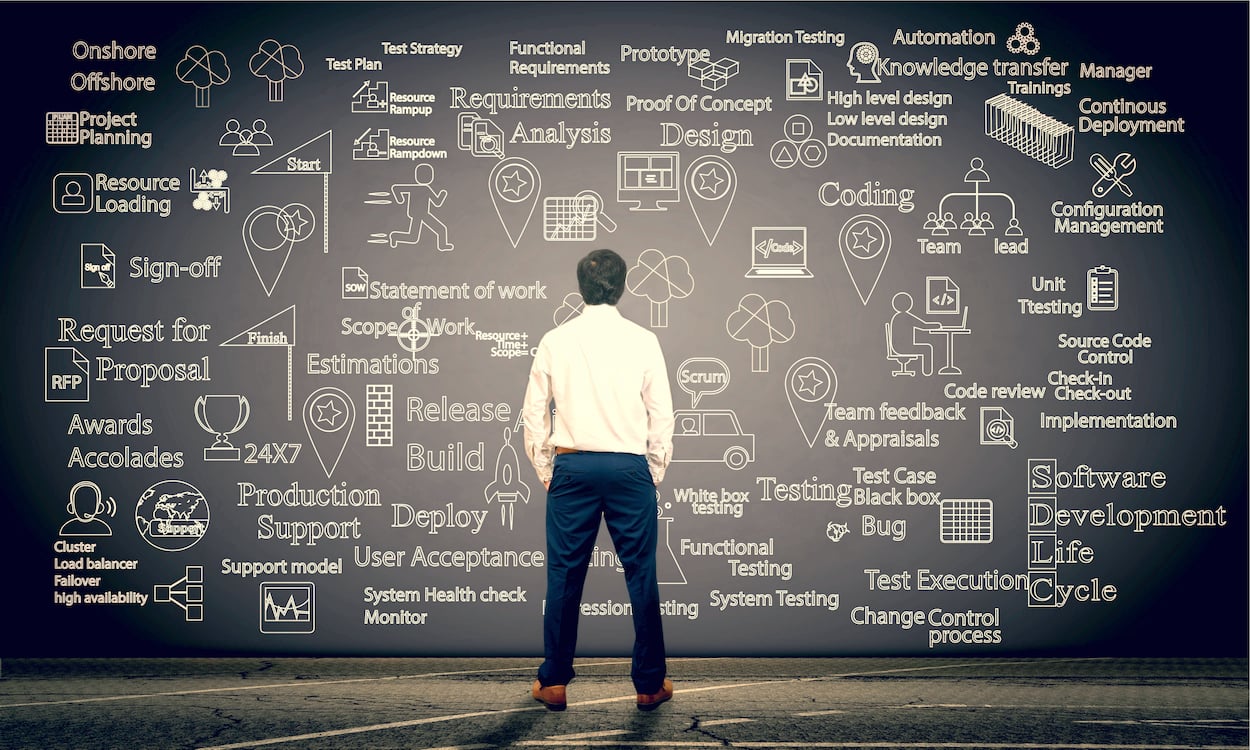 The truly connected enterprise?
Of course, these 3 roles are not the only ones that contribute to enterprise success. In fact, the Connected Enterprise (read more here) shows how the benefits of agile practices and processes can be extended throughout your entire business to create 'teams of teams' who are better informed, connected with strategy, and more motivated to accomplish their work.
If you are in one of these 3 roles, how should you allocate your time with other teams?
Here are some recommended best practices for comparison:
Best practices for agile product managers
20% with development
20% with the product owner
20% with customers
20% with sales
20% with business stakeholders
Best practices for agile product owners
20% with customers
20% with product managers
60% with development
Best practices for agile product marketers
20% with customers
15% on market research
15% with sales
30% with product managers
20% with marketing counterparts
(source: Atlassian)
There are no hard and fast rules, of course. This is why an experienced Atlassian Solution partner like Valiantys excels in tailoring and implementing the right solutions for your type of industry or business. Nevertheless, the above suggestions reveal the range of untapped potential facing many organizations in the new era of Agile at Scale.
Contact Valiantys today, to learn more about how we can lead the way in your agile transformation.