One of our core values at Valiantys is "be mindful of what matters." We strive to be down-to-earth and pragmatic, while balancing agility and speed with consistency and rigor. As the Talent Acquisition manager based in London, I know this value is fundamental to the culture of our team.
Valiantys UK, conveniently based in central London, is the organization's second largest business unit. It possesses a core team of over twenty-five people across different functions, including senior management, delivery, sales, finance, and administration. Yet what matters are the people at our office – both on an individual level and how we interact as a team. Being humble, smart, willing to listen and having a no "bullshit" attitude summarizes us very well… 
When it comes to Valiantys UK, here's what ultimately matters.
Diverse individuals all on the same team
Our team in London is very diverse, as we have people from several different cultures, nationalities and backgrounds. Ensuring that we grow our natural diversity within the team is very important to us.
Personally, I am so proud of our diversity – we have so many talented people coming from different walks of life. These dynamic, interesting personalities directly translates into a team that produces all sorts of creative solutions. Because we're all so different, we are exposed to ideas that we might not have seen on our own, and everyone becomes more humble and enriched from this experience.
In London, we're a tightly-knit group. We strive to make sure everyone is supported individually and as part of the team. The environment doesn't have a strict hierarchy, as quite frankly we don't believe that matters at the end of the day. We'd rather create a flat, open structure where everyone is helpful and approachable. Everyone one can learn something from another colleague, and every opinion deserves to be heard. This is how ideas get shared and how teamwork – at its best – advances.
Share and take part
Speaking of which, sharing knowledge is vital to Valiantys and it's a massive part of our culture. After all, this is likewise another fundamental value at Valiantys.
The tools we use give us a unique platform to collaborate: Confluence for our knowledge base, Hipchat (soon to be Stride) for live messaging and Jira to manage the workflow of our projects. As an Atlassian Platinum Solution Partner, these are the tools our certified consultants help our clients manage – yet as a team, we're lucky that we're able use our own solutions to improve our internal teamwork.
Another great example of our culture and collaboration is our General Update Meetings (GUM). The entire London team gets together, regardless of their department, and discusses the business unit's performance. We also receive updates on Valiantys at a global level, so it great that we have both local and global visibility of Valiantys' direction.
While everyone on the team is extremely dedicated to their work and responsibilities, as people we all genuinely care for each other and like to socialize. This could be a quick drink after work, having a bite to eat, or an all-nighter! The working environment is very chill and relaxed. We play hard, but also know we can count on each other to follow through on the work at hand.
It's all about the kitchen – and the food in it
Valiantys' headquarters is based in Toulouse, France, so there is certainly a culture around food that has penetrated into the London office. Likewise, I am a serious foodie, whether I'm eating or cooking. Being of Sri Lankan heritage, food is the heart of everything. That's why I was so thrilled to have joined Valiantys, as people appreciate food just as much as I do – I've found my people!
The kitchen is the heart of the London office, people can aggregate to and share ideas and have fun. There is a wonderful seating area for everyone to sit and chill over lunch, with plenty of bean-bags to lay on too. People talk over lunch, play FIFA or Mario Kart on the PlayStation, and even learn some new words from a colleague's native language on our blackboard.
We have a tradition in London to organize a potluck event whenever we can. In October, we had the new US business team in London for a week, so it was a great excuse to have a team potluck for them. We also arranged another potluck before the holiday break: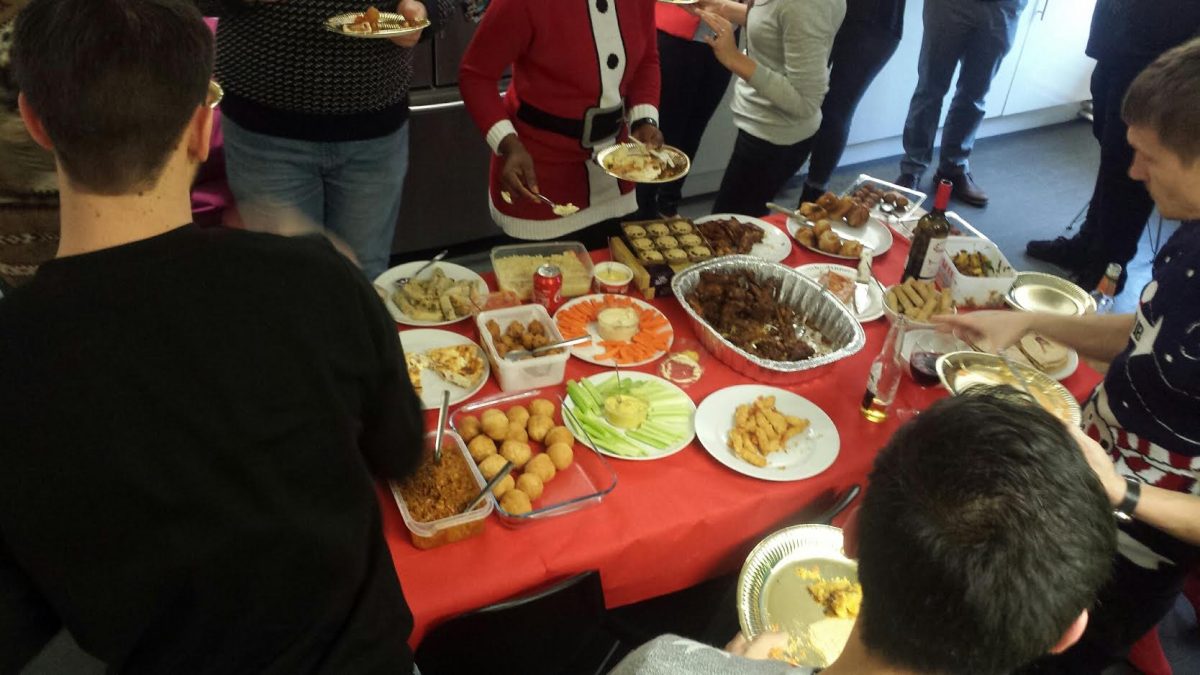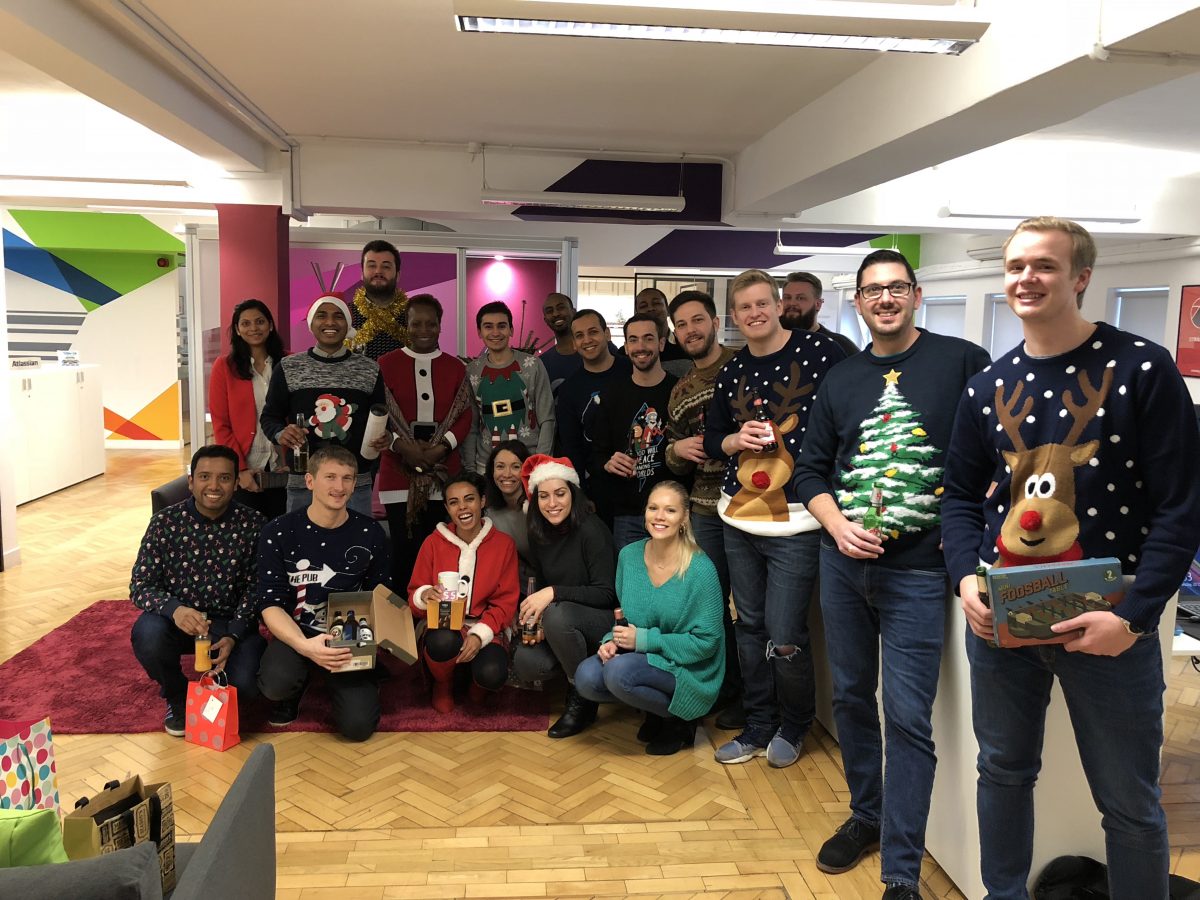 There you have it – everything that really matters for the London team! If you share the same values and love working with cutting edge technology, check out our open positions and apply! Who knows, maybe you'll be the next person to bring that ground-breaking idea to the table (and of course, there will be food on that table).
See the open positions in London