As for the 5 previous editions, Valiantys will be once again a sponsor of the Atlassian Summit 2014. For the first time, instead of San Francisco, this event will take place in a brand new conference center in San Jose from the 9th to the 11th of September 2014.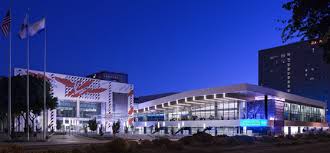 Meet us at the Summit
With more than 100 customers in North America, Valiantys has decided to strengthen its involvement in this major event dedicated to Atlassian solutions. The Valiantys team attending the Summit will be extended and this year, several customers will accompany us.
As a Gold sponsor and thanks to the additional resources we will benefit from, we will be in the best possible conditions to present our international service offers, our JIRA add-ons and especially to launch the pre-release of our brand new add-on: Spreadsheets for Confluence. 
Feel free to come visit us on the booth G5 to have a chat, or to contact us by email so we can plan a demo.
Plan a demo
The Summit: an unmissable event for Atlassian users
Each year, Atlassian Summit is a chance to discover the latest news from Atlassian and to follow a series of customers conferences around their experience of Atlassian's tools. It is also a great opportunity to discover the dynamics of the Atlassian ecosystem and to meet many editors such as Gliffy, Tempo, Balsamiq…
This year, Valiantys has been picked to host a conference about JIRA Service Desk. On wednesday the 10th of September at 1.30pm, Lucas Dussurget will talk about Valiantys feedback and best practices for the implementation of SLA and metrics in JIRA Service Desk. We will be glad to see you there 🙂
Of course, you can follow this event on #ValiantysEN and, around the end of September,  we invite you to keep an eye on our blog: there we will discuss the major announcements of the Summit, and, as usual, we will release our good old "Summit Chronicles".