Look up in the sky – it's a bird! It's a plane! It's…Lolita, our Enterprise Account Manager at Valiantys in Montreal!
Like many of our other superheros at Valiantys, Lolita is a key part of the justice league team. Faster than a speeding bullet, she is able to coordinate her sales efforts between her clients in Montreal and the team based in Toulouse. So who is this superstar sales superhero?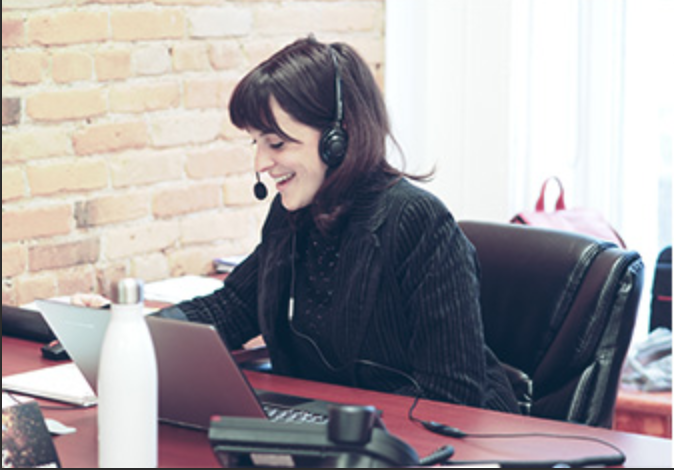 Who is Lolita?
Lolita was born on the planet Krypton, yet moments before the planet's destruction she was rocketed to earth and was adopted by a lovely family in Pau – which is a town in the southwest of France near the Pyrenees mountains.
However growing up in a small town didn't stifle her desire to fly. She got her bachelor's degree in Scotland and completed internships in Spain and India. She returned to France to work for a tech company in Toulouse for a few years, however when the opportunity arose to move to Montreal she jumped at the chance.
When Lolita joined the Valiantys team in Montreal over two years ago, there were only three people in that office. While technically in sales, Lolita was responsible for several activities to keep the Canadian branch up and running – she coordinated with the bank, managed invoices, organized the consultants, etc. Fortunately the Canadian team grew – giving Lolita more time to focus on her clients – however the team of ten still has that start-up spirit and the dynamic tasks keep things interesting!
How sales saves the day: Lolita in action
Lolita starts her day by prioritizing the most important activities – contact with clients via face-to-face meetings, telephone or email. In sales – especially in Montreal – networking is everything, so it's important to keep the human aspect at the forefront.
In Montreal, people start and end their days earlier so it's vital to have an "early bird catches the worm" mentality. The mornings are exclusively reserved for client interaction, while the afternoons are dedicated to writing proposals and internal meetings/tasks.
One of the aspects Lolita appreciates is that overall, the people in Montreal are very open and the importance of corporate hierarchy isn't that strict – so it's truly a pleasure to work with clients. However, sometime working in sales in a culture where everyone is really polite can be challenging, as potential clients might not give you the feedback you want if they just aren't interested in the services or the price tag.
As a foreigner in Canada – after all, Krypton is light years away and her native French culture is halfway across the world – Lolita needs to have a sensitivity to cultural differences if she is to succeed at both nurturing her relationship with her clients along with reporting back to the Valiantys headquarters in Toulouse. Even though processes exist – they are well documented on our Confluence after all – Montreal is in a state where it is constantly evaluating the best way they can work. The team as a whole is very adaptable, which is a highly valued trait for a trans-Atlantic organization.
Life outside the office
When Lolita is not at the office, she is enjoying life in Montreal – specifically on the slopes where you can find her skiing or snowshoeing. When it gets too cold during the winter, you can find her keeping warm and in-shape at the gym.
Advice for new Account Managers
So what's Lolita's real superpower? It's her curiosity that forms a direct shield from deadly kryptonite radiation. The Atlassian ecosystem is very particular as it is rapidly changing, so Lolita's curiosity in how the technology works keeps her flying ahead of the curve and delivering real know-how to her clients.
Secondly, there's no mistaking Lolita for Clark Kent as she doesn't get lost in the crowd. To succeed as an Account Manager, it's important to value straight talk and speak up when you have ideas to share with the team.
Join the Justice League!
If you're looking for a fun yet successful team to join, Valiantys is hiring! Click below to see our available positions and get in touch if you think you are the superhero for us!
Current Openings