The energy was literally electric at the Atlassian Summit in Barcelona, as the opening act pumped up the crowd with their highly coordinated Tron-like dance moves. As the dancers flickered in the dark, a person wearing a suit, outlined with blue lights, took center stage. The impressive performance ended with the houselights coming on and Scott Farquhar, Cofounder and Co-CEO of Atlassian, was surrounded by the dancers, ready to give the long-awaited Keynote.  It was certainly an innovative entrance!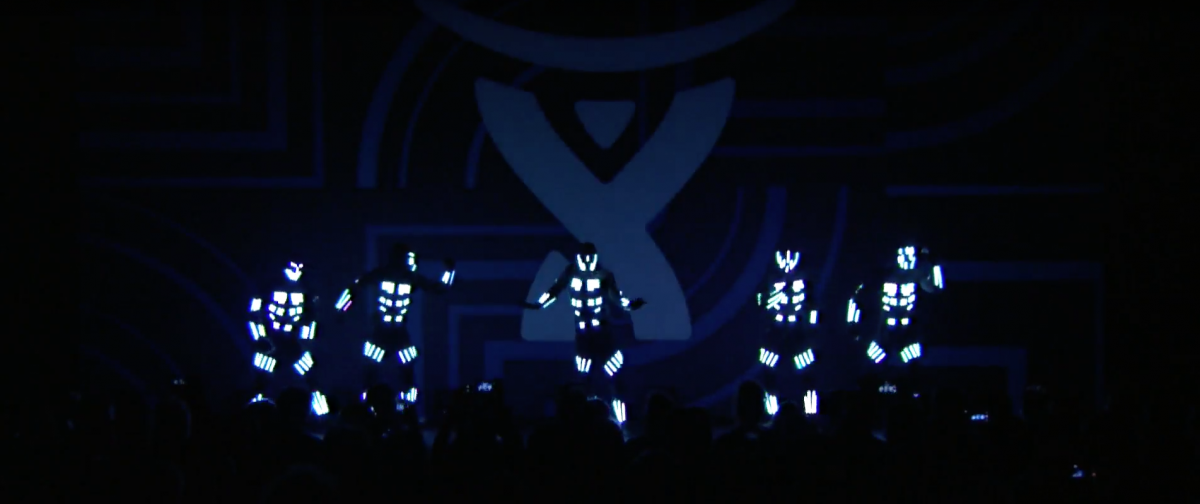 Yet the act did more than entertain and energise – it set the tone that the industry is at an exciting turning point of acceleration and innovation. "If you could live at any point in time in history, now would be it," said Scott Farquhar. "Everyday we get blown away by changes that were a thing of science fiction a few years ago." Scott went on to prove his point by outlining major milestones of human progress that occurred within the last 100 years – we've landed on the moon, developed the assembly line technique for the mass production of automobiles, invented air travel and virtual reality – making almost every corner of the world accessible.
"Underlying all these advancements are teams," emphasised Scott. "As innovation happens faster, as the world becomes a more complicated and complex place and state-of-the-art advances further into the future, teams are more critical to success than ever before." The mission for Atlassian, to unleash the power of every team, has never been more important or clear. As Scott phrased so eloquently, "Teamwork is the cornerstone of human achievement."
And of course, Scott unveiled some over-arching changes for the ecosystem to facilitate these critical collaborative efforts.
Atlassian Online Community
Networking and maintaining professional relationships is key to changing the way you may look at a problem, which in turn may change the way your team works in order to improve efficiency. While Atlassian holds two annual Summits and has international Atlassian User Groups which meet on a monthly basis, Scott conceded that the Atlassian community needed better ways to stay connected. Therefore he introduced the Atlassian Online Community, where people can login to not only learn, but to teach and give back – every single day. You can sign up at this link here.
Atlassian Certification
With the rapid growth, Atlassian became a huge opportunity for people to build their careers. As proof, the Atlassian ecosystem currently has roughly 45,000 open jobs for JIRA admins, Bitbucket developers, etc! Therefore working with Atlassian is a must-have skill, which has lead Atlassian to completely revamp its certification programme to include five different certification programmes.
Marketplace as a vibrant, innovation factory
With over 85,000 customers around the world who use Atlassian tools and are need of customisable solutions, "building off the back of Atlassian makes sense," said Scott. In fact, last year the Marketplace has doubled the number of cloud add-ons in the Marketplace, making the total number of add-ons reach over 3,000. This vast choice of solutions to meet the specific challenges for each team has led to another milestone; the Marketplace has recently surpassed $250 million in sales over its lifetime. "Your success is our success, and we are really proud of what our Marketplace vendors have been able to achieve" said Scott.
Breaking down barriers to collaboration in Europe
The Summit's location in Barcelona, the first of its kind in Europe, was no coincidence. In fact the loyalty of Atlassian users in Europe is large with thousands of customers, leading Atlassian to improve the user experience on two fronts:
Adding more languages to the Atlassian Suite: Currently JIRA and Confluence support 9 different languages – of which only 6 are European. Yet Scott plans to include a total of 22 languages, of which most of the new additions will be relevant for European users. Furthermore, the Team Playbook and the Team Health Monitor will also be translated to share know-how concerning Smarter Teamwork.
Launching the first Data Center in Europe for the Cloud. Currently all data is hosted in North America, so performance for someone in Boston is not the same for someone in Berlin. Atlassian intends to change this by launching a Data Center in Europe. Currently, they are in a closed beta for testing.
Pledge 1%
"Back when Mike and I started Atlassian, we really wanted to create a better world. We wanted to leave this world a better place than we found it," said Mike. This idea that you should pay your success forward led Scott to becoming the cofounder of Pledge 1% two years ago. In a nutshell, companies who take the pledge commit to donating 1% of their time, resources, etc., towards philanthropic efforts. Through the Atlassian Foundation, they have donated over 51,000 Atlassian licenses to nonprofits around the world, which is roughly $100 million that can be used to further the cause of the receiving organisations. Additionally, they allow their employees five days per year to do charitable work and also donate 1% of their corporate profits.
"We are changing the face of corporate philanthropy – and when I say "we", it really is a team effort," says Scott. Over 100 members of the Atlassian ecosystem have committed to Pledge 1% – including Valiantys. "Whether you are a customer helping support Atlassian and our foundation, a partner who has taken the Pledge 1%, or whether you are working for one these amazing nonprofits, we want to thank you for everything you do."
More product news to come!
Of course, the Atlassian Summit is packed full with cutting-edge improvements on how you use Atlassian tools to perform your function in your team, thus advancing human achievement forward. Stay tuned for a full debrief of everything you need to know from the Atlassian Summit.
Here is a very quick overview of the main announcements:
Michael Pryor (Head of Product, Trello at Atlassian) took the stage to introduce Trello, the newest addition to the Atlassian family.
Bryan Rollins (Head of Server Business at Atlassian) announced how Atlassian will prioritise different features depending on your deployment option: Cloud, Server, or Data Center. There is no longer a one-size-fits-all solution for your deployments.
Jürgen Spangl (Head of Design at Atlassian) revealed one of the biggest redesigns to the Atlassian suite, including the anticipated Atlassian Home.
To see more updates in real time, hit the button below to follow us on Twitter.
Follow Valiantys on Twitter