On July 31st, Atlassian announced the acquisition of Mindville, the makers of Insight. The acquisition of a marketplace vendor is always an important event in the Atlassian community as it is a clear indicator of Atlassian's product strategy. Valiantys being a Mindville Platinum Insight Partner, and Insight Partner of the Year multiple times, we know the value of Insight. Here's our take on it – and what it means for customers looking for a modern ITSM solution.
The Mindville acquisition is the latest in a string of Atlassian investments to enhance their ITSM and ESM offering, including Opsgenie, Automation for Jira and Halp. Insight is already a very successful app on the Marketplace with over 6,000 active installations, and we think their union with Atlassian will speed up the development of new features, especially in the Cloud version which is still too limited today.
Our CEO Lucas Dussurget says: "I am very excited about the news that Atlassian has acquired Mindville. We have been leveraging their product for years to solve so many different customer requirements. This is seriously strengthening Atlassian's ITSM positioning! I am continuously impressed by the work of Tommy Nordahl and Mathias Edblom and really looking forward to what's going to happen now that they are part of Atlassian"
Our ITSM expert Philippe Rigaud says: "This is a logical acquisition and confirms Atlassian's position in ITSM. The presence of a CMDB offer in Atlassian's portfolio is excellent news for existing and future customers. They now benefit from an end to end ITSM core, including asset management, process management, event management with StatusPage and Opsgenie and full DevOps integration with Jira.
Why do you need IT Asset Management?
If your organization has a considerable amount of IT assets you will likely have challenges navigating the complexity of your asset estate and you may be spending too much or under-utilizing these assets. 
An asset management solution brings many benefits such as:
Decreased support costs through increased productivity

More efficient root cause analysis and a faster Mean Time to Restore Services

Lower software and infrastructure costs

Improved governance and compliance
What is Insight?
Insight allows you to create an 'object schema' in Jira. That is where you can store all your IT assets such as computers, routers, software licenses, applications, business services, etc.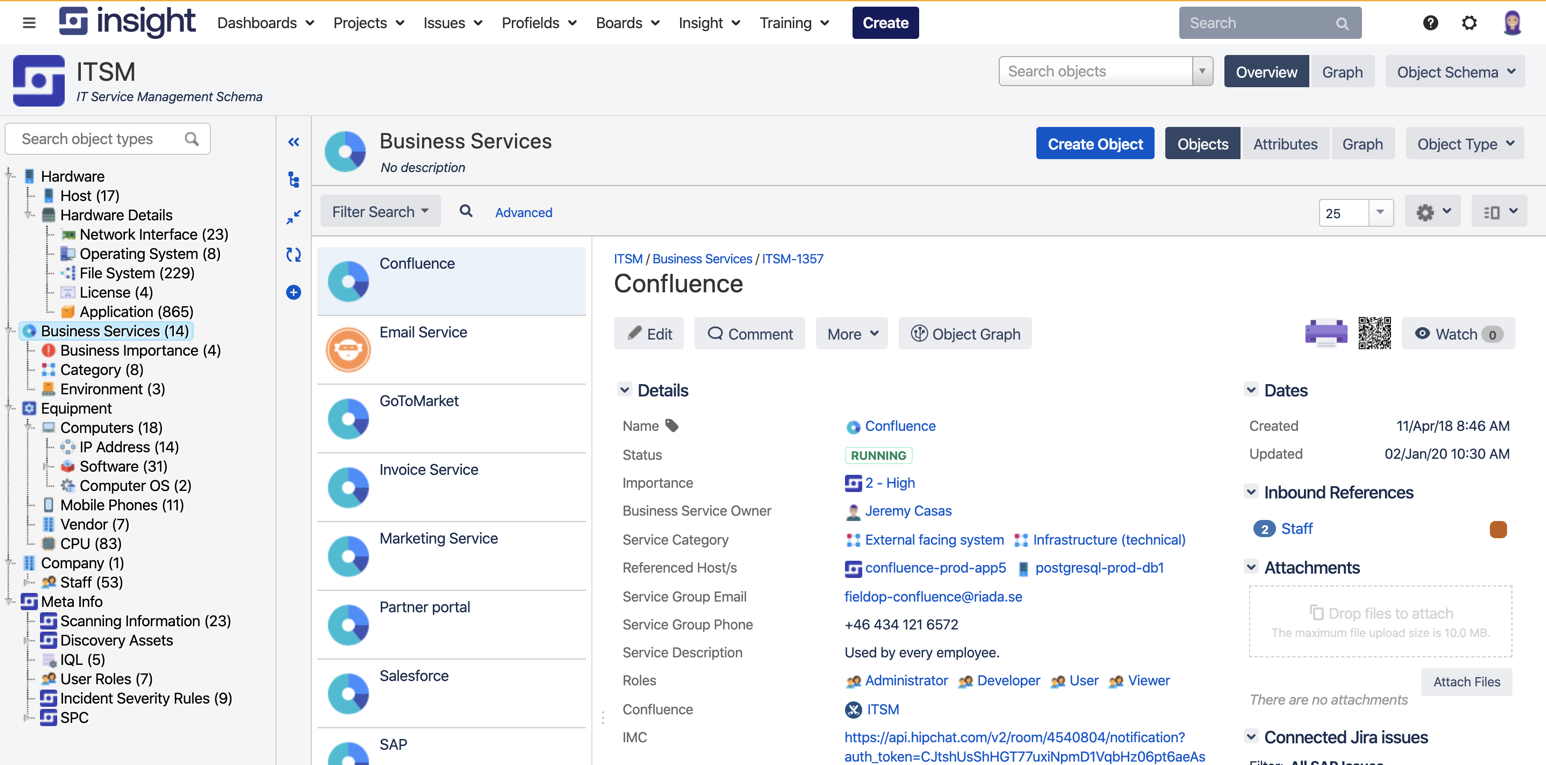 Information about all these objects can then be referenced within Jira tickets to provide more context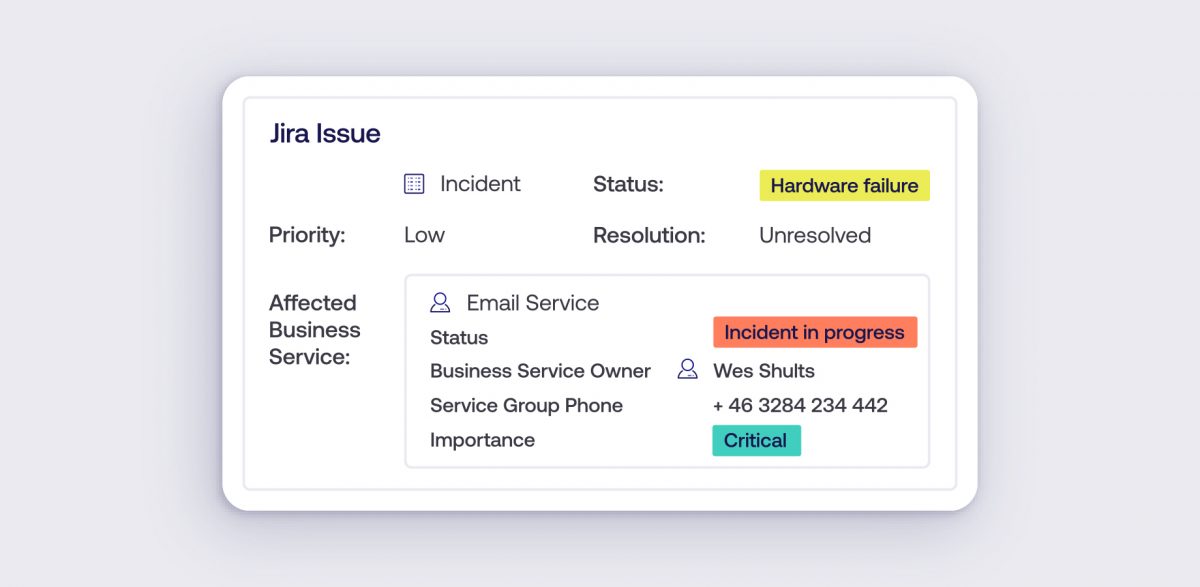 This context comes in handy to explore relationships and dependencies between different assets to conduct Root Cause Analysis . For example to understand how a hardware failure can affect various applications and services.
Insight easily syncs with external data sources, such as LDAP, CSV files and REST APIs.
Finally, Insight comes with its own automation engine, allowing you to set up automatic rules to define standardized names for assets or to send reminders before a software license renewal.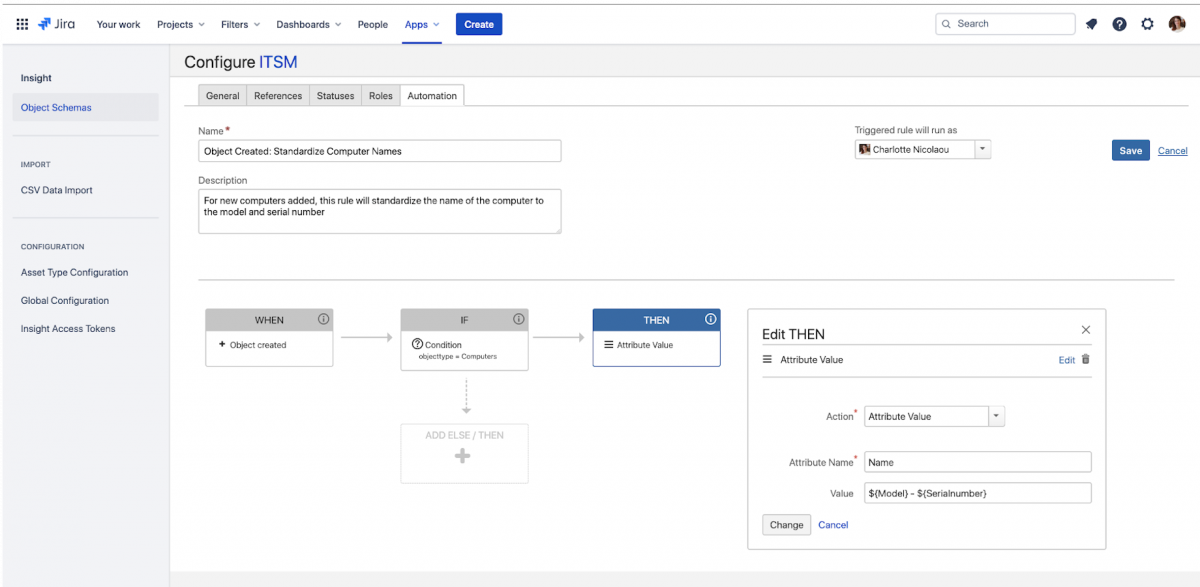 Insight Discovery
Mindville has also developed another very cool product, Insights Discovery, which solves one of the headaches of IT asset management teams:  keeping the asset register constantly up to date.
Insight Discovery is a network scanning extension of Insight: it automatically searches for and identifies all IP‑enabled configuration items (CIs) and map dependencies. This way, it keeps you can create an accurate, singular view of your IT infrastructure that is always up to date.
Is Insight only for ITSM?
No! Just like Jira Service Management isn't only for IT, Insight is designed with flexibility at heart. With Insight, you can create any kind of data schema in Jira. This data schema can be used to store any kind of records which will give context to your Jira issues. For example:
CRM assets, such as customers, opportunities, contracts, etc. which can then be referenced in your customer service tickets in Jira
People assets like employees, skills, reporting lines, locations, etc. which can be referenced in your HR service desk tickets
Facilities assets, such as buildings, equipment, services, access levels, etc. which can be referenced in office facilities support tickets
Marketing assets, such as videos, images, training material, customer collaterals, etc. which can be referenced in office marketing tasks and approvals
A little while ago, our CEO Lucas Dussurget  presented at Insight Day on the topic of using Insight outside of IT:
As a conclusion, the opinion of our ITSM Practice Lead, Erin Collins:
"Tracking and managing assets, and asset lifecycles, help organizations get visibility into their TCO, their cost of doing business, and that is why Insight is more than just an IT tool for tracking technology services and their components. Insight by design is agnostic: it works for any organization which provides a service (I'm looking at you Legal, HR, Marketing, and Procurement) and who needs to get that kind of visibility on their services and service assets. I hope we'll experience tighter integration between Insight and Jira Service Management, with more automation flexibility. We've missed the full flexibility of Insight in the Jira Service Management version and I'm especially excited to see that direction of development."
How can we help you?
Our team of experienced and highly specialized Insight experts can help you:
Deploy IT Asset Management with Insight and Insight Discovery in your organization

Structure your object schemas

Configure data import and external connectors

Train your team on using and administering Insight