This guest blog was written by Marcin Gębicz, Digital Marketing Specialist at SoftwarePlant. 
---
A solid project management implementation is vital so your teams can leverage the power of Jira and increase efficiencies. For many large organizations, who want Agility-at-scale, BigPicture provides a needed extension to Jira's native features, such as impressive Gannt charts, cross-project work, and Scaled Agile Framework® compliant Roadmaps.
Sounds like a great return on investment for one Marketplace app, but there's a catch – tools alone will not run your projects. People run projects, meaning that you'll need to ensure that your team members have the right information on how to use BigPicture within your Jira instance.
At Softwareplant, we've helped our users fully grasp how to have a solid project management framework in Jira. From our years of expertise, here are a couple of tips to ensure you get the most out of your Atlassian trainings.
Dastin Kuwałek, Certified Jira Trainer at Softwareplant, has two golden rules which must be followed:
Your users have to click through Jira, before you bring a trainer to your company.
Send the trainer use cases/case studies from your own organization before the actual training starts. It's difficult to train users on abstract cases.
Who is eligible for Jira project management training?
There are seemingly obvious answers: (a) Jira super admin and/or admins, (b) project managers and (c) "regular" Jira users i.e. team members, marketing managers, etc. But usually there is a dark horse among the would-be trainees, namely the Process Engineer.
In most organizations where we've trained, Process Engineers should have been prime candidates for Jira training sessions. Whereas it's fine to train all others, Process Engineers usually have the power and the mindset to move a company in a new direction. It's especially beneficial to have a Process Engineer trained if: (a) your company is in an early Jira-adoption stage or (b) your company is looking at a major change, whether it's in development, operations or marketing area.
When should Jira project management training take place?
There are two common approaches when to conduct Jira project management training with large companies: After you configured Jira or a Jira app, such as BigPicture, and started to get a sense of  how they work, or before users gain any experience. We've found that the  former is likely to be much more efficient.
Recommendation: You should go through every single configuration screen before the actual training session. It's much easier to train a person who already has clicked through all the configuration screens. You don't need to go deep into details, just browse. Ask other trainees to do the same. This will elevate the training's efficiency.
What should be the format of the Jira project management training?
Should you sign up for a one-day or two-day training session? Should it be online or face-to-face? We believe two-day, face-to-face training courses are most effective. We do run plenty of online and one-day training courses, but we've found they aren't as productive.
Recommendation: Do train staff from remote branches separately. We once ran a training session in California and individuals began leaving as early as 2 p.m. for their afternoon flights back home.
Best practices for Jira project management training
Here are some additional points to keep in mind to make sure all the right information sticks:
Send your use cases/case studies to your trainer before the training session. This is a must! Tell you trainer beforehand if you use Scrum or Kanban and what changes you expect to occur in your organization in the near future.  A training that is put into the context will be much more efficient.
Consider recording your training session for future use.
Keep training materials.
Trainees should use their new knowledge immediately after the training sessions. Don't train your staff and then wait, say six months, before they actually begin using Jira.
How to find a Jira project management trainer?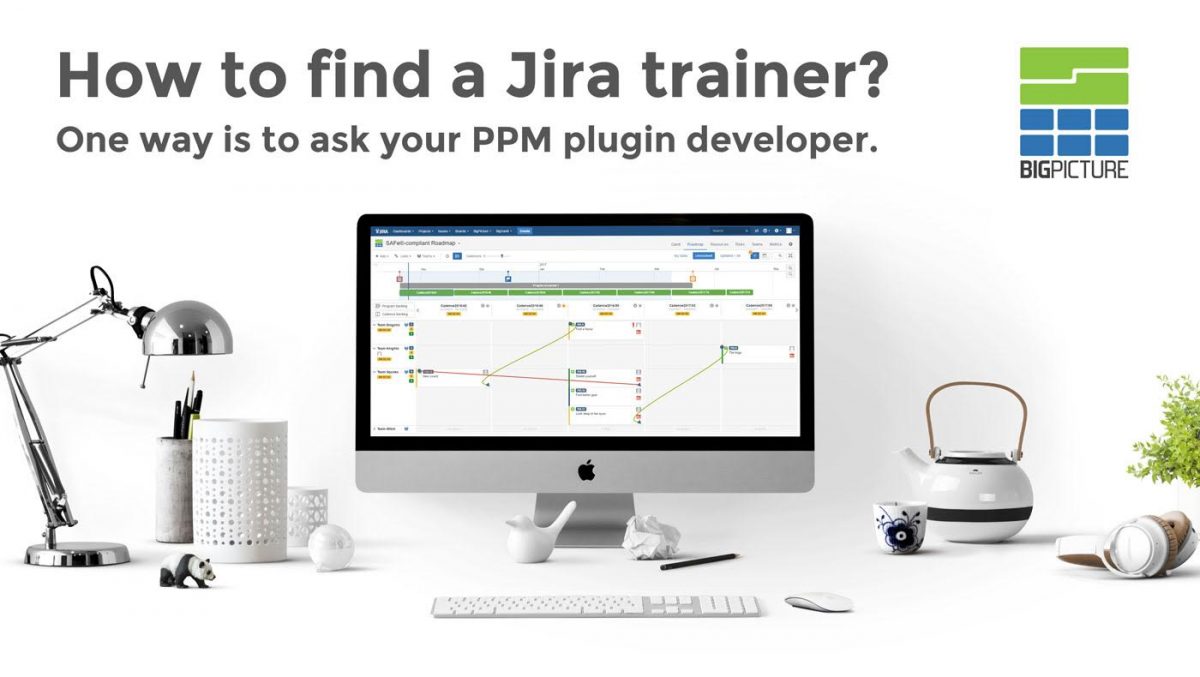 Do you have a special project management app, such as BigPicture, added to your Jira instance? If so, check whether the developer of that app offers training courses. Some of the courses we offer include  "Basic Jira for users," and "Jira + BigPicture for project managers" and "BigPicture for Jira admins." We recently did a training course for a client from India and our trainers are in Europe, so there are really no boundaries.
Another option to get trained on Atlassian products and apps is to find a renowned Atlassian Solution Partner, such as Valiantys,  that speaks your native language and is based in your time zone.
Plan your BigPicture training