In an ideal world, Jira agents and users would always keep an eye on their dashboards and pick-up new tickets as soon as they arrive. We don't live in an ideal world, but at least Jira is built for real-world challenges. How should you notify your assignees so they are aware a ticket has been assigned to them, yet in a way that doesn't bombard them with too many notifications?
To fine-tune your notification process, there are a large set of options available – it's all about finding the right balance for your team.
Jira notifications basics
The most common way is using the notification scheme, which notifies the assigned user when a defined event happens. Based on the notification scheme, email notifications can be sent for events such as issue created, issue updated, or issue resolved. You can then determine who will receive emails on which events by updating the notification scheme attached to your project. The configuration looks something like this: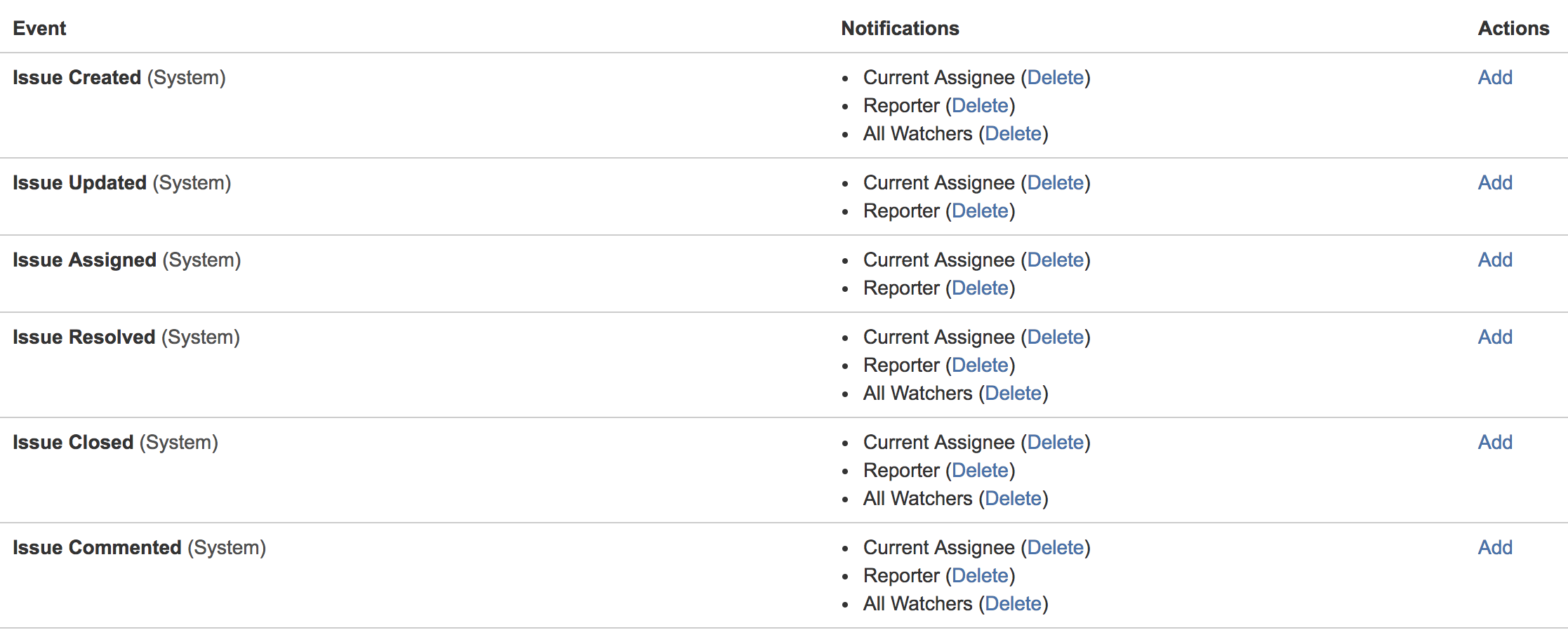 Another way to notify someone that their attention is required is by tagging them in the comments section of the ticket, which will send them an email with the content of the comment. You can also receive notifications for any type of tickets by watching a ticket (providing the notification scheme was not updated).
Through Marketplace apps like Email this issue, you can extend your control over notifications by sending the ticket in an email with a simple click, or pushing the notification at a specific workflow transitions using post-functions. For the latter, you may need to remove some notifications from the notification scheme.
Can I reduce my Jira notifications?
A big, important rule of thumb: make sure not to over-notify users, as nobody likes having too many emails to sort through and it ultimately will have the opposite effect if your assignees start ignoring emails coming from Jira.
During the 2018 Atlassian Summit, customizable batch e-mail notifications were introduced for Jira Server, which will be available in Jira 8.0. This will allow you to group your notifications and receive them in batch rather than getting individual notifications.
Another workaround is possible by subscribing to a filter. For example, you can get an email of all new tickets that have been assigned to you every morning, thus grouping the notifications in just one email. This allows you to batch your notifications, but you need to be careful what you include in your filters so you don't miss important updates.
Are there alternatives to Jira email notifications?
Yes! Emails are a good way to keep track of what's going on, but it might be simpler to use other tools. Newly created ticket could also be configured to appear in the team's Slack room, and users only receive an email when it's directly assigned to them.
The set-up is quite simple, you just have to find the app corresponding to your chat software and set-up the notifications. For example, the  Slack Connector for Jira Server by JSoftware allows you to create new rooms to discuss a ticket directly from Jira. That's one way to gather all the information you need to resolve a ticket in one place.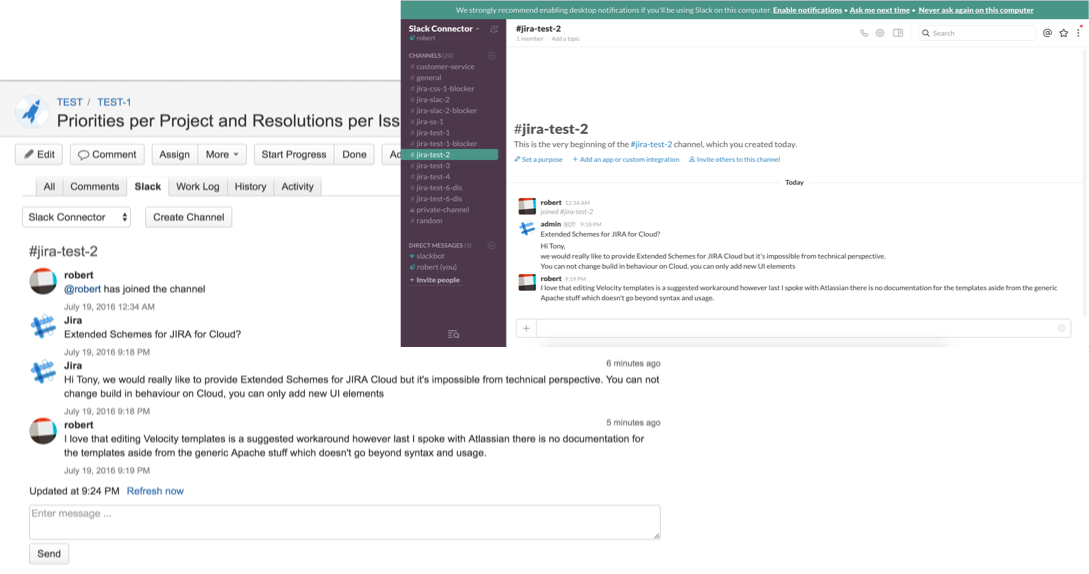 All the previously discussed notification methods assume the assignee is actively working or is logged in and up-to-date with his emails and Slack notifications. In operations, you sometimes need to have people available 24/7, but you cannot expect them to refresh their emails every five minutes. You need to contact them directly.
There are specialized tools, like PagerDuty, which allow you to set up an escalation policy (If this person doesn't acknowledge the incident in 30 minutes, call person Y). You can link Jira to PagerDuty, create a linked incident in PagerDuty and use the escalation policy to set-up those kind of tickets.
If that's over the top for your use case, you can also send simple text messages with an automation rule using your Twilio account in Automation for Jira.
For more Jira tips, subscribe to Valiantys' monthly newsletter.
Give me more Atlassian tips