JIRA is widely known as an effective issue tracking platform. Thanks to Ephor – Spartez's up and coming new JIRA add-on, you can turn it into a powerful asset management solution. Discover how with Magdalena Zacharczuk, Product Marketing Manager at Spartez. 
---
We live in a world of things and the office environment is no exception. Managing equipment can become an issue in various situations: dynamic company growth and the associated influx of new assets; redistributing already possessed equipment or purchasing new stuff; handling hardware maintenance and failure; ascertaining equipment value and ownership for accounting and insurance purposes – to name just a few of the situations which we have been experiencing at Spartez.
We found ourselves in need of an asset management system, which would help us:
keep track of what we have, where it is and who's using it
manage our equipment effectively
identify our equipment needs
find out what we need to get rid of
save time and money
Having had a thorough look at the market, we came to the conclusion that all of the available solutions were either extremely expensive & complex do-it-all systems, or free & primitive, hardly-do-anything-at-all ones. There was nothing in the middle, and frankly, nothing that we ourselves, as a company of round about 50 people, would need or want to use.
So we created Ephor – an easy-to-use & flexible office asset management system which addressed each of the above mentioned scenarios by offering the following:
Defining classes & hierarchical categories
We wanted to be able to organize our assets into classes and hierarchical categories. Believe it or not, some of the asset management solutions didn't facilitate this – is having both "Laptops" and "Workstations" filed under "Computers" really too much to ask?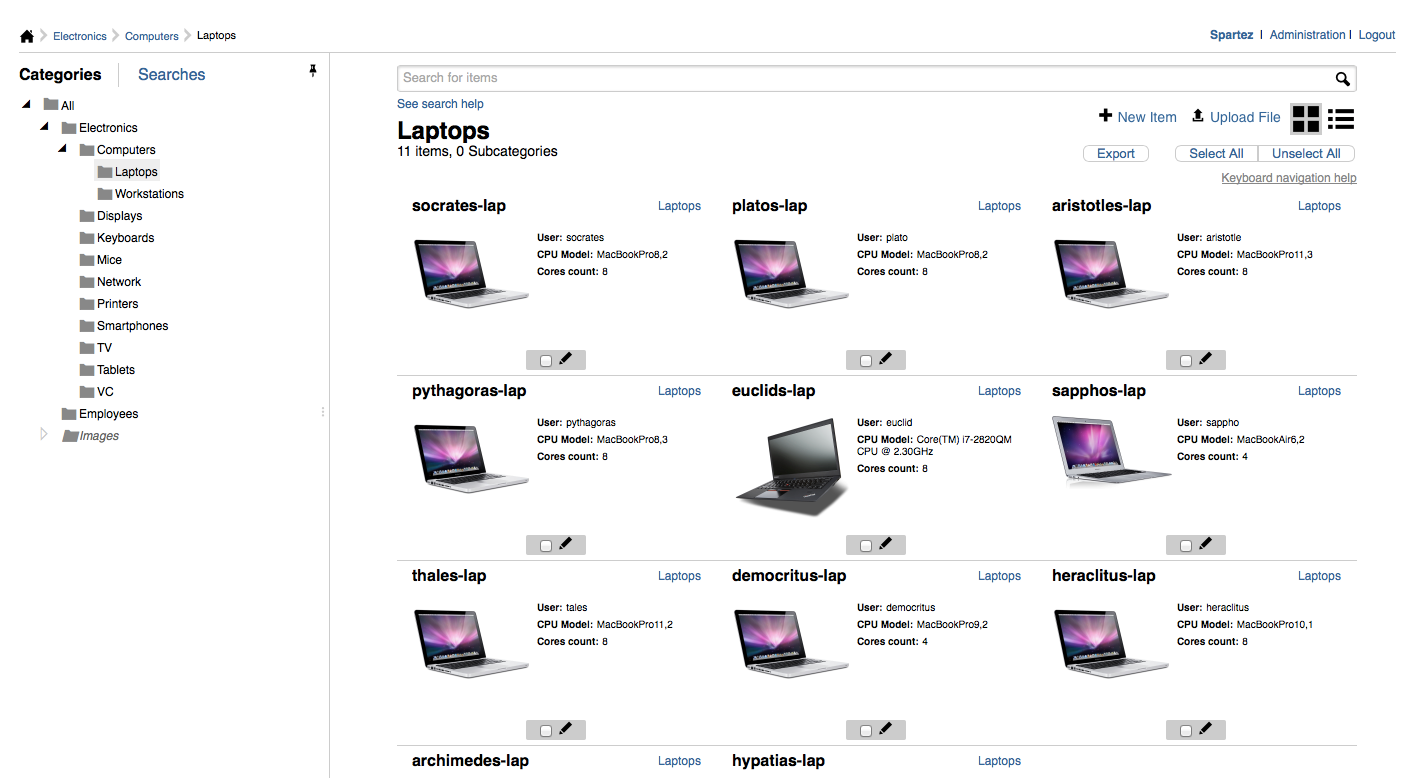 Fully customizable layout
We wanted to be able to configure the item view of each specific asset type to it's individual characteristics, so that, ie. for screens we could enter their resolution and value into the system, but for laptops we could also enter their cores count and RAM size.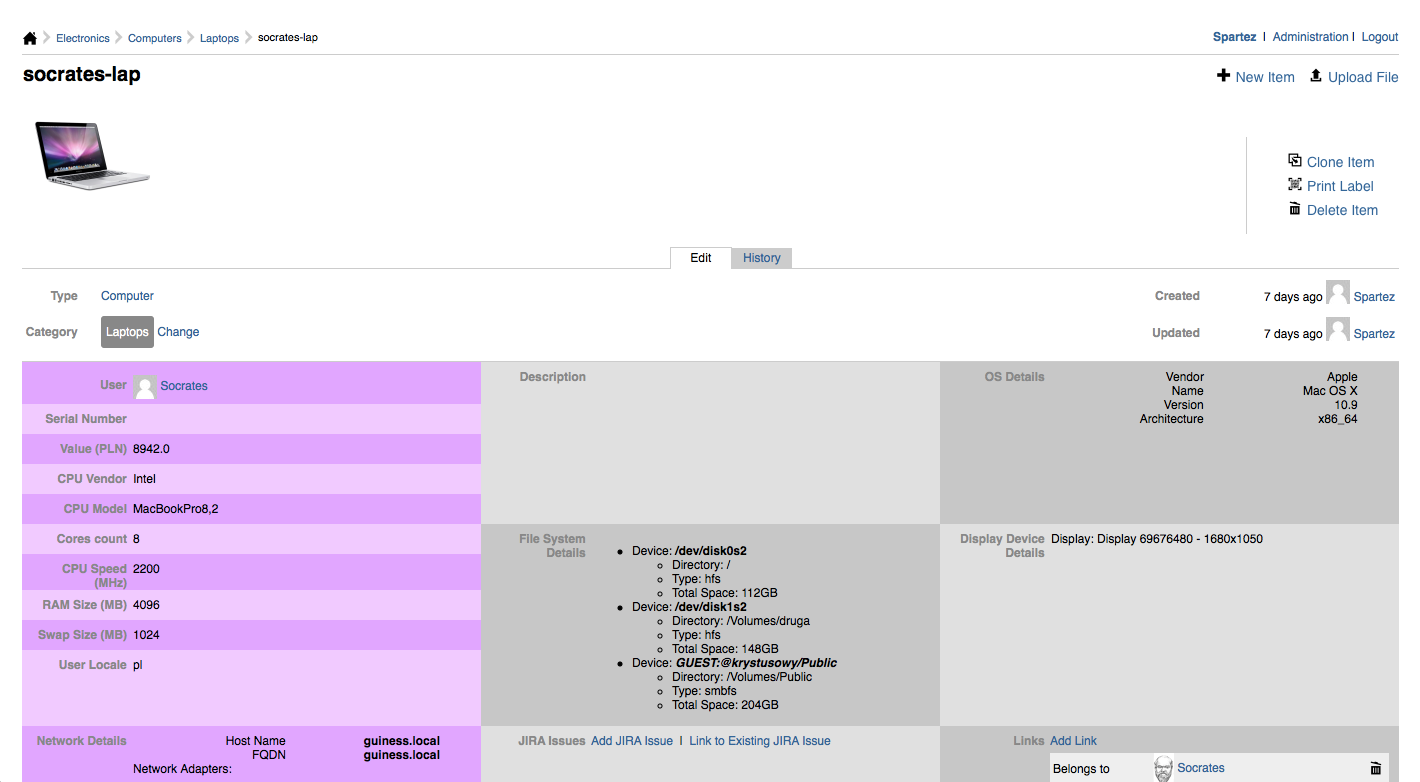 PC Collector automatic scanner
We've been operating for a few years already and didn't really feel like entering a-few-years-of accumulated assets into the system by hand. We wanted to be able to scan and upload all of our possesed hardware into Ephor automatically.
Printing & scanning QR code labels
Not all office equipment is hardware and we found it rather difficult to automatically scan chairs or desks. Or potted plants (no, we didn't really try to scan these). So we needed a system which could print QR code labels for anything entered into Ephor and then scan these QR codes to automatically find such a labeled asset in the database.
Powerful search
We wanted to be able to instantly find any piece of equipment entered into the system. We also wanted to save the most often run searches and make these queries public, for everyone to view, or private, for individual use only.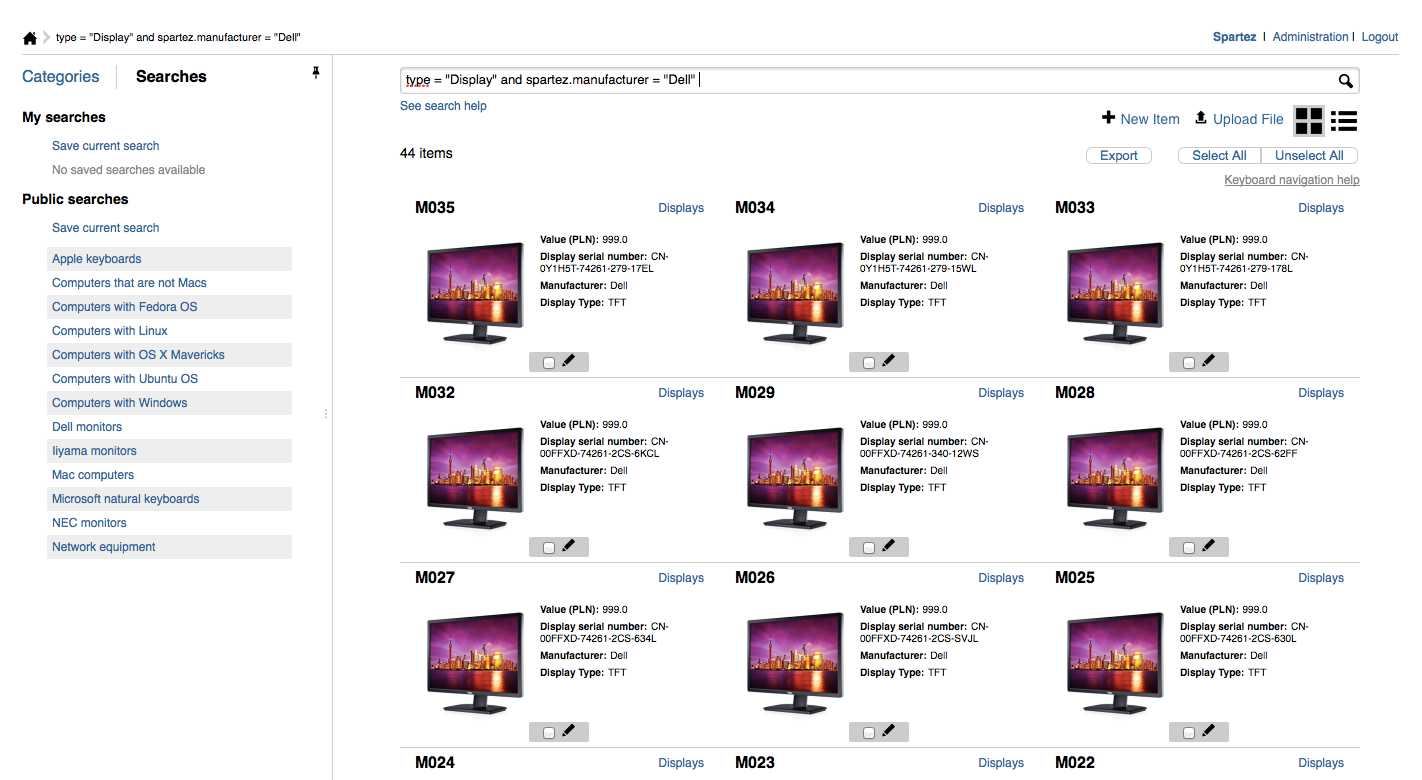 Linking items with items & items with users
We wanted to be able to identify and keep track of who's using what. Simple.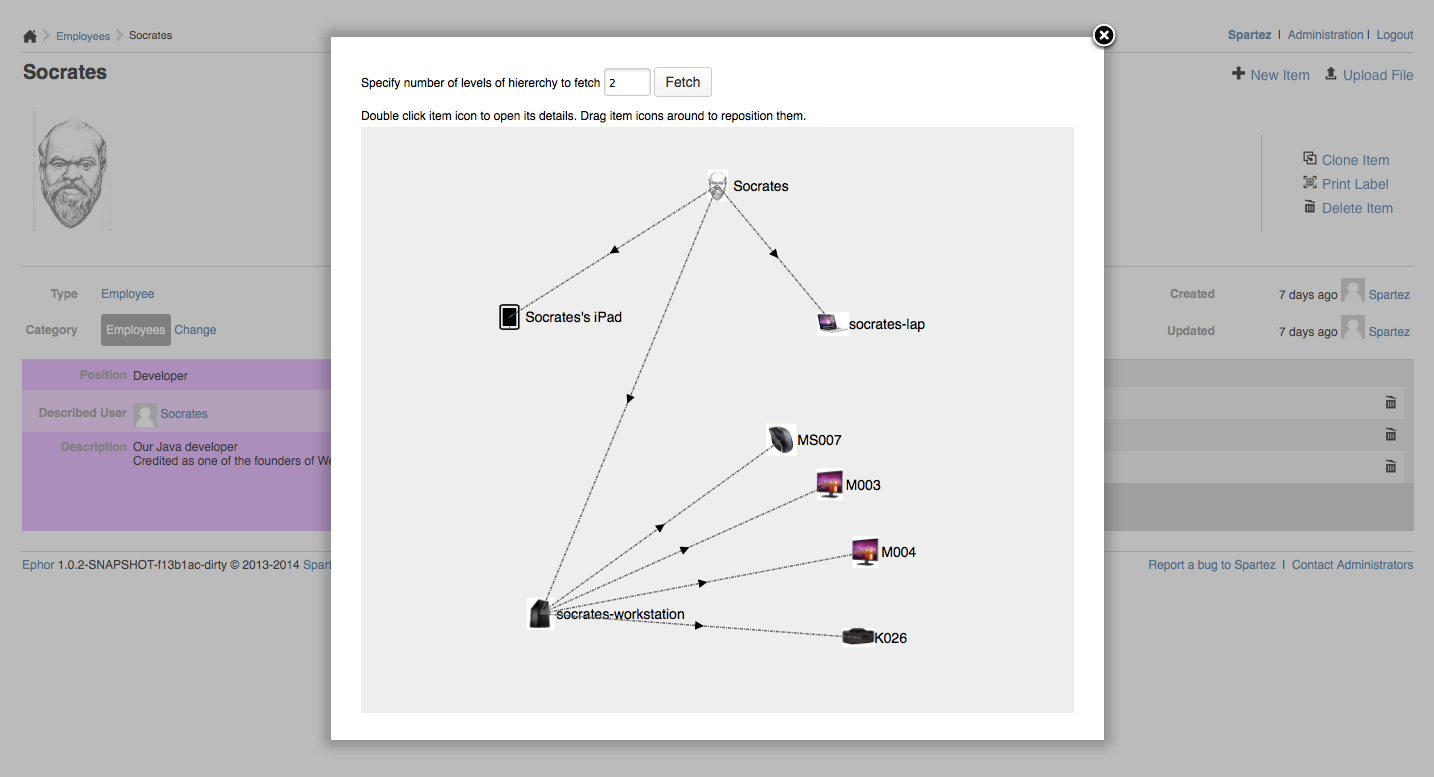 Recording asset history, location & features
As our company grew we found ourselves in needed of keeping track of the assets' lifecycle. We wanted the system to record any changes relate to an asset – it's past users, current location, servicing, failures and improvements etc.
Having significantly improved own our office life and successfully validated Ephor against our own needs, we went live with it earlier this spring. We've even uploaded our office electronics and their associated users (disguising their identities under Greek philosophers' names to better correspond with our Spartez image!) in the form of a sample data set into the system to better demonstrate its abilities.
And, most recently, next to the JIRA-integrable Ephor standalone, we've launched a ServiceDesk-integrable Ephor4JIRA app. Both of these solutions are available for a free 30-day evaluation period (or, if you have no more than 100 assets to manage, they're free altogether) and offer what, from our own experience, we feel is most important for such a system to actually be useful to any asset-management enthusiast.
Ephor or Ephor4JIRA ?
The stand-alone version of Ephor is integrable with JIRA, so that you can create issues such as "Replace ink cartridge in printer" or "Buy 20 more chairs like this one for conference room" straight from the concerned item view in Ephor and immediately see them pop up in JIRA. The Ephor4JIRA app is basically a second incarnation of the same software, which goes one step further – it's a JIRA plugin, which besides JIRA itself, also integrates directly with JIRA Service Desk (unlike Ephor standalone, which does not, because Service Desk does not have any remote API). Plus user management in Ephor4JIRA is (obviously) transparently integrated with JIRA's.
So if you already have JIRA and want to tightly integrate it with your asset management – you should probably use Ephor4JIRA. If you don't have JIRA, or if you want to have a separate asset management server that is not hosted in JIRA (but can talk to JIRA, delegating asset workflows to it) – use Ephor standalone.

Try Ephor standalone for free
Hope these news will be of interest to people struggling with asset management (as we once were) and looking for a common-sense solution, not necessarily only in the office world.
We're very feedback-hungry and open to suggestions from evaluators.
We've even got some cool Spartez t-shirts to send out to those most willing to support our cause!
Stay tuned – follow us on Facebook, Twitter and visit our website.