There are many CRM softwares that can help companies to keep track of their contacts, such as SAP, Microsoft Dynamics… However, such tools show limitations when combined with JIRA. Indeed, the information stored in those databases are constantly updated and have to be imported into JIRA. In the past, the only way to do this was by re-creating all the data into JIRA, which was a long process and did not provide data synchronisation.
Today all your troubles are over, I'll share with you my experience of this limitation and show you a quick and easy way to synchronise information.
JIRA and your CRM, two independant tools
At Valiantys, we manage our clients and contracts information through SAP, but this use case could be implemented with any other CRM: Sugar CRM, iRise, Microsoft Dynamics…
On the other hand, our company provides a support service through which our clients can raise tickets and bugs. Thus, our developers use JIRA to maintain our products and JIRA Service Desk is used as our support desk. In order to be efficient, we have created "companies"  in JIRA in which each employee is a JIRA user and can raise tickets.
At the beginning, it was impossible to identify which users were linked to which company and contracts. We aimed at having different SLAs depending on the information, but JIRA was not able to do that.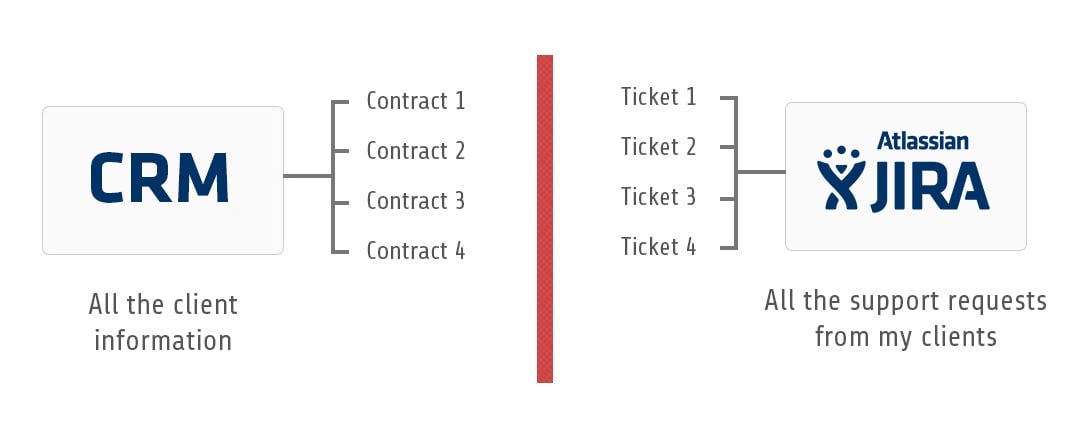 Here is the thing: on the left, there is SAP gathering all the information related to the clients (contracts, contacts …) and on the right, JIRA and Service Desk in which clients raise tickets. These two parts have no link. This is where nFeed comes into action and can make the task much easier.
Requirements
Here is a list of the specific information I want to appear in my issues:
Company information : company name, address and phone number
Main contact information: his/her name, email and phone number
Contract information:  the contact related to this client is the start and end date of the contract
In Salesforce, I have the detail of employees working in each company, thus, I will check the reporter in JIRA  and associate all the client information depending on this field.
Implementation
Let's take a look at my JIRA environment now.
As you can see, I've got a customer portal without any configuration.
I raise a ticket from this portal with the user "Aude".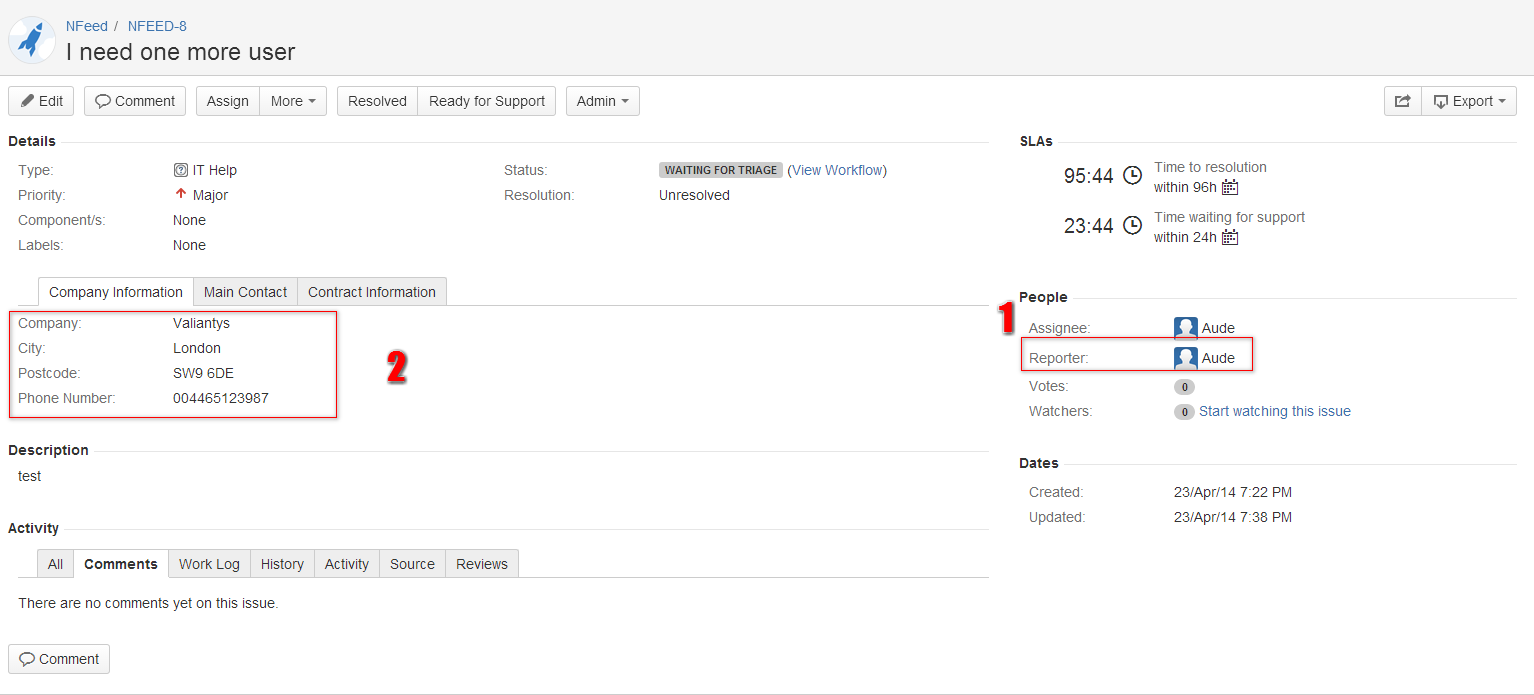 The reporter is "Aude" and I configured three tabs on the view screen to display the information from Salesforce. These fields are in Read-Only mode because I don't want them to be changed in JIRA. The first tab gathers the Company Information, the second tab contains the employee information and the last one has the contract information.
Now, let's see the impact of creating another ticket with the user "Test" on JIRA.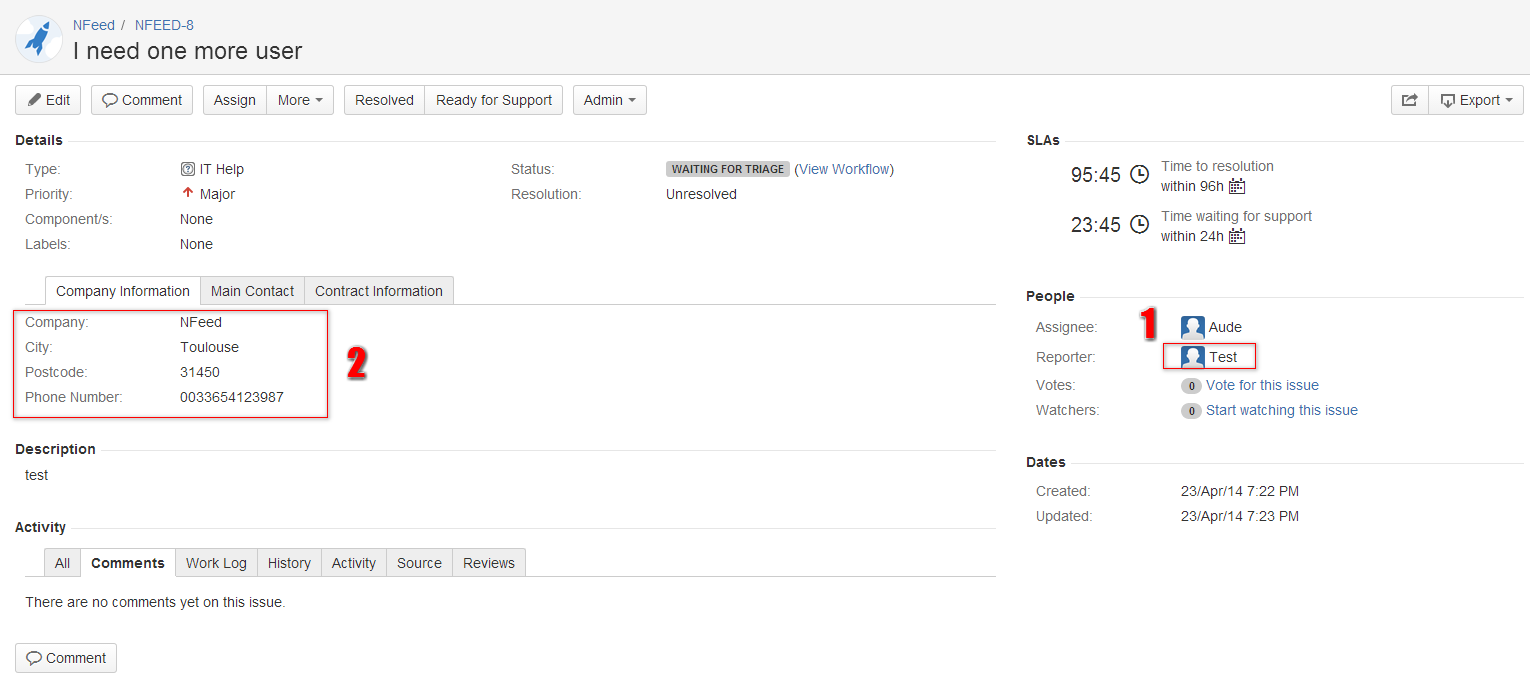 The reporter is "Test" and the Company information matches the reporter (NFeed). The information in these three tabs are different depending on the reporter, as requested. If I want to change the field reporter, for example from "Aude" to "Test", the client information will also change automatically.
In our configuration we get information from the reporter field, although you can also use another field (e.g. assignee, custom fields …) to get data from SAP. 
To conclude…
Data management is vital for a firm, so don't let anything get in your way! If you experiencing the limitations of a combined use of JIRA and SAP, nFeed will help you synchronising data and overcome them. And if you're still hesitating, try it for free and make your own opinion about it!
Try nFeed