This article was written by Frederic Duffau, Agile coach and keynote speaker at the Valiantys Enterprise Day Paris 2018.
---
My role, since becoming an Agile coach, is to guide people through their work. This entails reflecting on how I interact with individuals, the entity of them as a team along with their organizations.
I got my start in 2004, when I discovered haphazardly the Scrum methodology which sparked me to join a community in Toulouse. From this passionate group of people I learned the agile mindset; some spoke of Kanban, others of eXtreme Programming, others of Craftmanship – but we all talked about teams and individuals.
In bouncing my ideas off of this community, I discovered that my work as a scrum master didn't reflect my true ambitions; rather than being a coordinator I wanted to be a facilitator of teamwork. In 2011 I chose a more authentic career path – one of an Agile coach!
I find a lot of meaning in accompanying teams to find their reasoning, serenity in their workflow, customer satisfaction, pride and authenticity. I seek to inject more agility into organizations and position myself as an external catalyst for their evolution.
My ambition is to rally people around a common value which is factual and tangible. I strive to achieve results that make sense, and develop products which instill pride in both those who were a part of its creation and the end users.
I am a catalyst for interactions, improving communication within a team and between teams. I facilitate the transmission of business knowledge and know-how, the idea to the product, and even cultivate the coherence of services provided.
Thus when I was invited to speak at the Valiantys Enterprise Day Paris on October 11th, this was the occasion to share a subject that inspires me in my day-to-day life and work: how lessons on the volleyball court relate to the agility of the business world.
In my personal experience, I've noticed a lot of parallels between the professional environment and challenges seen on the volleyball court. I've played volleyball since I was 17, and my skills evolved from regional to national leagues. This gave me insight regarding the roles of the players, coaches, and the team as a whole.
So what is volleyball really?
On an individual level, players work on their commitment, motivation, technique, psychological and physical preparation. As a team, collectively they work on their cohesiveness; they strive to optimize their interactions so they compliment each other, increase their adaptability, and work on their combination plays for different challenges. Finally, volleyball clubs oversee all the teams to set up matches. Each team is coached by qualified trainers.
Volleyball consists of two opposing teams, facing each other via a net. Volleyball is not a contact sport, so the battle is only experienced through moving the ball from one side to the other while trying to get the ball to touch the ground of your opponent. As each team can only touch the ball three times before it needs to be returned over the net, teams needs to think strategically for each hit.
The receiver / defender makes the first hit, trying to optimize the set-up for the passer.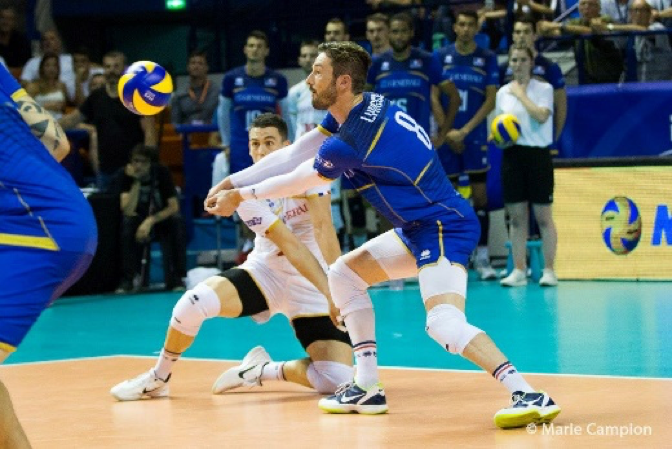 Ideally, the passer then needs to send the ball to an area above the net so the attacker can make his move. Finally, the attacker strikes the ball into the opposing court without it being intercepted by the other players.

This play-by-play illustrates the niche and abilities of each player in an ideal and optimal context, however the opponent obviously doesn't always hit the ball to the place where we anticipated. In this case, sometimes team members try to intercept the ball at the same time, and also not in a way that reflects their best strengths.
After each point – whether won or lost – the team regroups to re-energize each other in a team huddle, a specific ritual to volleyball that confirms the team's presence, commitment and team spirit.

There is also the coach who has his eyes in the game, not only on his team but also on their opponent, putting him in the position to inject feedback. The ability for the coach to take a step back and read the situation gives him an added-value during his interaction with his players. This  essentially corresponds to how I aim to have a strategic vantage point both in my personal and professional life.
Agile teams: On and off the volleyball court
Using my experience as a volleyball coach in my professional life has been invaluable to how I coordinate my teams. Every day, our teams look for how to optimize their performance so they can provide valuable products and services. They continuously seek to work even better.
Whether it is a coach for a sports team or an agile team, the person needs to have the ability to step back and analyze the circumstances to help the team overcome this situation in the future.
In volleyball, the coach develops his team's skills through simulating situations which could potentially happen during a match, allowing the team to practice and improve. In companies, improvement is realized done through training, retrospectives or during agile standup meeting, sprint planning and sprint review. Regardless as to if these simulations happen on the court or in the office, in both cases they build an environment of trust. The challenge is to find the right exercises for the team which help them work towards their expected results; in practice, this is more of an art than a science.
---
For more Agile tips, sign up to the Valiantys monthly newsletter.
Subscribe