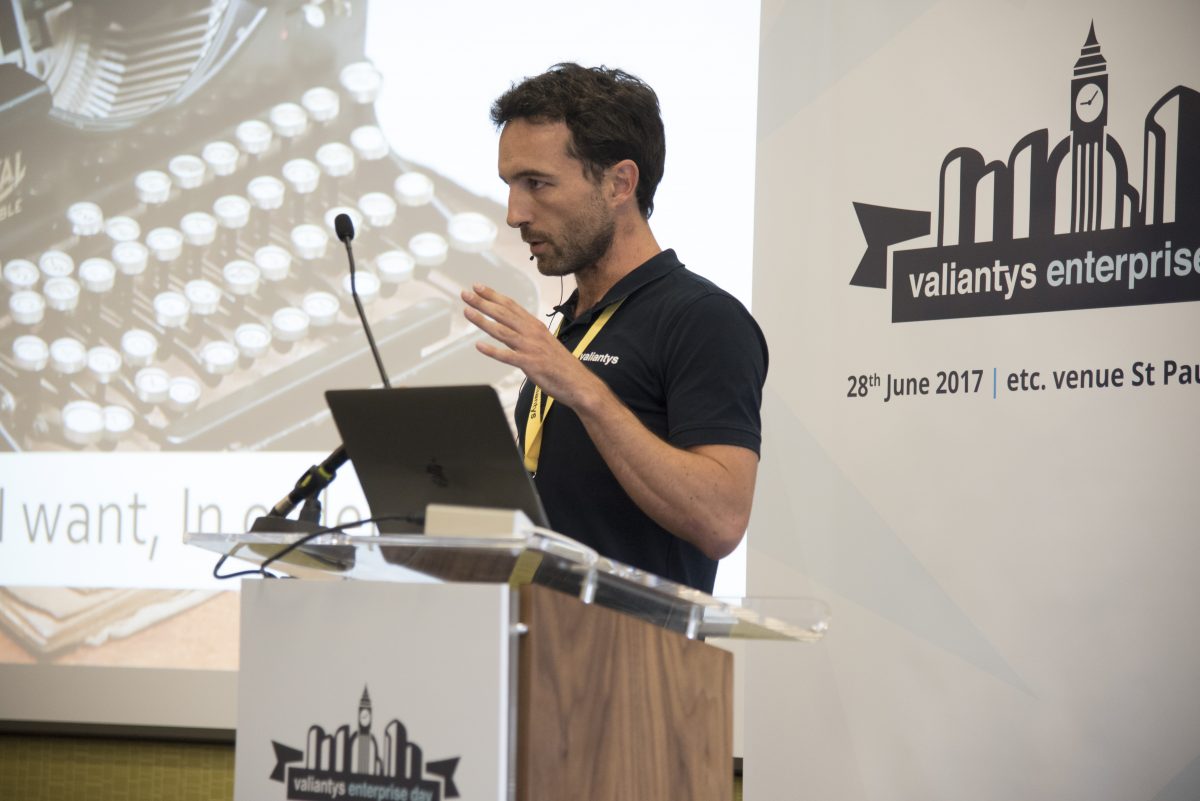 As product manager at Valiantys, Christophe Promé determines the roadmap for our marketplace apps: nFeed, Exocet, Elements and Spreadsheets. His role is to bring our agile vision to life by designing the building blocks that make up our products. It's a role that he executes seamlessly within the team's Agile cycle. He started at Valiantys' as a developer and, over time, he has worked up to a position of leadership.
I sat down with Christophe to interview him on his work at Valiantys, the evolution of his career and the inside scoop on what it is like working on Atlassian Marketplace apps.
Can you tell to me about your role?
Christophe Promé: As product manager, my goal is to consider the strategic evolution of our products so they are optimally positioned to meet our users' needs. We're very lucky our apps have several thousand users who are from a variety of industries with different use cases.  Several times a year I attend Atlassian events, so this is a great opportunity to meet our users face-to-face.
How do you work and what are your major responsibilities? 
I'm responsible for defining and delivering new features in our apps along with building a six-month roadmap that is in line with our strategic goals. Once this outline is defined, I dice it down into epics and stories. I also prioritize the delivery of bug fixes in our apps.
My activities are tied closely to the rest of the development team. We adhere to the Agile methodology and work in three-week sprints, with a week-long sprint dedicated to technical studies. During this week, I start working on the objectives and content for the next sprint. I communicate with our Software Development Manager to validate the scope and then present the backlog containing the stories for the upcoming sprint to our team so they can prepare the poker planning.
During the sprint, when one of the user stories is finished, I execute functional tests to verify that what we created corresponds with our intentions. I look at how the apps evolve and think of ideas for where they should go moving forward.
At the end of the sprint, I demo the features and use cases to our developers and the Atlassian consultants at Valiantys. Our marketing team then takes over to deliver the message to our users about the added-value of our work and how it applies to their needs.
You originally were hired as a developer at Valiantys. How did you evolve into the product manager role? 
I was a developer for eight years before I joined Valiantys. During that time, I was always interested in functional problems and the business impact. I spoke a lot with product managers.
Once I joined, it was natural for me to be drawn to the question of "why are we doing this?" We only had three developers at the time, and the "why" wasn't always clearly addressed by the team. Little by little, I tried to deal with these problems while continuing my role as a developer. I trained on the job by talking with peers in other companies and reading books and blogs. I wore two hats for nearly a year before becoming the product manager full-time in January 2017. I wasn't sure how it would work out in the beginning, but I'm glad I was given the opportunity by my manager. The bet ultimately paid off for both of us.
It's really a developer's marketplace, as their skills are in high demand. Why do you think they should work for Valiantys? 
What I appreciate about Valiantys Software is that we work on our products with a long-term strategy in mind. As the publisher of these apps, we are aware that every decision and development cycle has an impact. Our products help people work faster and focus on their core business activities, ranging from medical companies to insurance providers.
Valiantys offers a positive and healthy working environment. We are a small team, so everyone's voice is guaranteed to be heard and we value people who take the initiative – regardless of whether they are a junior or senior developer. I also appreciate the dynamism of the company; it's reassuring to work in a company that is growing and evolving to meet new challenges.
On the technical side, we'll have a lot of work in the upcoming months, including the redesign of nFeed's UX and development of cloud versions of our apps. There are interesting topics for developers to tackle for both the front-end and back-end.
---
Want to join the software team? Check out the open positions below!