Agile: a brief history
Agile is the result of changing needs in software development. Customers required better software, faster turnaround times, more visibility, and more control along the way. In other words, increased flexibility was vital: the traditional "waterfall" approach to project management – which had been the rule since coding was invented – simply wasn't suitable any longer. And then two things happened at the same time:
Code production expanded from being relevant for software companies only to companies in every vertical. Nowadays, producing good code is vital for banks, automotive companies and retailers alike. Just think about Amazon: they refine their own software day after day to make sure their customers experience minimal friction, and enjoy a service level that exceeds their expectations.
With Agile becoming more common throughout these different industries, non-technical departments like Product Development, Marketing, and Human Resources recognized the potential added value for their own teams and processes as well.
Agile quickly expanded from "a couple of teams developing software" to "hundreds of teams collaborating on anything and everything." With this exponential size increase, new methodologies had to be invented: Agile now had to adapt its deployment and required visibility to the massive scale requested by top-level management. The most common methodology today is SAFe, developed by Scaled Agile, which boasts more than 450,000 certified practitioners.
Nevertheless, most enterprises still find scaling Agile a major hassle. It's not just the strategy, the tools, or the methodologies – it's all of the above. The tools that support Agile focus on individual projects and teams, which are different for every organization. That's what makes solving enterprise-level scaling demands that involve aligning dozens, or even hundreds of Agile teams such a challenge. The key is choosing the solution that matches where you are in your Agile journey.
Why use Atlassian to scale Agile?
Atlassian applications are used by a wide range of organizations, for increasingly diverse business-related projects. The company continues to invest on and expand the capabilities of all their Agile-enabling products, providing critical capabilities for teams of various sizes, complexity, and Agile maturity. In Gartner's 2018 Magic Quadrant for Enterprise Agile Planning Tools, Atlassian was named market leader. AgileCraft was named the most visionary, offering features that were complementary to Atlassian products. Now that Atlassian has acquired AgileCraft and renamed it Jira Align, the combined tools offer a complete, comprehensive software solution for scaling Agile at any enterprise level.
Many Atlassian customers – including AT&T, Anthem, NCR, TIAA, and Duke Energy – are already using a combination of Jira Software and Jira Align to scale their teams' Agile practices. The new product extends the Jira brand, and reflects their vision of expanding Agile to enterprises and improving the way teams connect with strategy and outcomes. Jira Align plays a major role in supporting enterprises at any stage in their Agile journey, helping them effectively scale Agile as they mature.
The tool aims to align enterprises by making work visible across all teams in the organization. It also accelerates enterprise agility, for streamlined business operations and business outcomes that yield increased ROI. Jira Align helps larger enterprises close the "complexity gap": reaping the benefits of Agile when delivering their product or service – software or otherwise – without compromising on quality and while staying in control of their budget allocations.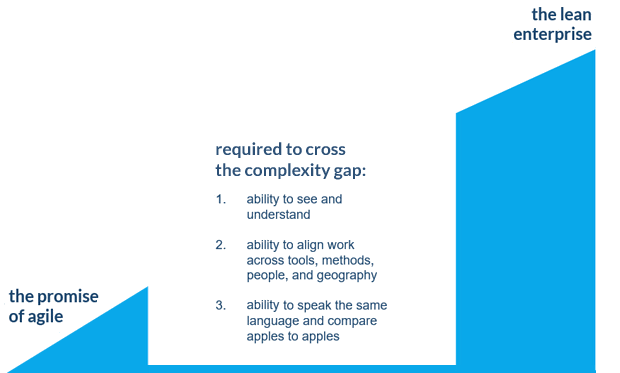 What are the Jira Align deployment options?
Jira Align is a cloud solution that comes in three flavors: Essential, Professional, and Enterprise. Each is tuned to a different maturity level on a company's Agile journey. In other words, clients don't have to go "all-in" with Jira Align: they can simply choose which product features suit their own needs and expected outcomes. Jira Essential is the "starter pack" intended to initiate multiple teams working at a process level. Jira Professional supports implementation of a Lean, customer-centric product organization. Finally, Jira Enterprise focuses on aligning strategy and execution: working toward a shared visibility and purpose. Jira Align supports frameworks like SAFe®, Scrum@Scale, Lean Startup, LeSS, and Spotify.
Jira Align adds significant value to Jira Software, because it takes Agile scaling and team collaboration to new heights. It also integrates with Jira Cloud and Server or Data Center. Read all about the benefits here.
Solving the puzzle that is Atlassian Agile tools
There are plenty of Atlassian Agile tools, and it's easy to lose track. The overview below shows how they all come together as a scaled Agile solution.
| Tool | Solution |
| --- | --- |
| | An issue-tracking tool developed by Atlassian that enables bug tracking and Agile project management. Jira Software provides tools for teams that practice Scrum or Kanban, allowing for team level collaboration and project level visualization. |
| Ecosystem Apps | Atlassian marketplace solutions like Tempo Suite, BigPicture and Structure provide Jira with additional capabilities to solve specific scaling problems. Tempo provides powerful time-tracking and budgeting capabilities; BigPicture provides project scheduling, program increment planning, and risk management capabilities; Structure provides powerful hierarchical organization for Jira issues, Confluence pages, and much more. |
| | Portfolio for Jira empowers teams by providing program management capabilities. It enables team-driven planning, scaling up for cross-project and cross-team visibility, and comparing multiple what-if scenarios. |
| | Jira Align is an enterprise-grade solution that enables company leadership to link current developments to business outcomes, without disrupting the work of Agile teams. It brings together technology initiatives throughout the company into an all-encompassing view that connects strategy, work, and outcomes. |
Which is better for you, Portfolio for Jira or Jira Align?
If you're still debating whether to go for Portfolio for Jira or Jira Align, take a look at some key comparisons below. When choosing the right tool for your organization, remember to prioritize your business requirements and check your capital budget for scaling Agile.
 Team Size

4-20 teams
100-1,000 teams, organization grade

  Instance Count

Supports single Jira instance
Supports multiple Jira instances

  Integration

Pulls data from Jira only
Pulls data from Jira and also connects with other team tools like Trello, HPQC, ServiceNow, etc.

  Usage

Organic growth from Jira
Scaled visibility across the entire enterprise

  Planning

Scope, Time, and Resources
Scope, Time, Resources, Budget, Value

  SAFe configuration

Supports Esential SAFe® configuration, Team and Program level

Supports Full SAFe® Configuration, 

Team, Program, Large Solution, and Portfolio Level
If you choose Portfolio for Jira to get started with SAFe®, read this blog first: Using the Scaled Agile Framework® with Jira.
What next, Jira Align?
Scaling Agile at enterprise level is vital for companies looking to stay ahead in the "digital disruption" race. CEOs at industries all over the world have made it their top priority. Closing the gap between strategy and execution has never been more vital for success, and companies need the right tools to ensure teams are aligned on their Agile journey.
We live in a fast-paced, technology-driven world. Don't worry, though – Jira Align helps you keep up:

Need to deliver enterprise scale software with multiple Agile teams? Want to learn more about how to implement SAFe in the real world? Watch this video from one of our Agile experts and learn the theory around implementing a Portfolio SAFe configuration with Atlassian tools.
Valiantys is an Atlassian Enterprise Platinum Partner. Want to find out how Jira Align can help you meet your digital transformation and scaled Agile needs?
Contact us today!