In the Atlassian ecosystem, TM Software is famous for bringing time tracking in Jira with its Tempo Timesheet add-on. The software publisher comes back with a brand new and promising Jira add-on : Tempo Planner. Without further ado, I'll let the TM Software team introduce you their project planning solution.
At Tempo, we constantly strive to make our suite of add-ons better with each iteration. A big part of that is valuing and responding to customer feedback. With Tempo Planner, our latest add-on for Atlassian's popular Jira platform, we've aimed to provide solutions for problems that we and our customers have faced.
One of the main problems we wanted to help solve is the time consuming process of calculating team capacity. Many teams — including our own — were tasked with using spreadsheets and other external tools for their team planning. This was tedious, and often led to inaccuracies, communication issues, and misinformation. Having one easily accessible, centralized space in tandem with Jira for accurate team capacity planning was essential.
Not being able to efficiently and easily plan at a higher level in Jira was also a struggle that many of our customers (and we at TM Software!) faced. We wanted to provide a solution that not only enables users to perform high-level planning, but to also visualize future roadmaps to help plan for upcoming releases, epics, stories, and more.
Finally, we wanted Jira customers to be able to group their team members together in one centralized place, along with all of the planning information needed for informed decision making.
Tempo Planner offers teams deeper project management and planning capabilities, Jira Software integration, and business analytics. Tempo Planner redefines the way that businesses can manage and plan for employees, teams, and projects. Transparency, flexibility, and efficiency in team and project planning often translate to greater overall cost savings.
Easily plan for your teams in Jira
With Tempo Planner's Timeline, which consists of a team member column and planning rows for each team member, team leaders can perform higher-level and granular resource planning. Team leaders can add work items such as sprints, epics, versions, or stories from their backlogs by dragging and dropping them directly onto the Planner Timeline.
Team leaders can now easily keep their teams in sync with greater accuracy, as capacity planning easily takes into consideration the various holidays and workload schemes for teams and team members.
Knowing that plans and organizational priorities can often change, Tempo Planner's planning timeline enables teams to easily view the tasks that need to be completed, while team leaders can fine-tune the scope of a project or sprint or adjust team resources as the project gets underway.
Define your team, workload, and project scope
With Tempo's teams feature — available in both their Tempo Timesheets and Tempo Planner add-ons — users can harness the value of Jira and Jira Software in one centralized space, attributing projects and sprints to specific teams, and dividing work among project teams, including stories, tasks, sub-tasks, and other work items. Grouping Jira and Jira Software users together into one or more teams makes team management more transparent and efficient, helping teams better keep track of their projects and releases.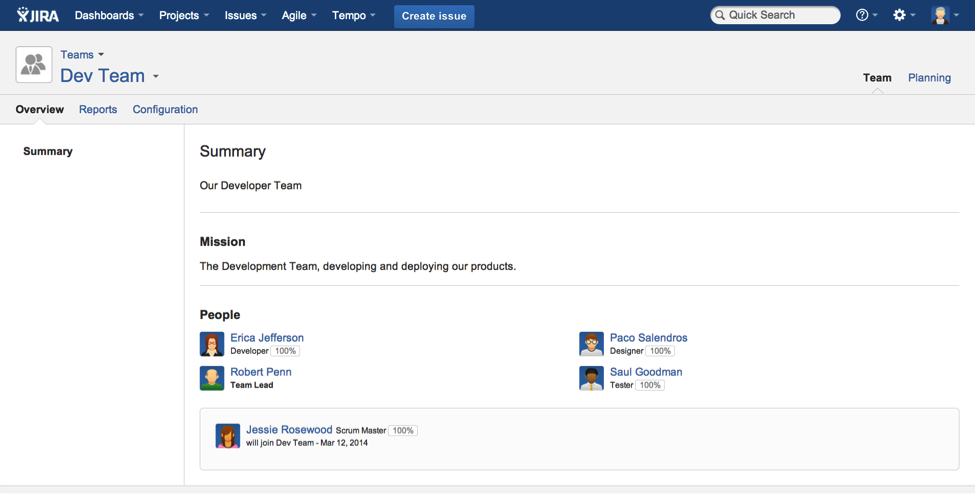 All assigned team members have access to Tempo's centralized team space. Current team structure, team workloads, roles, and availability can be clearly identified, and even future team members can be accounted for. From this space, team leaders can also define their team's mission, designate team member access, get detailed reports of team progress, and link to specific projects and agile boards that the team is currently working on.
Plan at a higher level with another Tempo Group product, Roadmunk for Jira
Another Tempo Group product, Roadmunk allows for managing multiple related projects within an organization.
In the past, it has been difficult to harness all program-related planning information in one centralized location within Jira. With our Tempo Planner add-on, program managers can now easily associate teams with specific projects within Jira, and quickly visualize their roadmaps.
Roadmunk helps teams match both their short-term and long-term goals with solutions to help meet those objectives.
Roadmunk's roadmapping features provide a mechanism to help teams forecast future developments, and provides a framework within which you can visually plan and coordinate them.
Teams can flexibly plan at a higher level in conjunction with how the team and product development process is likely to grow and evolve.