One of Valiantys' values is we strive to make every interaction remarkable. For those of us in the support team, this means being as helpful and efficient as possible in order to get your teams up and running as quickly as possible. Therefore we want to reach out and lift the curtain as to how Valiantys Support works. We'll tell you all about our Atlassian support, from the tools and methodologies we use to the organizational structure!
The support team: Around the world, around the clock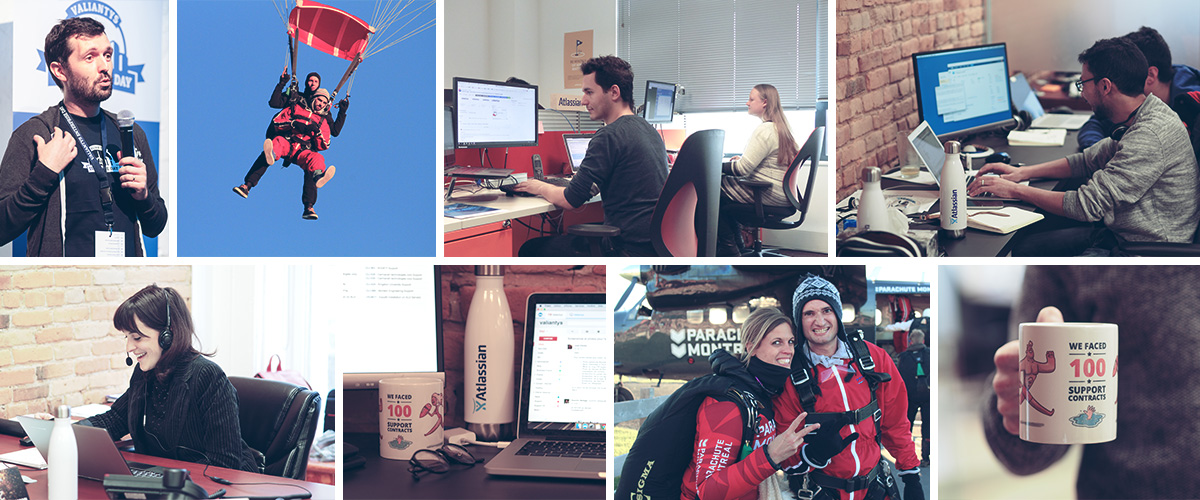 The Valiantys Support team is spread across, Europe and North America. We consist of several support engineers and one part-time developer: Nicolas, Ida, Nicolas, Oksana, Etienne, Julia, Sebastien and I (Quentin). Normally, Etienne and Julia take the night shift.
Depending on the needs of our clients, several different consultants can join this core team to extend and reinforce the necessary skills.
Playing with time zones to ensure 24/5 support
At Valiantys, a typical support contract with no additional options covers a time frame from 8am to 6pm, five days a week despite the original country where it was sold.
Valiantys has offices in Canada, France, the Netherlands, Switzerland, the United Kingdom and the United States. With clients in different countries and different time zones, to guarantee we meet our SLAs we switch between the support teams in Europe and North America.
Working as one global team also allows us to offer our customers 24/5 support, as an added option. Pretty practical, don't you think?
Regardless of when an incident arises, Valiantys can respond with reactivity day or night in any time zone.
Support levels  N1 and N2 
The vast majority of tickets are managed by support agents. However our customers sometimes have more complex requests that require a different skill set, such as asking for a feature request on a Valiantys app. This is when the level N2 support comes into play.
Our tools: The Atlassian suite 
Jira Service Desk: Customer portal and ticketing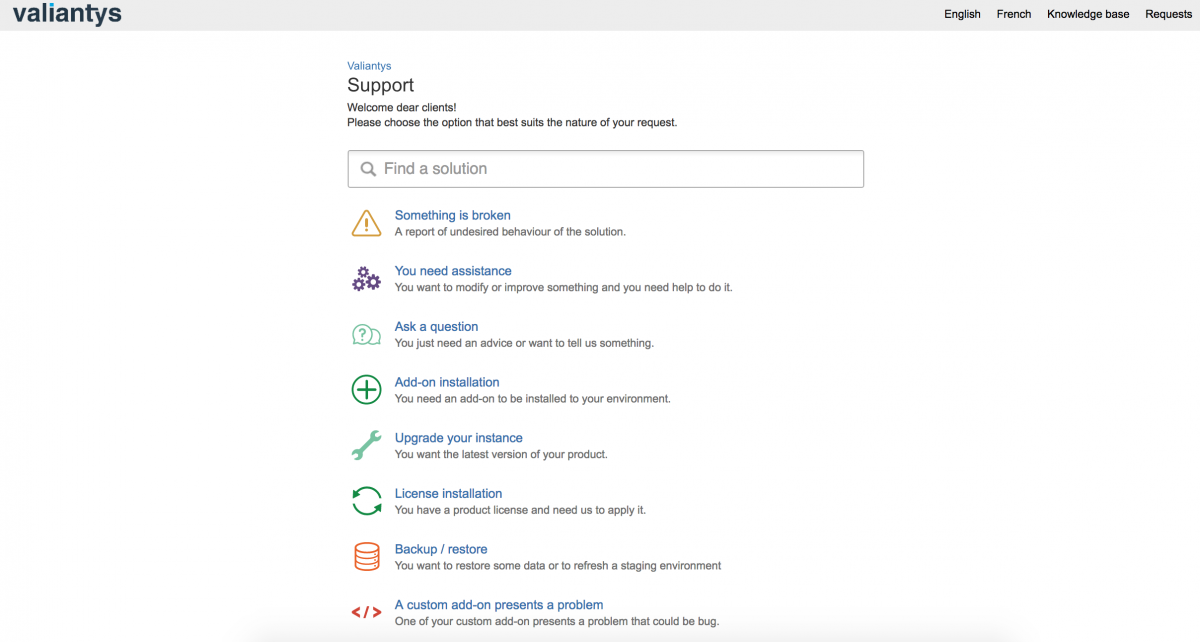 Using  Jira Service Desk as the point of contact for our customers was obviously commonsense for us.  The customer portal allows us to centralize requests in French or English with the Translation for Jira Service Desk app.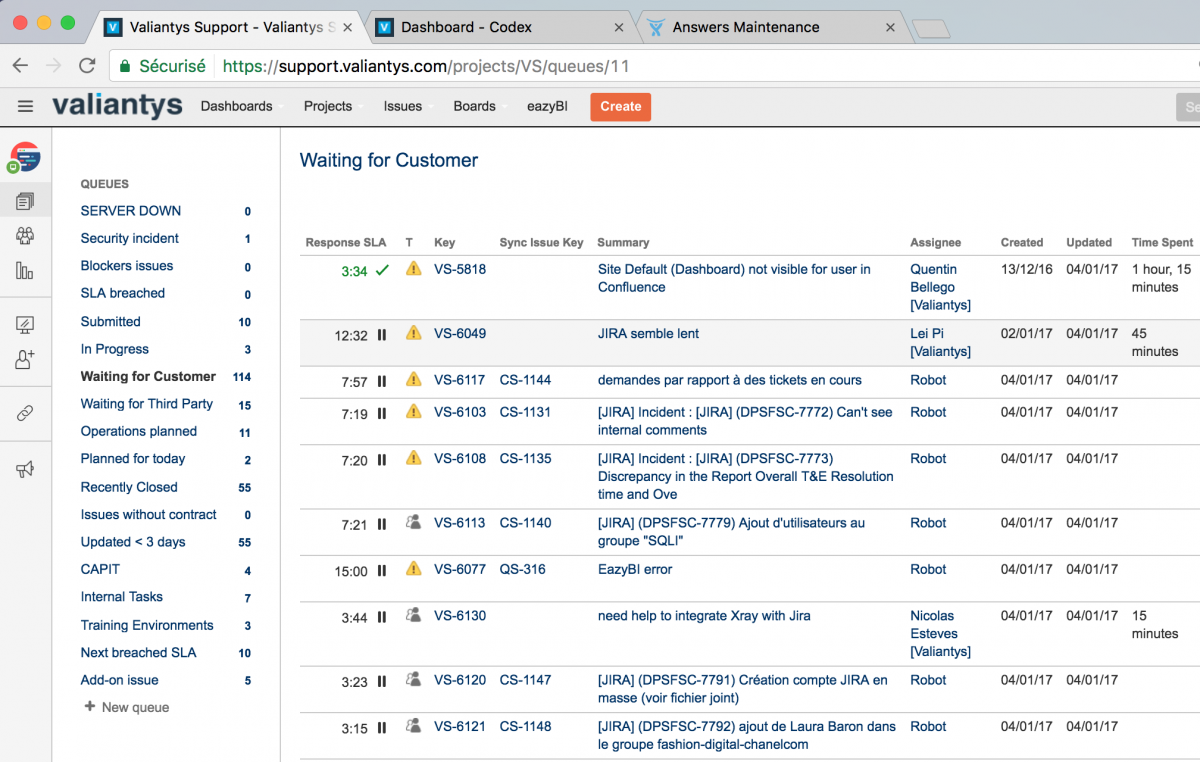 Once requests are created, their prioritization is automatically managed by the tool thanks to the Service Level Agreements (SLAs). These SLAs are automatically adjusted depending on the type of contract, country and calendar linked to the customer  (UTC+0 – UK, UTC+1 – France, UTC-5 – Québec).
Our support teams then take turns to ensure continuous support. The configuration of Jira Service Desk is complemented by additional automations to help solve requests: automated transitions on a customer comment, automated closing after 20 days without a customer answer, etc.
Confluence: Our knowledge base
In order to take advantage and learn from the issues faced by our customers, we regularly fill in our knowledge base within Confluence, which is shared with the whole team.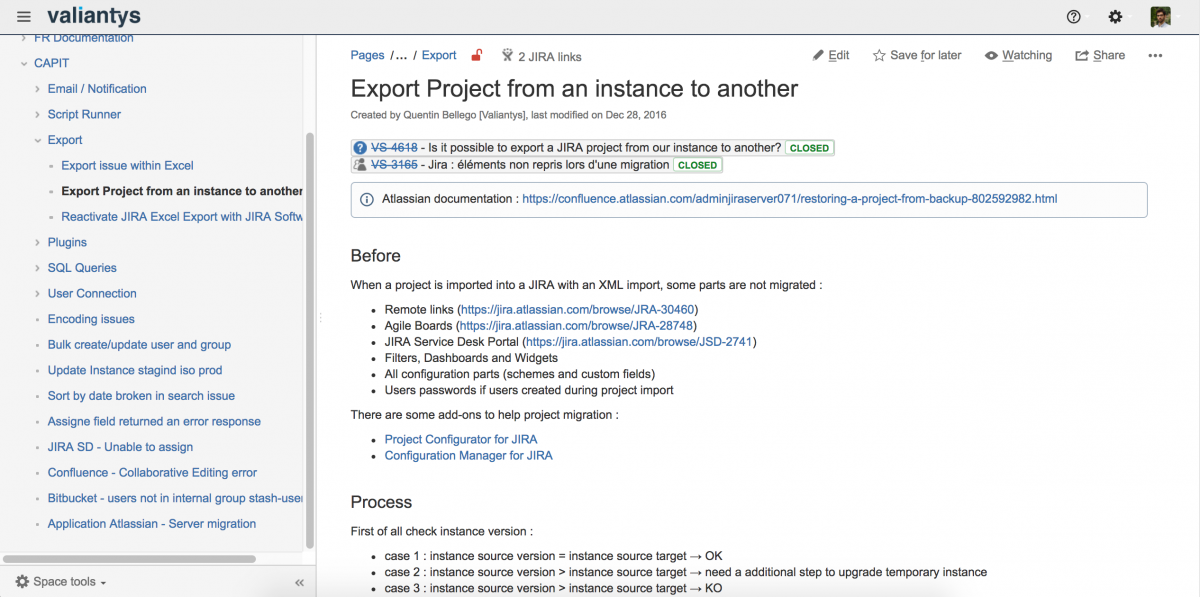 Included in their support package, some clients also benefit from a Confluence space which is set up  to share specific documentation and processes.
Finally, the space we use the most is the one that gathers customers information. It allows us to quickly retrieve useful information to resolve issues.
HipChat: Instant messaging to facilitate team collaboration 
Within the team, communication goes through multiple channels – yet HipChat remains the hub to chat with my colleagues in Toulouse and Montreal. 
We use it in various manners to:
Chat with a customer on one of his requests in a specific room

Track the progresses of a request which another team member launched

Ask questions to one of our account managers concerning the renewal of a customer license

Get advice from our software team to guide a customer on his use of our apps

Conduct our weekly meetings with the video-conferencing feature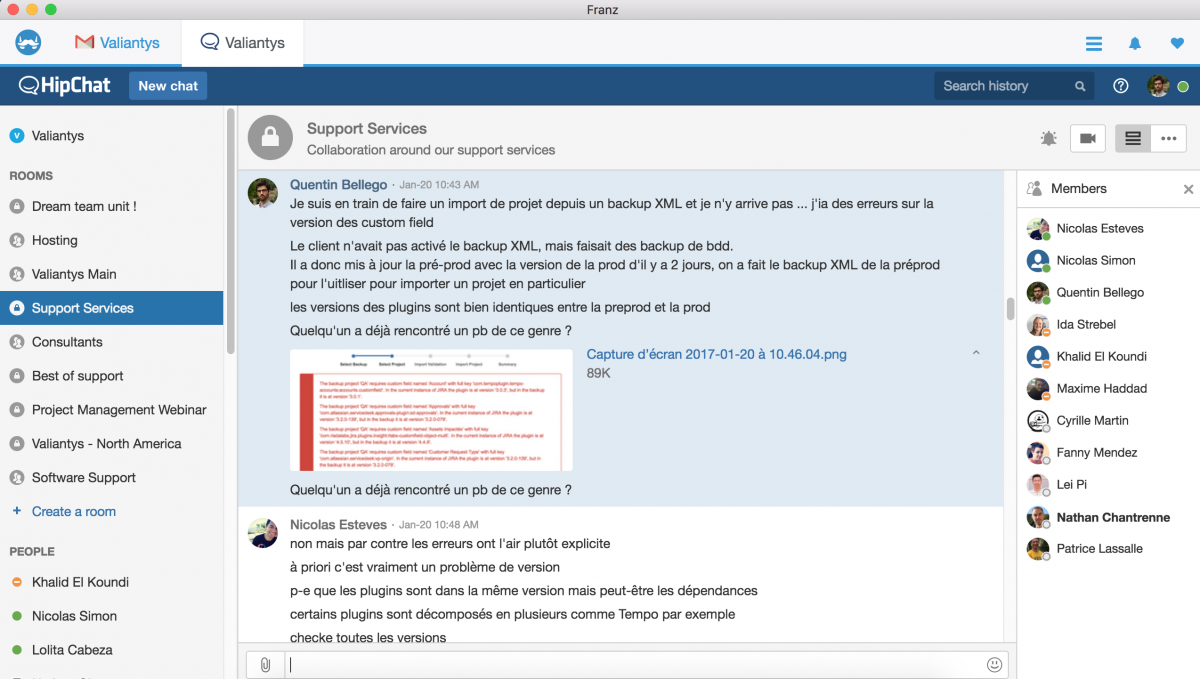 Managing critical requests with Jira Alert
I could not write this article without introducing the latest innovation of  Valiantys Software: Jira Alert!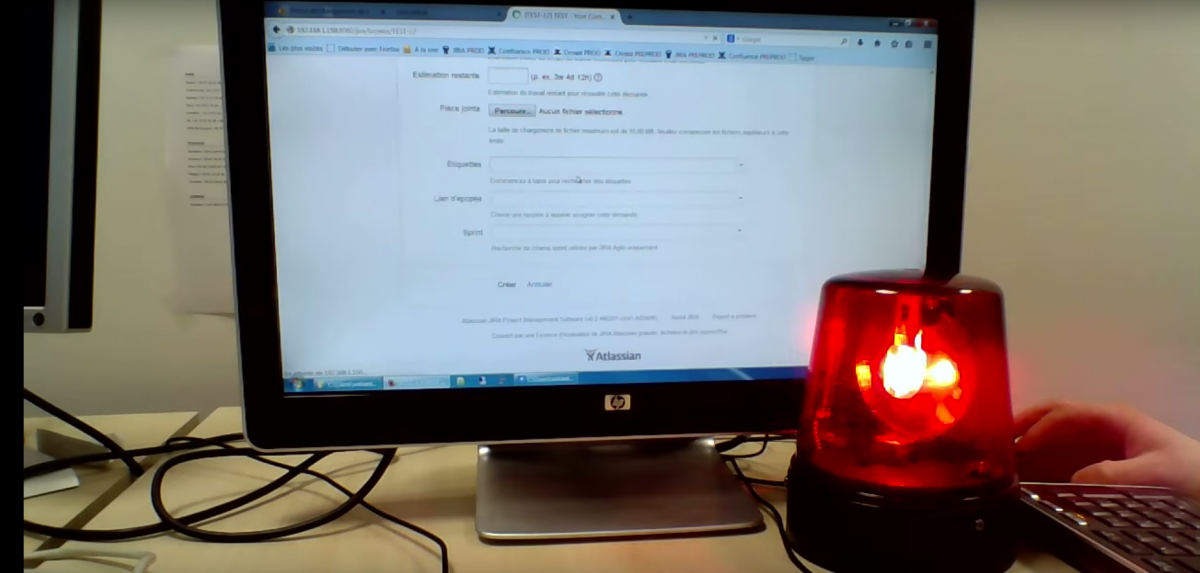 We don't spend our days constantly staring at the ticket queue as we work. Let's imagine I am in the middle of a configuration for a customer and it's been 30 minutes. A blocking request comes in – the client's environment is down. The Jira Alert automatically notifies us by producing sounds and flashing lights.
Instantly the whole team has the problem on its radar and organizes to solve the blocking requests. Thus we are certain to never miss an emergency.
Management and customer reporting 
Internal meetings
Every month, our management team gathers to asses the state of support at Valiantys. It reviews key metrics: time spent resolving requests, average resolution time, SLAs which were not met, etc.
For instance, did you know that over the past 6 months, 80% of requests were closed in less than 24 hours?
Whenever a problem is raised, a root cause analysis is conducted and we adapt our processes to resolve it.
KPIs: What do we show our customers?
Every month, we send our customers a list of tickets created during the month. We started working on setting up more advanced reporting with analytical reports. Here is a sneak preview of what it will look like: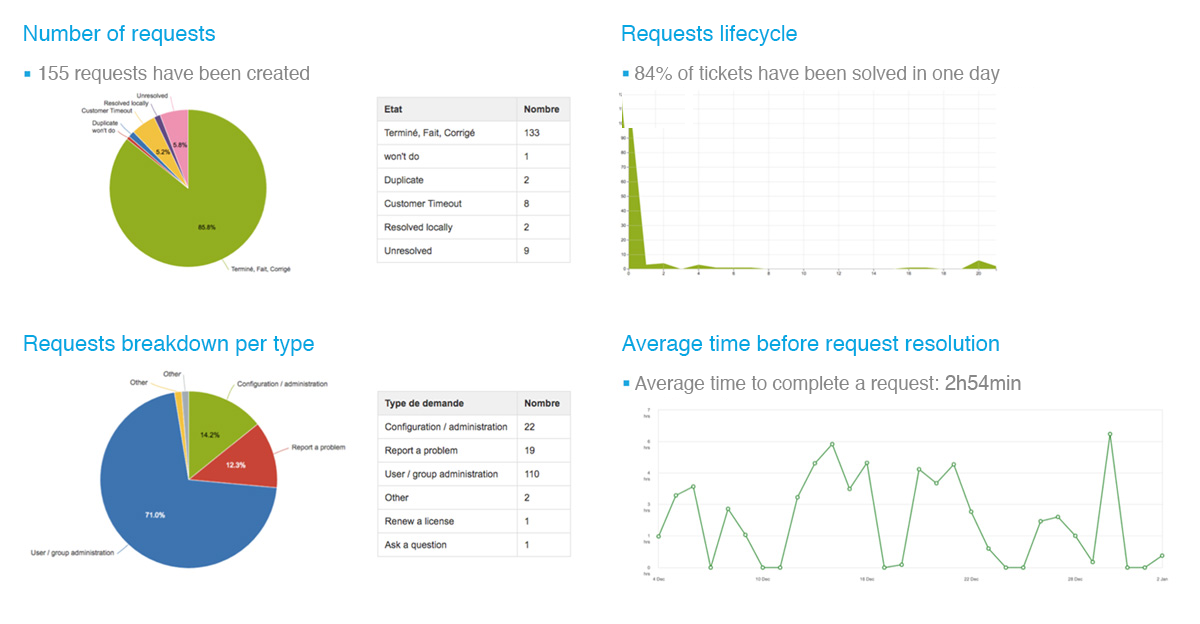 As an option on our Unlimited Support, you can also benefit from a monthly analysis of the support activity.
A final word 
We've been happy to share what goes on at Valiantys Support! Our doors remain open for your needs – If you're convinced you would like to work with us or just want to discuss your options a bit more, feel free to get in touch with our team. 
Discover the Valiantys Support plans
We will be happy to solve your tickets! Unless there are a lot of them that are really complex and urgently needed – just kidding! We'll take everything that you've got!