After my first kidnapping of a Superhero consultant, I became addicted to the concept and found my new victim among the Licensing Specialists. I targeted someone who I thought was a nice and quiet subject (but was actually extremely talkative on managing technical contacts) – Elodie! Who is she? What are her super powers?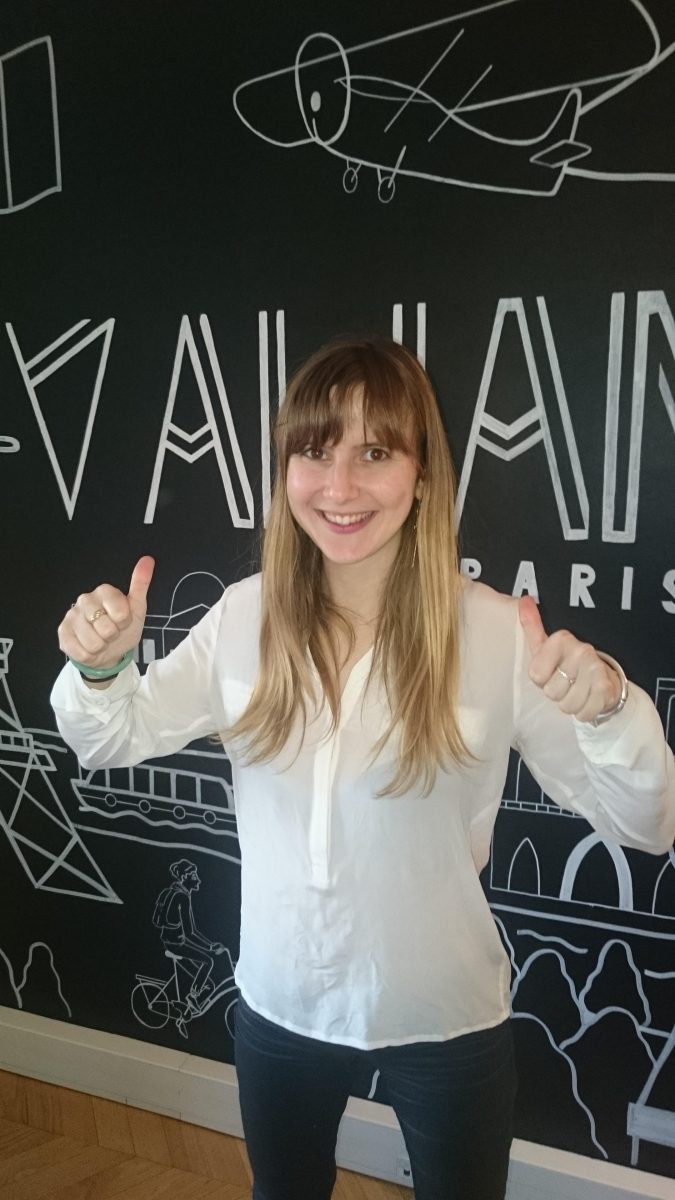 Who is Elodie?
Elodie is originally from Blagnac, which is not too far from Valianty's headquarters in Toulouse. She studied sales and political sciences in Strasbourg (legend has it that she might have been bitten by a radioactive spider during her studies to give her superpowers, but that is hearsay…). Shortly afterwards she met Valiantys in 2013 and joined the team during the summer. After a few years of working from the Toulouse office, she moved north to enjoy life in our office based in the City of Lights.
As a Licensing Specialist superhero, her powers include:
Telepathy: She can sense changes in the Atlassian licensing model and proposes the service to fit your needs.
Time travel: She can consolidate all your licenses renewal dates to one specific point in time.
Extrasensory perception: She gives technical and financial advice to customers.
Agility: Using a combination of balance, coordination, speed, reflexes, strength, and endurance, she can provide advanced support on any licensing question you might throw at her.
Who is Elodie you might ask? She might as well be our in-house superwomen, managing contracts from A to Z – from quote to delivery!
A typical day for our Licensing Specialist superhero
After deriving her energy from the most powerful source on earth – black tea – she is ready to start her day!
She first attacks her emails and assigns priorities. She browses Salesforce reports to have clear visibility over due dates for her client's licenses and prepares cost estimates and ratings. In between, she directly works with customers, answering their questions and constantly saving the day with her follow-up attentiveness via phone or email.
Her weapons of choice are Salesforce, JSD and Confluence, however she's also been seen using JIRA, Trello, Syges, Google Suite and of course our internal champion: HipChat!
Internally, she works with sales, marketing and delivery teams but she also works with her counterparts of other Valiantys business units and Atlassian.
Hero highs & lows
She enjoys developing personalised customer relationships and the diversity of clients she gets to interact with. She loves to communicate but above all she craves providing help for people!
Licensing management can be a heavy burden to carry – there are times when the workload piles on or when everything is slowed down. But she never surrenders – for her, it means she needs to double her efforts so she won't be scaled down.
Continuous learning
Her job scope has evolved since she started at Valiantys. As a superhero with many talents, she originally was afraid to be stuck in just one role. However looking back, she realises that her experience gave her in-depth knowledge on products and technical aspects which she uses directly to improve her client's interaction with Atlassian tools. She developed skills around services, ALM model and more!
Her advice to Junior Licensing Specialists
Her tips to be the best Licensing Specialist is to be aware that it's your responsibility to make your job interesting!! Keep working on improving processes, sharing your knowledge, and increasing the advisory role aspect of the job!
Being a Licensing Specialist implies mastering administrative rigour and being versatile and adaptable! Because with great power comes great responsibility…
---
Want to get in touch with Elodie or one of our other Licensing Specialists? Click the button below or leave your comments below the line.
Discover our License Management offers