Laughs rang around San Jose Convention Centre's auditorium tonight as Jay Simmons, President at Atlassian, well and truly broke the ice to usher in Summit's opening fireside chat. How? By asking the unsuspecting Mike Cannon-Brookes and Scott Farquhar, Atlassian founders and co-CEOs, their thoughts on the upcoming US election (cue awkward laughter).
From the beginning
Quickly moving on to more familiar territory, what the audience was really keen to hear about were the beginnings of a company that is today a leading light in the tech world.
"Mike was the guy you copied all your assignments from – that person who does too much work," Scott told of Atlassian's early days. "But by the time we got to the end of university we had to find someone else to copy from, as we were both busy running a company!"
With the likely career paths of IT consultancy and banking appealing to neither of the pair, they realised that what they really wanted to do was to build software – and in an entirely new way. Plus, as Scott offers, "Mike was the only person I knew who was dumb enough to start a company with me!"
Mike was the only person I knew who was dumb enough to start a company with me! #AtlassianSummit
Click To Tweet
Oh, and if you've ever wondered where the name Atlassian comes from, the chat was the place to be: turns out the name is derived from Atlas, the Greek titan, whose punishment was to hold up the sky so it didn't fall down.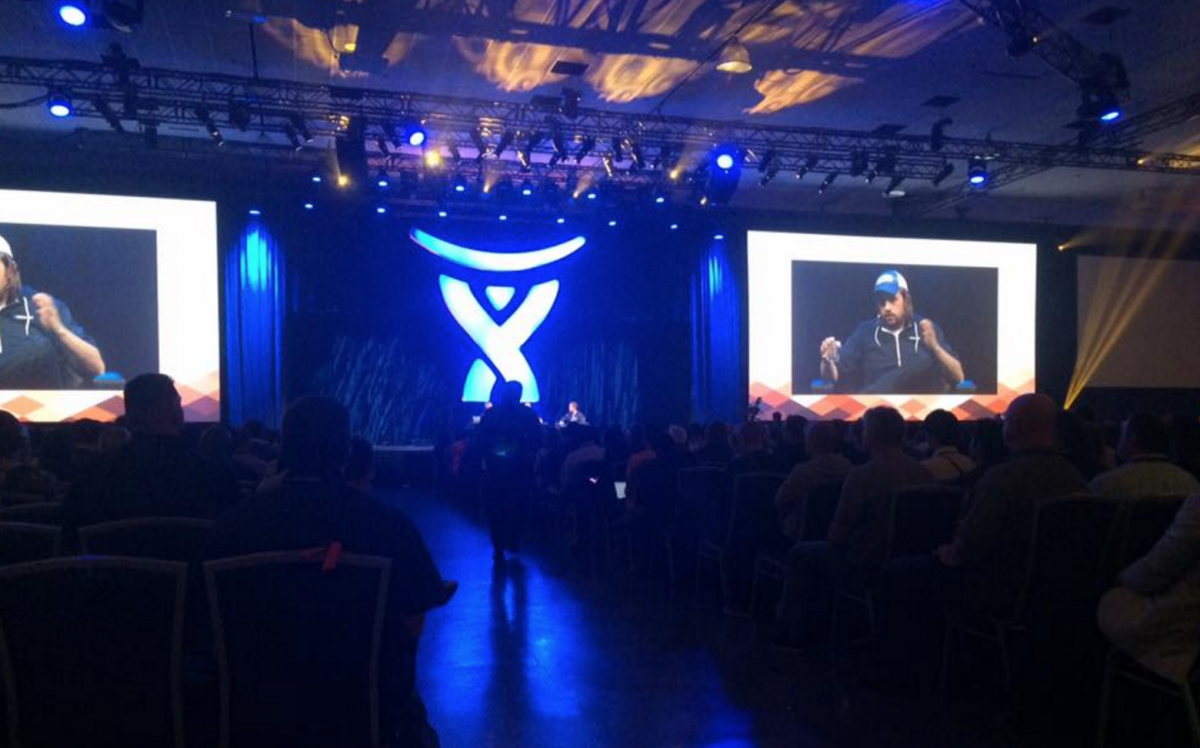 #TeamUp
Touching on the theme of this year's Summit, Team Up, attendees were keen to find out what exactly it is about teamwork that makes it such a driving force behind Atlassian's work.
Scott offers a signature sardonic reply: "When there were two of us it was so hard to work together as a team that we had to invent a collaboration company to make it easier to work with each other."
Mike explains that they wanted their business to focus on problems that weren't going to disappear overnight – like organising teams and projects. "It seemed like a pretty good area to start in, and we've figured a lot more out along the way. Teamwork is exciting – and super challenging."
A groundbreaking moment
Next up was talk of a recent highlight in the Atlassian journey: the company's astounding, trend defying IPO success in December last year.
Mike recalls: "It was a surreal couple of weeks… there's no doubt about that. We spent all day in media interviews from around the world – maybe 35 between the three of us in just a couple of hours.
"We brought with us all of the people in Atlassian who'd be around for more than ten years. They'd been on the journey for a long, long time… it was like getting a band back together."
After a whirlwind of press interviews, Scott remembers the pair going out for a quick pizza pitstop and time out.
"That was a bizarre moment," he muses. "You do all the interviews, press the big button and the next moment your big decision is choosing the least dodgy-looking slice of pizza. Then it's back into it."
However the resounding memory of the occassion was being ill-prepared for the ensuing celebrations, and having to visit an off-licence and ask for their most extravagant bottle of champagne.
The result? "We celebrated our IPO with a 20 dollar bottle of spumante," the pair laugh.
We celebrated our IPO with a $20 bottle of spumante #AtlassianSummit
Click To Tweet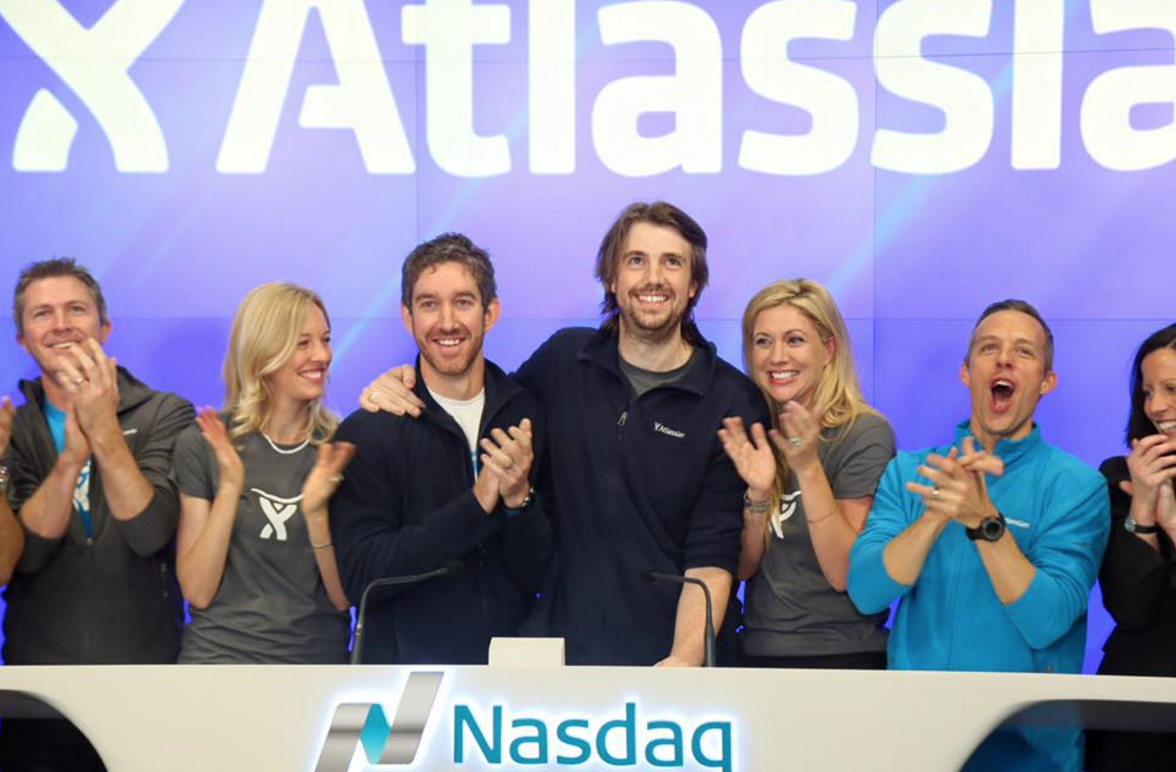 The Atlassian team celebrates a show-stopping Nasdaq debut (image: Atlassian)
Challenges remain
So among all the success stories, what do the quiet pioneers of enterprise IT still find challenging?
Scott and Mike are quick to agree that scaling their organisation in the face of explosive growth is no mean feat. "The pace that we grow at as people has to keep up with the pace of the company, as the company is going to move as slow or fast as Mike and I can scale ourselves," Scott explains.
An example is the challenge of communication, and moving from the task of communicating to a team of 20 to keeping channels open with numerous teams spread across the globe. Naturally making use of the native collaborative features of Atlassian tools, the team has also capitalised on embedded video technology in HipChat, as well as all hands meetings where Scott and Mike talk to teams across geographies for 30 minutes every week.
"It really makes us feel like one company by allowing us to cross live to San Francisco, Sydney, Manila and Austin to literally 'see' people on a weekly basis – it's made a huge difference," they explain.
The closing gambit? Tools alone don't help teams to get along – they are part of a wider recipe.
Tools don't make people get along – they are part of a wider recipe #AtlassianSummit
Click To Tweet
Putting culture front and centre
A key part of the recipe is building the right company culture – something the pair have always maintained has been integral to Atlassian's continued success. In fact, they explain that every hire around the globe is subject to an interview specifically focusing on the company's now infamous values.
"Culture and values are two different things," Mike states. "Culture is the way work gets done in your organisation – culture changes over time, you just have to be deliberate about how it changes. Values are the things you hold to be true, all the time."
An important part of this is the idea of giving back, a notion that drove the development of Atlassian's Pledge 1% initiative, a scheme that enables employees to give back to the communities they serve, dedicating time and resource to issues that matter to them.
The pair thanked ecosystem partners like Valiantys who have demonstrated charitable commitment by signing up to the program, before welcoming to the stage John Wood, founder of Atlassian-backed charity Room to Read.
All in all, a rip-roaring start to what is set to be another awesome Summit.
Stay tuned for more news live from Atlassian Summit 2016…