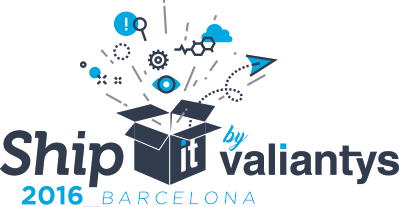 Happy birthday to us!
Last month marked ten years since Valiantys was created, and it's certainly been a rollercoaster journey. Since 2006 we've amassed 16 nationalities within our team, opened a total of five global offices (and counting) and developed over a whopping 200 Atlassian add-ons.
So after spending some time thinking about how to mark the occasion, we thought what better way to celebrate 10 years of innovation than by hosting the inaugural Valiantys ShipIt?
The what
The Valiantys ShipIt will see our teams from Toulouse, Paris, Lausanne, London and Montreal unite in sunny Barcelona for a full day dedicated to bringing to life a new solution or process that adds value to our business or changes the way we do things.
Originally pioneered by those trendsetters at Atlassian, our ShipIt goes beyond the traditional tech hackathon (although they'll be a fair bit of that going on, too). We're all about getting everyone from across the organisation involved – think less silos and more cross-departmental teams working on projects that will really simplify, streamline and enhance the way we work as a company.
So whether it's dev, marketing, finance, HR, sales, project management or training, everyone has the chance to fuel company innovation – and work on some awesome projects to boot.
The why
So why ShipIt?
Well for starters, this event gives people the opportunity to step outside their day-to-day remit and work on a project that really interests them. Or perhaps a team has something on their 'nice to have' list that they've never quite got round to, or there's a niggle affecting productivity that everyone's just that little bit too busy to address.
Secondly, a project like this helps us foster communication across business units and geographically disparate teams. Sure, we share information and collaborate every day with Atlassian tools, but there's nothing better than physically getting together to work towards a common goal.
Two of our company values encompass this perfectly – never stand still and share and take part. We're all about encouraging our teams to be creative and on the lookout for ways to constantly improve how we work, and the Valiantys ShipIt is a perfect example. Plus, it's also open to everyone, giving all of our team members a chance to share ideas and knowledge with their peers and deliver kickass solutions as a team.
Stay tuned to hear all about it – and to discover our Valiantys ShipIt champion!