One of our favorite aspects of the Atlassian Summit is walking the expo floor and catching up with other Atlassian ecosystem players. Here's what's new with some of the top vendors in the Atlassian ecosystem:
What's new with Valiantys
This year Valiantys was a Platinum Sponsor at the Atlassian Summit. Our local US and Canadian teams were on the ground in Vegas, mingling with conference attendees and answering questions about all things Atlassian.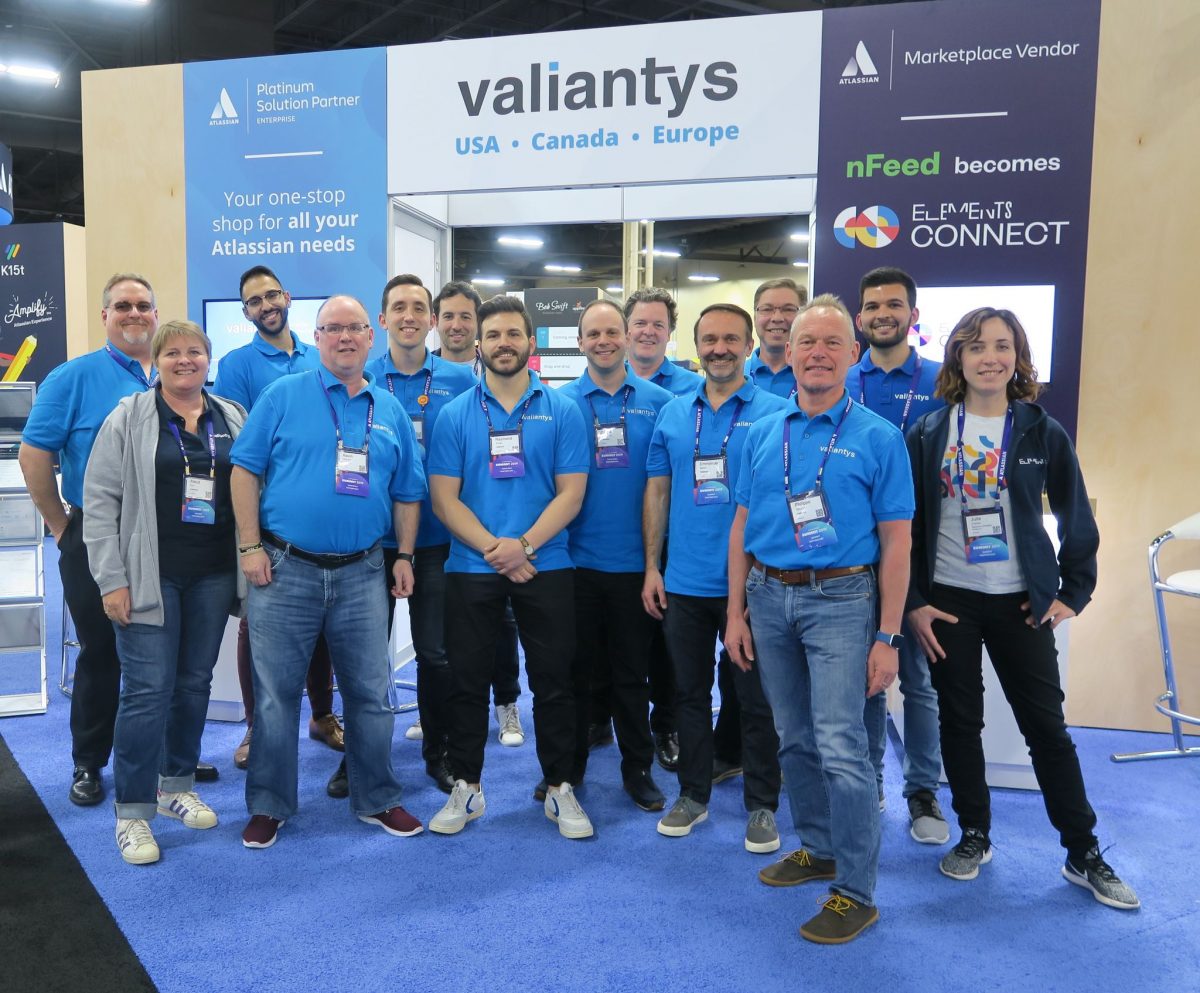 We're proud of everything our team has accomplished this year; Valiantys now has over 60 in-house Atlassian certified consultants, and over 100 Atlassian certifications. We've opened up new offices in New York and Zurich to match the local demands from our clients, and we launched a slick new website to help enterprises with their Atlassian solutions.
We also recently announced that Lucas Dussurget, formerly Valiantys' VP of International Development, was named as our new CEO. You can bet that we have a lot of innovative changes coming to improve the Valiantys experience for our customers in the near future!
Yet that's not the only major structural change that happened at Valiantys…
Elements, a Valiantys company
Elements – the company formerly known as  Valiantys Software – recently announced they were relaunching themselves with a bright new brand. While Elements is still part of the Valiantys family, it was time for the company to better reflect who they are and what they do as a software publisher independent of Valiantys' consulting services.
Elements is dedicated solely to making powerful and reliable apps that enhance Jira and Confluence. They build the missing pieces in productivity software, so teams can work more efficiently.
This year, Elements had a lot to showcase:
An upcoming major version of Elements Connect (formerly nFeed), featuring a new intuitive admin interface and an 'unplugged field' to get data from your external source only once (regular Elements Connect fields are updated in real time).
Elements Spreadsheet v3, the latest version of our spreadsheets editor built for Confluence which introduced more formulas, better performance and a look & feel closer to the native Confluence.
All Elements apps are now Data Center compatible.
Summit attendees could see these apps in action by attending live demos, however for those who missed this opportunity, a webinar will be given on Elements Connect in May. You can still register here.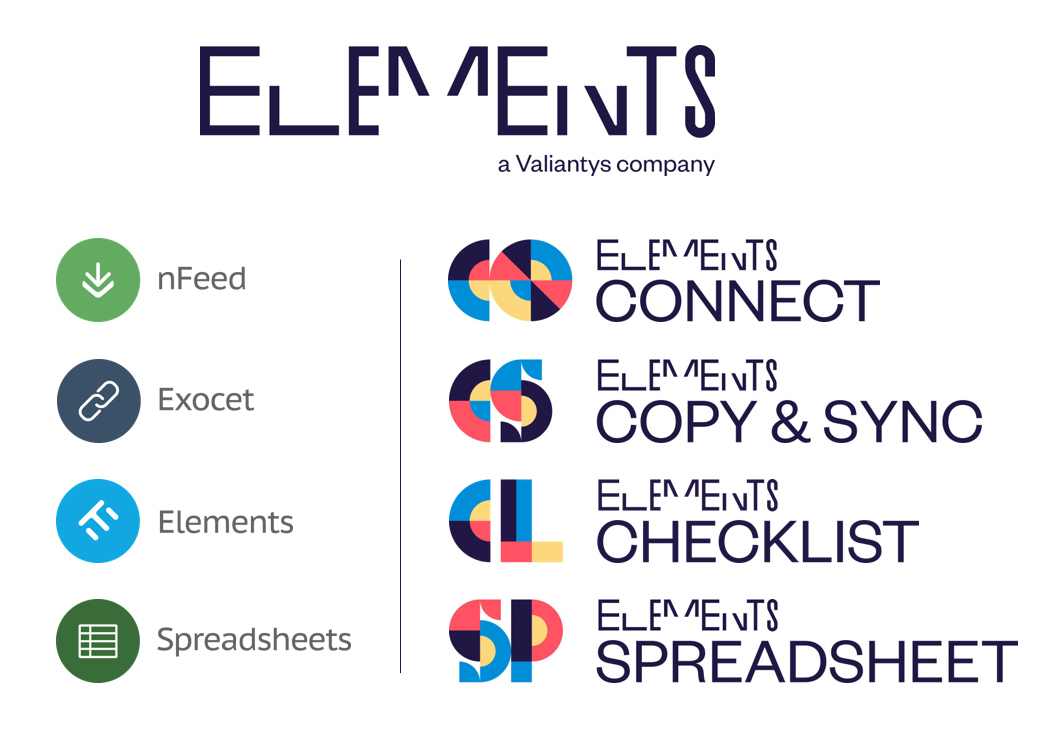 ALM Works
ALM Works is finally unveiling its worst kept secret:  Structure Cloud. The Early Access Program has given some users the opportunity to discover the app before its launch. During the Atlassian Summit, Structure Cloud version 1.0 was made available to all.
With Structure.Gantt version 1.4, the most popular Structure extension is blurring the lines between traditional project management with Gantt charts and Agile project management with sprints.
Don't forget that even though it is currently a free extension for Structure customers, this will no longer be the case with the release of version 2.0 later this year. To extend your free software license for two additional years (including free maintenance) sign up on the Free license Request Page.
ALM Works also released Structure for Jira 5.3 which comes with several important new features. Among them, there is a new Automation capability that makes it easy for you to group Jira issues by version name, even if the related issues are in different Jira projects.
Gliffy
Gliffy Diagram is a top-selling Confluence app since 2005 that provides stunning visual planning, collaboration, and execution experience. They recently announced the launch of a new diagram editor and Gliffy for Data Center.
Gliffy's brand new look for the diagram editor makes building visual plans easier than ever with a slew of new features including line hops, shape flipping, and more!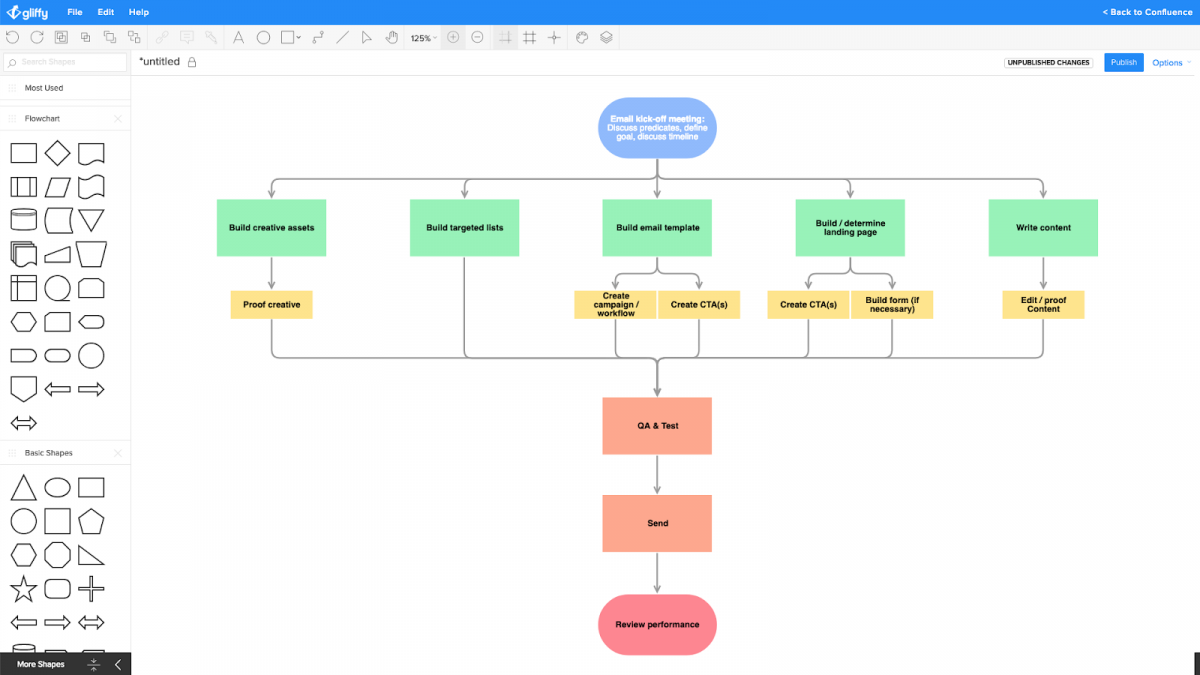 Gliffy also released their official Atlassian Data Center approved app, so you will have an uncompromising diagramming experience in Data Center environments. They're providing premium support, giving customers double the amount of support time and committed response time on application down issues.
Comalatech
Comalatech's big news at Atlassian Summit 2019 is the latest release of their flagship app, Comala Workflows 6.0. The 6.0 release includes a new feature that we think will excite Confluence users – Read Confirmations. Now teams can keep track of who has read documents, and create read assignments quickly and easily.
Comala Workflows' reviews and approvals are well-known in the Atlassian Marketplace, but now they have augmented the app with the ability for team members to acknowledge that they've read specific documents. Built on the same dependable, familiar functionality of Workflows, Read Confirmation helps teams monitor who has been assigned to read documents, and who has acknowledged that they have read them. The UI keeps things simple and intuitive for end users, and straightforward reporting makes it easy to keep track of confirmations. Want to make sure your team members respond in a timely manner? Confluence alerts and emails will notify users that they need to read a document. If they need a little more encouragement you can set due dates for acknowledgments to help you get the responses you need. Best of all, the Read Confirmation feature is integrated right into Comala Workflows. As soon as a page hits its final published state you can automatically activate a read confirmation.
Available on the Atlassian Marketplace, you can learn more about Comala Workflows and Read Confirmations on their website.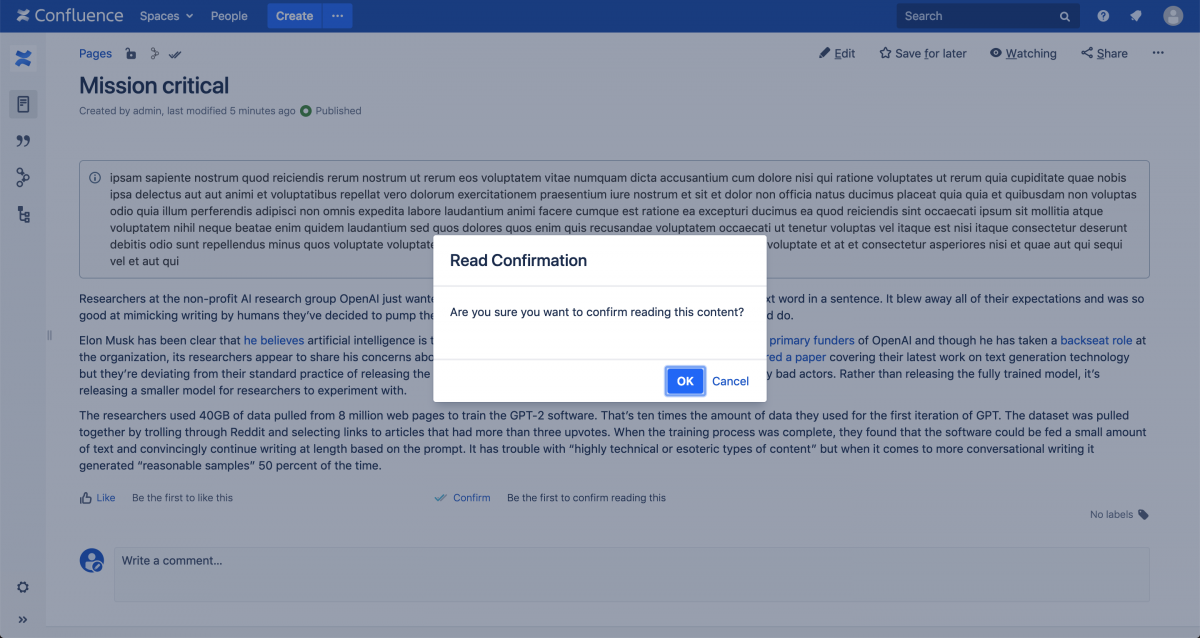 DEISER
More than ever, Profields for Jira Server & Data Center centralizes all project data and intelligence to build whatever you need from your Jira projects with enormous simplicity. For example, the Bulk Operations feature saves time for administrators, who can apply changes to hundreds of projects in few clicks. On top of the already available operations like changing project lead, deleting projects, or editing project components, the Bulk Operations feature makes it possible to edit the value of project custom fields, curbing manual data input.
With frequent and easy changes, it's even more important to stay up to date. Customers can now watch Jira projects essentially the same way they watch issues: whenever there is a change in the project, an email notification lets you know what happened (see the image below). It's a great way to make sure you're on top of recent events in your organization as projects progress, and you won't ever be in the dark again whenever a deadline is pushed, a resource is added or a project is initiated.
Stay tuned for more product updates along these lines, as upcoming releases will include project subscriptions, and much more!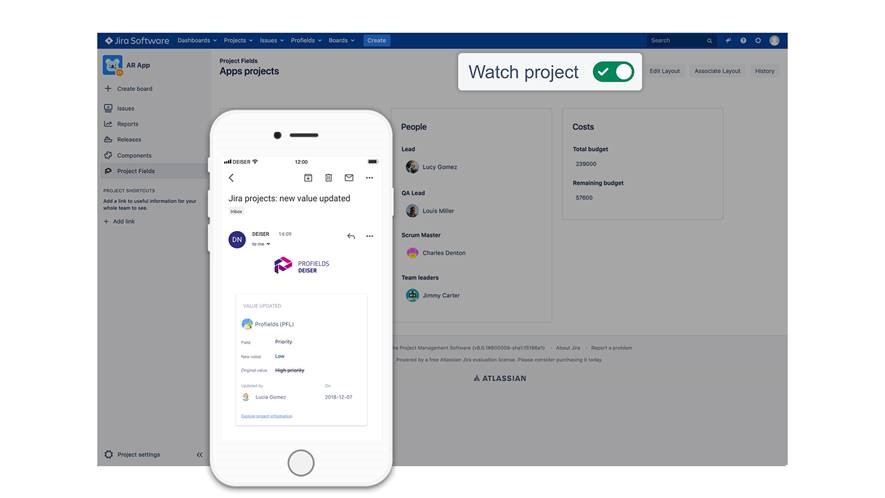 Deviniti
Deviniti has been working hard to help teams work faster and easier in Jira Software and Jira Service Desk, as well as added useful functionalities to the software for over 5,000 organizations around the globe. Their brand new app, Requirements and Test Management for Jira Cloud, adds Requirements, Test Plans, Test Cases and Test Executions panels to your software project in Jira. It allows you to track the whole development process, from collecting requirements to going to production, in a single place to make the testing process easier for your teams. Using Jira objects for managing requirements and tests allows to seamlessly link requirements, test cases and defects to development Epics and user stories, and search for them like you would for regular Jira issues. This approach also ensures end-to-end traceability of your requirements, which can prevent possible bugs on the "left side" of the development process. The Test Plans created inside the app are reusable, and you can create Test Executions and Defects quickly from the parent views. If you're stuck with legacy heavyweight test management tools or just starting the testing journey with your team, the app will provide you with a single repository for your requirements and tests – even for multiple projects at a time.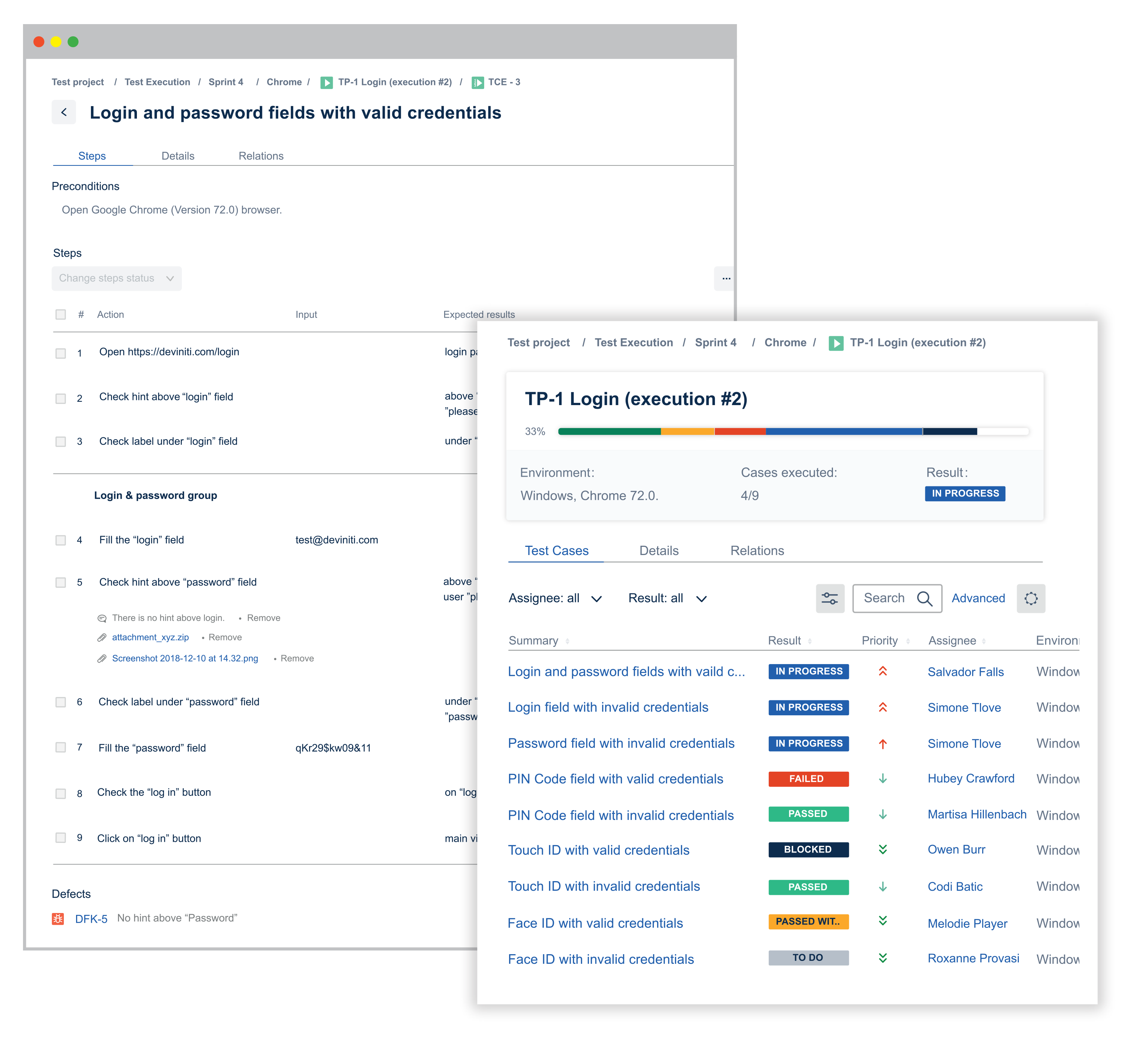 EazyBI
eazyBI is a powerful reports, charts, and dashboards app for Jira Cloud, Jira Server, and Jira Data Center. With eazyBI you can visualize and analyze Jira data with an easy-to-use drag-and-drop custom report builder and interactive charts.
In this year's Atlassian Summit, eazyBI showcased the latest eazyBI for Jira version 5.0, which comes with many improvements in the reports and charts builder as well as new source data integrations with Atlassian products.
Among many under-the-hood library and framework updates that enable support for current and upcoming Jira versions, including the Java 11 update, eazyBI now also supports data import and analysis from several Atlassian DevOps tools – Bitbucket and Bamboo.
Now, supporting a full Atlassian DevOps tool-cycle, eazyBI can truly become the central point of truth for data analysis and business intelligence. You can analyze data from Confluence, Jira Software, Jira Service Desk, Bamboo, Bitbucket, Git, as well as other related tools and popular test management, project management, time management, and asset management apps for Jira.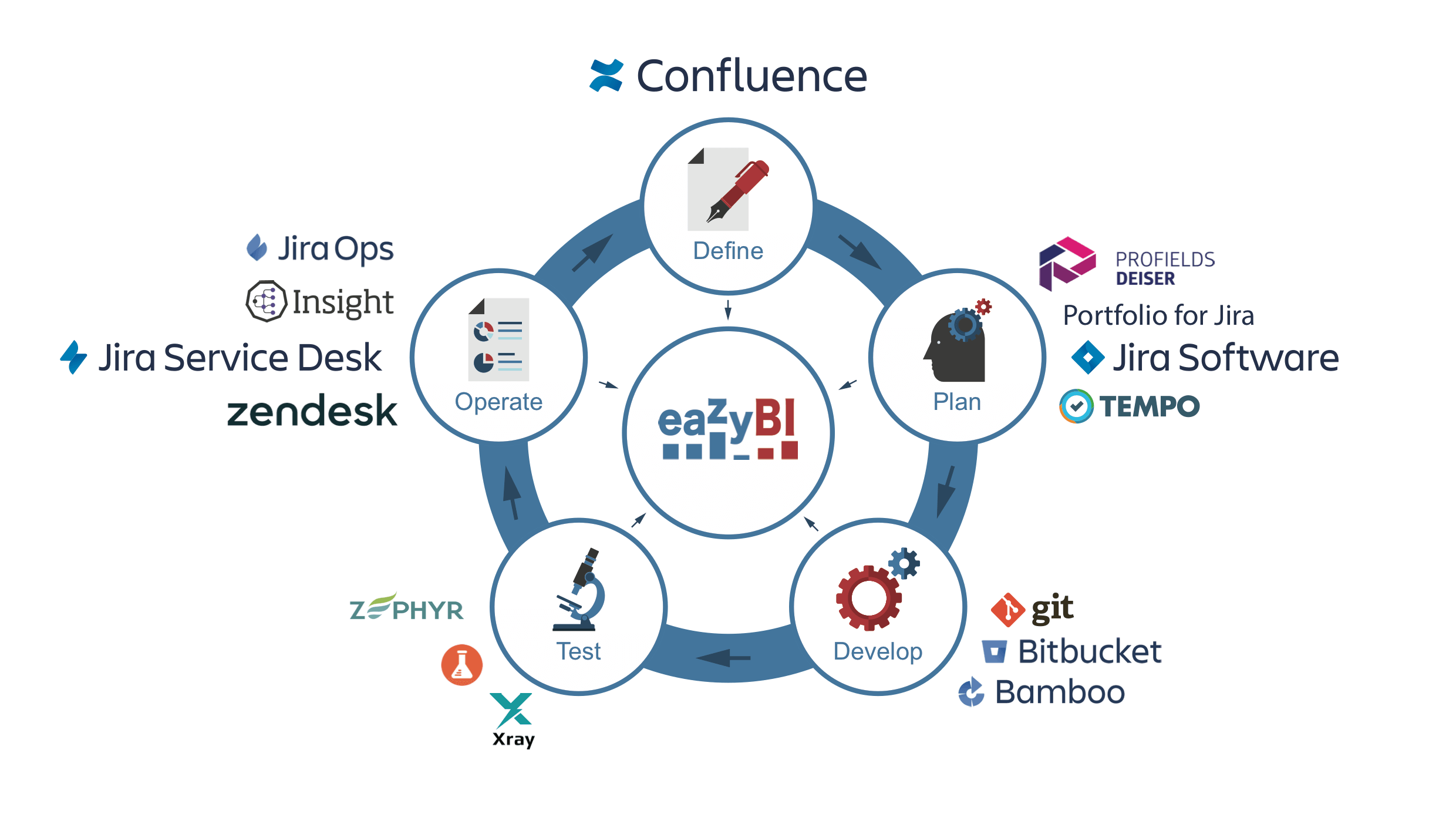 K15t
K15t brings document management to Confluence with their latest app release, Scroll Documents. As most Confluence users know, content doesn't always fit nicely onto a single page. With Scroll Documents, you can split your content up into a tree of Confluence pages and still manage them as a single unit – a document! After defining a page tree as a document, you can:
Browse: Browse all documents in a single overview in your Confluence space and use customizable metadata, like labels and descriptions, to view details at a glance.
Version: Create versions and track changes to your multi-page documents.
Set a Status: Use simple workflow statuses to manage the document approval, review, and release process.
View Pages in Context: Read and interact with multiple Confluence pages at once with the scrollable document viewer.
Export: Export documents as professionally-styled PDFs or Word documents thanks to an integration with Scroll PDF and Word Exporter.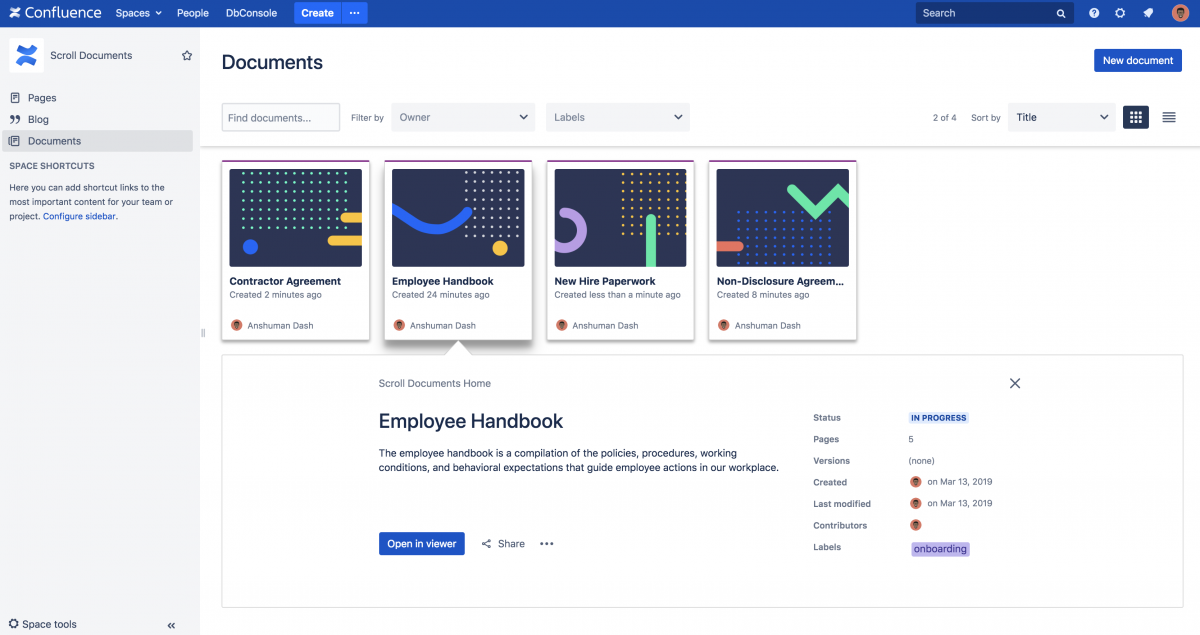 Scroll Documents' intuitive UI and powerful document management features will help extend Confluence to teams who still rely on traditional document tools and formats. So whether you're an HR team managing contracts and employee paperwork, or a development team writing feature specifications and product documentation, Scroll Documents will upgrade and simplify the way you work with multi-page documents in Confluence.
The app is available for both Confluence Cloud and Server. Try it for free!
Midori
Midori is the developer of Better PDF Exporter, an app that exports Jira issues to PDF documents to share, print, email, archive and report issues in the standard business document file format. They are extremely proud to announce that Better PDF Exporter, one of the most popular and highest rated Jira apps, is making its debut on Jira Cloud very soon! Yet before making it generally available, they are conducting a Beta program with savvy users – and you are invited! During the Beta, you will use the same high-quality, fully working software version that we have been using internally. The app will be provided to you completely free of charge for the testing period, so there is no need for a credit card or an official subscription. Read their blog that summarizes everything you should know about how to join the beta program.
Refined
Refined brought their slick new branding to Summit this year. Previously called RefinedWiki, Refined is now the core name of the company and apps. With this change Refined are fully focused on improving company communication and processes with the clean infrastructure Refined apps provide.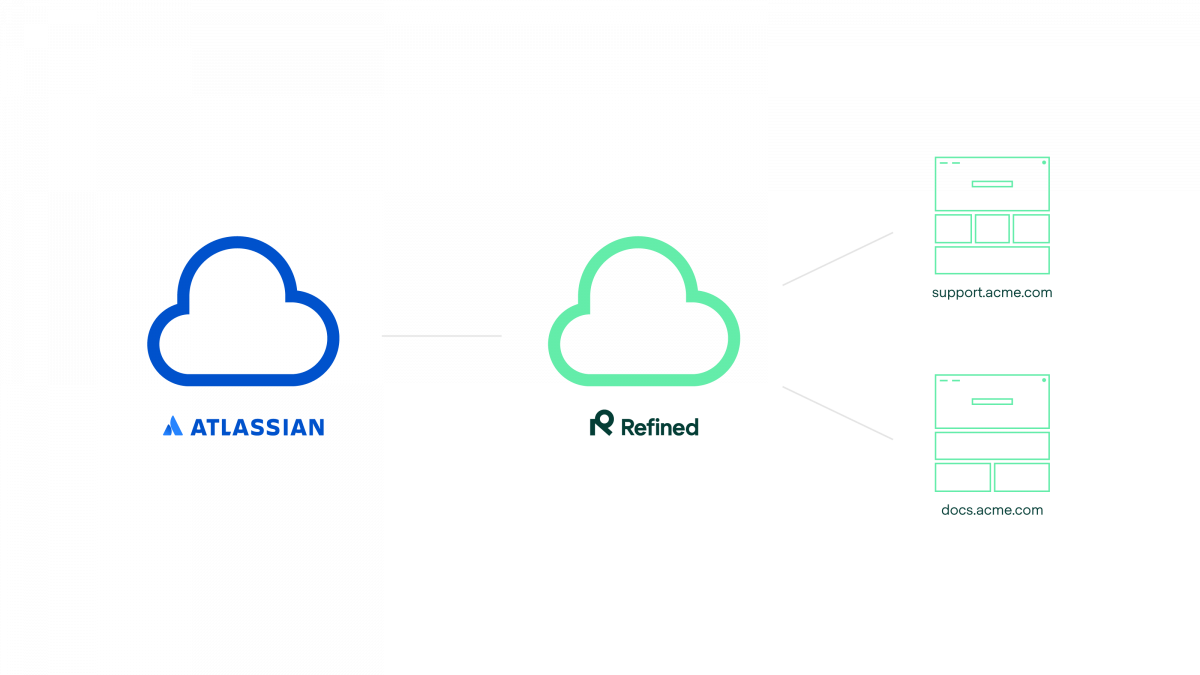 Refined announced the beta release of Cloud app, Refined for Jira. Beginning as a theme app for Jira Service Desk Cloud, the app now extends to include Jira. Users can create multiple customer facing sites connected to one Jira/Jira Service Desk Cloud instance. These sites can be customized by adding a custom domain, branding, layout with quick links and helpful content.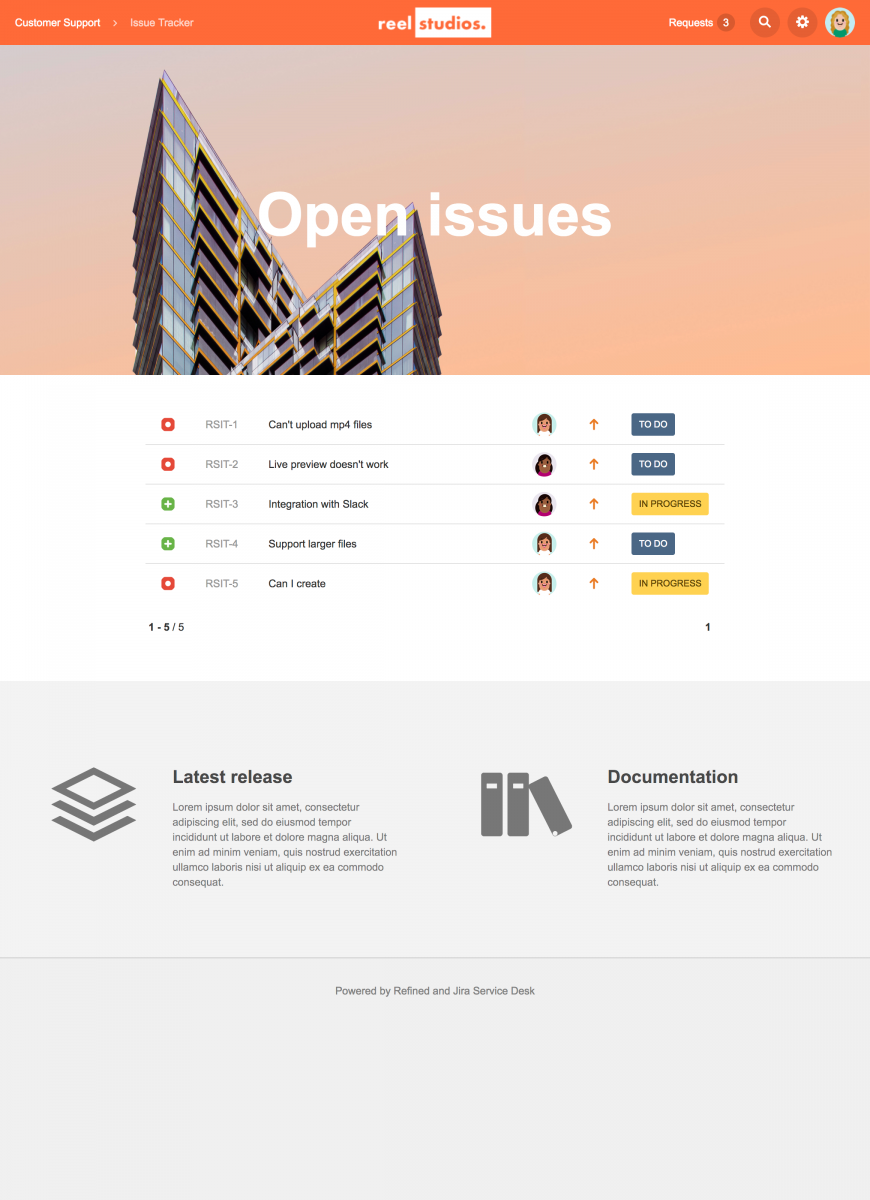 On Server Refined showcased the many rich features released in version 2.1 of Refined for Jira Service Desk. This increasingly popular app used by Valiantys themselves released a new search experience, announcement banners, import and export of layouts, previews and drafts for layouts and so much more!
Riada
Riada is the innovator and provider of Insight – an asset- management and integration solution for Jira. The strong integration between Jira and Insight makes it a perfect fit for organizations interested in managing assets together with their associated issues. 2,400+ organizations are using the Insight platform today for a wide variety of business needs.
During the Atlassian Summit, Riada brought attention to the upcoming new features that will take the experience and value with Insight to a new level. Riada's focus since last summit has been three folded:
Making Insight available for Jira Cloud customers. Even though the functionality initially will differ compared to on-premise versions, Riada is happy to finally meet the increasing demand from cloud customers. The Beta program is progressing well, with feedback from hundreds of EAP participants.
Riada will soon release a super flexible Report Manager in Insight, which allows users to group and display reports in dashboards of their choice. The module comes with predefined report-types, but an even more powerful feature, is the ability for users to build their own report types as separate Insight plugins.
Riada is investing in creating rich Insight environment templates to help users get started faster. The first template coming out will allow the user to setup a complete ITSM environment in seconds. Templates will include a fully configured Jira project integrated with a populated Insight Object Schema – saving both time and effort.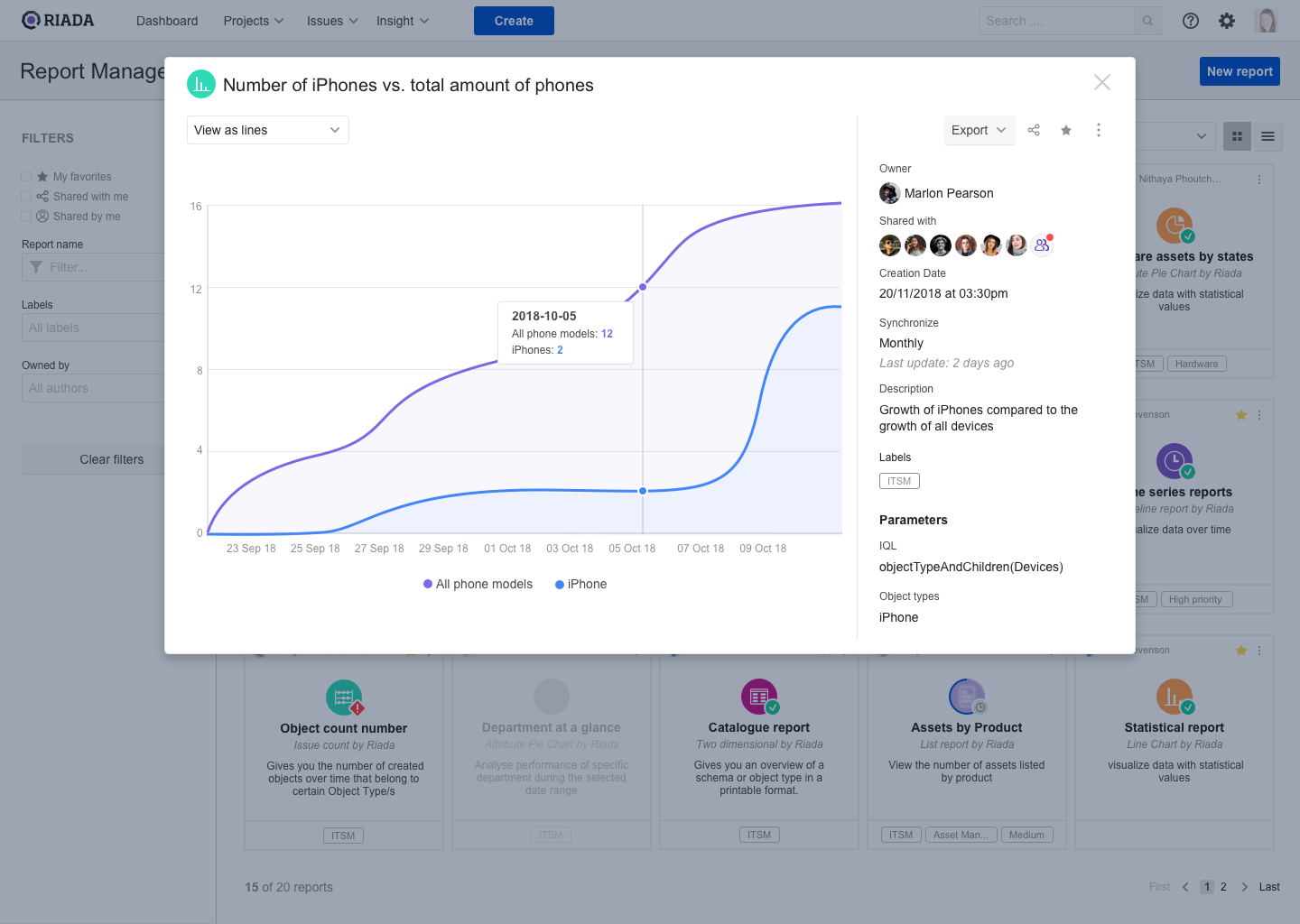 These features will be publicly released at the Insight Innovation Days in Stockholm on May 23-24. Registration is open if you would like to attend.
Seibert – Draw.io
We were happy to catch up with the draw.io team, a Platinum Sponsor this year at Summit. draw.io is a powerful and flexible tool that you can use to create many different types of charts and diagrams directly in Confluence, Jira or Trello – quickly, easily and securely.
Saying the team has been very busy is an understatement – in 2018 they released 174 updates of draw.io for Confluence Cloud! This year, they are focusing on the importance of data security and privacy – always an important topic, and more so in today's post-GDPR world.
Data privacy: Your diagrams don't just contain confidential business information, they also include personal information about individuals. We were happy to find out that the data processing agreement you signed with Atlassian means you are compliant with the GDPR when you use draw.io because diagram data is never stored with third parties.
Data security: Your draw.io diagrams are only ever stored in your browser and where you save your diagram files – in your Confluence or Jira instance, on your own server or in the Atlassian Cloud. Do your current apps store your data securely?
Supporting a wide range of import and export formats, including Visio, Lucidchart and a robust mass Gliffy importer, it's fast and easy to switch to draw.io. Since no third party stores or accesses your diagram data, you can confidently include draw.io in your secure Atlassian tool stack.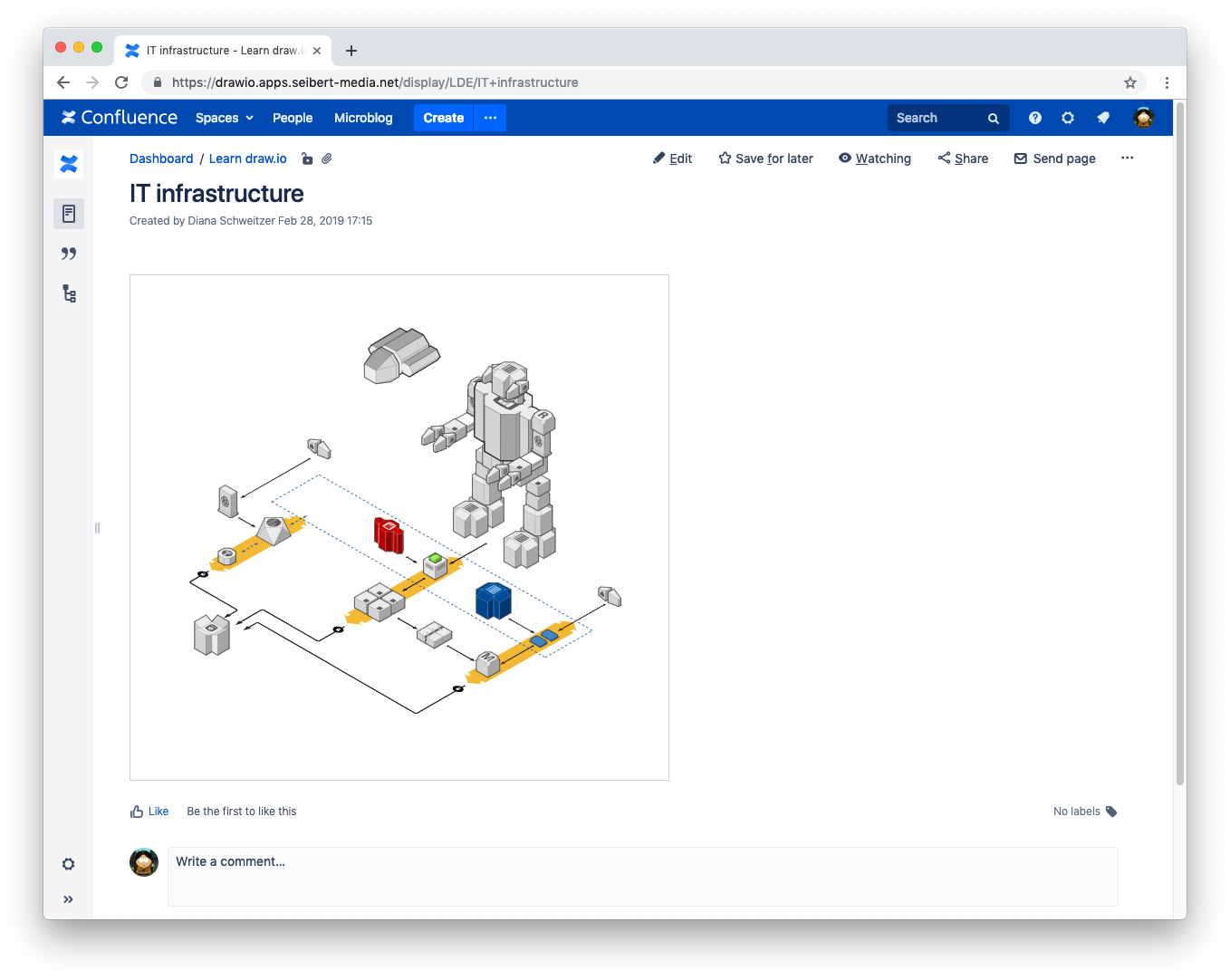 Spartez
With Chat for Jira Service Desk, customer support is now in the limelight. Chat away with your internal and external customers in real time and enjoy all the powers of Jira Service Desk. Chat for Jira Service Desk now features knowledge base integration and a multiple chats dashboard view. On top of that, the app comes with Canned Responses Pro for Jira compatibility, delivering reusable and automated comment templates for common issues.
Spartez also launched a new UI for Asset Tracker for Jira which comes with a completely new assets browser and greatly improved performance. Combined, these three Spartez apps make up a complementary tool set for an augmented Jira Service Desk experience.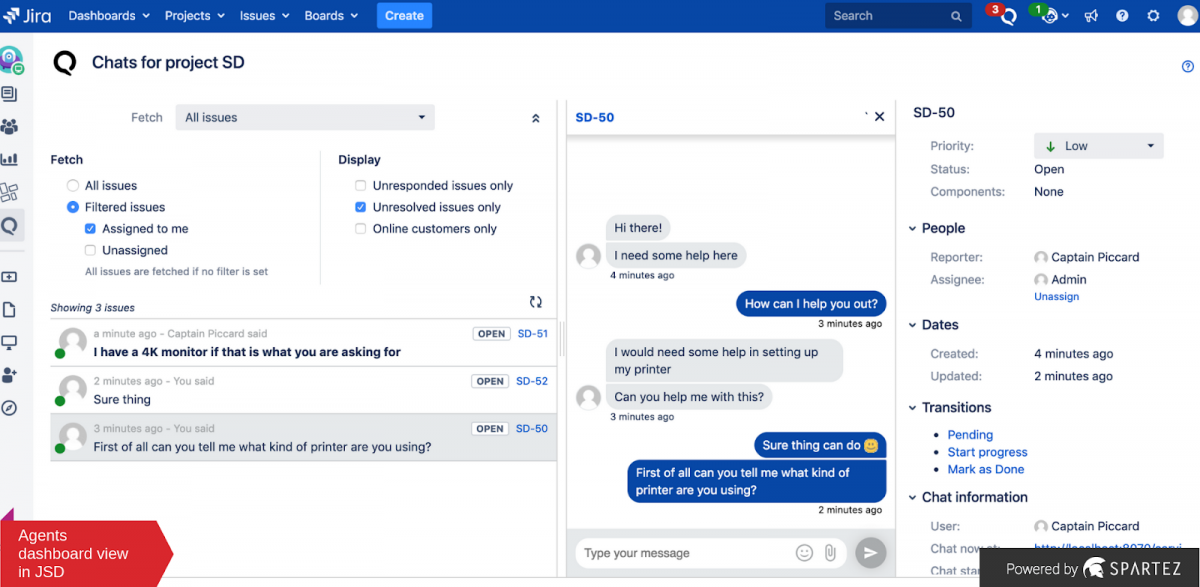 In the integrations category, TFS4JIRA continues to be a Marketplace Staff Pick and has recently undergone some interface changes to improve user experience. Last, but not least, the classic Spartez suite – Agile Cards and Agile Poker apps – remain an all time favorite, adding agile value to Jira.
Tempo
Tempo, the Icelandic company behind the popular time-tracking solution Tempo Timesheets, was once again part of the Atlassian Summit as a Diamond Sponsor.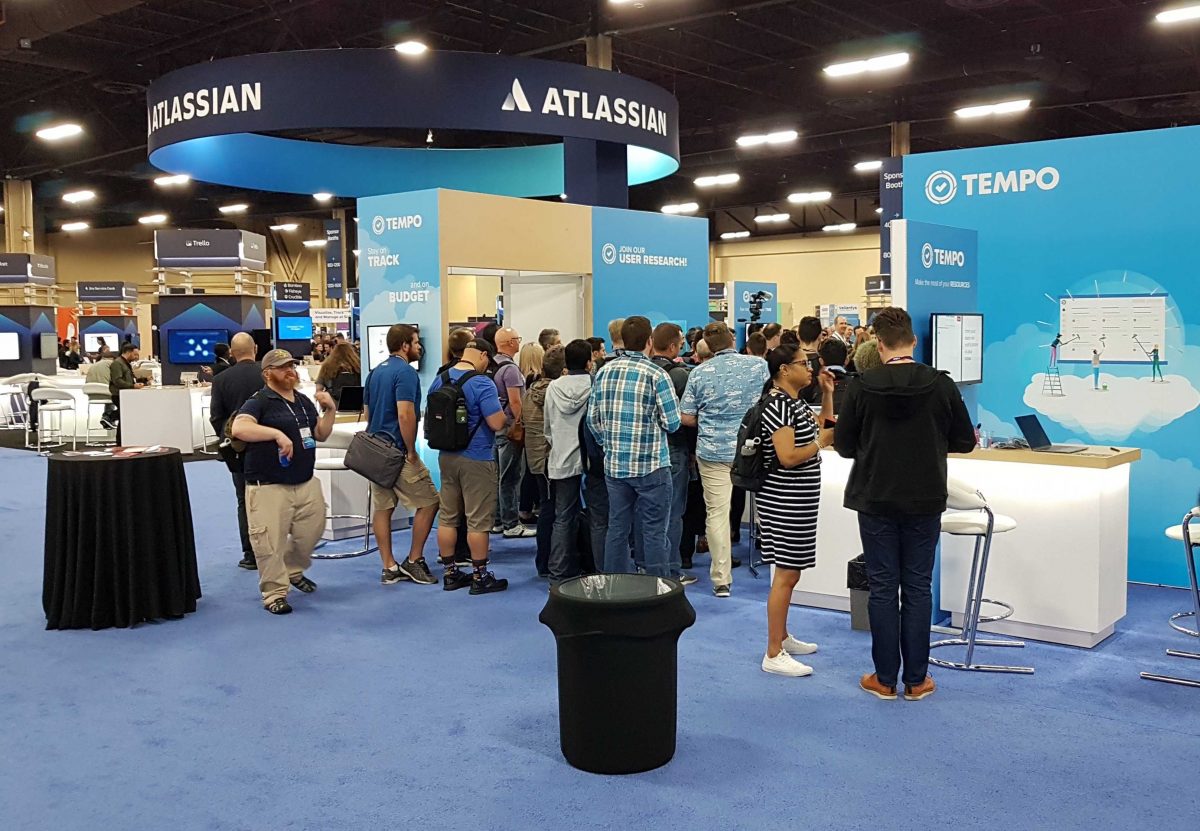 The magician Tempo hired for the Summit was not the only thing to steal the heart of the crowd this year; new features were announced to reinforce and enhance the Tempo suite's service, performance, and customer experience.
Stealing the spotlight was the new and improved My Work for server and cloud. This Tempo feature, found within Tempo Timesheets, is a user's one-stop shop to find information about meetings and plans, be able to track time and submit for approval, and request time-off.
With My Work, Timesheets is now easier to navigate, more customizable, and they have made some great "quality of life" improvements!
However, the best upgrade is the synergy My Work has with Tempo Planner to avoid overworking teams and optimize resources with the Resource Planning view. Tempo Planner provides an overview of all resources in an organization for past, current, and future projects, and enables the best allocation of resources on a daily or weekly basis. By combining Tempo Planner and My Work, team leads ensure tasks are progressing at the right pace and that the correct tasks are being worked on.
In addition, Cloud users can enjoy the mobile version of Tempo Timesheets to leverage My Work from their phones – Mobile users can track time, create worklogs, review and approve time entries, and access other functionalities of My Work directly from their phones.
Tempo also took this opportunity to congratulate all their partners for helping them achieve their growth. We're pleased to announce Valiantys won for the fourth year in a row the Tempo Top selling Partner award.
Xpand IT
It's been a busy and exciting year for the Xray and Xporter teams!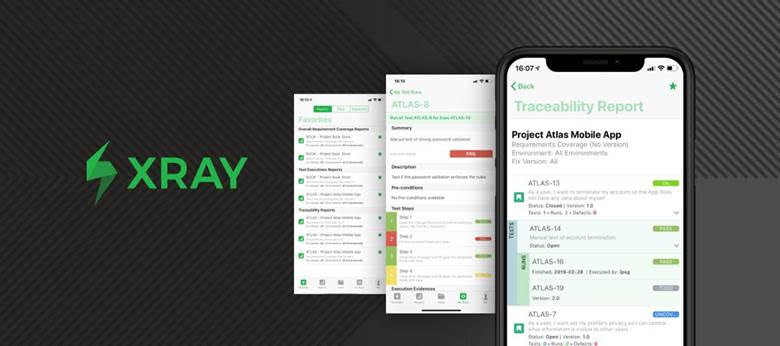 Xray was named the 2018 Real Customer Case Study Winner at EuroSTAR with an HP/ALM migration for Swiss Federal Railways. 12 years of HP ALM lock-in was no match for Xray's cutting-edge integrations which helped move 25,000+ test cases in just 6 months and paid for itself in only 3 months.
Even more exciting, Xray 3.3. offers a built-in migration tool for Zephyr for Jira. Now you can easily make a switch.
Finally, Xray is preparing to release a mobile app in the first quarter of 2019. The app's functionality was designed to track progress, report, and perform field testing all on-the-go.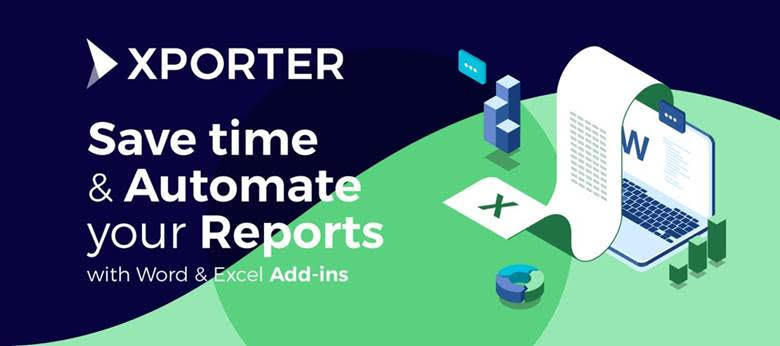 As for Xporter, version 6.0 now comes with configuration on the project level, where a new section will be available, giving project administrators the power to manage Templates, Permission Schemes and Scheduled Reports. It will be possible to use Xporter on Agile Boards, Jira Service Desk Queues and "on my requests."
The Xporter team is also introducing two new add-ins for Microsoft Word and Excel, giving you a simple way to create, adapt, and customize reports. Choose from over 45+ customizable templates to communicate the most valuable information in a simple and precise way. Their powerful add-ins will automate your reports, helping you build clear, easy-to-read reports, every time.
Next up: Atlassian product news!
We'll be publishing a second article shortly on all the important product news that came out of the Atlassian Summit, so stay tuned! Until then, you can subscribe to our monthly newsletter to remain informed of all the fast-paced changes in the Atlassian ecosystem.
Give me more Altassian news!